There's a dating site for everything these days. Whether it's kinky sex preferences or dating sites for old men, if you want it, you can find it.
And amazingly, dating sites for married people exist too. We don't mean swingers or threesomes, either. We mean sites to help married people cheat on their partners.
Ashley Madison and Illicit Encounters are two of the big names, but there's another new cheating site on the scene: Heated Affairs.
Heated Affairs claims to be 'the world's largest affair site.' Does it back up its claims? Does Heated Affairs work? Read on for our Heated Affairs review.
Heated Affairs: First Impressions
Heated Affairs looks pretty good on first glance. The site is well-presented and easy to read. The layout is crisp and professional, and the site's intentions are well-documented right from the off.
From the home screen, a banner urging viewers to "have an affair" sits below a sign declaring that the site has a whopping 48 million users worldwide. Now, that's a lot of people. Even the biggest names in the dating industry hover around the 50 million mark, so this claim seems a little suspicious. However, everything else seemed perfectly fine.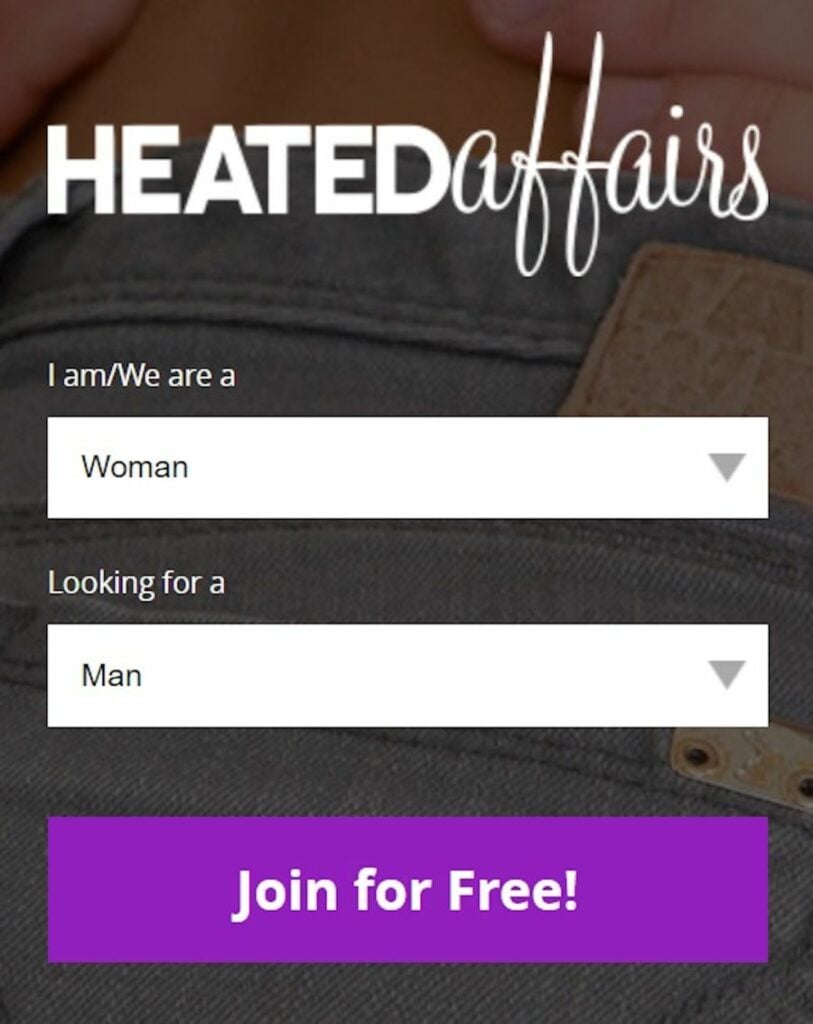 You're prompted to input your gender and your sexual preferences right away ("I am a __ seeking a __") and after clicking "Join for Free," you'll be thrust into the site's main page.
Once again, things are crisp and clear. You'll be shown a sample of some of the potential people you might meet on Heated Affairs, including their locations and a rotating preview of their profile photos.
This is where things got a little iffy for me. On the right hand side of the screen, I was shown a series of "members videos." However, it quickly became obvious this was nothing more than stolen adult content and professional cam models. These women certainly weren't site members.
For me, it was 50/50. There was something about the site that seemed legitimate, but the obvious adult movies and fake members was a major red flag.
Features
Trying to click around on the site takes you to the registration page. While I could view a handful of member profiles who were allegedly in my area, I couldn't do much else. However, the signup process is embedded into the home page so you don't even have to click off to sign up.
The sign up process comes in five steps, all of which include pre-composed answers. You'll simply input your user name, email address, location, date of birth, sexual orientation and sexual preferences. Given the site's discreet nature, you're encouraged to be as cautious as possible with your info.
You'll then be asked to introduce yourself with a short bio. You don't have to say much, and I found that quite a few members left this section completely blank. You'll then be prompted to sign up for the premium membership, which is necessary if you want to send a message to anyone on the site.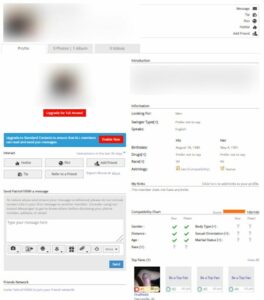 When it comes to interacting with members, Heated Affairs utilizes the classic online dating site approach. That means you're free to scroll and search members as you see fit without having to rely on a matchmaking system. However, there is a matchmaking system available too.
Scrolling through the members, I came across two issues. The first was that for every twenty or so users, at least one was fake. Secondly was the amount of unnecessary special features, most of which involved porn of some sort.
Dating sites which utilize adult content usually have something to hide. On Heated Affairs, there's a ton of live action cams and adult videos – none of which feature Heated Affairs users in them.
But regardless, the reply rate from real members was decent enough. For every ten messages, I got at least one reply. That's not a bad ratio compared to any dating website.
It seemed that the site's claim of having nearly 50 million users wasn't far off the mark. The user base was indeed extensive, with a good amount of Affairs members in my area. I'm not based in a big city either, so I can imagine it's even more populated in the busier areas.
But one thing I did discover is that the gender ratio is massively disproportionate. The site is around 70% men and 30% women, but given the huge user base, that's still a hell of a lot of people to chat with.
In addition to the instant messenger format of chatting up members, Heated Affairs is very big on community spirit. It makes every effort to bond its members outside of direct messaging too. For example, the site features "Member Broadcasts," which are basically a video chat function which any member can join.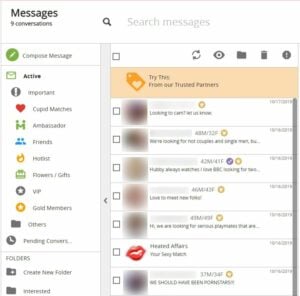 There's also member-created private chat rooms, which are usually created with a certain topic in mind. There are rooms catered towards certain age groups, certain city residents and members with particular fetishes.
The last noticable Heated Affairs feature is the "Sex Academy." The Sex Academy is exactly what it sounds like, and it's something a lot of dating websites are introducing now. It's basically an advice section of the site, filled with dating and sex tips for the more inexperienced members.
Special Feature: Personality Quizzes
One of Heated Affairs' most appealing features are the personality quizzes. Sure, plenty of sites have quizzes, but Heated Affairs' goes the extra mile.
As we mentioned, there's a matchmaking system in place on the website, and rather than matching users based on location alone, Heated Affairs narrows down results to find those users who match your critera to a tee.
First comes the "Personality Type" questions. These are based on the classic Myer-Briggs scale and involves 25 pretty detailed questions. You'll be asked multiple choice questions like "is body type important to you?" or "can relationships be based around sex?"
Next comes the "Additional Questions" This is less based around sex and more around you as a person. You'll be asked about your goals, your dreams and your career prospects.
Then there's the "Purity Test." Here, you'll be grilled about your sexual past. The age you lost your virginity, how many relationships you've had, can your sexual orientation swing with the right person? Etc. This determines whether users are dating gods or bedroom novices.
Lastly is the "My Kinks" questions. In this section you're encouraged to share your fetishes and your sexual preferences. This will help match you with other users who share your dirty desires.
Once you've been through the whole process, your member matches will be much more personalized to you. Not only will you be shown users in your local area, but they'll be women (or men) who you're more likely to connect with on a sexual or relationships level.
Pricing & Membership
There are three membership levels to Heat Affairs. Free, Standard and Gold (the equivalent of premium membership).
Free members don't get a whole lot. If you don't upgrade, all you can do is scroll through the pictures on the website homepage. Wherever you click you'll be taken to the signup page.
Standard membership is the most popular package. It offers unlimited messaging, customizable profiles, and the option to join chat rooms and live model shows. Costs break down like so:
1 month – $19.95 per month
3 months – $11.95 per month
12 months – $8.95 per month
Gold membership offers all of the standard account features plus a few additional perks. You're given access to the Sex Academy, advanced search feature and a handful of private adult chat rooms. Pricing is as follows:
1 month – $39.95 per month
3 months – $26.95 per month
12 months – $19.95 per month
As every Heated Affairs review has pointed out, the majority of users on Heated Affairs opt for standard account since it's the most cost-effective. The couple of perks offered by the Gold service don't really make it worth an extra $20 a month.
Pros
Without a doubt, there are plenty of things to love about Heated Affairs.
Heated Affairs has a ton of active users. Scroll through profiles and you'll find men and women of all ages, many of whom are married, some of whom who aren't. The activity on this dating platform is second to none. At any one time, there are around 200,000 users browsing the site.
One thing that I thought was odd was that there was a 'marital status' box in the profile options. Surely, every member of Heated Affairs is married, right? Well, apparently not. There are an awful number of single users, both guys and girls. Therefore, there's nothing stopping Heated Affairs being a standard dating website.
The instant messaging system is integrated very well, whether you're using the mobile app or the desktop website. A little box pops up in the corner of the screen with all your messages, a little like the Facebook Messenger system. This keeps all your chats organized and means you don't have to swap screens when chatting.
Members seem to be inclusive and open minded (as you'd expected from a dating platform of this nature). In addition to men and women, you'll even come across a couple or two looking to find a married person to join their sex games. The reply rate is quite high across the board too.
The website is mobile friendly, and works great on both desktop devices and phones. It's fast and streamlined and doesn't bug out at all. The site does not have an app in either the App Store on iOS, or Google Play Store on Android. While other reviews mention there's a dedicated app, I couldn't find one while writing this review.
There's a good customer service section which is available 24/7. If you ever have any issues with your account or profile, you can email them and they'll respond to you quite sharpish.
Given that most women on here are married, you don't have to spend a million hours chatting them up. The majority of them are on Heated Affairs for discreet sex, not relationships. Therefore, they're usually quite eager to get down to business.
By the same token, these horny married women are usually after short-term gratification. That means they're impulsive and down to bang at a moment's notice. Affairs don't really lend themselves to lengthy relationships, so these women usually strike when they have a window of opportunity.
One very minimal but fun feature is the Icebreaker. If you've spent time on Adult Friend Finder you'll already know what this is. Icebreaker sends your chosen user a random message, usually a funny pickup line, to break the ice and begin the convesation. It's ideal for those who are a little bit shy when it comes to introducing themselves.
Cons
Many profiles aren't fully fleshed out, and a lot of members haven't bothered to fill out the personality quizzes. This reduces your potential pool of matches quite significantly. Your perfect profile might be on here, but you wouldn't know it.
The search function is a little bit basic. You can search through members but you can't fillter down by much criteria. You have age, zip code and that's pretty much it.
The Gold membership cost is quite steep. If the site thinks many members aren't going to pay $40 a month for a dating website, they're in for a shock down the line. However, the standard cost isn't too bad compared to other sites across the board.
When you set up your Heated Affairs account, you're prompted to fill out your profile and complete all of the quizzes in full. This can seem too time-consuming so might dissuade a few people from signing up at all.
As every other Heated Affairs review has pointed out, the amount of adult material unrelated to the website is extraordinary. Upgraded profiles come with the option to view straight-up pornography. Ironically, it's quite a turn off.
The average user age is around 25, which seems quite young in comparison to other affair sites. Ashley Madison and Illicit Encounters both hover around the 35 mark, so if you're on the older site, you might have more luck elsewhere.
There's a few fake profiles hanging around Heated Affairs. This isn't unusual as every dating site features a few fakes to get things started, but Heated Affairs has more than usual. Some of them are quite good fakes too, using pictures of amateur models rather than famous porn stars.
Conclusion
Heated Affairs is a good middle-of-the-road dating website for those looking for passionate affairs. Regardless of your marital status, you'll improve your sex life on here. However, certain types of people will have more success than others.
If you're a married woman looking for an affair, this dating site is right for you. Get signed up and have a look around for yourself. Likewise, if you're a single man looking to meet a married woman, you'll have some luck if you put the effort in on Heated Affairs.
Overall, we give Heated Affairs a solid 3.5 out of 5.0. Sign up, create your profile and have an affair today.
We hope you've enjoyed out Heated Affairs review. We have plenty of other online dating site reviews for you to check out on our website.
Ready to try Heated Affairs?
FAQs
What is Heated Affairs?
Heated Affairs is a dating site catered towards married people looking to cheat. Heated Affairs is run by the same company behind popular hookup sites Alt.com and AdultFriendFinder.com The site boasts a staggering 48 million users (as of January 2021).
Is Heated Affairs a scam?
No, Heated Affairs is not a scam. While the site does employ the use of fake profiles and live action cams, this is a common approach used by many dating platforms to give the illusion of activity. However, Heated Affairs also has plenty of legitimate members on the site.
Is Heated Affairs free?
No, Heated Affairs is not free. There are tiered membership options; Free, Standard and Gold.
While you can view profile photos with a free membership, an upgraded membership is required to message users and create your own profile. Standard membership begins at $19.95 a month but reduces the more months you commit to.
Is Heated Affairs safe?
Yes, Heated Affairs is perfectly safe. While the site features a handful of fake users, they are designed to encourage activity rather than elicit scams. Therefore, there's a slim chance of being conned or scammed.
Heated Affairs encourages discretion due to the fact that the site is catered towards people looking for infidelity. It's advised to use a username which doesn't resemble your real name and use an alternative email address.
How do I cancel my Heated Affairs membership?
To cancel your Heated Affairs membership, head into the "Account" tab on the Heated Affairs app or site, then into "Account Settings." From here, turn off the Auto-Renew feature. When your account subscription runs out, your account will go back to free status. You can also click "Close Account" to entirely remove your account from the site.
Alternatively, you can contact Heated Affairs customer support page to help facilitate the process.
Who operates Heated Affairs
Heated Affairs is ran by Various, Inc. The company is located at 910 E. Hamilton Ave. Suite 600, Campbell, CA 95008.