Sex is everything.
I know that might sound dramatic, but oh well, it's true. In one way or another, sex influences everything around us. I remember a quote I heard somewhere that says something like "everything is about sex, except for sex…"
When it comes to sex, we're always looking for ways to do it, to have it, to make sure we can get it when we want it. Plus, with the advent of dating and sexual technology all, we want to do is an experiment. And a lot of us are searching for ways to do just that… you could keep searching, or you could use WellHello, a casual sex site that really delivers.
The name, Well Hello just sounds sexy. It sounds like something you'd say at a really lame party when you finally find someone who isn't so lame, and by that, I mean someone who wants to go home with you.
So is this dating site worth it? Does it truly deliver on the sexiness that their name hints at? Can you actually get laid? I joined Well Hello to tell you definitively if it's is actually worth the sign-up. Read on to find for our in-depth WellHello review.
First Impressions
My first impressions of WellHello are that it's as simple as dating sites can be. And now that could be taken as insulting, but I don't necessarily mean that. I, for one, don't think that complex web design has a place in the dating space. I think that navigation should be a pleasant and smooth experience.
Right away, WellHello takes charge. "WellHello is a fun and friendly website for fun dating and meeting singles and swingers." I was then shown a list of members, all of whom boasted professional profile photos, as well as a few glowing WellHello reviews.
The overly-gorgeous profile pictures gave off scam vibes. There's no way dating site members can be this good looking, but I continued on with my review nonetheless.
From the main page, you're prompted to begin the WellHello registration process right away. For the purposes of this WellHello review, that's exactly what I did.
The whole thing is pretty easy. All you have to do is provide an email address (which will require email verification), your gender, and the type of relationship you're looking for.
The sign up is pretty easy, but free members can't do a whole lot. The features are limited until you upgrade your membership (more on that later). If you really want to get anything out of this dating platform, you're going to have to sign up or try the 24-hour $1 trial.
Features
Your first point of call is to set up your profile. A lot of hookup platforms tend to bombard you with quizzes to determine your personality, but that's not the case on WellHello.
Profiles are as stripped down as they come. Basic information like age and zip code, and then whatever personal information you want in your profile bio. For the sake of this review, I kept my profile to the basics; a small list of interests and a few photo galleries
This website is definitely not a one-trick pony. Well Hello has a lot of going for it. Every time you discover a new feature, you'll find yourself experiencing that serendipitous feeling that is so well encapsulated by the title of the site.
Not only do you have the basic grid kind of dating app style going on, but you'll have lists of people who are rated as hot along with lists of people who are online now.
If there's no one online that suits your interest, you could pass the time by watching live cams or some of the porn that's hosted on the site.
You can also view member made videos and photo albums. Along the bottom, you'll see the newest photos that have been uploaded to the site. There's plenty of things for you to entertain yourself when you're on WellHello. I find it difficult to believe that there isn't something that will tickle your fancy on this adult dating site.
What I like is that this site will help you find a hookup or it'll keep you entertained until you can find one. Overall, the features seem super efficient to me
Pricing and Membership Details
This site is not one that you're going to be able to fully enjoy for free. Basically, all you can do for free is look and not touch. Well, you can hardly look because in order to see member albums and uploaded videos you'll need to upgrade.
You'll also have to upgrade if you want to send or receive messages, send likes and crushes, or add favorites and friends.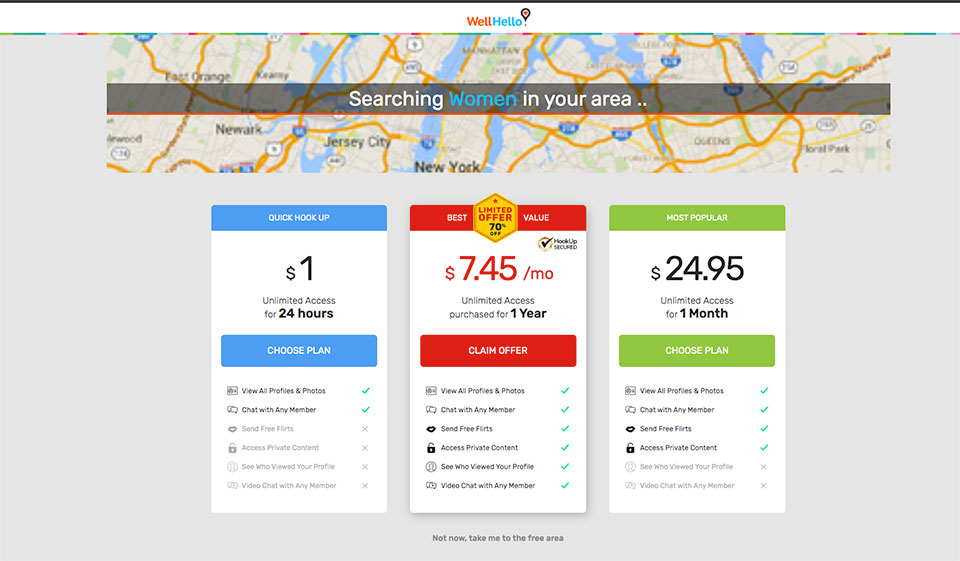 Like I mentioned earlier, you can try WellHello.com out first by utilizing the trial period for a dollar for your first twenty-four hours. After that, you can make a commitment by paying $9.99 per month for a year or $29.99 on a month-by-month basis. Not a huge chunk of money, we're sure you'll agree.
If you enjoy this dating site, you really ought to make sure to upgrade otherwise your membership will be pretty much useless after your first dollar spent.
After you upgrade your membership, you can enjoy the people on the site, the cam girls, and the videos that are hosted… both users uploaded and otherwise. This feature seems to be the main allure of signing up and going for the premium membership. Plus, with a year subscription, a hookup is essentially guaranteed! It says so on the package information!
A dating app with a guarantee? Now that's different!
Pros
Website navigation is a pleasant experience. Both the website version and the WellHello app are smooth as silk and don't seem to have any problems. The user interface is laid out well and is easy to read.
The monthly membership won't put much strain on your wallet. The money it costs for the 12-month plan is much lower than most other dating sites or porn sites.
The WellHello.com user base is pretty extensive. While men out-number the women by a small percentage, it's hardly noticable given the amount of users.
Messages are easy to send and the response rate from messages is reasonably high. For every ten messages you send, you'll get around two replies. That's decent enough by any dating website standards.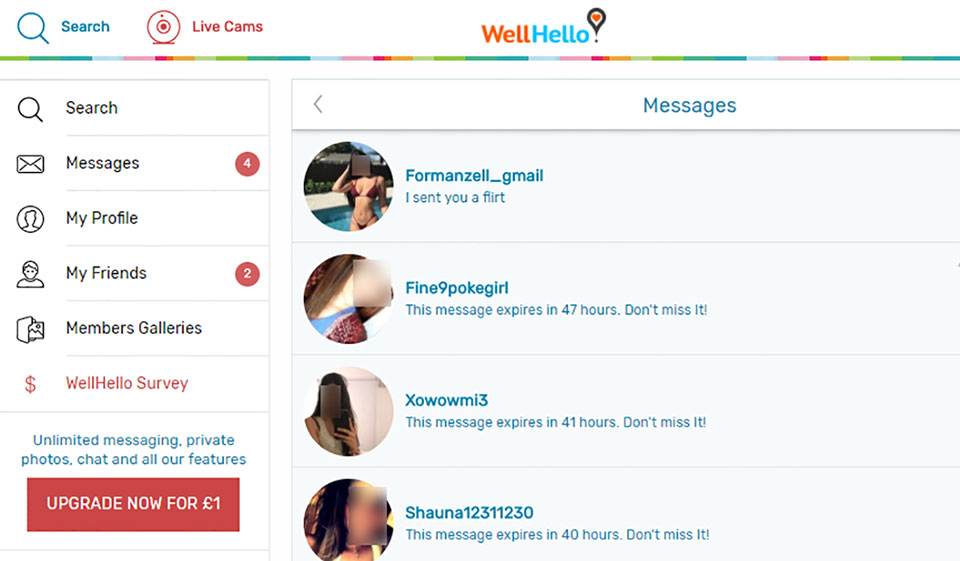 Cams: What I love about this dating site is that there's a video chat option. Not only is this great for people who are looking to experiment with their sexuality or because they're just horny through some sort of technology, but it's also great for people who shine better in moving images than static images.
If your personality comes through better on cam then you'll probably get more matches and interests while caming… plus it'll be fun for everyone involved.
Hosted Videos: If you're not into the whole cam girl thing, there is no shortage of entertainment on the site. They host porn! I like this feature because it sets the tone for the whole site. This isn't a site that takes itself too seriously. This is a company that wants to inject fun and sexuality back into casual dating and hooking up. Not everything has to be serious and 1000 word long bios.
Plus it's not a bad way to pass the time while you wait for your match to message you back.
User photos: On most dating and hookup sites, you'll get in big trouble if you display any sort of nudity. On Well Hello, that's not something you need to worry about. Sure, a lot of people don't have their dicks out in their public albums… but their private albums are a different story.
If you're running a hookup app why bother trying to censor your users? They're going to get raunchy with one another anyway, isn't that what they want? I like that WellHello doesn't shy away from nudity.
Cons
Pay Wall: The only thing that bothers me is how securely paywalled this site is. Sure, if you like it you should pay for it. However, there are plenty of free sites that do the same thing…
Dated design: While I think that the web design is uncomplicated and easy to navigate, I do find it a bit dated. They could benefit from some more forward-thinking art direction.
Love Hostesses. During your time on WellHello.com, you'll come across a few of these. These are essentially fake profiles who interact with the more shy WellHello members to give the illusion of member activity. If you come across any girls who seem too good to be true, they're probably one of these love love hostesses.
Fake profiles in general seem to be an issue on WellHello. There are more than a few, and they're obvious by their overly-sexual photo galleries (most photos of which have been stolen off the internet).
"Last online" information in profiles. On most dating sites, profiles usually say when users were last online, but WellHello doesn't have that. You could be messaging users who haven't logged in in years and there's no way to know.
The search feature isn't great. You can't search profiles by keyword, instead having to rely on drop-down boxes to filter through members. You can only search by basic attributes too; gender, location, etc.
According to another review, WellHello isn't so great on safety precautions. Apparently they've had some profile hacks in the past, but that's courtesy of a different review, so take it with a grain of salt.
Conclusion
While I think that there are other sites that do what Well Hello does pretty well for free (and by that I mean facilitating hook ups), I do think it's interesting that the developers of this site decided to fuse Camsoda , Pornhub, and a hookup app into one delectable package.
Will WellHello improve your sex life? Yes. Will it help you meet local women? Yes.
What more incentive do you need? WellHello is a fantastic dating app that will get you laid and won't put a dent in your bank account. Create an account today and enjoy its extensive features for yourself.
3.5/5 Stars
We hope you've enjoyed our WellHello review. Find the perfect platform for you at our adult dating site reviews page.
Ready to Try WellHello?
FAQs
What is WellHello?
WellHellois a popular dating app used by a large number of singles the world over. The website boasts members of every age in the United States, Canada, Europe and several other English-speaking countries.
Is WellHello a scam?
No, WellHello is not a scam website. On WellHello, real users are able to meet like-minded singles short-term relationship fun. You may come across the odd scam profile or two, but they're simply there to prompt members into being more active.
How do I cancel my WellHello account?
To cancel your WellHello account, scroll downto the footer at the bottom of the WellHello website. Click "Contact Us" then open a ticket to delete your account.