Hookup sites and intimacy don't really go together. When we think of hookups, we think of discreet encounters that are one-and-done within twenty minutes. We don't think of togetherness or romance or passion.
Today today we're loooking at an adult dating site that flips the rules of hookups on its head. Introducing Passion.com.
Passion.com is a dating site which promises to help you find steamy local sex no matter where you are in the world. But instead of wham-bam encounters, Passion.com promises you'll only meet people who share your desires for intimacy and eroticism.
Does Passion.com work? Will it genuinely connect you with other passionate singles in your area? We've dug deep to find out all the info. Read on for our Passion.com review
Passion.com: First Impressions
Passion.com doesn't beat about the bush, if you'll pardon the pun. When you load up the desktop version of the site (there's no app version), you'll be treated to the sight of a hot, shredded couple embracing each other in an overly intimate manner. The site then declares "meet up with hot local singles." That tells you everything you need to know.
The site looks super professional and it's easy to read. It features a sexy black and silver color theme which definitely adds emphasis to the whole passion theme. The logo is written in modern block lettering and there's a dash of purple on the page to add the exclamation point to the hookup site aura it has going on.
After clicking "Join Now," you're taking into the main screen which features a few photos of previous members who've been successful in finding hookups. Are these pictures legit? Impossible to say, but they certainly didn't look like internet models, so if they are fabricated, they've done a good job.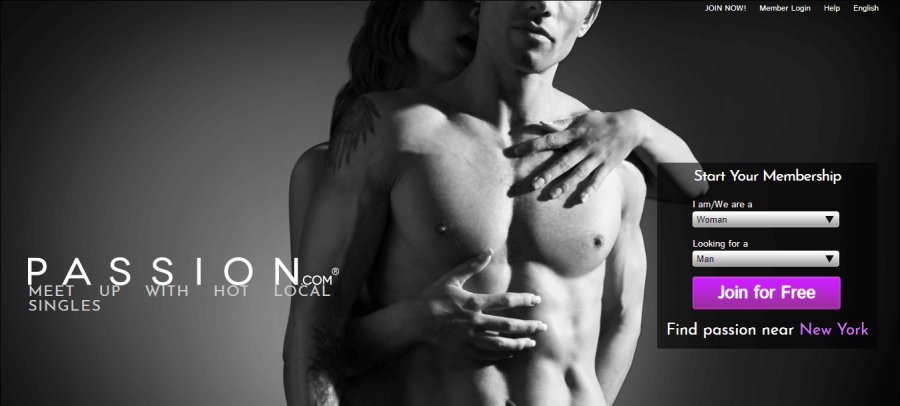 A small statement declares that there re currently over 10,000 Passion.com members near me. This seems like classic dating site marketing, especially as that seemed a hell of a high number. However, I was happy to be proven wrong if that was the case.
After checking out another Passion.com review, I found that the site boasts an impressive 30 million members. That's a lot by any online dating site standards, as even the major players like Tinder and Adult Friend Finder aren't much higher.
The sign up process is embeded intothe main page, so you can sign up without having to click off to another screen. Until you sign up, you can't do a whole lot (other than view a couple of small profile photos), so in order to get this Passion.com review going, that's exactly what I did.
You can't preview full member profiles or get a sample of the kind of people you could meet on here as a free member. I always find this a big downside, but most online dating sites hold you hostage until you create an account these days. It's standard practice.
Put in your basic info, starting with "I am a __ looking for a __" and go from there. Passion.com is very inclusive with its identity selections as it includes trans, queer, couples and more. Put in your date of birth, location, email address, username and password and you're ready to go once you've verified yourself via email address. That's your account sorted.
First impressions overall, Passion.com does a great job of hooking people in and easing them through the registration process. The site is user friendly and runs smoothly without any issues. The interface isn't cluttered and the imagery is all eye-catching. The only small downer was that I couldn't preview profiles, but everything else was on point.
Features
As a free member to Passion.com, you can't really do anything. Everywhere you click will just take you to a screen asking you to input your credit card information and sign up for the upgraded membership. For the purposes of this Passion.com review, that's what I did. More on that in the next section.
When creating my profile, I was asked to provide as much personal information about myself as possible. Casual adult dating sites usually keep this kind of info to a minimum, but Passion gets right down to the nitty gritty. It wants to know everything about you.
You'll be asked to divulge your sexual orientation, your sexual preferences (kinks and fetishes), your ideal partner, and a few details about yourself. Most of the questions come in the form of a drop-down box so you don't have to write a novel or anything. This is a great way of doing things without having to ask members to put in too much effort.
Once your profile is set up, you'll be thrown into the deep end. As you'll quickly find out, Passion.com goes the extra mile to create a sense of community amongst its sexually-charged users. While it's still an online dating site at heart, it also sports elements of social media and porn site appeal to keep people engaged at all times.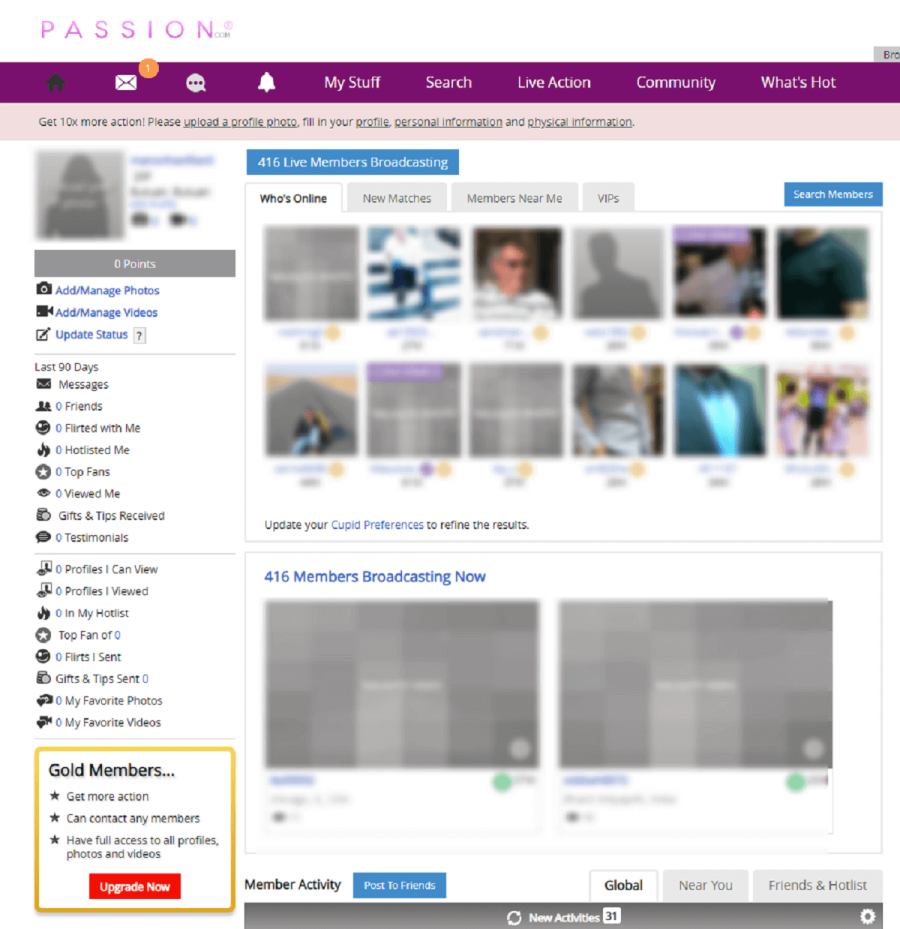 Unlike Tinder or Bumble, Passion.com takes the traditional dating site approach. That means you can scroll through users at your leisure and message any women you want. You don't have to swipe through users or rely on matches before you can begin a conversation.
On the same subject, there are indeed a good chunk of users on this site. There's a constant stream of activity 24/7, suggesting that the majority of users on Passion.com are indeed real people. Updates in the form of blog posts came every minute on the front page, suggesting heavy levels of activity.
But with that said, I stumbled upon more than a few fake profiles on my travels. For every twenty members I checked out, around one of them was a dud. Not a bad ratio, but not a great one either. The fake accounts were obvious by their lack of account info and their overly-sexual profiles. They also tend to use pictures of famous internet women as their profile pics.
As you can probably guess, most Passion.com members aren't on here to find a long-term relationship. They're here to find a man (or woman) to spend the night with and nothing more. The odd member might be searching for a long-term affair, but these people are few and far between. This is pretty obvious once you start searching through member profiles. Most people state their intentions with clarity.
The number of interactive features on Passion.com is nothing short of incredible. Outside of the major players like Adult Friend Finder, I haven't seen a hookup site with so much opportunity for interaction and fun.
In addition to the basic information in profiles, members are free to make blog posts and broadcast them to everyone on the site. A blog post provides a great way to help members see you as a real person rather than a sexual object (especially if you're a woman). Be wary that most blog posts are sexual in nature and usually relate to hooking up or sexual preferences in some way.
Next up is the number of chat rooms on Passion.com. These rooms are maintained by the site staff and are either themed around a certain topic or a location. For example, you'll find a chat room for people in LA just as you'll find a room for people into swinging. If there's a particular room you want to see, you can suggest it to the Passion.com mods.
Alternatively, there are also user-created private chat rooms available. These rooms are created by real people on the site who are looking to address a topic not yet addressed by the site admins. For example, if you're really into cuckolding, you can start a private room to discuss it with other members. These private rooms can be either public or invite-only.
Members can broadcast live webcam shows for the lucky men and women who happen to be online at the same time. Live webcam shows usually involve an element of naughtiness to them, usually seeing members strip or talk to the camera in a sensual manner. Think cam model shows -these are usually the same kind of thing. You can also live chat with any users broadcasting themselves.
The "Hot Section" is another great feature. When you're browsing profiles, you can vote on the hottest man or woman you find. Every day, the Hot Section features the profiles with the most votes. I really love this feature, and I think it's something other dating websites should take note of. It's a great way to repay members for putting the effort in.
The search function on Passion.com comes in two variations. First, there's the standard search options. You can filter profiles by the standard criteria; age, location, body type, income and education. It's a little fiddly, but you can get there with enough jigging around.
The other option is the "Kink Search," which is exactly what it sounds like. You can choose from a drop-down list of kinks, including things like domination, humiliation, spanking and foot fetish to find users who share your perverted desires. Honestly, this was a great little addition, and I wished more dating websites had a kink search function.
Passion.com doesn't yet have a mobile app. Right now, it's available in website form only. There's a mobile version of the website, but not an app. Surprising considering the site is one of the most active of any dating platform out there. My assumption is that they don't yet need an app.
Lastly is the messaging aspect of the site. Contacting other users is as easy as it comes, and you're able to send virtual gifts and "flirts" if you're not comfortable sending them a message introducing yourself. Given that most members are only here to find a lover for the night, you don't exactly need to engage in deep meaningful conversation either.
Pricing & Membership
Passion.com has two forms of membership: Standard Membership and Gold Membership. For the purposes of this Passion.com review, I opted for the Gold so I could sample its features in full.
First of all, here's the breakdown of the Standard Membership and what it includes:
Create a profile including uploading photos and videos
Basic search ability
View profile summaries (but not profile details)
Watch 1 live webcam show
Read 1 blog post at a time
Receive customer support by email (but priority is given to upgraded members)
Standard membership is completely free, but as you can see, there's not much you can do with it. You can have a very limited look around, but you can't interact with anyone. The most you can do is watch a live webcam show, but you won't be able to comment or interact with any other watchers.
Now, Gold Membership details:
Includes all of the perks of the Standard Membership
Advanced search capabilities, including Kink Search
View the complete profiles of other members
Send messages and reply to messages from other paid members
Watch unlimited number of live member webcams
Comment on member photos and videos
Send friend requests, flirts and virtual gifts
Add up to 1,000 members to your Hotlist
Receive personalized customer service via email or phone
Gold Membership costs:
1 month – $39.95 per month ($39.95 total)
3 months – $26.95 per month ($80.85 total)
12 months – $19.95 per month ($239.40 total)
If you want to get anywhere on Passion.com, you'll need to upgrade your account. Honestly, I personally think that 1 month isn't worth it, especially for $39.95. That's a lot of money to throw out just to test the waters.
The 3 month and 12 month options work out much better, and I'd say that either of these two options are definitely worth it. If you can spare the cash, I'd say the 12 month account package is your best bet.
Passion.com offers another additional payment option too. You can enhance your Gold Membership so that you can message standard members, and they can then reply to you without them having to upgrade. Costs for this enhancement are:
1 month – $24.95 per month ($24.95 total)
3 months – $11.95 per month ($35.85 total)
12 months – $8.95 per month ($107.40 total)
Note that this is in addition to the Gold Membership pricing, so it could definitely but your credit card under a little strain. But it's a unique feature I've never seen before, and would certainly incentivize free members to contact you. It could give you an edge over the competition.
Pros
In case you haven't realized by my overly-positive Passion.com review I really love this website. I think it's got the most potential of any online dating site I've reviewed. Here are my biggest pros:
Ease of use. Passion.com is smoother than velvet. As there's no app, I've had to use the website mobile version and it's been nothing but excellent. It's never bugged our crashed and I've never had trouble navigating it.
Registration takes a couple of minutes and doesn't involve extensive personality quizzes. All it needs is a username and password and you're off. I do wish there was a requirement for phone verification (one of the reasons there's more fake profiles on here than other sites) but more on that in the cons.
An endless stream of members from all walks of life. Member activity is second to none, as evident by the constant barrage of blog content being posted on the site.
Users come from all ethnicities and backgrounds, from trans people to couples and beyond. If you're a member of the LGBT community, you'll feel right at home here.
This is something that will get the mens' attention. The ratio of men to women on Passion.com is a staggering 5:1 in favor of the ladies. You read that right. The women outnumber the guys five times over. I've never heard of any site with this kind of ratio, so guys, make the most of it! You could be a kid in a candy shop if you sign up quickly.
The women on here aren't looking for a relationship. They don't want to be wined and dined. They're looking for a casual fling and that's it. If you're not ready for committment, Passion.com has your needs in mind. Unlike some other hookup sites like Tinder and Bumble, Passion.com hasn't fallen victim to being invaded by relationship seekers.
The costs for the upgraded account aren't too bad. While the 1 month package is a little steep, the other account packages are good for the money it costs. Also, it's not like you're not getting anything for your cash. With this site, you get what you pay for.
The sheer ways to interact as a Passion.com member is extraordinary. The blogs and chatrooms in particular are two great ways of meeting people outside of direct messages. You can get to know people by accident, which is usually how the best connections are made.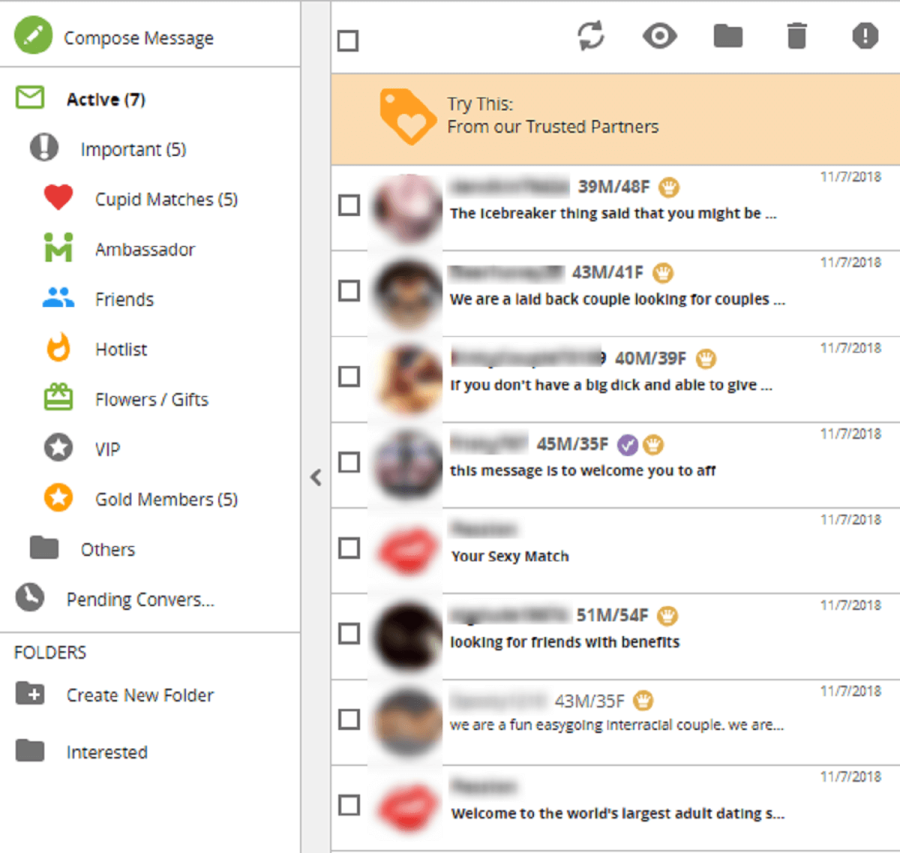 Sending and receiving messages is a breeze. Whenever you have unread messages, there's a huge notification at the top of the website telling you so. It's impossible to miss messages no matter what screen you're looking at. The ease of use of the messages system is pretty fantastic too.
The webcam shows are a hell of a lot of fun. It's actually quite erotic watching another site member do what they do best (we'll leave these details up to your imagination). Best of all, you're free to interact with them and send them private messages.
The membership enhancement is a great idea and one I've not seen before. It's a pretty neat way to lure in new members by letting them respond to messages they've received. It also gives you a little advantage since they can't message many other people.
Lastly, there's one great positive which I've not seen utilized anywhere else. The site offers a "Passion Guarantee," which states that if you haven't hooked up with anyone within three months of signing up, you'll get another three months absolutely free. That's a good deal in anyone's book.
How does the site know if you're telling the truth or not? That I don't actually know, so you might have to find that bit out for yourself.
Cons
It's not all roses over at Passion.com. The site has a few downsides.
If you're a standard member, you can't view profiles outside of the brief information on the front page. If you could have a good look at the people you could be talking to, I think this would entice a lot of new people into joining.
The adult movies section. Yes, Passion.com has a section for pornography, and none of it involves Passion.com members. I know some dating sites have an area for its members to show themselves off, but the adult movies section on here is just amateur porn stolen from tube sites. It's completely unnecessary, and any dating site that features adult movies usually has something to hide.
Fake profiles. I know that dating sites can't police their members to perfection, but in comparison to some other platforms, Passion.com has a lot of fake accounts wandering around. While they're easy to spot, it's still a waste of time having to weed them out.
Virtual gifts and flirts. Seriously, any time I see things like this I always equate them with teenagers on Facebook. I think if you're on an adult dating app, you should be able to string a few words together to woo the women in front of you. Whenever I see winks or flirts or stickers, I always feel a little turned off.
The lack of a mobile app is a big downer, especially in regards to receiving notifications. While you can get them sent via email, it's so much easier to check your phone screen for notifications. As Passion.com is website only, you constantly have to open up your browser and refresh the page to make sure you're not missing anything.
Searching can be a fiddle sometimes. It can be a little messy trying to narrow down users, especially as you can't search by keyword and constantly have to adjust the filters in the drop down boxes.
While I absolutely love the Kink Search feature, it sucks that you can only search by pre-listed kinks. If you could search kinks by keyword it would be much more beneficial, since there are a ton of kinks that aren't featured on the drop down list.
Conclusion
Passion.com is excellent. It's one of the most enjoyable and immersive dating platforms I've ever used, and I've used them all.
Everything from sign up to hook up is fun and spending time on the site never seems to be a chore. Somehow, Passion.com has managed to put the fun back in online dating. I don't know how they've done it but I'm not complaining.
Sure, there are a few downsides to Passion.com, but they're far outweighed by the positives. If it's interactivity, connection and lots of horny users you want, look no further than this site. I encourage everyone to create an account right this second.
Overall, I'm giving Passion.com a solid 4.5 out of 5.0.
We hope you've found something useful in our Passion.com review. Passion.com is just one of the many hookup apps we've reviewed. Check out our others here.
Ready to Try Passion.com?
FAQs
What is Passion.com?
Passion.com is a dating site which caters to people looking for short-term flings and casual relationships. The site has an active member base in the United States, Canada, United Kingdom and South America.
As of January 2021, Passion.com has around 30 million registered users, with around 22 million active members.
Is Passion.com a scam?
No, Passion.com is not a scam. Passion.com is a legitimate dating platform that helps connect like-minded people looking for passionate engagement.
Is Passion.com free?
No, Passion dot com isn't free. In order to message other Passion members and view their profiles, you will need to upgrade to the site's Gold Members package. Costs can be anything from $19.95 per month to $39.95 per month depending on how many months you commit to.
Is Passion.com better than POF?
Passion.com caters to those looking for short term engagement such as casual sex and friends with benefits relationships. POF is geared towards people looking for long-term relationships and marriage.
How do I cancel my Passion.com membership?
Log in to your Passion account and head to the "Settings" page. From here, turn off Automatic Renewal of Membership. When your membership expires, you won't be charged and your subscription will be cancelled.
Alternatively, you can cancel your Passion membership through the iOS or Google Play stores.
If you have any queries about your account, profile or credit card details, you can contact the Passion customer service team at the email address provided.