If you haven't heard of UberHorny yet, it's another one of those hookup sites that help you meet local women interested in having sex, and only sex.
The reason they've taken after the popular ride service in their name is that UberHorny is, quite literally, a map where you can view all the women who want sex within proximity to you. Women and men sign up on this website to find those interested in the same thing as them — a casual hookup.
If you're someone who wants something like this, to hook up with women in your area for free, and you're not looking for something long term, then you might find this to be the casual perfect casual dating site.
We've tested the site top to bottom, and we're here to review it to help you decide whether this dating site is right for you. Read on for our in-depth UberHorny review, and find out if it really can help find no strings attached fun.
First Impressions
There's not much going on with the UberHorny website, which makes it easier to spot and get started with the registration process. However, that means that not much information is given about the service itself, either. You wouldn't know just exactly what the site does unless you sign up.
So that's what I did.
To register, you first need to fill in a short registration form. This consists of six questions about your basic personal information: your location, age and then your screen name, e-mail address and a password. A verification link will be sent to your e-email address, and you'll be prompted to click it.
After that, you'll step foot into the UberHorny site, but have the option of first entering your preferences on who you're looking for by filtering their age range, race, hair color, and body type, as well as disclosing if you're interested only in members with photos or near you, or both.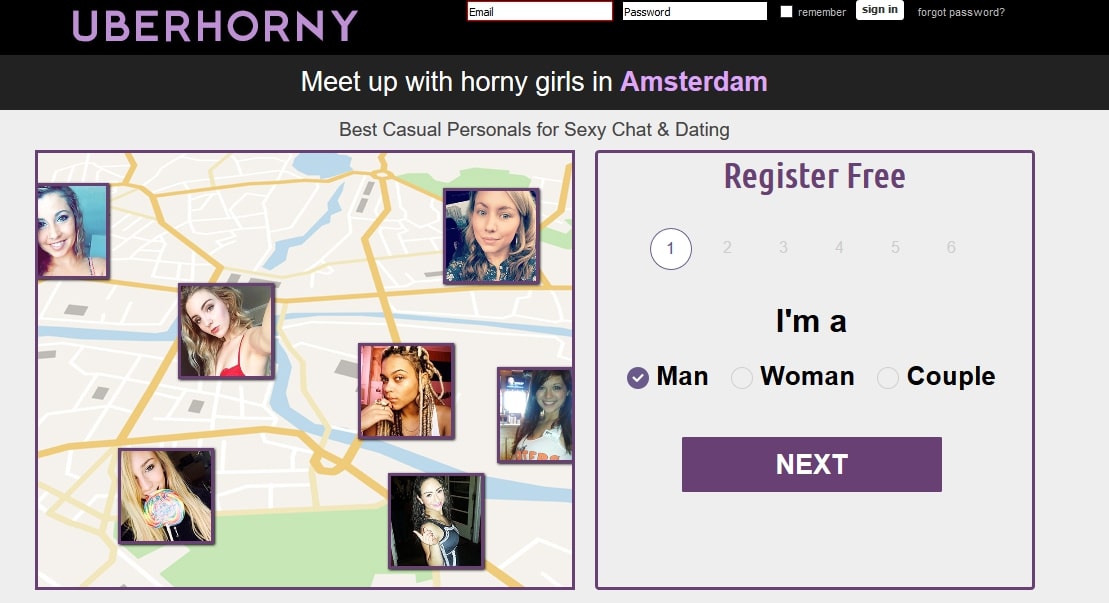 You can also upload your profile picture at this point, but for the sake of reviewing and finding out if this site is legit, I kept everything blank, except selecting to view users with photos and near me.
Once you've finished the signup process, you'll see Uberhorny's commitment to authenticity articles, where they claim never to create fake accounts and keep a 24/7 customer support team to prevent scam profiles, among a few other things. This appears to have been placed to make users with concerns worry less and to reassure them of their safety. Fake profiles are a huge problem on dating sites (and social media in general), so this is a nice little feature.
To move past this, and avoid being taken to the billing page, I selected the "Home" tab at the header of the website and redirected to the main page of the website for members. With the free membership, I was still immediately able to use the site.
Right away you'll be prompted with something sort of like a game, where you select everyone on a grid of pictures that you find attractive to send winks to. You can choose to exit out of that feature and not participate, or once you're done, and reveal the member area.
Here, you can see which users are online now, new members, view the members who stream, featured members, and see premium live cams, as well as member photo galleries full of nudes. You can also add any members who take your fancy to your favorite list, allowing you to jump straight back to their profile whenever you want.
UberHorny's website is not complicated at all and should be easy for most people to navigate. It's not hard to find what you want, and select what you want to do. The helpful header tabs direct you to wherever you want to go, from the search tool to chat options.
Features
There are some of the features once you've logged on. There's streaming members, and premium live cams from CamSoda. UberHorny lets their female users cam and broadcast themselves. They also link you to more professional camgirls that go live on CamSoda. Not only can you search for women to hook up with, but also enjoy some porn.
The member base is quite extensive. The site has no shortage of activity, that's for sure. As you'll see when scrolling through the profile photos on the site homepage, this dating site is overflowing with users; man, woman, couples. The member base is huge, and nobody should have trouble finding a one night stand.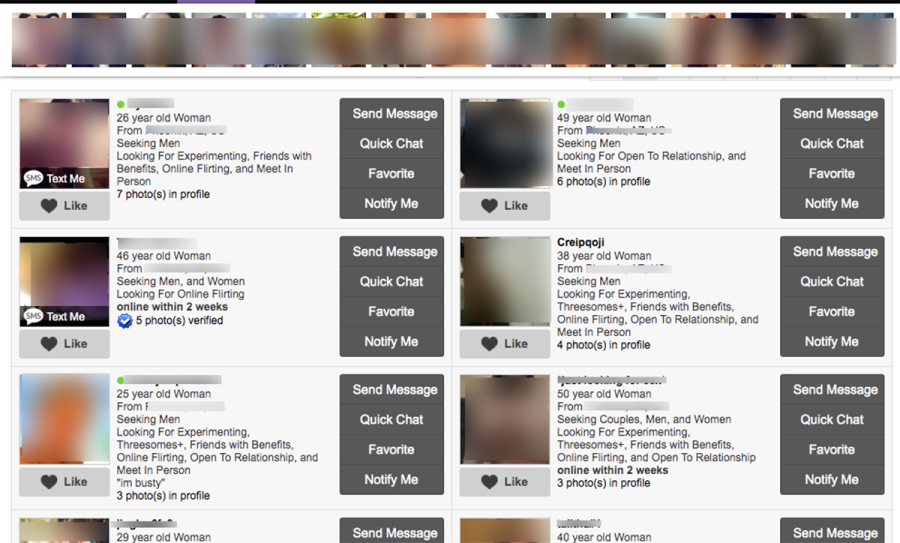 Users can upload their own explicit photos and videos, and you get to see all the amateur porn from members in the galleries displayed on the homepage. Most Uberhorny reviews have only had good things to say about this little service.
On Uber Horny, there's more than one way to search for and find the person you want to hook up with. You can use the regular, advanced or discreet search filters. This lets you narrow down by more categories about your ideal person, or browse through any of their other search categories. These range from viewing who's online now or new faces. The advanced search has the most parameters out of all the options.
To chat with other people, the site offers a couple of options as well. UberHorny has both video chat and group chat options to meet women, as well as standard instant messaging. You can add other people to your favorites list, and quickly find them to chat later.
Besides the game I mentioned earlier, there's also a new game recently added called the Swipe Game, where it is essentially choosing whose cute or not from each member's profile picture.
Similar to other social media sites, users can also post status updates for others to see. Your updates will appear on your profile, and help other users to get to know you better.
There's a 'trending now' section, which showcases a different dating profile every day. Being featured on this section depends on your user ranking. If your ranking reaches a certain point (completed profile, regular interaction, regular responses, etc) your ranking will go up.
Pricing & Membership Benefits
Like most dating websites, not all of those unique features are available to free UberHorny members, however. You'll need to break out your credit card, and upgrade to Gold membership to access everything.
There are five different premium membership plans to choose from. Quite a broad choice for any dating app,we're sure you'll agree.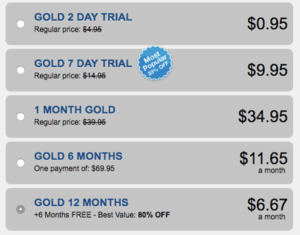 The first two are trial plans which expire after either 2 days or 7 days, depending on which membership you choose. The 2-day trial period will cost you $0.95, while the 7-day trial period, their most popular option, costs $9.95. Trial options are good because you won't be committed to anything longer than a week. You can spend less than $10 to see if UberHorny Gold is worth your money.
If you decide that it is, you can get three different monthly subscription options. The first is a 1-month option for the reasonable cost of $34.95, the other a 6-month option for $11.65 per month, and lastly, a one-year subscription option for $6.67 per month, plus 6 months free. You get the best deal when you pay for 12-months up front.
When you upgrade to Gold, you'll unlock many of the features that you need to enjoy and get the most out of the site.
For starters, you can't message anyone if you have a free UberHorny account. Chatting with people is probably the whole purpose of joining a hookup site, and without it, you won't be able to communicate with other women and potentially meet up. However, once upgraded, the reply rate is good, and most matches responded.
You can't view any profiles unless you're a Gold member, and you can't view any of the live members' cams. Also, member photos and videos cannot be made larger or selected to view until you're a Gold member. Similarly, the chat options are reserved for Gold members as well.
Pros
The profile pictures of most of the people on UberHorny appear to be real. If it's not a full-on nude shot of a girl's breasts or ass, it's of her face. None of these pics are too professional or look like you can find it on the internet. The moderation team seems to care about keeping UberHorny safe, and removes fake profiles.
The Sign up process is also super easy and doesn't take a lot of effort. Name, email address and you're ready to go. Setting up your profile is just as easy, and lets you say everything one would need to know about you to decide if they want to fuck you or not.
Profile information is usually quite detailed. Most UberHorny users list their interests and their sexual desires (casual relationship, fling, fuck buddies, etc). It's easy to find people with the search feature based on their profiles. The lack of scam users is quite refreshing too. You might come across the odd scam profile from time to time, but you can always tell from their (lack of) profile information that they're not a real person.
Membership cost is good. Dating site standard is around the $30 mark, and while Uberhorny membership is slightly more, it's worth it for the better service.
Uberhorny is committed to member satisfaction. If you don't hook up with anyone from the site in 3 months, they'll even give you another 3 months for free.
UberHorny offers both a mobile app and website version. The website service is a little clunky, but the mobile app is as smooth as it comes. Although their mobile app isn't available on the app store, it can be installed by visiting the site on your phone.
If you've got a Gold membership, I'm sure all the special features you unlock will make UberHorny even better and increase your chances of getting laid.
Cons
You can't really do anything unless you sign up for a premium account. That kind of makes it hard for people to test the waters and choose to upgrade for other features not given with a free account. Instead, all of them are locked.
UberHorny also doesn't recommend you people to chat with, which they should, given it's based on location and would make it easier on you to see which singles are near you and could match with you. You're instead shown all people and would have to search for members and filter for those in your location.
And to make matters worse, the UberHorny search function isn't so great. You can only search by zip code, and not all premium members actually list theirs in their profiles. This means you're missing out on some potential hookup opportunities.
One thing I hated about UberHorny (and every other dating site that does this) is that your subscription auto-renews by default. You can change this in the account settings, but it's still a pain.
Conclusion & Rating
Once you take the plunge get the premium membership, UberHorny becomes one of the better dating services currently on the scene. Your chances of finding hookups are pretty high, there is a large user base and the site is a breeze to use. Sure, it has its pitfalls, but as far as dating sites go, it does the job as intended.
If you're not ready to make any financial commitments to UberHorny, I'd suggest getting the 2-day or 7-day trial option to check out its full potential on Gold. It's not a lot of money to give up, and just the right amount of days to test your luck with hooking up with women. If you like the site after the trial, Uberhorny's 3-month hookup guarantee should keep you reassured.
With a premium account, the added features you unlock could make all the difference from what I saw. The site goes from one doesn't do anything and just shows hot women's profiles, to an ultimate hookup finder. I'd suggest looking into other apps like Pure and InstantHookups as well.
UberHorny is definitely one of the better hookup sites, so we encourage you to give it a try for yourself. If it works, comment and let us know your success story.
UberHorny gets 4/5 Stars. We hope you've enjoyed our UberHorny review. Please check out our other dating site reviews.
Ready to try UberHorny?
FAQs
What is Uberhorny?
Uberhorny is a hookup site where you can meet local women who are looking for sex. Women and men sign up for the site to meet each other and hook up.
Is Uberhorny legit?
Yes, Uberhorny is a real hookup site. It has plenty of real members, not just fake profiles and bots, and the chances of finding a hookup with the site are pretty high.
Is Uberhorny safe?
Yes, Uberhorny is safe. While you should obviously use caution when meeting up with someone from the internet, Uberhorny's moderation team does a good job of monitoring the site.
Is Uberhorny free?
While you can sign up and use the site for free, the features are limited. You can't send messages to other users, and you just get a chance to see who's around you. Their trial options give you a few days to try the site inexpensively.
Who can join Uberhorny?
Anyone who is at least 18 years of age can sign up.
How do I cancel my Uberhorny account?
You can find a link to cancel your membership in "Account Settings." If you want to stop being an Uberhorny user all together, there is also the option to fully delete your account from the site.