There are so many different ways to hook up with people online now. Every day, there's a new site on the app store that claims easy sex with local strangers. And usually, they come with quirky gimmicks and features.
One of the more popular categories of hookup sites these days deals with Snapchat sex. Not familiar with it? Simply, Snapchat sex sites get you laid via social media giant in some way. Sure, it sounds weird. Think of it like the equivalent of Facebook dating – using your Snapchat account to find users looking for casual sex.
Snapchat sex sites that help you acquire usernames of women on the app who you can exchange nudes with and, hopefully, hook up with if you're near each other.
Some of these sites don't even really have anything to do with Snapchat, but the concept is the same; you meet and talk to women on their website and exchange nude photos and videos with one another, and if you're near each other, eventually hook up.
One of those sites that we will be discussing today is SnapSext; an online space where people can meet and dirty chat. We've dug into this brand new platform for your convenience. Is SnapSext legit? Will it get you laid? Read on for our in-depth SnapSext review.
What Is SnapSext?
As I mentioned, SnapSext doesn't really have much to do with the popular social media and chat app that has become known as the ultimate sexting app.
Instead, the idea of SnapSext is similar to what you would do on Snapchat — send naked photos, videos, dirty chat with people, and just maybe hook up in real life.
On SnapSext, you can create a profile that is completely customizable, meaning you can choose your name, select your profile picture, and add a description, to begin meeting people.
But just how good is SnapSext at delivering the promise of sex?
First Impressions
When you first log onto SnapSext, you'll notice that their layout appears to be very outdated and just looks like a scam site. It looks nothing like the Snapchat platform in any way, boasting a black and pink theme as opposed to the classic black and yellow Snap colors.
Once you take a little wander around this dating app though, you'll notice that it's not a scam at all. But of course, if SnapSext want that impression to go away then they'll need to do some serious site renovation. Because right now, it's got fake written all over it.
You'll also see a bunch of photos of sexy women's nude photos from what are perceived to be members of SnapSext, to give you an idea of the type of women you could be talking to. This was a big red flag at first, since these clearly weren't the profile photos of genuine users. But this is standard dating site etiquette in the modern age.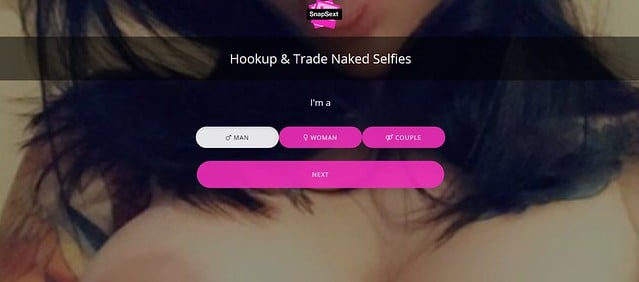 SnapSext wastes no time in getting down to business. Right away you'll be prompted to join the site, and if you try clicking into any profiles, you'll be sent to the login page. Luckily, the sign-up process is quick and easy.
To get started, you'll be asked a few questions. These sign up questions involve entering your gender, if you're seeking a man, woman, or couple, your location, age, email address and password.
The SnapSext sign-up process is one of the simplest I've seen of any dating service, and the fact that it is there in (huge) display for you to fill out on the homepage makes things even more convenient.
Features
Once you're all set up and have gone through the sign-up process, which doesn't take more than 10 minutes, you'll be set to start using SnapSext's features. For the purposes of this review, we left our profile mostly blank aside from the basic information and a picture.
SnapSext makes no secret of its intentions. Explicit pictures can be found all over the website, constantly reinforcing the notion that this isn't a dating website, it's a hookup website.
Like every other dating platform, you're constantly pestered to upgrade to the premium membership. However, there's a little incentive for women to join the platform since they get membership totally free of charge. Some reviews have slated this approach, but personally I thought it might lure a few more members to the platform.
However, it's a different story if you're a guy. Features will differ depending on your membership status.
Free users can't do a whole lot (like with most online dating websites). While you can browse through the user base, all you'll see if their profile photo and nothing else. You can't view their personal information or even see where they're located. If you want to do that, you've gotta take the plunge and pay the price.
But once you do upgrade, Snapsext becomes a new platform entirely. You'll be thrust into a world of casual dating and adult content.
Before you even start to chat with other users, you can browse hundreds of sexy photos in SnapSext's personalized galleries. All of the content in here has been uploaded by the many users on the site themselves. It's kind of like a mini-porn website, not to mention that you won't find these pics anywhere else on the internet. As you can probably guess, most SnapSext reviews have been very kind to this feature.
When it comes to chatting with members, there's more than one way to communicate with users on SnapSext that will make for the possibilities of dirty chat endless. Along with simple chat messaging between you and another member of the site, you can also participate in group chat or video chat if that takes your fancy.
Throughout the site there are a good amount of chat rooms to browse through to connect with members outside of the standard messaging approach. Chat rooms are broken down by topic, country and languages, so you can find a subject that interests you to give you a good chance of striking up rapport with members.
Another great feature on SnapSext is being able to view who is currently online when you log into your account. From here, can then click on their profile and start sending them messages. This little feature updates in real time too, so you can keep an eye on the new members coming in and be the first one to hit them up.
Also, you can utilize advanced search tool to find a perfect match. Things that you can filter in your search include sexual preference, gender, age, location, appearance, profession, income, compatibility, and interests.
I can't lie and say that there aren't a few fake profiles on SnapSext, but really, it's the same with every dating site these days. Fake profiles are designed to give the illusion of activity, and then they gradually die out. However, while SnaptSext has enough genuine activity going on, some of the fakes are still on the prowl. But they're easy enough to spot and ignore.
Pricing and Membership
After going through the registration process, your account will become active. From that point, you're a free member and you can make your dating profile and, if you're a woman, enjoy everything SnapSext has to offer without having to pay a dime. While not every feature will be available, there's enough available to use SnapSext the way it was intended.
Guys, on the other hand, need to become members to do anything at all. So what options do you have?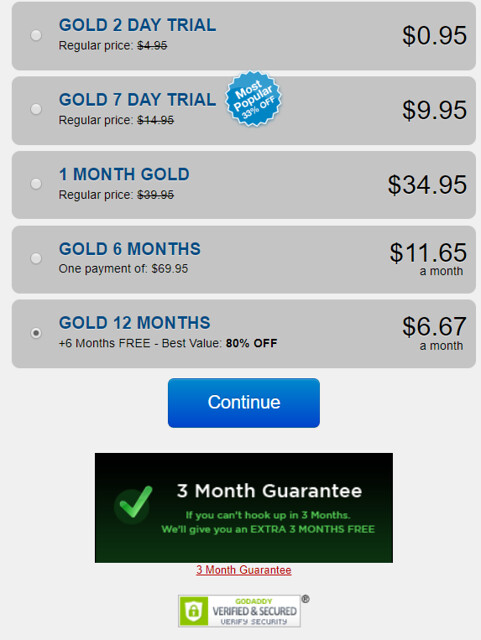 There's only one type of paid subscription and that's the Gold membership.
You can start out with either a Gold 2 or 7-day trial. The 2-day trial is $0.99 and the 7-day trial is $9.95. For this review, we opted for the trial version.
If you decide you like SnapSext enough to want to continue using the site after your trial is up, you can select from one of three options; A Gold 1-month membership for $34.95, a Gold 6-months membership for $11.65 per month, or a Gold 18-months membership for $6.67 per month.
The one-month option, while it might seem a lot, isn't all that bad for one month. There are pros and cons to every subscription type, but if you ask us, these prices are not bad. Some reviews have called it quite steep, but compare it to other dating or hookup websites and see for yourself.
You can get a year and a half membership for only about $120, a price that will be hard to beat. It's in your best interest to go for the Gold 18-month membership for the best deal.
Pros
Of all the Snap-based sex sites, SnapSext has the most positives in my opinion. Let's look at them individually.
Signing up is a piece of cake. All it takes is an email address and a user name. You don't have to link it with any other social media accounts or anything like that.
All of the profiles you see on SnapSext appear to be genuine and real people. If you're an avid user of the internet and have any experience at all in using dating sites like SnapSext, then I'm sure you've acquired a knack for telling apart fake profiles from real ones. After a bit of browsing, I found very few profiles that appeared to be sketchy.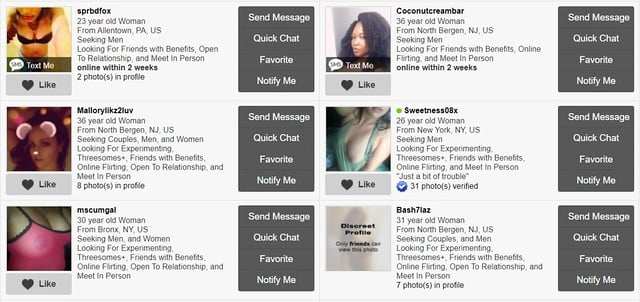 There are genuine users all across the world, not just in the United States. SnapSext has a strong presence in Canada and the UK too. While there are people in every town, the more populated cities have a much bigger footfall. If you're in small town, you'll still find some action but you might have to travel a little.
When exchanging messages on SnapSext, there's a convenient little chat bar which pops up on the bottom of your screen. When using the platform on desktop, this is super useful but it can be a little fidgety if you're using the website version on your phone browser. It works a lot like the Facebook messages system. If you're using the SnapSext app, this feature isn't available.
One unique aspect of Snap Sext is the 'hotness factor.' All adults on the site have hotness factor levels in their profile information. This is a sliding scale based on things like platform activity, how many messages you send, how many messages you to reply to, how often you interact with other members, etc. The higher your hotness factor, the more your profile will be featured on the app homepage. This means more users will see you, thus increasing your chance for a hookup.
Another pro of Snap Sext is that you'll be guaranteed lots of great dirty chat because everyone on here is seeking the same thing. It's not a dating site, it's obviously for casual sex; so you never have to worry about giving someone the wrong impression, or having to lie for sex.
Video chatting is a nice little feature, and tends to attract the more outgoing members of the site. You can join video chats whenever you want, and can be either one-on-one or in groups.
You can also always find people online on Snap Sext, and they have a decent amount of users that frequent the site daily. You'll never have trouble finding members to chat with.
Cons
I know I've done nothing but sing the praises of this platform so far, but SnapSext .com isn't without its faults.
Obviously, the biggest con to SnapSext is that it is not free. And worse still, there's free trial options to give you a sample of the site. It's either you dish out your cash or don't use the site at all, for men at least.
Also, there is a slight chance that some of the interactions you have on here won't be genuine, meaning that to get users to stay, SnapSext could be paying girls to interact with you, or they are algorithms of their own. I can vouch for this because when creating my profile for research purposes to go into this SnapSext review, I left my profile practically blank. After a few hours, though, I had messages from members already.
I'm not saying these people were scams, since they didn't send me any dodgy links or anything, but it was a small cause for concern. I even did a reverse image search on one of the profiles and found her picture all over the internet, so I know for sure she wasn't real.
It's up to you whether this is bad or not, but either way, people will always talk to you on SnapSext .com and more often than not, they're real conversations that you start.
Conclusion & Rating
Out of all the sites of its kind, SnapSext is one of the more reliable and genuine sites out there. There are real profiles, it's easy to talk to people, and they have great features. Although their design could use some work, the functionality of the app and website are very good as far as dating sites go.
Their prices are also decent and nothing that will make you go broke at the expense of sex, but can add up if you decide to use it for more than 18 months. But hey, you have other options – like SnapSex.
SnapSext gets 3.5/5 stars from us!
We hope you've enjoyed our SnapSext review. You can find SnapSext on the iOS or Apple store today. We have plenty of other online dating site reviews too, so check them out to find the ideal dating site for you.
Ready to try SnapSext?