There are many different reviews online about InstantHookups. Some say this is the worst site, scamming you of your money, and others claim it's one of the best hookup sites and works perfectly fine.
Talk about confusing. What gives? Well, don't worry, we've got the truth for you right here.
InstantHookups.com is an adult dating site. It's not for finding a relationship. It's finding a casual hookup. They claim to have 27 million members, so your chances should be pretty good. Does it really work? Will you find sex on here? Why do some reviews hate it?
If you want to know the real deal behind this infamous hookup site, take a look at our full InstantHookups review below.
First Impression
Logging onto Instant Hookups website can be pretty intimidating. There's a lot going on at first glance. There's a slideshow of hot girls' pictures, a live number count of how many girls and guys on the site are in your area, plus many tabs in the header, and even more text and photos once you scroll down. Sheesh. Talk about sensory overload.
But don't worry, all the information presented on the homepage of Instant Hookups is meant to guide you and inform you of everything the platform has to offer, as hectic as it may look.
You can start the sign-up process by answering the six questions you see when first entering the site, but I decided to scroll through and checking everything for myself. I didn't want to overlook any feature.
InstantHookups.com makes it a point to let you know that everyone is welcome on here. Whether you're looking for men, women, couples, gays, or lesbians, all are welcome to try Instant Hookups and find what they're searching for.
If you scroll further down the site, you can read a few testimonials from some of their user testimonials and see their match up and hookup stats. It's nice to see some brief InstantHookups reviews from real people. Instanthookups philosophy is simple; join, talk, meet.
You can meet local single women for free using InstantHookups because they provide you with the tools you need to make communication easy. I began the signup process and was impressed by how easy it was. It was in stark contrast to the information overload I'd previously received.
First, there's a small questionnaire in addition to the main details (age, location, etc). Some of the questions you'll need to answer are what type of partner you're looking to meet, your user type, your sexual preferences, and what type of relationship suits you best. The final step to create an account is to enter your full name and zip code, as well as to provide your credit card details for free access, at zero charge.
I must admit, I thought it was pretty weird to ask for your credit card information to use a site that is completely free. But, after reading over the fine print terms of the free subscription (which everyone should), I realized that no harm would be done to my account so long as I remembered to cancel the free one-day trial to their Premium VIP membership that comes with the lifetime membership. The only way your card will be charged is if you don't cancel that Premium VIP trial before the one day is up, which will result in a $49.95 charge (ouch).
So after reluctantly entering my email address and credit card details, I began to use Instant Hookups.
Features
On your home page, you'll notice an extensive grid of local matches, as well as who's online now and who's on cam. So not only does Instant Hookups work as a site to meet people to have sex, you can enjoy some live free cams from gorgeous models.
I'm always wary of any website that lures you in with unnecessary features like live cams, but they were harmless enough. They didn't detract from any other feature on the site, and in general the interface is user friendly.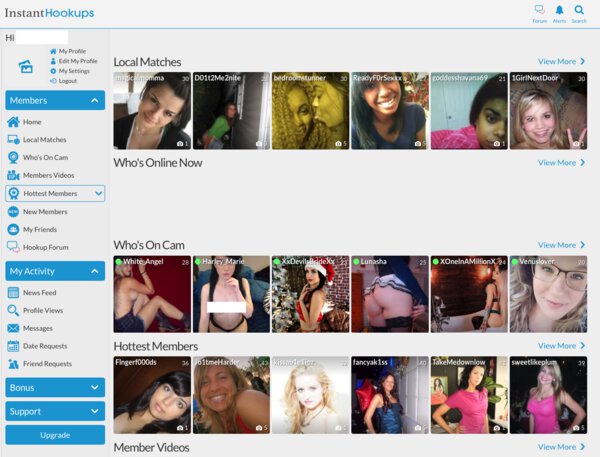 If you scroll down a little, you'll also see featured members as well as member videos that have been uploaded to the site. These are usually homemade porn videos from the women that are users on Instant Hookups. Now this is the kind of feature I can get behind. I know it's basically porn in the same way as live cams, but the fact it's personalized by InstantHookups users makes it worthwhile.
There are also many things to edit on your profile to tell more about yourself. You can edit your profile tagline, which automatically sets to "I love sex!" as well as a profile 'About Me' section, where more of your interests are shown. You can do the same for your hookup preferences to help you find someone just right for you.
For the purposes of this review, we kept our details down to the bare minimum.
Most hookup sites utilize the matchmaking swipe service and InstantHookups.com is no different. However, while you do have the option to make swipe matches on this app, you can also scroll through users like an old school dating platform. The matching system is best to help local members find each other though.
GPS Automatch is a handy little service. Most dating sites use this, but InstantHookups.com actually uses the location service on its users phones to match people with their nearest members. This way, it doesn't rely on a keyword search in people's profiles (not every user puts it in there).
Pricing & Membership Benefits
There's no charge for using Instant Hookups. Man or woman, it's free to use, and they claim to give you lifetime access for $0.00. That's a good payment option for any dating website.
However, if you choose to stay with the Premium VIP membership, or unfortunately forget to cancel the one-day trial before it is over, you will be billed $49.95 monthly.
Premium members also get to have unlimited access to two other websites. HookupCloud for $1.95 for 2-days, rebilling at $39.95 per month if not canceled. If you're someone that's into schoolgirl porn, you'll also receive a fourteen-day free trial to HDSchoolGirlz, rebilling at $29.95 every month if not canceled.
With a free account, members of Instant Hookups can enjoy features that include sending and receiving messages, live chat, unlimited searches as well as advanced searches, viewing full-sized photos, free cam shows, and being able to see all profiles of over 20,000 new daily users.
Pros
Instant Hookups is a highly sex-oriented platform, so everyone you meet will be wanting the same thing as you — casual sex. There's no mistaking this for a dating site, so you'll never face an unwanted match that only wants a relationship. Everyone here is looking for a fuckbuddy or a one night stand.
The other features include free cams, live video chat, and member videos. These help you fantasize and get ready for the real sex you'll be having through InstantHookups .com. You can have all your porn needs met, as well as a great hookup site all in one place.
The advanced search service is really useful to narrowing down search results to find that perfect hookup partner. You can filter down by name, age, location, body type, religion, ethnicity and more.
Usually after signing up to a new hookup app you're inundated with annoying messages from fakes, advertisements and the website support team. That wasn't the case on InstantHookups. The only people who sent me messages were the people I wanted to.
Cons
Unfortunately, there's a lot of ads on Instant Hookups that can be annoying. Also, the whole credit card thing can be offputting for people. You won't be able to chat with anyone without doing so just to get free unlimited access.
Like even the best hookup websites, the gender ratio is slanted towards men, but there seems to be enough women signed up and active on the site. The ratio is around 60 / 40. However, it's not the busiest dating site in the world.
If you don't wish to pay for the Premium VIP membership, you have to remember to cancel on the first day. Then you'll be able to keep using the site as a free member, but otherwise you'll be billed for a one month membership automatically. The website will prompt you to upgrade every time you visit again, which can be annoying.
The sites safety policies were a little scarce. I usually do a quick read through of the security policies to get the scope on fake profiles (my pet peeve), but their safety policies were not only difficult to find (thanks in part to the chaotic website), but also didn't reveal much. Likewise, I couldn't many details about the websites customer service approach.
Why Instant Hookups feels it's necessary to lure users in with subscriptions to other adult dating sites is weird to me. Hell, one of them isn't even a dating app, it's a straight-up porn website.
Conclusion & Rating
As far as hookup sites go, InstantHookups is very much middle of the road. Your hookup rate won't be out of this world, but if you put the effort in, date opportunities will certainly come your way eventually. But honestly, I can see why not every InstantHookups review has been on the positive side.
Although it can be a hassle, if you're worried about giving out your card info, there's a way you can get around it and still access Instant Hookups to see if you even want to get the unlimited free access. All you need to do is verify your profile by clicking the link sent to you in an e-mail and just simply "x" out of further pop-ups asking you to do so.
But as I said, your access and what you'll be able to do on InstantHookups will be limited until you do. This isn't the best-designed adult dating website out there. It does seem like there's a lot of people on the site to talk to, and has enough simple features to make it worth a shot.
InstantHookups.com gets 3/5 Stars.
We hope you've enjoyed our Instant Hookups review. If you've used this casual dating service for yourself, please let us know what you think. Also, please check out our reviews of other dating apps to find the platform perfect for you.
Ready to try InstantHookups?
FAQs
How much does InstantHookups cost?
You can use Instant Hookups for free. The Premium VIP membership costs $49.95 for a 1-month membership, automatically rebilling until you cancel. If you'd like to use the service for free, simply cancel your premium membership during the free trial period.
Is InstantHookups a scam?
We've found plenty of other real users on Instant Hookups in our testing. While it may take some time spent chatting to actually meet someone in real life, we also got a lot of value from the live webcams and member videos.
What payment methods does Instant Hookups accept?
Any major credit card is accepted for payment on InstantHookups.com.
How can I cancel my InstantHookups membership?
You can cancel your membership by clicking "my settings." From the settings page, you'll be able to cancel your subscription. You can also contact customer support and ask them to cancel the subscription.