BeNaughty: Real Casual Dating & Fast Hookups
So you've started searching around for the perfect dating app. You want an app that's discreet, easy to use, preferably free, has tons of women available, and most of all — actually works.
Lucky for you, you must've stumbled upon today's review site; BeNaughty, otherwise, you wouldn't be reading this review to find out if it's just another hookup app that seems too good to be true.
Or maybe your research is starting with this review. Either way, I've done all the hard work for you to help you decide if BeNaughty is something you want to sign up for.
If you want to know everything about this online dating site, then read on for our extensive and in-depth BeNaughty review.
First Impressions
Surprisingly, BeNaughty has actually been in the online dating scene for almost 15 years, but only recently have people become aware of it. The site has enjoyed a surge of traffic with the modern rise of hookup sites as opposed to classic online dating sites.
One of the things that struck me straight away about BeNaughty is the professional quality of their web page. Its design is friendly and inviting, and definitely not scam-like at all. It's easy to tell on the Internet nowadays when a dating app is kept up with and regularly updated to meet the modern look versus when they're not.
BeNaughty is a dating site that does. It's got an alluring yellow and white color scheme along with stock photos of gorgeous women in provocative poses, and all the information you need about the site is right there in front of you. It's definitely an on-brand design for what BeNaughty is trying to achieve.
BeNaughty is quick to tell you it's not a dating website – it's a hookup site. Its tagline, "fun dating with no waiting," seems innocent enough. However, as you dig deeper into the site you'll find it continually alluding to casual sex, short term affairs and even infidelity.
There are beautifully made infographics as well as testimonials from some of their members on their homepage to give you an overview of what they have to offer. The process for registering on BeNaughty is made easy for you by placing their sign-up box straight in your face.
Filling out the form with your basic information; gender, date of birth, email address and password, as well as zip code gets you set up in less than a minute. Once you've done that all you need to do is confirm your profile by entering an activation code sent to the email address you entered, and from there you'll be logged in.
You can then set your profile picture and finish setting up your profile info straight away (or choose to do it later). Some of the profile information you can fill out to display on your profile are your marital status (BeNaughty doesn't care if you're married and/or having an affair), ethnicity, body type, hair color, and even have the option of setting a status to promote your account with.
The first thing you see when you've logged onto your account is the member area, which shows you which members are online now, new members, and all members. This makes it quick and easy to browse through the profiles of women you could potentially be interested in, and the best thing is that most of these profiles look totally legit.
Features
Something that stood out to me was that BeNaughty doesn't bombard its users with questions right from the off. For some users, this can be a little overwhelming, especially when you just want to browse the site to see if it's right for you.
There were some profile photos and videos dotted around the site homepage, which, to their credit, didn't look like scam profiles in the slightest. Usually you're bombared with gorgeous looking people who wouldn't need to use a dating site in a million years, but that's not the case with BeNaughty.com.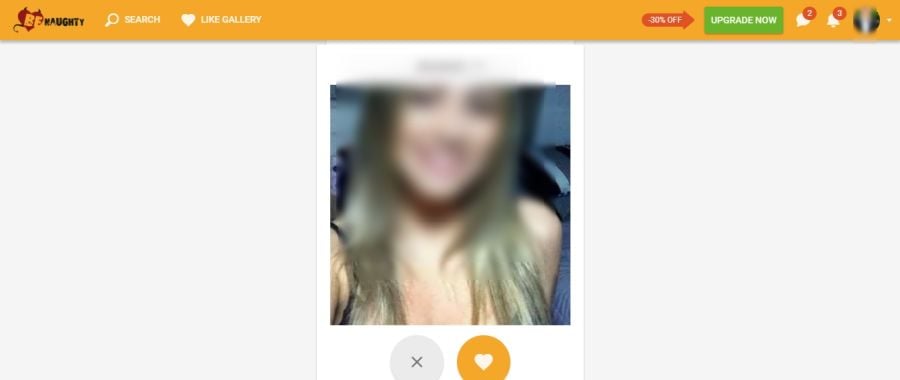 Speaking of legit profiles, BeNaughty actually takes time and effort to make sure their members are real people, and to keep you from messaging any potential fakes. The way they do this is by enabling a Safe Mode feature, which you can turn off, turn to "Full", or set to "Basic".
The difference between each of these is that when your Safe Mode is off, you can be contacted by all of the singles on BeNaughty. When it's switched to Basic, you can view and contact all members except those marked as suspicious. With Full you'll only be reached by verified BeNaughty members.
You might also be wondering what that promote your account thing meant. Well, the "Promote My Account" feature lets you match with people even when you are offline by sending promotional messages, winking at your potential matches, and adding them to your friends list on your behalf – all to increase your chance of meeting someone. You can choose the type of message you want to be sent, from random meet-ups to serious or short-term relationships.
While there's a matchmaking service available on the site, it's not the only way to find people on this particular service. In addition to swiping and making matches, you're free to scroll through users and message any which grab your attention. It's Tinder-meets-POF. It's the best of both worlds.
Another cool feature on BeNaughty is the "Recent Activity" which can be found at the end of your profile settings. There, you can see whose profile you've viewed lately and everything else. This feature helps you keep track of the people you've shown interest in so you can chat with them or go back to them whenever you like.
BeNaughty has also integrated an interactive game for you to play to meet people called the Like Gallery, in a similar Tinder-fashion, where you can swipe or choose a heart or "X" to like random profiles. You're only shown these users photos and nothing more to make your decision.
Like with many other standard dating sites, there's a search feature where you can filter the type of woman you're looking for based on a number of characteristics, and even include advanced parameters. So you can find any kind of girl you're into! Whether you're about Asian girls, brunettes, big beautiful women, or anyone else in between, you'll be able to find them with the search filters.
If you find that you don't know what to say to someone, or prefer mass communication to get more potential hookups, you can use the Flirtcast feature to send a preset message of your choosing to multiple members at once who match your search parameters.
Pricing & Membership Benefits
Upgrading your free account on BeNaughty, obviously, comes with unlocked benefits. There are no tiers to membership-type and what features you get, only a difference in the daily payment plan you choose.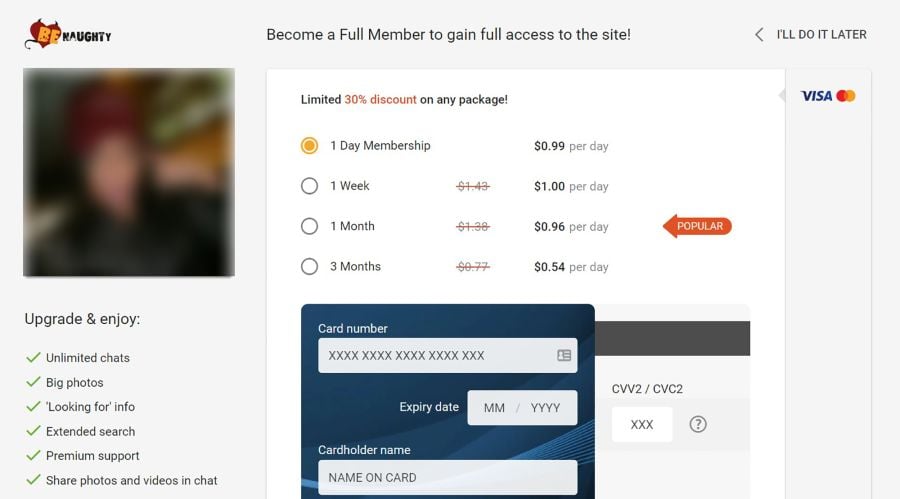 You can select from a 3-day trial of upgraded status for $0.99 per day, or enjoy a 1-3 month membership plan ranging in prices.
For a 1-month subscription, you can access the upgraded premium membership for BeNaughty at $1.50 per day, which seems to be their most popular choice.
Or, you can opt for a 3 months paid membership for $0.51 per day, or a 6-month subscription for $0.41 per da – their most economical and cost-saving plan.
As a free user, you only get to do so much on BeNaughty. There are some things that you can't do that can get annoying and prompt you to buy an upgraded membership plan.
If you do choose to try out being an upgraded member, you can enjoy unlimited chats, enlarged photos, "looking for" information from other profiles, extended search, premium support services, and being able to share photos and videos in chat.
Pros
I love a dating internet site that is bright and easy on the eyes. That's exactly what BeNaughty is. From the registration process right through to the end, it's one of the more high-quality hookup sites I've used.
Even with a free profile, you can send messages to other BeNaughty members, but you're limited to 5 messages a day. Still, that's a pretty good deal.
You'll find an abundance of available users in your area on the homepage of BeNaughty, and they all seem to be genuine. A perk you'll enjoy is you don't have to do much to be contacted by women; they'll usually message your first.
Probably because you need to upgrade your membership to do so, like with many online dating services.
Nonetheless, you're receiving messages from real women, which I know since I left my profile blank and had a girl ask me to see my photos before talking to me. This is definitely one way to weed out the fake profiles.
Speaking of fake profiles, it's quite easy to weed out the scammers on BeNaughty simply by looking at their names and profile photos. Everything is usually over-sexualized and they often use pics of famous internet or porn girls. Other than that, the site has quality matches.
Cost-wise, the prices for the 3-month and 6-month plans aren't too bad in comparison to some other sites. The 1-month plan is a little steep, but there's really no incentive to go for the 1-month when there's a free trial available to test the site.
The video chats are a whole lot of fun, and plenty of BeNaughty users are happy to partake in them over standard text messaging. A lot of internet dating websites either don't offer videos or charge more for them.
Usually, after you view someone's profile, they'll end up messaging you. BeNaughty is one of the fastest working and easiest sites to use to get women talking to you that I've come across.
Customer support is pretty good on BeNaughty. There's a customer service team available during working hours which can be contacted via phone call. Outside of working hours, the customer support team can be reached by email to deal with your query.
BeNaughty takes feedback on board from its users and greatly encourages it. There's a feedback form in the "About" section which you can use to make complaints or report scammers.
There's an app version of BeNaughty.com and it's more or less identical to the website version. The only difference is that the chat icon is located in a different place.
Cons
When you're a free member of BeNaughty, you can't view all of the messages you receive, and after trying to reply to some people, I couldn't do that either without being prompted to upgrade my membership. Also, you can't like members' profiles on the Like Gallery or view more profiles on the homepage other than the ones they show on the first load.
BeNaughty.com doesn't do much to harbor a sense of community. I get that it's a hookup site and hookup sites don't need community, but this is something that loads of other dating sites are doing these days.
Along the same lines, I wish there was a bit more options for interactivity. Outside of swiping and sending messages, there's not service on offer. It's a little too bare in my opinion.
It's hard to view women and get to see more of their profile, as well as communicate with them, without upgrading.
The search function isn't amazing as its filters are quite limited. You can narrow down singles by gender, location and body type and that's pretty much it. Other dating sites have a lot more information to filter from, not to mention the search page is actually a little confusing.
Conclusion & Rating
BeNaughty.com is a fantastic dating site to help like-minded people find each other. Whether it's for a one night stand or a casual relationship, you'll find it on here. We all know regular sex is good for your mental and physical health, and the BeNaughty website will help you find it.
Is it the best dating platform out there today? Maybe not, but in my opinion it's certainly in the top ten. I'd file BeNaughty alongside other top sites like AFF, POF and Passion.com.
Once you look around on BeNaughty, you'll see that upgrading to the premium service is well worth the money. There's proof to show that this site can be trusted and really works. I'm sure if you take the time to fill out your profile completely you'll receive even more attention than I did — and I was a blank.
Even as a free member, you can have a little fun on BeNaughty. However, if you want the full dating experience you'll have to pull out your credit card.
Regardless, BeNaughty shows to be one of the better hookup sites that can be accessed through any browser, or if you have an Android device, available for download on the Google Play store. It's a great place to start for dating online.
BeNaughty gets 4 out of 5 stars! This incredible website is definitely one you should try if you want no strings attached relationships.
Ready to Try BeNaughty?
FAQs
What is BeNaughty?
BeNaughty is a dating site designed for casual encounters and short-term relationships. The site was launched in 2005 by the Together Networks Limited, and as of January 2021 the site has around 10 million users.
Is BeNaughty a scam?
No, BeNaughty is not a scam site. It's a legitimate dating service with millions of satisfied real life customers to its name. The site active audience is large and members everywhere are using to hook up successfully.
While the site does have some bots posing as real users, these are only present to increase activity on the app. If you wish to cancel, customer reviews will confirm it's easy to do.
How do I cancel my BeNaughty membership?
Head into the "Account" section on either BeNaughty.com or the BeNaughty app and go to the "Settings" tab. From here, you can turn off the auto-renewal feature.
When your subscription comes to an end, your membership will become inactive and your account will revert to the free membership package.