We want what we can't have.
For whatever reason, girls with boyfriends, or even those who are married, are more alluring than those who are single. Perhaps the enticement comes from knowing you can look, but you can't touch because someone else is already in the picture.
But what if that wasn't the case?
Believe it or not, there are women out there who actively cheat on their husbands for various reasons. But the one thing they do not want is their husbands finding out. That's where sites like Affair Alert come in.
If you're just hearing about AffairAlert.com, it's an affair dating site where men and women who want to find someone to cheat on their partners with can find them. The men who want to find these types of women, or vice versa, and the site lets them chat and meet up.
If you think this sounds too good to be true, or actually work, you're rightfully skeptical. When you're dealing with adult dating and cheating apps, there's always a risk.
But to find out the truth about this hookup site, I'm going to do the dirty work for you and create an account with them to give you the dating insider scoop on this site. Read on for the full Affair Alert review.
First Impression
Before you can even sign up for AffairAlert.com, you have to agree to keep the privacy of these women's identities that you may find on the site discreet, even if you see someone you know using the site.
Already that lets me know that Affair Alert takes privacy seriously. You kind of need that when you're cheating on your husband.
The four-step process to sign-up breezes by. You provide your email address, answer some basic questions about what you're looking for. After providing this information, you're then you're left with the mess that is their website.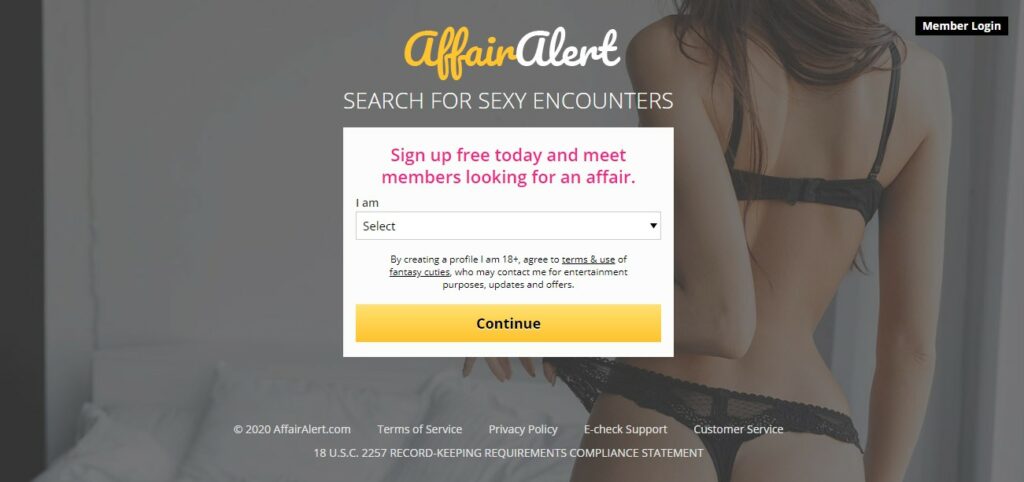 An annoying alert to activate your account blocks you from actually entering the homepage of the site and accessing everything else, and I had trouble finding the e-mail they sent me.
As you could probably guess, it was in my spam folder. Once I got past that stage, I was hoping to have a better experience, but sadly, I was wrong.
The profile photos of the "women" (they could be fake profiles for all I know) looked like lousy flip-phone nudes from the 2000s, and incredibly generic.
Usually, sites like these have some nudity like this to them, but the profiles on this site are overly zealous. In my experience, that usually means there's something fishy going on.
This site looks more like a porn site than a hookup site, and they even have live cams and XXX-video links. It's not a negative, but it distracts from the purpose of the site.
After browsing a few more profiles, I decided that there's a mix of both fake and real profiles on this site, and if you want to take the time to figure out which one each profile you talk to is, that's on you.
Features
Affair Alert has all of the standard features that every good adult dating site needs; a message inbox, friends and favorites lists, an instant chat feature, and one unique feature to make the app more fun to use. That feature for Affair Alert is called 'Quickie' and is a game you could play on the site.
From your selected matches, you can click whether you are interested in someone or not based on their profile picture, and if you are, that person will get notified of it and let you know if they're also interested in you.
When playing this game, you'll see your matches first, and once you start to run out of them, other members' profiles will show up.
If you need to search for someone with as little or as much detail as you'd like, you can do that with Affair Alert's search tool. Friend requests are also common on this site, and they let you connect and socialize with people. If you really like someone and want to make sure that you never lose their profile, you can add them to your favorites list, as well, to always have their profile at hand.
Pricing & Membership Benefits
Throughout my use of the site, there was one thing I could not escape, and that was the upgrade pop-up. There isn't a lot you can do for free.
Because I became so familiarized with the upgrade package options through the constant reminders, allow me to tell you just how much a paid membership to AffairAlert.com costs.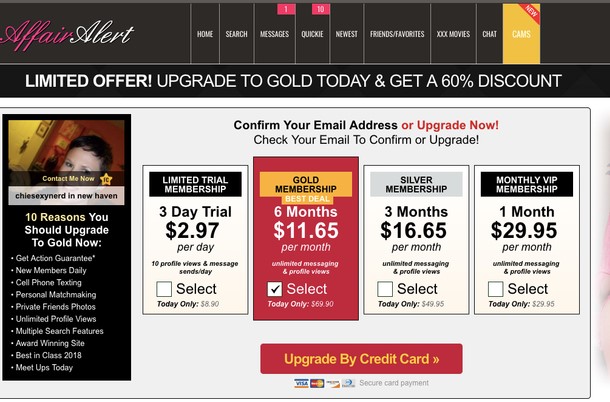 It's not ridiculous to think that one would be hesitant in giving their money to this site, but before you make any long-term commitments, you can get a 3-day trial of an Affair Alert membership for $2.97 per day. This trial lets you send 10 messages and gets you 10 profile views per day.
While you only get a selected amount of messaging and profile views with the trial period, when you choose any of the other three membership plans, you get an unlimited amount of both those features.
The first option is a monthly VIP membership that retails for $29.95 per month, and the second is a silver membership for 3 months at $16.65 per month, and the last option is a gold membership for 6 months priced at $11.65 per month.
All of these options are billed in one payment on your credit card for the total of their duration, and renew automatically unless canceled.
Pros
There's an insane amount of extremely horny women using the service, so if you're looking for a site that's guaranteed to get you laid, then you've found it. After you chat for a while exchange contact info, fuck book account info, or snap cheat accounts, to keep in touch offline.
That is if these women are real women and not some automated profiles and messages.
The inclusion of XXX-videos and live webcams also makes for the site to be fun and offers something other than communication between members.
Cons
You can't escape the ads on this site, even as a paying member and there are so many of them.
Also, it's some of the profiles on Affair Alert are real, but some are "fantasy cuties", or fake profiles ran by the site. If you're not all that concerned with meeting up with anyone in real life, and will suffice for cyber affairs, that should be no problem anyhow.
Conclusion & Rating
I'm not going to lie — Affair Alert looks pretty sketchy, but then some profiles make you think otherwise. If you want to take the chance and see how successful you are in using this site, unfortunately, you won't be able to do so without making a payment to them. For that reason, you should always start out with the trial version with hookup sites like this.
Overall, Affair Alert gets 2.5/5 stars. If you're looking for married people wh want to cheat, then this site is just for you, and despite its flaws, there seems to be plenty of real people looking to hookup.
Other Sites Like Affair Alert
Adult Friend Finder is one of the most popular and well-known dating sites. While it's not specifically an affair site, you'll find cheating wives among the other countless active members. If you're looking to hookup, you can't go wrong with AFF.
Ashley Madison is a very well-known and infamous affair dating site. If you really want to hookup with a cheating wife or husband, then this is one of the best dating sites you can pick.
FAQs
What is Affair Alert?
Affair Alert is an affair dating site, made for anyone looking to hook up with cheating wives and husbands. You can sign up to find an affair, or find someone looking to cheat.
How much does Affair Alert cost?
One month of the premium VIP membership costs $29.95. You can pay for six months at once, and get the cost down to $11.65 per month.
Is Affair Alert Legit?
Affair Alert seems pretty sketchy, but looking at some of the profiles, it's clear there are real women using this site to try and cheat on their husbands. It isn't a total scam. If that's something that you're interested in, we recommend giving the trial membership a try to see if it's right for you.
How can I cancel Affair Alert?
You can cancel your membership from the settings page of the site. Alternatively, you can contact customer support, which seems to be very responsive and helpful with any issues you might have.
Ready to try Affair Alert?