Adult Friend Finder – #1 Adult Dating Site For Hookups
If you've spent any time in the dating game, you'll have heard of Adult Friend Finder, or AFF as it's often known.
AFF is one of the biggest players in the game. It's been on the scene since 1996, making it older than most of the people reading this. It's gone through various incarnations over the years, reinventing itself time and time again, and AFF is still going strong today.
When it comes to sexual experimentation, a lot of people get stuck and don't know how to make the next move. People will decide that they need something fresh and new, but they don't know how to go about finding it.
That's where websites like Adult Friend Finder come in. Platforms like this can be used to find casual sex and spice up your sex life significantly.
So, does this site indeed help you find friends who are looking to do adult things? Want to get some dating secrets when it comes to using this site? Read on for our Adult Friend Finder review.
First Impressions
My first impression of this site was that it definitely exceeded expectations as far as these hookup sites go. I personally hate when an app or a site looks too outdated. While AdultFriendFinder has a lot going on, their site is definitely one of the most well designed of all the online dating sites I've come across in my time.
However, while the design was pleasant enough, what I didn't like was that the site used a stock photo of famous porn star Lexi Belle as their background image. Right away, that gives off a bad vibe because there isn't a guy out there who doesn't know who Lexi Belle is. This suggests that the site is loaded with fake users.
Below this is a banner telling you to "Join the World's Largest Sex & Swinger Community." Below that there's a small sample of the site's vital statistics; 300 live broadcasts, 10 million hot photos, 3 million connections. I'm not sure what "connections" involved, but it sounds good at least.
AdultFriendFinder makes its status as a hookup site obvious right from the word go. Scroll down and there are a load of testimonials from satisfied men and women bragging that they've used the site to score. AFF is quick to distinguish itself from many other dating sites and cement its reputation as a place for casual hookups:
"Looking for sex? Hoping to meet someone special for a hot, sexual relationship or even just a quick fling? Adult FriendFinder has helped millions of people find traditional partners, swinger groups, threesomes, and a variety of other alternative partners."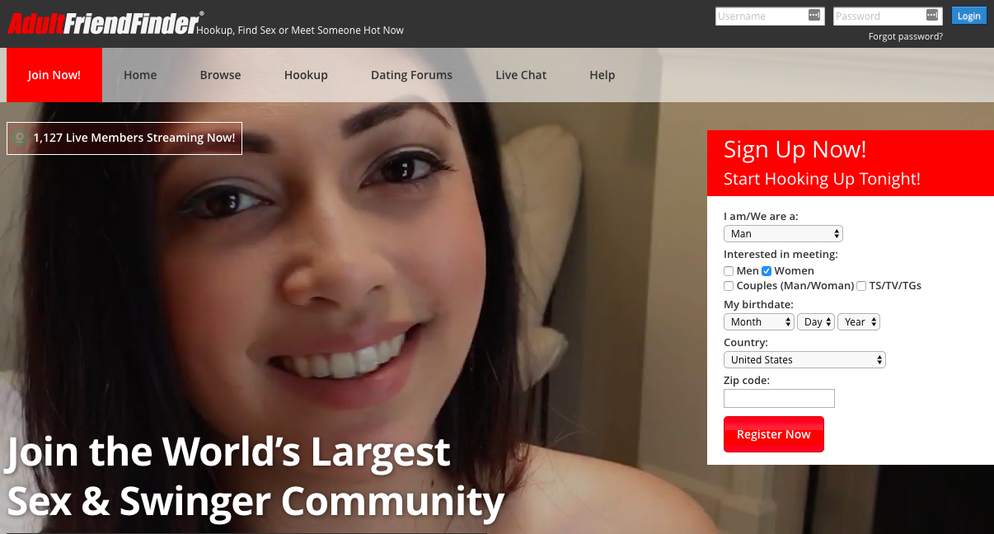 Things quickly improved. In my opinion, the sign up process was efficient and effective. You go through the basics of picking a password and entering your email address, but you also give them your gender and what kind of people you're looking to hookup with – and thank god, they have trans and couples options!
A lot of apps miss the mark when it comes to gender identity options. How can your site be about sexual experimentation if you don't even include all the options people identify as in the modern world? This shows that AFF has evolved with the times and aren't still stuck in 1996.
I also like that you can sign up in couples or as a group. This is great for users who are trying to experiment beyond one-on-one sexual encounters. For those of you who are poly, enjoy group sex, or are looking for threesomes, this site is great.
Despite my small gripe with little old Lexi, everything else about AdultFriendFinder seemed to be on the money.
Features
Before diving in and chatting to users, you'll need to fill out your AdultFriendFinder profile. Amazingly, there are a ton of ways you can personalize your profile and make it stand out – much more than most other sex websites offer.
In addition to providing the basic physical appearance questions and profile information; gender, sexual orientation, eye color, body type, etc, there are a bunch of quizzes which new users can take to determine their romantic compatability with other members. Amongst others, there's a sexual preference and compatibility test which talks about your bedroom desires, and there's a "Purity Test" which quizzes you on your sexual history.
In traditional internet dating site fashion, AFF lists your potential matches on the home screen organized by geographical range. You're then free to scroll through, pick out the ones who grab your attention and send them a few messages. Additionally, there's also a Tinder-esque matching system available if you're happy to match based on physical appearances.
The first thing you'll notice about AdultFriendFinder is the massive user base. Given the constant stream of activity, new users being broadcast and blogs being posted, no one can deny that AFF is a ton of real people and real users. As far as user activity is concerned, AFF is one of the busiest dating services around.
Sending and receiving messages is pretty straight forward. Click into a user profile, hit the "send a message" button and you're away. Only paid members can send and receive messages, but free users can reply to messages they've received.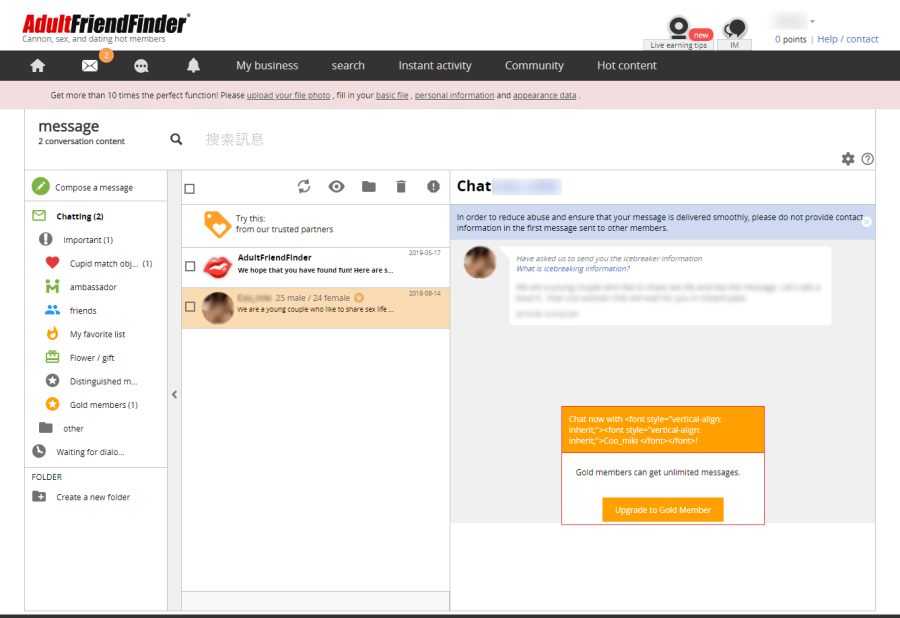 Despite the name, Adult Friend Finder goes beyond a friend-finding site in that they'll not only help you find someone to casually hookup with with but the facilitate a whole bunch of others sexy things too.
AFF goes to great lengths to build a community amongst its user base. In addition to being a premier dating website, it also goes the extra mile to provide a great number of interactive features for its users to bond outside of direct messaging.
There's a great number of chat rooms available on AFF, covering a wide range of topics and interests. Be warned that most of them are sexual in nature and usually catered towards specific kinks. Most chat rooms are free to join, but others are private and are invite-only.
Paid members are free to enroll in AFF's "Sex Academy." Yes, that's a real thing. The Sex Academy is a series of short courses which you can take to improve your knowledge on all things sex-based. You can take courses on how to please a woman (or man) in the bedroom and you can take courses on specific techniques. Once you graduate, you get a little badge on your user profile saying so.
Not only can you browse users who want to hookup with you, but you can watch cams and read erotica! And the best part is that the girls on cam and the people writing the erotica aren't professionals! They're users just like you. So, for those of you that enjoy amateur stuff, then this is definitely going to be a site you should check out.
On top of that, you can read articles and find answers to sex questions! This site has a whole sexy community attached to it, which I think is really important for people who are looking to expand their sexual horizons.
Pricing And Subscription Options
AdultFriendFinder has two membership options: Free Membership and Gold Membership.
You can use the site to a reasonable degree with just the Free Membership. However, if you want to unlock the site's full potential, you'll need to fork out for the premium membership. Here's what each package includes:
The Free Version includes:
Reply to received messages
Create your profile
Use chatrooms
Hotlist users
Like mebers photos & videos
Join blogs and groups
Watch live member webcams (only 1 video at a time)
includes:
All Free Membership features included
Watch unlimited live webcams
Chat with other people
Send virtual gifts and flirts
Send friend requests
Read complete profiles
Watch member and adult videos
View full-size photos
Comment on photos & videos
Receive priority customer services
Remove ads
Gold Membership costs break down like this:
1 month – $25
3 months – $60 ($20 per month)
12 months – $180 ($15 per month)
Cost wise, the paid membership isn't bad at all, especially for all of the features the site provides. Some sex websites charges upwards of $40 for one month alone, whereas you can get everything on AFF for a fraction of that.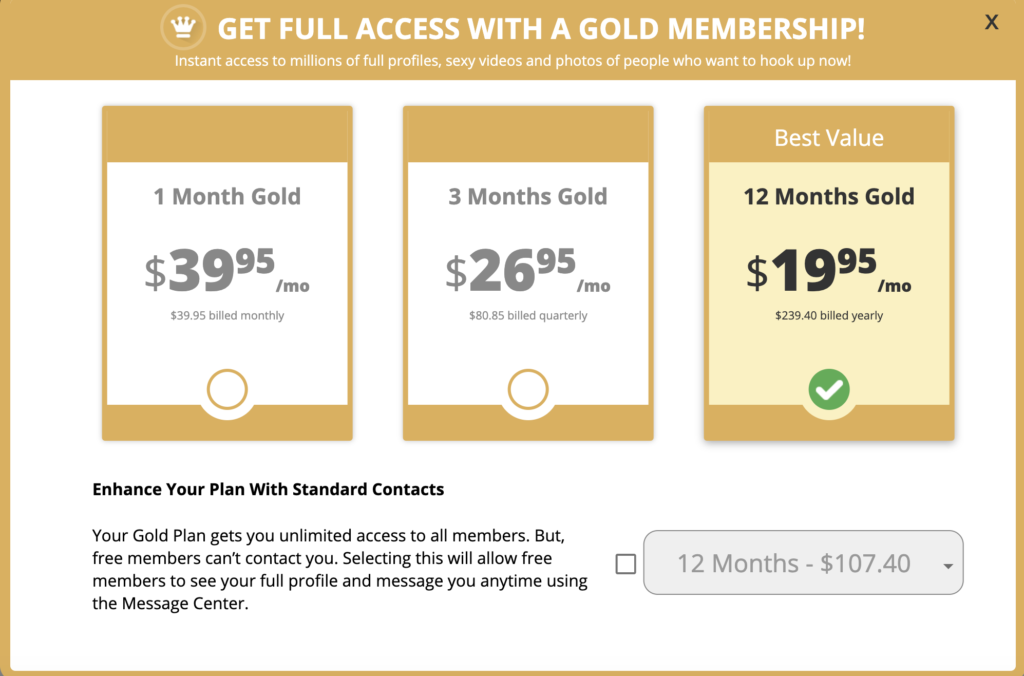 There is a third option (although most people don't bother with it). You can amass "points" as you spend time onthe site. Every time you interact with a member, send a message or upload a video, you'll accrue points. Enough points will award you a free month of Gold.
But honestly, doing all of that is a total time sink. It's much quicker to just pull out our credit card and pay the reasonable prices than it is to use the site as a free member.
In addition to the subscription costs, there are some additional fees scattered around the site too. For example, some webcam shows cost a small fee to enter, as does watching some of the adult content.
Pros
Sign up is easy. Put in your user name, email address and basic info and you're off to a flying start. You don't have to endure thousands of quiz questions, although there are quizzes for those interested.
Profiles are usually fleshed out pretty well. Most of the profiles I came across on here at least had the basic details about that member, and the majority of profiles went much further. Most other people are happy to share their sexual desires, their interests and whatever else they feel they should share.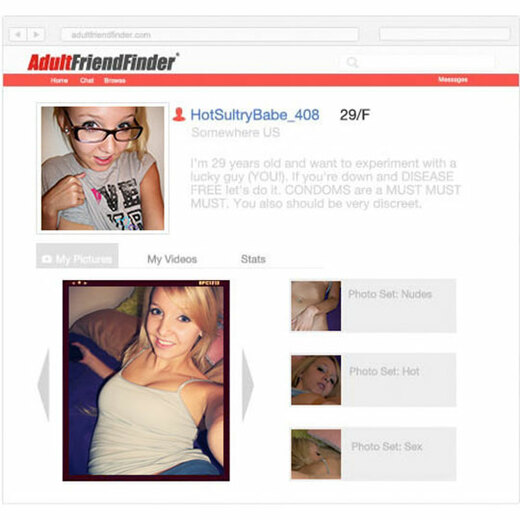 AdultFriendFinder caters to those looking for short term fun, and that's exactly what you'll find. You'll be hard pressed to find a man or woman on here looking for someone to marry. Thanks to some in-your-face marketing, AdultFriendFinder attracts men, women and couples who want to keep it casual.
Inclusive Identity/Sexual Orientation Options: I don't mean to be redundant, but I feel like I have to revisit this point because I'm not sure if you, reader, understand how awesome it is for a site like this to be inclusive with their options.
If you haven't noticed, we seem to be in the midst of a cultural shift regarding sex and identity. While people do still feel shame and discomfort when the topic of sex comes up, people are becoming more accepting of other people's choices as well as their own.
It's still pretty dangerous to be trans – especially when it comes to dating – but with a site that allows you to mark your identity clearly, the risk lessens! A lot of trans people get hurt when they're dating or flirting with a straight person who assumes that they're cis. When they find out that they're not cis, the trans person is usually subject to some sort of gay panic, which can have physical repercussions.
By allowing people who are not only trans but participate in sexual lifestyles that would still be considered fringe (like polyamory or swinging) to clearly mark what they're looking for with a site integrated indicator creates a safe and sexy environment for everyone involved.
Nude Cams: While I love me a burger, I sure do love a combo meal. The same goes for cam sites and dating sites! Why would you want one when you could have both all at once! I think that with the addition of the nude cames, this site becomes something between porn and a dating site.
I love it, and I wish that more dating sites would fully dive into sexuality in this way. Why try to be modest if you're trying to get people to instantly hookup with you?
Community: What this hookup site does better than the rest creates a sense of community. You have your online dating site capabilities, you have your live cam option, and you have your message boards and blogs! These boards and articles further help users who are looking to experiment.
Looking to understand swinging? Go no further than a swinger's blog. Want to read some erotica? There's plenty. Want to post your own? Go for it! This site does something that I've only seen accomplished well by the likes of Fetlife.
Membership costs are halfway decent, especially for everything that AdultFriendFinder provides. Access to all of these members, cam models and features for $15-25 a month won't put your credit card under too much strain.
The photo contests are a pretty fun way to support the community. Every month, members are encouraged to post naked photos of themselves engaging in a themed activity. Halloween themes, Christmas themes, etc. The winners get their profiles featured on the AdultFriendFinder homepage. It's a great way for members to get some increased interaction with their profiles.
The search function is as good as it comes. You can search profiles based on keywords or you can filter down through members from the pre-filled boxes. Men, women, couples, body types, education, income and so forth.
There's also a very interesting "kink search" feature, which is actually a rip off of a feature on Dating.com, but it's great. With this, you can narrow down members by pre-selected kinks and fetishes like humiliation, leather fetish, foot fetish and a million others. Something you probably won't find on traditional dating sites!
The option for free members to reply to messages they've received is pretty good. There's no reason why you wouldn't get a few messages as a free user, especially if your profile stands out. Women would probably get more use out of this than men since they're more likely to be inundated with messages from the off.
The ratio of men to women on AdultFriendFinder isn't noticably disproportionate. On most other sites, women usually significantly outnumber the men, but on AdultFriendFinder it's around 60/40. And given that there are so many users, it's definitely not noticable.
Cons
Possible paid interaction? : One huge red flag for me, when I logged in, was that without uploading any information about myself – not even a photo – I was already getting messages from horny individuals, aka fake user profiles. I understand fake profiles are often a necessary evil in the dating site world, but I would have thought a site as reputable as AdultFriendFinder wouldn't need them.
Then again, users might just be that horny – especially the guys – but I find it difficult to believe that real users would be all up in a nameless, faceless profiles inbox without there being any information on my profile.
It could just be someone trying to get me before I become jaded or swooped up by the masses. Or it's paid interaction; I'll leave that up to you to decide for yourself.
Virtual gifts, "flirts" and gift cards. Maybe it's a personal preference, but whenever I see these kinds of things I automatically equate it with childishness. Not to mention I don't see the point of them.
The members on here are looking for someone to sleep with. They don't want to be sent virtual gifts or flirts. Furthermore, it's not like you have to make deep conversation with most AFF users since they just want a booty call. If basic conversation is too much for you
AdultFriendFinder .com has an auto-renewal feature in place for its users. That means if you've subscribed to a three month plan and you expect your subscription to end after 3 months, then you're in for a surprise. You'd actually be charged for another three months as soon as your previous plan ends. Members have to opt out of this in the settings, but most of them don't even know about it.
The Adult Friend Finder app isn't as streamlined as its website counterpart. It can be a little clunky at times, and actually pales in comparison to the website version in terms of functionality.
Sometimes you'll come across an AdultFriendFinder profile that seems too good to be true. The woman will be hot as hell, she'll be a verified member and her profile might state that she's "just looking for easy sex" and "not here for a relationship." Maybe you'll message her and find her responsive.
Then comes the kicker. She'll tell you that she's a sex worker who charges you to get laid. Yeah, there are quite a few escorts on AdultFriendFinder, not to mention every other dating site. It's a real downer, especially as they're much harder to weed out than the fakes and the scammers.
The name of the site doesn't really lend itself well to people looking for hookups. I personally know quite a few people who have brushed off AdultFriendFinder as a site to meet friends or meet someone for a long-term relationship. I dread to think how many users its dissuaded from signing up at all.
You'll never be short of webcam models on AdultFriendFinder. While that sounds like a great thing on paper, plenty of these ladies are suffering because of the current economic crisis, so they're forced to be on webcam because they need the money. Many of the girls spend their whole days on webcam chatting to men, and you can see that some of them just don't want to be there.
Conclusion
Adult Friend Finder is an excellent dating site that hits all of the right spots. It combines social media interactivity with the casual sex scene, and even sprinkles in a bit of adult content in there too.
AFF has its problems, but that doesn't stop it being one of the most reputable and reliable platforms available today. If it's casual dating or hookups you want, AdultFriendFinder will make it happen.
AdultFriendFinder gets a solid 4/5 Stars. We hope you enjoyed our Adult Friend Finder review!
FAQs
Have more questions? Get your answers here.
What is Adult Friend Finder?
Adult Friend Finder is a premier online dating site which helps bring together like-minded people for relationships and casual encounters.
Adult Friend Finder is one of the oldest and most reputable dating platforms anywhere online. It's part of the Friend Finder Networks of online dating apps and boasts 80 million registered users.
Is Adult Friend Finder a scam?
No, Adult Friend Finder isn't a scam. It's a highly reputable dating app with many members the world over. While you may come across a number of fake profiles on the site, they are easy to spot and ignore.
Is Adult Friend Finder free?
Adult Friend Finder has two membership options, Free Membership and Gold Membership. A Gold Membership is required to send messages to other AFF users.
Free Membership provides access to the site's basic functions, while Gold Membershp offers full access to everything.
Is Adult Friend Finder better than Tinder?
Both Adult Friend Finder and Tinder cater to those looking for short term engagements. Adult Friend Finder allows you to view members' personal details prior to contacting them, whereas Tinder is based solely on physical appearances.
Both sites have around the same number of users, so it depends on your personal preferences.
How do I cancel my Adult Friend Finder membership?
Login to your Adult Friend Finder account and click your username in the top right of the screen or app. Click on "My Account" and then go to "Close My Account." From here, you can click "Delete My Account." You'll then be prompted to enter your password to close your account.
This will cancel any membership benefits you had and delete your profile, account and credit card information and personal information off their system.
For those using the app version, it's also advised to cancel your subscriptions via the iOS and Google Play stores.