In the era of casual dating, we could all use a little help getting laid. Dating sites are obviously the number one tool that we all use to help us get some action, and luckily for us, there are plenty of them out there.
Most people who are looking to date casually are busy young professionals or students who are quite frankly much too busy to bother with all of the hassle that comes with modern dating. Long term relationships can be great, but that's not what everyone is looking for. So, why do we sign up for dating apps as opposed to hookup apps?
A quick scroll through the "dating" section of the app store yielded this result: HUD. Honestly, I'd never heard of it before, but as I dug a little deeper, I found HUD to be a very persuasive app indeed.
This app stuck out because it's not masquerading as a dating app like so many apps like Tinder or Bumble. It is what it says it is HUD: Hook Up Dating. Honestly, this was refreshing. An app that wasn't pretending to be something entirely wholesome? Finally. That's the kind of app we all want to find on the App Store (or Google Play Store, if you're that way inclined).
But, how does the app hold up against its competition? It it really a good way to find a hook up? Read on for our full HUD app review.
First Impressions
My first impression was that this purple-themed app has a little icon that looks awfully similar to Tinder's little pinky-orange flame. The aesthetics of the site were quite feminine, something which other app reviews have put down as a disadvantage, but truthfully I enjoyed the vibrant colorful approach. It makes it more appealing to feminine eyes.
However, this app is pretty dissimilar when it comes to layout. You won't find any swiping nonsense on the HUD app. It's a grid style app where users can go through and message any person they're interested in without having to worry about matchmaking. From there, other users can accept their message request by sending one back.
Right away, I was prompted to create an account whenever I clicked around. While I could see all of the available users, I couldn't chat or view their profile until I'd made an account. (You can't sign up with your Facebook account, unlike some other sites). This isn't surprising as it's a pretty standard app approach. But once I'd made my profile, the app really opened up in terms of functionality.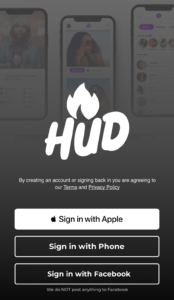 The app is fairly easy to use. All you have to do is scroll down the grid – which seems to go on forever – until you find someone that you're interested in. The profile has options for you to fill in your height, body type, and other detailed information about yourself. As far as I'm concerned this app looks a lot like a lot of grid apps that are out there right now. Looks wise, there's not much that stands out about it, at least in comparison to every other similar dating site out there.
Functionality wise, the HUD app doesn't have much to shout home about, but in a world full of dating site gimmicks, this is a welcome choice for many members. Some app reviews have noted this as a disadvantage, but I personally hate it when an app bombards you with unnecessary crap.
Features
The HUD app is pretty straightforward and easy to use. It doesn't really have anything huge about its general system that sets them apart from most dating apps. Their target audience – those looking for casual hookups or short term connections – seems to be what sets them aside from dating apps as it puts them firmly in the hookup app category.
The layout and imagery on the HUD app definitely makes its intentions obvious. It's sleek and streamlined and it takes every opportunity to mention that it's a hookup app, not a dating site.
Account creation requires photo verification but only takes a few minutes. It might sound like a hassle, but it's a good way to keep out people scam accounts – something HUD does very well actually. Of all the members I come across, none were scammers.
When setting your preferences, you have quite a few options. You have the choice to filter out matches based on various criteria, including age, location, interests ethnicity (more on that later), body type and more. Search filters are one of the best of any hookup app.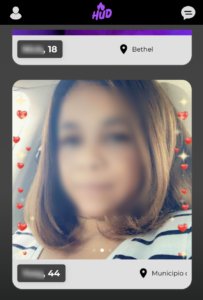 Body type searches can either be a really great thing for people who are looking for something very specific. Or it might be a bad thing for those singles who are on the heavier side. Most members are on the app seem to be honest in their approach, so that's another good thing.
Additionally, while you could match with single members, I also noticed that you could match with couples as well. Say what you want about the casual dating culture, but it's nothing if not inclusive. There are thousands of members all across the United States, Canada and Europe, so you won't have too much trouble finding users to chat with.
For those with a premium membership, there's also a video chat option through the app (but not the website version, unfortunately).
Pricing and membership details
If you want to make the most of the app, you need to upgrade to the premium membership. While the basic package will let you navigate the website and have a little look around, you can't do a whole lot unless you upgrade. It sucks, but it's a pretty normal approach.
Like many dating apps, you can buy multiple months on the HUD app to get a lower price per month. All of these packages are available as in app purchases through the app.
On the HUD app, a month of premium will cost you an industry-standard $30 if you buy a month plus their month-long free trial. However, for 12 months you can get a membership at $9.99 per month – though this may not be the best option for those who are money conscious as this will cost you $119.99 at once.
So what are you getting for your payment of $9.99-$30.00 a month? You'll be able to unlock a feature that allows you to see which people in your grid have already viewed you. It'll also allow you access to premium filters so you can get really specific with the kinds of people on your grid. It'll also give you the capability to have unlimited messages, unlock restricted photos, and approve all matches at once. You'll also be able to chat via video with your potential fuck partner as well as leave reviews for other users (a bit weird, but not unusual).
If you're not ready to pay the subscription fee just yet, there's a month-long free trial option to give you a taste of the app. You'll have access to all the basic features (profile creation, message matches, etc). For a lot of people, the trial option is probably the best choice.
Pros
Website compatibility: One thing that I like is when you can have access to a dating app both on your phone and your laptop. Sometimes you have to be on the go. Sometimes it's nice to be able to discretely swipe around or message while on your phone. But other times you want to kick back and be able to use your computer. Or if you're at work and you're trying to find someone to hook up with, it's much easier to do that on a tab in your browser than on your phone.
This makes the app so much more compatible with young adult lives. We bounce back and forth between our phones and our computers, shouldn't our dating sites or apps be able to do the same?
Photo messaging: The photo messaging feature really makes this whole app feel very sexy. It doesn't feel like Tinder where the only thing you can send back and forth are gifs that load in the app. You can load photos from your laptop library or camera roll on your phone super easily and send them off to a match. Also when the photos come through, they're blurred at first. This allows you to determine if a photo is something undesirable – say phallic – and if you really want to open it. This keeps you safe from the dick pics, and thus makes the HUD app very female friendly.
Most member profiles are fully complete. One of the worst things about Tinder is that the average profile are just profile pics and nothing else. Sometimes, you want to know stuff about members outside of their appearances. Sure, HUD is a hookup app, but you need to chat with matches about something before inviting them over to fuck.
For a newish hook up dating app like HUD, scammers and fake profiles are very little in number. And the few scam members you might come across only have a basic subscription, meaning they can't make matches or send messages, so you're safe.
Lastly, the month long trial period is perfect for anyone who isn't ready to commit to a full subscription. And a whole month? That definitely hits the right button.
Cons
No casual dating app is perfect, and HUD is no exception.
While sign up was super quick, I do wish that HUD could be signed up via your Facebook credentials. Such a feature gives apps an air of legitimacy, which HUD was sorely lacking.
Next up is the 'filter by ethnicity' feature. Personally, I find this super weird. I feel like this filter option just makes me uncomfortable. I feel like this allows people to easily excuse prejudice as their own personal preference. It also allows people to quickly find people who they might fetishize because of their ethnicity. It's an odd and unnecessary feature.
Next up, photo messaging. I know that I just praised the photo messaging capability. But it can get to be a bit much for women on the site. Honestly, it's super uncomfortable to be constantly bombarded by blurred out dicks on a dating app. Most women have to deal with these photos in their texts to begin with! We get them sent to our phone number, we get them on Facebook. We get them everywhere. The last thing we need is a way for more men to get their penis pics into our inboesx.
Giving a guy your phone number and getting dick pics that way is a different story, but having it happen inside the app is a real downer. I understand that exchanging explicit pics is a great advantage for a dating site, and it's probably very useful for those dirty dogs who want to show their genitals to each other.
Seeking and gender options are limited: While we've seen other dating apps and social media networks really step it up when it comes to gender and sexuality options, HUD is not amongst them. When you create your account, you can only mark yourself as male or female, and this can totally bring up issues for those who don't identify either way.
On top of that, the seeking options are kind of funky too. So your options are seeking male, female, either, or couple. If you're someone who's down for anything, do you mark either? And if you do, does that include couples? What if you're looking for a person who's a little more fluid on the gender spectrum? It's super unclear what these labels really will yield.
Lag is another big issue. The first thing I noticed is that the app on both desktop and mobile is so slow. I don't know why as my internet is not at fault (I pay for lightning-fast connection) so it must be the app. They really need to fix that.
Lastly is the number of users on HUD. Put simply, there aren't that many. While it might look like there are tons of users on first glance, a lot of them are spread heavily across the country. Unless you live in a populated area, you might struggle to find local users.
Conclusion
When it comes down to it, HUD is refreshing in that it doesn't try to pretend to be a wholesome dating app. Every person on here is looking for the same as everyone else. It isn't for finding long term relationships. It's a safe space for people looking for casual sex to find each other, and it in most aspects, it delivers on its promise.
But on the other hand, the HUD app doesn't stand up to some of the other dating and hookup apps that are out there. It has just as many downsides as it does positives, which lets the app down somewhat.
What are your chances of finding flings on HUD? Well, while the app certainly will have a fair few people in your area, it's not one of the busiest online dating hubs. You might find a few people if you live in a busy area, but if you're a small town resident, you might have issues finding a potential fuck partner.
The HUD app isn't my favorite app on the scene, but I appreciate what they're trying to do. Sign up for an account and give it a try. It beats spending your evenings scrolling through Facebook. You can find HUD on a variety of app stores (iOS store, Google Play store) today. Other app reviews have been much kinder to HUD than we have, but we feel that there are better options out there for the budding hookup enthusiast.
3/5 stars.
Ready to Try HUD?