There are a lot of unhappy marriages and relationships out there, but for whatever reason, people would rather cheat on their partner than leave them. Some people practice open relationships and polyamory or like to engage in threesomes with their partners.
Whatever the case may be, there's no denying that some people in relationships have sex with other people than their partner. If you believe in monogamy, this is a devastating and often enraging, fact for you. But for those of you who understand the need for cheating, or wanting something different, there is a dating site that can help you meet people who share the same feelings.
Ashley Madison is the leading affair dating site for people looking for something on the side, a connection, or just sex, whether they're attached (the term used on the site) or not. But after the recent data breach, people are wondering if this app is still the best cheater site out there.
If you want to know if this site is the real deal, just keep reading for our in-depth Ashley Madison Review.
---
Recommended Affair Dating Sites
Looking for the best site to have an affair, or to hookup with cheating wives? We've reviewed all of the most popular dating websites and apps, and found these to be the best.
Ashley Madison
Ashley Madison has been one of the better dating sites we've tried. If you're looking to hook up with cheating wives then this may be the best site to do it with. This site has plenty of real people from around the world. While Ashley Madison has received some bad press for their data breach, they've taken steps to making the more platform safe and secure.
Adult Friend Finder
Read Full Adult Friend Finder Review
Adult Friend Finder is one of the oldest dating sites around, and we still think it's one of the best. With its huge member base and constant new signups, anyone should be able to find a hookup. While it's not specifically designed for affairs and cheating, you'll find people on the site who are interested in that, if that's what you're looking for.
---
First Impressions
A black screen typing out "A S H L E Y M A D I S O N" appears when you first download this app suggesting a high level of privacy and discretion on the site. Once their name is done being spelled out, Ashley Madison's slogan of "Life is Short. Have An Affair." welcomes you with the option to join free or login.
It's definitely intriguing, and their little slogan gives you all the information you need.
The app icon itself is a black logo with what looks like an underscore line on it, and the initials AM read underneath it. There would be no way of telling what the app is, and much less what it holds inside unless you were a user of Ashley Madison yourself.
Registering takes no more than 30 seconds because all you need to enter is a username, password, your relationship status, and location. You can be single or "attached," which I'm guessing means either in a relationship or married, and select that when registering, and even seek out same-sex relationships.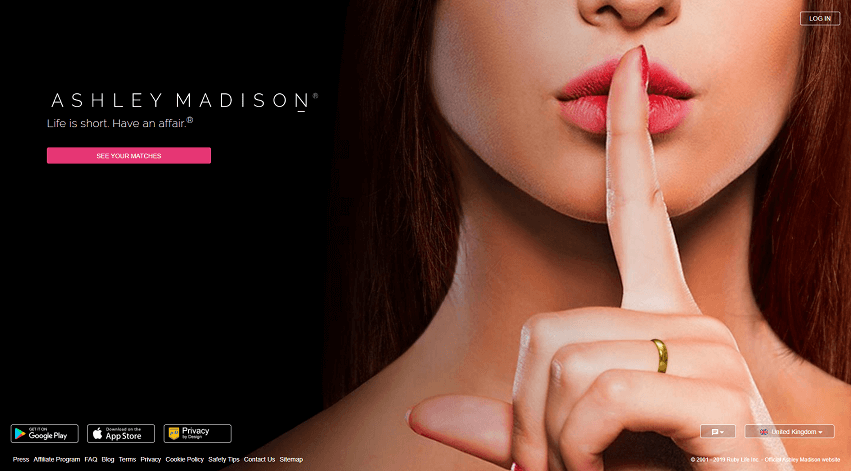 There's no one definition as to who you can be and what you're seeking on Ashley Madison.
I, however, am a single male seeking females. So I select that option and continue with editing my profile. This is where you can type out a greeting and set limits, meaning disclose whether you're looking for something long/short term, a cyber affair/erotic chat, 'whatever excites me,' 'anything goes,' or undecided. Wanting to speak to girls who actually want to meet up and have an in-person affair with you, so I chose 'Whatever excites me.'
You can use your current location to find local matches for local sex and add a photo or skip for now. For review purposes, I decided not to add a photo at this time and just browse around, and I found that many, if not all, of the ladies in my area didn't have pictures of themselves either. People do value privacy and discretion on Ashley Madison.
There were still men and women who did have pictures attached to their profiles, however, so I chose to start my AM journey with them. To my surprise, there were a lot of women online for me to chat with since I don't live in the most metropolis area. This is a good sign because it means that no matter where you are, you can find people to chat with on Ashley Madison.
The women on this dating service are there for various reasons. Most are either looking for a sugar daddy or someone to have fun and exciting times with, as well as try new things in sex and of course, discreet flings. Whatever you're hoping to seek, or don't have any strict limitations, you could definitely find something worthwhile on Ashley Madison.
Features
You see your pool of women in the area as soon as you open the app through the 'Discover' tab, and you have the option of refining your results. By tapping on the search filters in the upper right-hand corner of this screen, you can filter your preferences in a few categories to view women who match your criteria better.
For starters, you can select whether you want to view women near you by using your location or specify a location to view profiles that are from there. Profile and Status filters let you select from seeing members who are new, have public or private photos, and their age range. The attributes category filters for things like language, ethnicity, their limits, and body type.
If you tab over to messages, this is where you'll find all of your message history and profile recommendations by Ashley Madison prompting you to message them. It seems there's no 'liking' or matching with people; you just message who you like and hope they will share the same interest.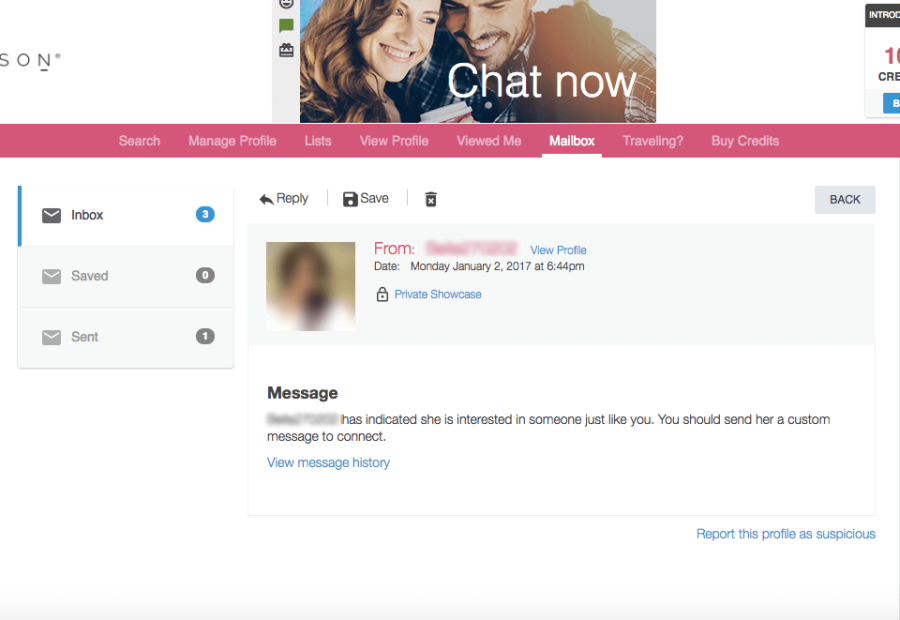 While you can't 'like' members, you can send them a wink, which they will be notified of and is a gesture of interest. You can also add people to your favorites list, and they'll get notified of that, as well.
Similar to most dating apps, you can send women you like virtual gifts as well, with the purchase of coins. There are a few different gift options to choose from, including teddy bears, perfume, jewelry, heels, handcuffs, and drinks.
To make your profile spicier, you can create a private photo album full of the photos you want to keep discreet, and members will have to ask you for a key to view them. Any photo you upload, even your profile picture, can have a mask or blur effect to hide your identity, and can choose which ones to keep public and which to set as private.
There are not many other features to Ashley Madison, but its straightforwardness is what makes this dating site so successful and why people like to use it.
It's quick, easy to communicate, has no barriers that come with matching, and is incredibly private if you want it to be.
Pricing & Membership Benefits
If you're a woman, you can use the site for free. This is a nice little feature that will continually attract new members on a regular basis. But if you're a guy, you're going to have to pull out the credit card.
Ashley Madison offers different credit payment plans instead of monthly subscriptions to access their premium features. If you've ever used a site that also works on credits, it works the same way on Ashley Madison. The use of features, in this case, messaging and gifts, cost a certain amount of credits.
You can purchase 100 credits for $0.70 per credit totaling $69.99, 200 credits for $0.50 per credit totaling $99.99, 500 credits for $0.34 per credit totaling to $169.99, or 1000 credits for $0.25 per credit totaling $249.99. You will be billed in one payment for the total of the credits, and will then be able to receive and send Premium messages, as well as receive and purchase gifts to send.
As far as dating site costs go, Ashley Madison is on the high side. I won't lie and say credits are cheap, because even the smallest package, $69.99, is a lot of money to hand over in one go.
Pros
Ashley Madison is an elite dating site for the men and women looking to engage in extra-marital fun. Everything about the site reflects its exclusivity, from its sexy design to its high prices.
There are a lot of women on this dating platform no matter where you live because the truth of the matter is that people want to cheat, but don't want to get caught or leave their partners. There are also ladies here who want you to join her and her husband, or are single and looking for something casual.
The descriptions on each profile are specific enough so you know who's down for what you are and who's not. Profile information is usually quite detailed.
You don't have to have a wife yourself to enjoy Ashley Madison, either. If you're single and to sleep with a married woman, you have that option. There are actually a lot of profiles of single folk on here, both men and women.
One major advantage for men looking to hookup is that married women aren't looking for any long-term stuff. Most of them have windows of opportunites to get laid, maybe while their husbands are at work or on business trips. This means you don't have to worry about taking these ladies to fancy dinners.
Search results can be catered to your specific needs. You can search by location and then filter down members by further criteria.
Good customer service levels. You can contact the site by phone or email if you have any issues.
Ashley Madison is as legit as dating sites come. If you can swallow the high prices, you'll have a lot of fun with the members on here.
Cons
You can only view profiles who are currently online and can't see all of the members in your area unless they're online at the same time you are. Also, exchanging messages is limited to credits purchase.
There's a lot of sugar babies on Ashley Madison looking for an older, married man to treat them to a lavish lifestyle. A lot of reviews have considered this a negative, but really it depends on your preferences.
A lot of reviews have mentioned that there's always a worry that another data breach might go down. The Impact Team – the hacker group behind the original leak – have since targeted other platforms too, so there's always a chance they might return to AM, and that would be bad news.
When you send messages, you don't know if they'd ever been seen since there's no read reciept. This is offset with priority messages, meaning both you and the other person get an email when the message has been received / read, but it costs more credits.
Conclusion & Rating
Ashley Madison is the top affair dating app for a reason, and when you download the app, you'll see so many people use the site to find discreet extra-marital sex.
It's simple yet effective and has built up a trusted reputation to keep people coming. Their members join for the discretion they offer and is the ultimate app for affairs. This site is certainly no Meet Mindful, but if you're looking to live unethically, this is definitely the place for you.
Ashley Madison gets 4/5 Stars!
Ready to try Ashley Madison?
FAQs
What is Ashley Madison?
Ashley Madison is an online dating site that caters to people looking for affairs. It's the most popular site for married people with an active user base of 54 million people worldwide.
How does Ashley Madison work?
Ashley Madison works like all other dating services, but emphasizes anonymity and discretion due to its user base being mostly married people.
Is Ashley Madison legit?
Yes, Ashley Madison is a legitimate online dating platform. It's used every day by people looking for affairs and is one of the most active hookup sites on the dating scene.
How much Does Ashley Madison cost?
Ashley Madison uses a credits-based system as opposed to a monthly membership fee. You can buy 100 credits for $69.99, 200 credits for $99.99, 500 credits for $169.99, or 1000 credits for $249.99.
Is Ashley Madison worth paying for?
Yes, if you're looking an affair, Ashley Madison is one of the best dating sites to use. However, if you're looking for a long-term relationship, you're better of using other services.
How do I delete my Ashley Madison account?
1. Login to your Ashley Madison account by entering your information
3. Once you're logged in, click on the "Manage Profile" tab on the top of the screen.
4. Slide down bottom and click on the "Delete Account" on the left hand side menu.
5. Click on the "Deactivate Your Profile" button on the right side and confirm the option.
6. Once it's done you'll be automatically logged out.