In the modern age, there seems to be a new dating platform every day of the week. You can't browse the app store without the hottest new hookup app being thrust right in your face.
But as you probably know, not every dating site is created equal. While there are some that really work, there are twice as many that don't. Some are total duds, some are ghost towns, some just plain suck.
A new hookup site on the scene is Instabang. The name intrigued me, so I thought this would be a good site to sample. Therefore, I've put together this Instabang review to give you all the highs and lows.
Does Instabang work? Is it one of the best new apps on the scene? How does it stand out from all of the dating sites on the scene? What are the pros and cons? We've covered all the information you need to know. Read on for our full Instabang review below.
InstaBang: First Impressions
Right away, I didn't like the look of Instabang.com at all. While it looked professional enough with its blue and silver theme, the overload of internet models gracing the front page was an instant turn off. It was obvious that they weren't real site members, and any site which uses this shady tactic is usually on the scammy side.
Before you can even enter Instabang, you're loaded onto a webpage that asks you a few important questions so it can help you find girls in your area that you're interested in.
You'll be asked what kinds of girls you like ethnicity-wise as well as how old you'd like them to be. Just a disclaimer here to let you know that Instabang is very much NSFW, so don't sign up for this while you're on your work desktop because there WILL be titties on your screen.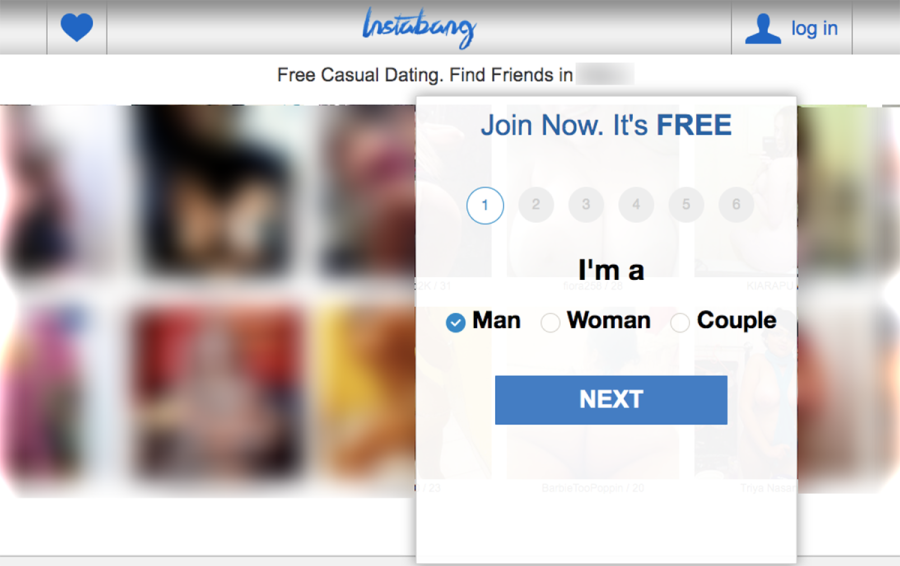 Creating my profile was super easy. All it required was a few basic details, a valid email address and a few profile photos. It also asks for your zip code so it can help you find women near to you. Once you've undergone the registration process, your account will be created.
Within minutes of making my profile, I already received about three messages from some girls that may or may not have been real. Instantaneous messages are sometimes major red flags, especially when my profile was still mostly bare. Although that seems a little fishy, I know that some sites have an option to send automatic messages to people who sign up with the description you're interested in so that might be it.
After getting some hot matches and some scandalous messages, I can safely say that there are real girls on this site, and good god. Each smoke show is even hotter than the last. Despite the initial influx of obviously-fake profile pictures, it soon became clear not every profile was a dud. It was a relief to discover that the site was actually loaded with real women.
My biggest concern was that Instabang didn't do much to stand out from the crowd. There was no noticable difference between Instabang and every other casual dating site out there. It had no unique gimmicks, which could potentially translate to a lack of users.
Features
Other than featuring some seriously bodacious babes, Instabang.com has plenty other features to sink your teeth into.
Two weeks of usage on the site has shown me that Instabang has a hell of a lot of users. Not only are there thousands of women to choose from, but there seems that a lot of them are active. Most girls reply to messages within the hour (as long as you've got something interesting to say).
You don't have to play the swipe game to use Instabang. While most hookup sites employ the modern swipe-and-match approach, with Instabang you're free to browse through profiles like an old school dating site. Once you've landed on a profile you like, you can send messages to that person instantly (providing you've got the premium membership, that is).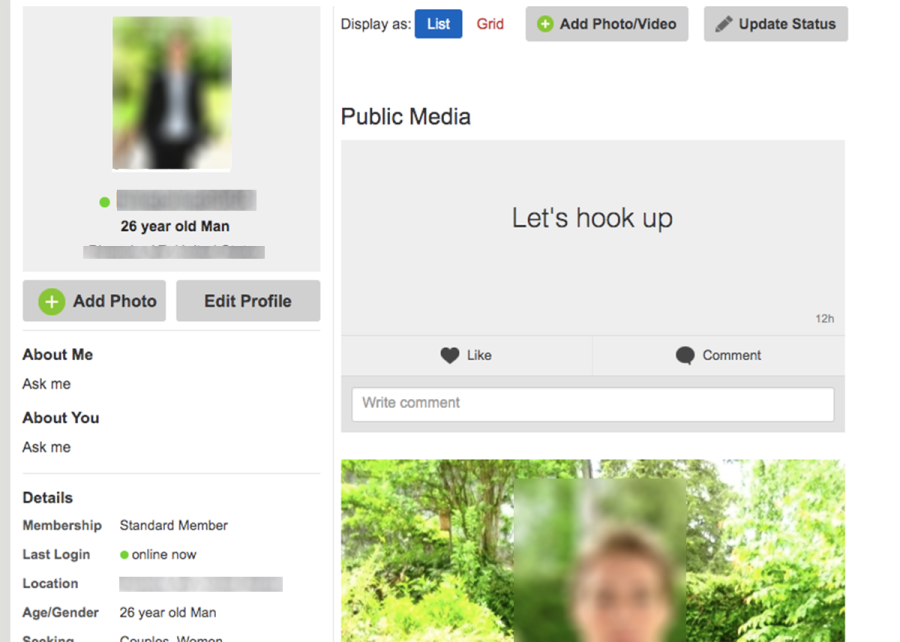 Completely discreet emails make Instabang easy to use without worrying about someone seeing your membership details or private messages. This is quite a relief for me because if someone saw an email from a fuck site pop up on my phone, I don't know how I'd pick up the pieces.
You can also use the Instabang app if you don't want to log into the actual site on your computer. I like this feature a lot because not a lot of the meet and fuck sites I've used offer an app for your phone, although it seems like a no-brainer to me.
The chatroom feature feels really fluid and seamlessly works into the site. Groups of people in your area might also be planning a swinger party or other event, and it's easy to contact them to join in.
There's a 'trending now' page feature on the left hand side of the site. What Instabang does is pick out a few choice profiles based on that users looks, profile quality and profile completeness and highlights it for the everyone to see. These users are hand chosen from the whole members base, so they might not exactly be close to your area.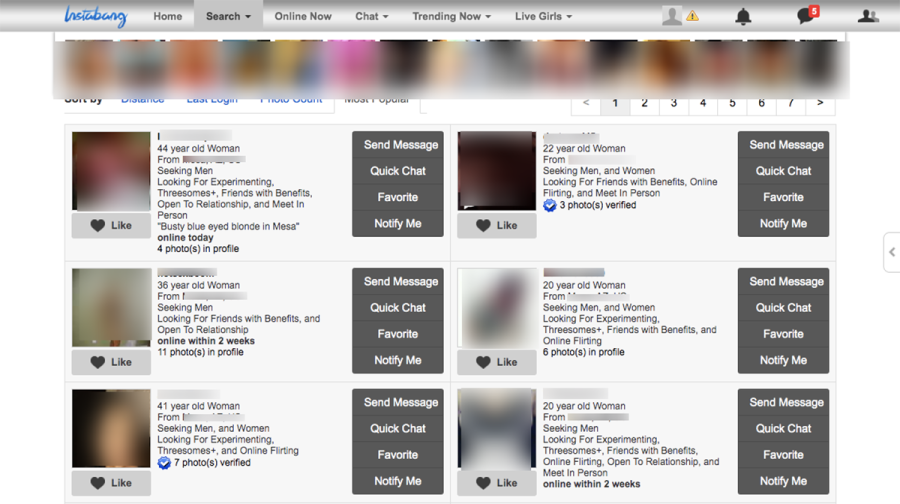 There's also a public media section for you to enjoy various pictures and member videos. This area is quite unique, at least in terms of dating sites. Instabang.com users can use this section to show off their explicit personal content, including saucy selfies and naughty webcam videos. It's almost like a mini porn website, but with content populated entirely by Instabang members.
You can also use the 'favorite' feature to tag members you might want to chat with at a later date. This comes in handy when you're already knee-deep in local hotties and you finally realize you might have a little too much on your plate.
Lastly, Instabang lets you review members you've hooked up with. It feel a little strange reviewing the bedroom capabilities of real life people, but that's where we've come as a society. Besides, not every review is good, which lets you weed out the more unsavory members of the site.
Pricing and Membership Details
Instabang users without a paid membership can't do a lot. They can see member profile pics but that's pretty much it. If they try to view a full profile or send messages, they'll be redirected to the payment page.
After you enter your payment info for the premium membership, you'll be granted access to all the amazing features previously mentioned plus even more that I might have overlooked. There's so much usability on Instabang that it's hard to wrap your head around its functionality sometimes. No doubt you'll come across some features which have slipped me by.
Now, there's a lot of members options On Instabang so bear with me. For the purposes of this Instabang review, I've broken it down by individual membership options to make things a little easier to digest.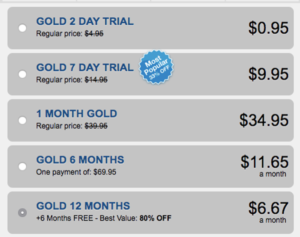 Gold Membership
First and most appealing of all is the Gold account package (the equivalent of a premium membership). Gold gives you access to every Instabang feature and unlocks your account to the max. Here's what you get with the Gold service:
Unlimited messages
Upload a maximum of 12 photos
See which users viewed your profile
No ads on the site
Access to live cams, video chat and other interactive features
Access to the advanced search function
Access to the customer support team 24/7
If you pay $0.95 you'll get a 2 day trial of their gold membership, but if you cough up $9.95 you'll have access to all those luscious features for a full week.
Instabang usually has deals going on with their memberships though so you never really know what you're going to get. For example; when I signed up I was able to snag 12 full months of gold for only $6.67 a month! It's features like this that make this site especially worth it.
Without any special offers, it's going to cost you $34.95 a month to use this platform, but however steep that may sound, I've seen higher prices for sites that were significantly worse than this one.
If you're still skeptical, you can always just experiment with the $0.95 option and give it a couple of days of your attention before taking the dive into a sea of babes.
Silver Membership
One step below the premium account is the Silver profiles package. This comes with slightly less features than the Gold, but might still be worth it for some users. Here's what you get with the Silver service:
Reply to messages you've received
Browse users profiles in full
See which users viewed your profile
Access to limited customer service
Is a silver account worth it? Given that you can't send the first message to other members, the silver service is a strange one. If you're inundated with messages from other members (in other words, if you're a woman), the silver service would probably work fine. However, if you're a man, it's dating site etiquette for you to send the first message. Therefore, a silver account probably wouldn't do you much good.
Price-wise, the silver account is a very steep $24.95 a month. Given its limited capabilities, it's not really a great feature. Every other Instabang review has slated the silver service, and this review will be no different.
Pros
Despite a rocky start, I grew to really like the Instabang website. It's got a ton of pros to enjoy, so let's dissect them one by one.
There are tons of active members on Instabang, and the members base is the bread and butter of dating apps. You could have the shittest dating site in the world, but if you had enough users on there, you'd get users hooking up every night of the week.
As the name suggests, almost all Instabang users are looking for no strings sex. The chances of finding your soulmate on Instabang are slim, but you'll find a member or two to keep you busy for the night.
Sign up is quick and easy. All you need is a username, email address and zip code. You don't have to worry about photo verification or anything like that. Profiles are usually quite thorough too. Most people list their interests and hobbies as well as their sexual preferences.
Not having to play the swipe game is always a plus in my book. Personally, I hate it when you come across the most gorgeous member you've ever seen, only for them to never match with you. On Instabang, you can message any member you want.
No fake profiles – At first glance, it seems like this site is too good to be true, but when you take a close look and really experience every aspect of Instabang, it's obvious that there's an active community that is lively and horny as hell. I do wish Instabang would remove all of the obvious fake profiles on their home screen because this will push potential new members away.
The 'trending now' page is a nifty little feature. Any dating website which makes the effort to highlight its dedicated members is good by me. It also incentivizes members to make their profiles as good as they can be, because when it's your turn to be featured on the trending now page, you can guarantee that hundreds of messages will be coming your way.
Customer support is always available, which is useful in case you ever have account problems or if you want to report fake profiles.
Instabang is very streamlined and easy to use. The user interface is set up perfectly for scouting the local hotties with one hand and even if you get lost there are help buttons at the bottom of every page so you can easily make your way back to the honeys.
Cons
Ads. This is a big one that all Instabang reviews slate. The ads can definitely get a little overwhelming, especially if you don't want explicit imagery coming your way at every turn. This is especially annoying if you use the Instabang website on your phone. It's constant pop-ups one after another. You can alleviate some ads through the account settings page, but not by much.
The best solution for the website issue is to have Adblock installed on your computer. It can be troubling at first, but as long as you've got quick enough reflexes, you can close those tabs before they become problematic.
Instabang messenger. Nine times out of ten, there will be some kind of website error when communicating with another Instabang user via the messenger. I'm not sure if this is a result of the pop-up ads or what, but it can be pretty inconvenient when you're talking to some cutie and things are about to get good. It's a constant stop-and-start approach that really slows down the seduction process.
The silver membership pricing is incredibly steep given the lack of service it provides, especially if you're a man. This therefore prompts members into signing up for the full gold membership. It's a bit of a scammy move, if you ask me.
On the subject of member features, Instabang memberships are always auto-renewed whenever a membership comes to an end. This can be a bit of problem, especially if you a member has no intention of renewing their subscription. Also, if you do accidentally fork out the cash, it can be almost impossible to get it back.
Sometimes, the platform can be a little overwhelming. Instabang can have a lot going on within the webpage, and it can get in the way of you getting your nut. It's like you're constantly distracted by a new girl whenever you start talking to one. Some Instabang reviews might note this as a plus point, but if you're prone to sensory sensitivity then be alert.
Conclusion
Overall, Instabang certainly has a lot going for it. The pros definitely outweigh the cons on Instabang, with the availability of an app along with all the chatrooms and cams you get access to after signing up. Instabang is certainly going to join my rotation of casual dating sites to use for regular hookups.
If you want to meet like-minded people looking for a good time, this dating site is right for you. Is it the best dating service available? No, but it's a good place to find casual sex with local hotties.
Will you find your future significant other on Instabang? Probably not, but you'll find horny teens, cheating housewives and girls date with older guy. That's why I'm going to give Instabang a solid 4/5. Instabang lives up to its name, and that's as much as you can ask for.
We hope you've enjoyed our Instabang review. Feel free to check out Instabang.com and let us know if the site works for you.
Ready to try Instabang?