Fling.com: Casual Dating & Legit Hookup Site
When it comes to online dating, it's difficult to parse out who's there for love and who's there for something casual and fun. If you're looking to find someone who isn't going to stick to you like glue after you've banged, then you should look to Fling for your next hook up.
Fling.com is an online dating site, but I wouldn't go as far as to categorize it anywhere near dating sites like OK Cupid. It's more of a hookup app for people who might be open to relationships, which is funny because usually, sites are for people who are looking for relationships but are open to nonmonogamy.
Fling.com seeks to flip online dating on its head and be honest about what everyone's really online because they're horny.
So, I decided to deep dive into this site and see what they're really about. Do they follow through on their promise? Or is it just a waste of time? Keep reading, reader. Here's our Fling.com review including our overall rating.
First Impressions
My first impressions can be summed up in two words: holy shit. Usually, when you log into hookup sites, their front pages look less like porn and more like a romance novel cover. Fling's homepage, however, looks like the former.
Right off the bat, I know that I'm in the right place if I'm looking for something dirty without any strings to get tangled up in. When you log in, there are pretty basic questions you have to answer: your age, gender, who you're interested in (and yes, couples are an option). You also are met with checkboxes of what you're looking for. And instead of "adventure buddy" you find things like "one night stands" and "experimenting" – whatever that's supposed to mean.
This dating site isn't shy about what they're here for. Unlike Tinder which hides under the guise of being a dating site or other sites that try to keep nudity off your computer, Fling doesn't care. Fling literally flings all the tits and dick pics you could ever hope for right at you.
I did later discover that Fling has a "safe mode" which can be found in the account settings. This removes all explicit content from the site, member profiles and ads.
To get started, stick in your basic details like username, email address and password and you're ready to dive in.
Features
Fling seems like your basic grid dating site at first. You can scroll down the enormous grid of men or women (and couples!), or you could try to refine your search for something more specific.
In addition to the dating app, you'll find people going live on webcam on this site. Yes, it's essentially an online dating website, and a cam site all rolled into one. Instead of highly paid porn stars, you're going to find amateur girls who are looking for attention (and coins) on this site.
So, even if your arranged meetup with a girl falls through you'll have something to look at on Fling!
Setting up your dating profile requires the usual information; age, location, zip code, and a short bio. Most users, however, don't seem to put much info in their profiles. The girls especially seem to prefer to let their photos do the talking.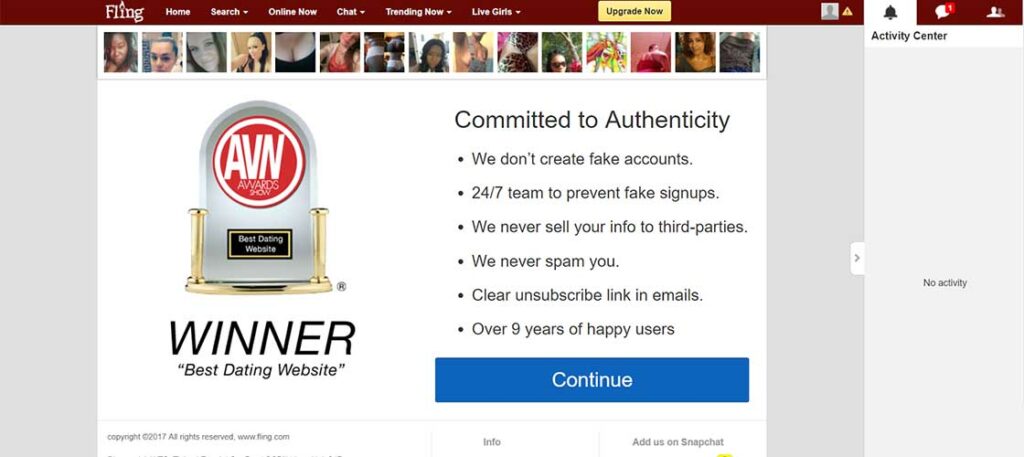 Before profiles go live, they have to go through the profile review team. I'm not sure why, since the site is already loaded with dicks and tits. However, I assume it's a way to keep the gender ratio in proportion and keep the scammers away. That's pretty good customer service at least.
If you're old enough, you might remember Craigslist personals. With Fling, you can relive those glory years in full. There's a Fling personals section where everyone can post about what they're looking for at that moment in time. E.g. "currently in Manhattan and looking for fun."
There's an advanced search feature for those Fling members who are looking for someone specific. You can narrow down members by a whole host of criteria so you don't have to weed through user after user hoping they fit the bill.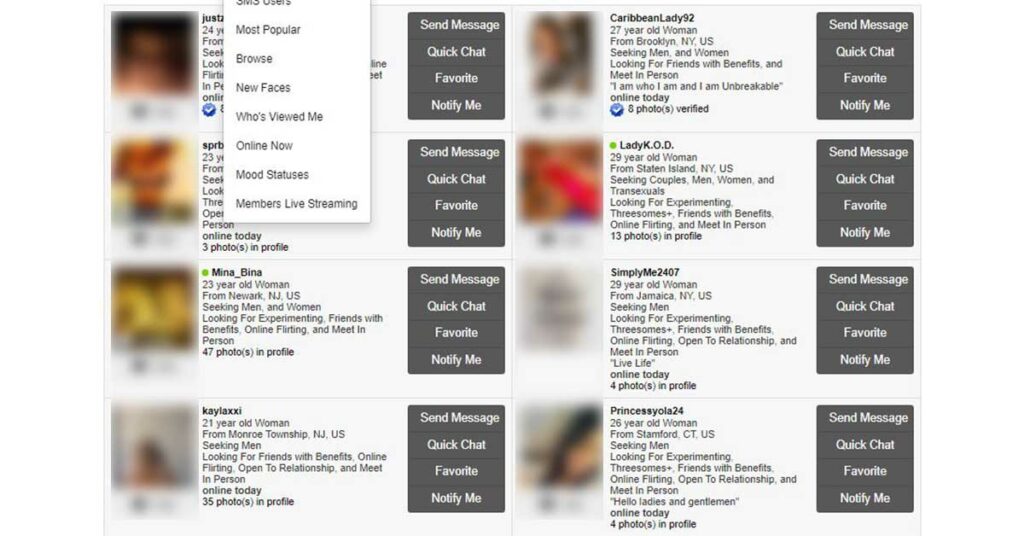 When it comes to members, Fling.com isn't as busy as some dating sites. While there's no official figures regarding Fling's user base, I would estimate it around 4-5 million based on other reviews.
Sending messages is easy as pie. As you're scrolling through members, you can send a "quick message" or a more thorough one which includes emoji capabilities. All messages are checked for scam content, so make sure there are no links hiding inside your flirty chat up lines.
There's a video chat option for those members who like to be a little more personal when they're chatting someone up. I tried to use it myself for the purposes of this Fling review, but it was hard to find a willing member to do it with.
Pricing and Membership
Fling.com doesn't have many membership options. It's either the standard free membership or the Gold Membership (their equivalent of a premium membership).
However, it seems that Gold Membership is free for female users. I like this because it keeps men looking for freebies off the site. When it comes down to it, there are tons of men using dating and hookup apps… and there's not even close to enough women to even out that ratio.
Fling.com obviously is making sure that it's not a total sausage fest on this dating site by allowing women to sign up for free. But if you're a man, you'll have to pull out that credit card.
With a Gold Membership you'll be able to chat, view profiles, view users premium content (and by that I mean nudes and nude videos), and have your profile boosted!
For the men, this paid membership is important because otherwise, you're not going to get a lot of matches or interaction out of this site, to begin with. I highly recommend upgrading if you're a male trying to use this site to fill your male needs.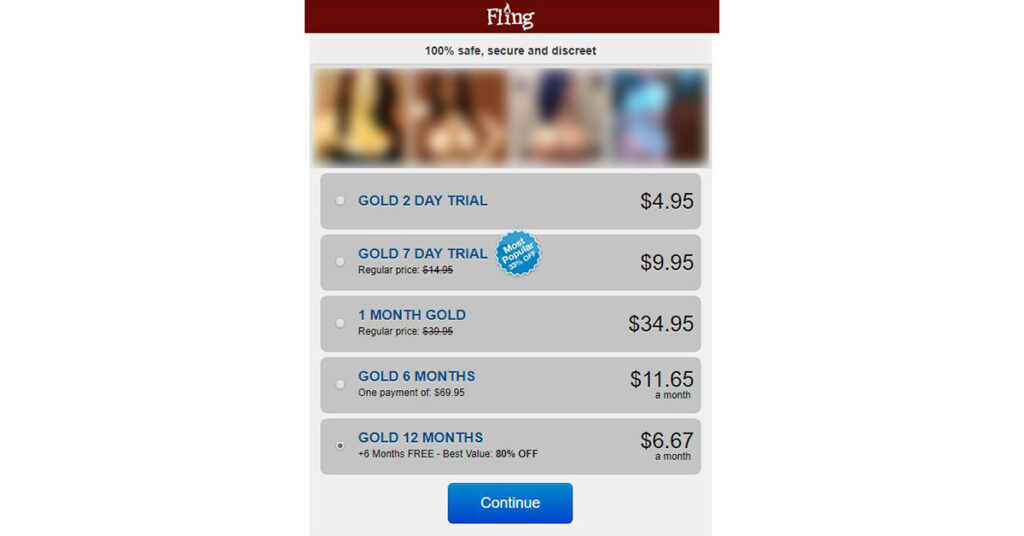 Here's what a Gold Membership will cost you:
2 day trial – $4.95
7 day trial – $9.95
1 month – $34.95
3 months – 24.75 per month
6 months – $11.65 per month
12 months – $6.67 per month
There's no free trial option, which sucks, especially considering the more reasonable subscriptions (1 month and 3 months) are on the steep side.
The 12 month one isn't too bad, but you'll be hard pressed to find many users who are willing to commit to that much money per year right away. This is where a free trial would be pretty useful.
Pros
Cam site! Honestly, I love that there's a cam chat site to see live girls built into this dating site. I think it further shows how honest they are about their intentions as a company. Fling.com isn't trying to be some sort of classy matchmaking site; they're purely here for the sex. Some reviews see this kind of additional content as a negative, but each to their own.
Plus, it's a great way for people to explore their sexuality through technology. Technology has become almost essential in the way that we date, masturbate, hookup, and have sex.
If you're on this site to experiment with your sexuality, this is definitely a feature that you should try out!
Great advanced search function. I like how specific you can get with your search options. You can filter by pre-set filters that the site gives you. Or you can type in your own search terms. Search results are very personalized to each user based on profile information and dating preferences too.
With the combination of these two options, you're bound to find a member who's into the same stuff as you.
There's no bullshit with the search terms; it seems that Fling.com wants to connect you with a suitable member as fast and efficiently as possible.
No nudity restrictions: If you're like me – and if you're considering joining Fling.com like I'm sure you are – then you've had photos removed from other online dating services. Despite being there for your sexual entertainment, A lot of dating and hookup apps have nudity restrictions on profiles.
When you're looking to hookup, you're not hoping that anything gets left to the imagination. You want to see that other person's body. And they want to see yours. So why should there be censorship?
There's both an app and a desktop version of Fling.com.
Cons
Paid interaction: As far as I'm concerned paid interaction sucks. Sure, you might think that it's entertaining for the time being… but is anything really going to come from it? Unless you're doing the paying, odds are you're going to get very little from a bot or paid girls talking to you.
I noticed that as soon as I made an account, I had profile views. I hadn't even uploaded a photo yet or filled out my bio, but I already had girls all over my profile sending seemingly a lot of fake messages… I – being the average person I am – sincerely doubt girls that looked as hot as they did would have very much interest in my five-out-of-ten ass.
Fake profiles weren't a huge problem, but there was definitely more than a few on here. Luckily, fake accounts are easy to spot with their overly-sexual profiles. And they always look very similar to various big name pornstars. What a strange coincidence.
The cost for a trial or a 1-month membership is pretty bad. I can maybe understand charging $40 for a site like Adult Friend Finder or POF; i.e. sites that have millions and millions of members the world over. However, as good as Fling is, I don't think I could justify that much money per month.
When you get responses from other users, there's a tiny little notification on the right hand side of the page. Usually, when you receive a message on a dating site and you're already logged in, you get a popup in the middle of the page. This seemed a little bit of an oversight, because I could happily browse around the site and not notice it.
Conclusion
At the end of the day, Fling.com is looking to help you find exactly what it says in their name: a fling. They're trying to help you get laid, find someone to sext with or help you experiment with your sexuality.
They don't hide behind censorship, and they're keeping everything extremely sexy. And in my book, that's a total win for their subscribers.
That's our Fling dating app review. Overall rating for Fling is 4/5 Stars. It's a great dating internet site if you're looking for something casual.
We hope you've found our Fling.com review useful. If Fling doesn't do it for you, check out our other reviews and find the hookup site for you.
Ready to try Fling.com?
FAQs
Have more questions after reading our Fling.com review? We've got your answers here.
How does Fling.com Work?
Fling.com is an adult dating site which caters towards users looking for short-term relationships, one night stands and casual sex. Users are free to scroll through a grid of local members and send messages freely.
Is there a Fling.com mobile app?
Yes, there is a Fling app available for both iOS and Android phones. There's also a mobile version of the website available. The app is free to download but requires a monthly membership to utilize in full.
How much does Fling.com cost?
A Gold Membership to Fling.com costs between $6.67 and $34.95 per month depending on your level of commitment. Women can enjoy the site entirely as free users.
Is Fling.com safe?
Yes, Fling.com is a completely safe casual dating site full of real, genuine users. While you may come across a few fake profiles on Fling, these are only present to help increase activity levels on the site.
How do I cancel my Fling.com account?
Login to your Fling account and click the icon with your profile picture in the top right hand corner of the screen. Click the "My Account" button, followed by "Account Settings." Check "Make My Profile Inactive" to cancel Fling.