We have all seen the ads. "Local women in your area who want to FUCK!" All hookup sites say the same thing. But here's something to consider: what if those ads… weren't bullshit?
What if it were really possible to meet women in your town who were ready to fuck at a moment's notice? Well after using SocialSex.com for about three weeks, I feel like I'm finally able to tell the world exactly how it works.
Looking for a hookup site that actually delivers on its promises? A site which you'll actually get laid through? Then you'll definitely want to read our SocialSex review.
First Impressions
When I first logged into SocialSex, it looked friendly enough, but then I tried to create my account and was faced with multiple problems with the browser version of the website. I couldn't set my age correctly because the button stopped working and I couldn't reload the page very fast at all. These kinds of features generally turn me off from websites like this, but I heard it's quite the site, so I persevered.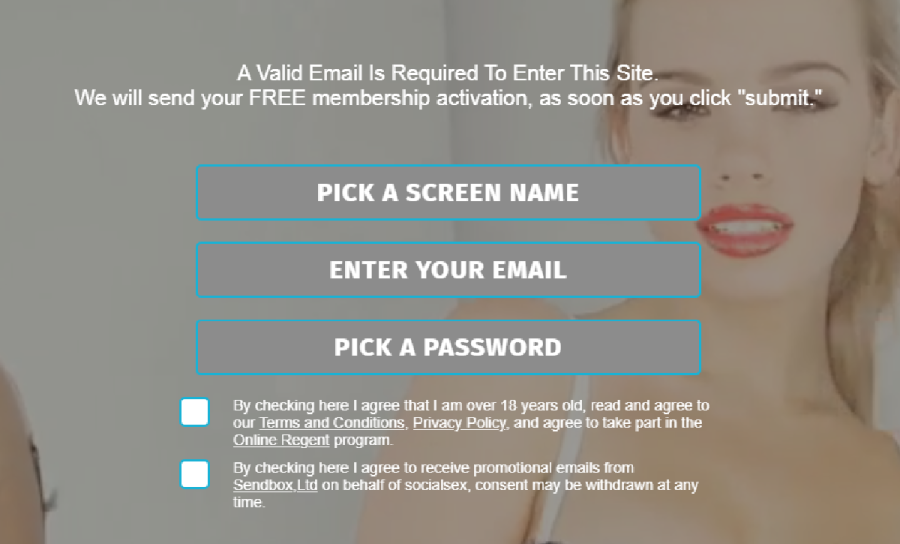 Three days later when I was finally done creating my account (and going through the profile review process), I was able to access the site. Browsing the site wasn't too difficult, but it looks pretty out of date. It looks like I'm using Windows 98 to check my AOL account in this bitch. Maybe in the future, they can focus a little more on design.
The site's founder, Chretien Schouten, claims that he wanted to create a hookup site which would cater to straight men and women as well as the LGBTQ community, so there's a decent number of guys and girls on here with alternative lifestyle preferences, and that's cool by me.
It seems like the women on this dating site are genuinely local. I'm no expert on what constitutes a fake profile, but if these are the best fake profiles they could make, then they need to stop hiring models from the bar at the local bowling alley.
I'm not that good looking either though so I guess it's not my place to judge. All I know is that this is the most realistic "local fuck" site I've ever been to.
The site is full of older couples looking for adults to meet up with and possibly arrange swinger parties. So if you and your wife/girlfriend are looking to get wild with some strangers online, you might want to check out Social Sex. The community is very active so it shouldn't be too hard to find some new partners who are looking to trade spouses.
SocialSex's Features
Social Sex allows you to browse profile pics, look for specific women using the 'search' function, send and receive messages from strangers, and find ladies who are interested in chatting with you. Nothing special really. Most online 'meet and fuck' sites do this exact same thing.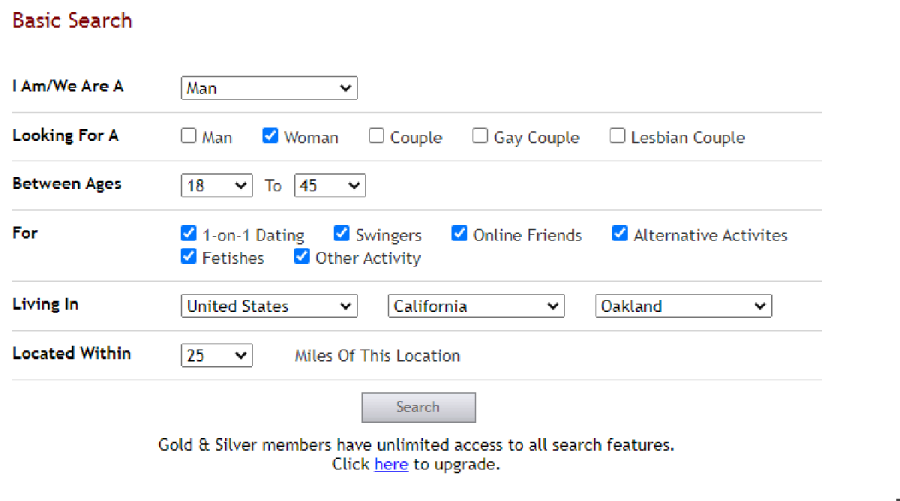 One of the more interesting features this site contains is its ability to actively show you any active profile that you might be interested in based on your previous engagements. The site recognizes what you like and targets that demographic for later matches/chats. Say, for example, you only message MILFs. Your feed will have a section called "for you" and it includes profiles that are MILFs. It's just like Amazon.
Other than that, the sites features are pretty underwhelming. I don't know if it's the site's dissatisfying amount of hot women or the ugly webpage, but this site doesn't seem to be any better than your average 'meet and fuck' site.
The site also features their own webcam site that you can sign up for that gives you access to smoke shows near you who are caming live. Although the ladies on the homepage are sub-par, the girls on the cam site are total hotties. Almost everyone that I viewed was an easy 10/10.
The userbase on Social Sex is more active than you'd think. My newsfeed was always stacked with ladies posting their personal 'home videos' and the comments are always encouraging, so that's good.
It really seems like there's a community here that supports and feeds off each other, which is something you don't get on most dating sites. Usually, your feed on other sites is almost entirely compressed images of pornstars posted by what I'm assuming is the creators of the site trying to fool people into thinking there's more members/traffic than there really is.
Pricing and Membership Details
If browsing the site alone isn't enough, you can sign up for a full gold membership. Gold allows you to use 'full contact access' to message tons of profiles looking to hook up. You also get to use the sites webcam site to check out thousands of cam models and members on the flagship site.
As far as pricing goes, you can either pay $30 a month for just a regular monthly membership, $20 a month for their quarterly package – or $60 every three months. You can also fully commit to a yearly membership for just $15 a month.
Compared to any one of SocialSex's competitors, the pricing is dirt cheap. I've even seen some dating sites try to get away with charging a sneaky $180 a month in membership fees, so this is a breath of fresh air in my opinion.
After trying out the gold membership, I can safely say, it's worth it. I was able to chat with a few local women, a few older ladies, and I was even added to a group chat full of bangin' women looking for someone to share their bed with.
Advantages to using SocialSex
The registration process is super fast. Just input your basic information, sexual orientation and email address and you're ready.
The layout and interface are a breeze to navigate. The profile review process also weeds out any fakes. Profile reviews take around 24 hours to complete.
Having an active userbase is, in my opinion, is one of the most important parts of of any 'meet and fuck' site. That being said, I think Social Sex nailed it. And it's always nice to not have my inbox flooded with random messages from bots as soon as I enter the site.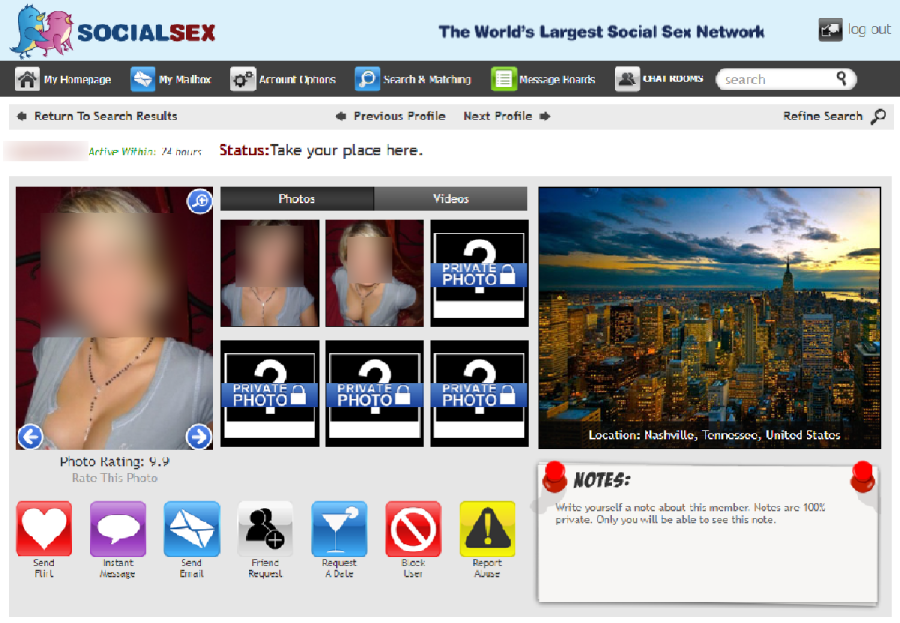 Swinger folks aren't normally my forte but after using Social Sex for just a few days, I just might have a taste for it. I mentioned earlier that the women on the site weren't top-notch, but I'd now consider that a plus. You can really tell these are real ladies who want to get down with you and not some fake automated bot looking for your card info.
Another win for this site is how cheap it is. You could get tricked into paying your entire salary towards a scam on any other site, but this site is really focused on the user experience instead.
You practically pay pennies on the dollar compared to other dating sites AND you get access to all the same features. This site gets major points for running with the 'no bullshit' theme that is far too rare in most hookup sites. profile
Customer support is on point. You can contact them any time of the day for help or information.
Great interactive features. You can connect with members through chat rooms and message boards rather than relying on direct messages all the time.
SocialSex.com combines social media elements with dating site networking.
If you use the search function properly, you can find members who fit your criteria perfectly. You can search by location, body type, physical appearance, last logged in and even profile completeness.
Other reviews don't agree with me on this one, but social networks / dating site hybrids are always the sites with the most staying power.
Disadvantages to using SocialSex
To be honest, the webpage isn't pretty. I know it doesn't matter as much as the actual content, but the look of your site can really add to the overall experience. Hopefully, as the site grows, it can afford a redesign.
The overly-fake "success stories" on the homepage. It's only the fake dating apps that have these.
Even though SocialSex.com is mostly use by members looking for a good time, the interests of members vary quite a lot. There are equally as many people looking for a relationship as there are casual encounters.
The guy-to-girl ratio is a little off. There's a lot more guys on here than ladies. So, if you're a girl, you'll have the time of your life on here.
Should you try SocialSex?
SocialSex isn't just about the eye candy. When you add up the evidence, Social Sex has a lot to offer. Not only is it cheaper than most hookup sites, but it gives you a better user experience too.
Will you get laid on SocialSex? No question about it. If you use it for long enough, you'll have plenty of hookup choices come your way. There's no reason you wouldn't. SocialSex gets right down to business; no bullshit, no fine print.
That wraps up my review. In summary, I'm giving SocialSex.com a rating of 4/5 stars.
FAQS
What is SocialSex?
SocialSex is an online dating site that connects people looking for casual relationships and hookups. The site claims to have over 2 million registered members.
Is SocialSex a scam?
No, SocialSex is a legitimate dating platform with millions of genuine members. SocialSex.com has very few fake profiles on its platform.
How do I delete my SocialSex account?
As of January 2021, it's not possible to completely delete your SocialSex account from their platform. Therefore, it's advised that you simply cancel your subscription and remove all of your photos and information from your profile.