Everyone has a sugar daddy these days. It's true! With the cost of student loans and living going up exponentially, young folk are looking for money in more unconventional places. Plus, with the internet forms of sex work (including being a sugar baby) aren't thought of as taboo anymore! In fact, most people encourage their friends to make some sort of arrangement with an older guy.
Seeking Arrangement is easily one of the leading sites for making… well, for making arrangments of that nature. So is this site really where you should go if you're looking for a sugar daddy? Other reviews haven't been so kind to this app, but we've dug deep to see what it's really all about.
Read on for our detailed Seeking Arrangement Review.
First Impressions
Seeking Arrangement is the brainchild of tech entrepeneur Brandon Wade. Wade had the idea of creating a platform for sugar babies to help them find someone who was happy to swap money for companionship. And so Seeking Arrangement was born.
First off, it's important to know what sugar daddies and sugar babies actually are. Quite simply, sugar daddies are men with money, usually on the more mature side. Sugar babies are young ladies, often college students, who would like someone to lend them their credit card to splash out on luxuries.
The whole concept of a sugar dating site is weird to some folk. In a way, sugar babies are a little like prostitutes (although they might take offence to that). But really, both sides get something from a sugar relationship, so what's the problem? The men get female companionship, and the women get to enjoy a life of luxury. Everyone wins.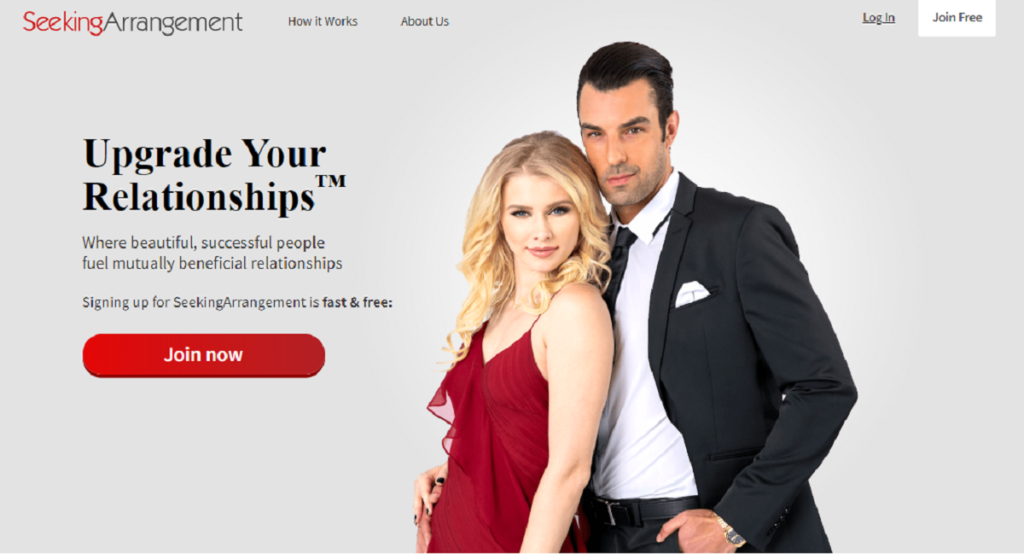 Now, onto the SeekingArrangement website. One of my first impressions of the site is that it's not exactly that beautiful. It doesn't look particularly slick or high tech. It just looks plain. But that might be good for some of the – erm – more mature men and women It's not too bad though. It doesn't look cluttered or like it was created in the 90s and hasn't since been updated.
There seem to be a lot more people than the stereotypical silver fox sugar daddy on here. It seems like a lot of young professionals (particularly men who hilariously refer to themselves as canna-businessmen) are also on the site. Either way, there's a lot of money-motivated people to choose from (both as daddies/mommies and babies).
You're prompted to set up your profile by inputting your basic details. From there, you can detail what kind of relationship you want (casual dating, friend with benefits, a young lady to spoil without sex, etc).
Features
The site is pretty straightforward. It seems like that if you're really looking for this kind of arrangement this is the site for you. It's set up like most dating sites with an about me and a what you're looking for section… the content is just slightly different from your run-of-the-mill dating site.
Instead of people saying that they're looking for a loving partner or something of the like, they usually go into detail about what kind of NSA relationship or intimacy they expect from a potential sugar baby. There are also modules where you can list the kind of allowance you're looking for or what kind of allowance you're willing to offer as a sugar daddy.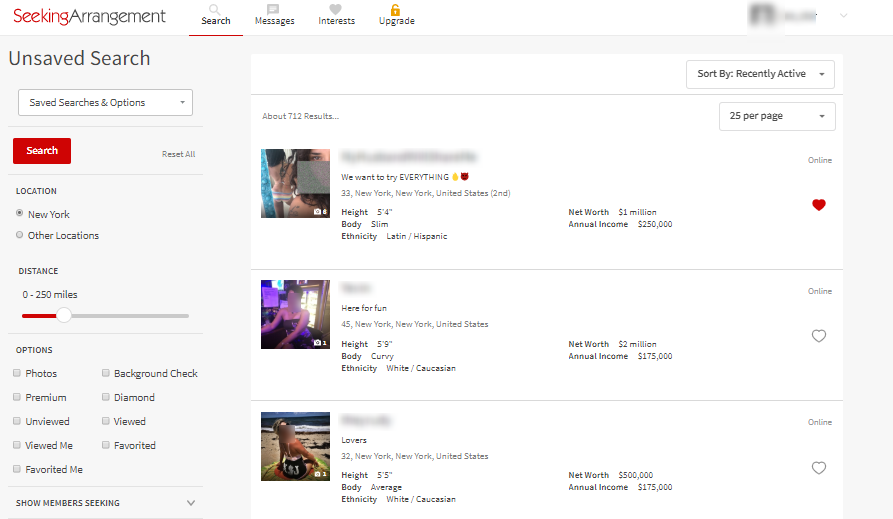 If you're a sugar daddy yourself, you can boast about everything, from the size of your bank account to your net worth to how many luxury homes or yachts you own. If you're a guy, you really have to big yourself up to stand out from the crowd on here. It's very much a dick-swinging contest.
You can add tags of what you're looking for, too. This is great because they're more streamlined and you'll be able to find a multitude of women who are looking for the same things as you. Some women want a non-sex based relationship and others just want a friend. But of course, there are plenty who happy to exchange their sexual companionship for money.
Believe it not, sugar daddies don't just give money to any old girl they come across. Some are quite specific about the kind of woman they want. For example, not every guy wants college girls. Some sugar daddies want an older, professional woman to spoil, and vice versa.
Outside of scrolling through users, there's not a whole lot of features going on on Seeking Arrangements. It's pretty stripped down. There's a video chat feature, a couple of search functions and that's it.
Pricing and Membership Details
There is some serious pay walling going on on this site. Well, it makes sense if you're someone who is looking to literally pay for someone's time and attention… however, I question why they would bother to paywall the sugar baby side? I mean sure, some women and men use this site as a means of making a living… but then some women are looking for some extra cash to pay off their student debt.
The update will place you in the Diamond member or featured member area, but to be completely honest I'm not sure if it's worth it unless you have the money to blow on it… which you might not if you're more of a casual sugar baby.
Free members are only given limited access to the app. As a free member, you can go through the registration process, create your profile and browse other profiles (but can't see them fully). That's it. If you want to message other users, you'll have to upgrade to the Diamond Membership.
Diamond Members can do pretty much everything. They can browse full profiles, reply to messages, start conversations and browse through their returned search results.
Here's what a Diamond Membership will cost you:
1 Month – $19.95 per month ($19.95 in total)
3 Months – $14.95 per month (£44.85 in total)
How does the cost of an upgraded Membership stack up to other sugar daddy websites? Pretty good, really. You won't find a sugar dating site with lower costs, especially considering the advances that SeekingArrangement offers.
Pros
Registration and profile setup is super easy. All it takes is a user name, email address and your vital stats and you're good to go.
Location, location, location: What I like about this site is that when you log in you can view some of the members on the site immediately. What's great is that the members who are listed in that "featured" or "Diamond" section are users who live within a reasonable distance from you. If you're paying to be promoted on the site, you'll be able, and it'll be easy for them to find you too!
Search features: The search features are pretty sophisticated! They let you get pretty specific with what you're looking for (I mean if you're paying for a partner you might as well be able to pick your poison). Usually, the site will paywall that sort of thing.
Bios: I like that the bios and basic information guide you to answer some questions that might otherwise be uncomfortable. If you're looking to meet someone who has a certain amount of income that's something that'll be listed on their profile! It prompts you to answer some of the tougher questions! Which is great for someone getting started in this lifestyle.
Most profiles seem to be fully fleshed out. There's something about the prospect of exchanging money with another person that prompts users into putting some effort into their profile.
SeekingArrangement doesn't just adhere to the usual gender stereotypes of rich man meets college girl, either. You'll find wealthy users of both sex. There are sugar mommies on here looking for a young man to spoil too.
The price for an upgraded membership is pretty good. You won't find an upgrade membership for any less than $30 per month on other sites, so Seeking Arrangement offers a pretty good deal.
There's a mobile app version of Seeking Arrangement for those who want to make matches on the go. The app is almost identical to the website version and functions in exactly the same way.
SeekingArrangement has a decent customer service team. It's available during working hours via phone, or 24/7 via email.
Cons:
The website design is pretty low quality, especially in comparison to other sugar dating websites. For a site that's all about money and luxury, I'd expect the guys behind the site to put a little more effort in.
Be careful what you say…: I don't hate too much about this website… but what I do hate is that you have to be careful what you say. They closely monitor what you write in your bio section. And one of their rules is that you can't promote any businesses… which kind of sucks and almost doesn't make sense!
So one of the tags you can add to what you're looking for as a sugar baby is "Investors." But you'll get your account permanently banned if you promote any business in your bio… Now am I wrong or do those two things seem to conflict?
But whatever! You're using their site, so obviously, you have to play by their rules… but they never give you an opportunity to correct your mistake! You're just automatically banned for life. I mean come on, that SUCKS.
Possible paid interaction: One thing that I loathe about some dating sites is paid or fake interaction. When I originally signed up for SA, I immediately got three messages. I hadn't even put a photo up yet, and I had guys rolling into my inbox promising to take me on vacation. That's super suspicious, and it annoyed the hell out of me.
They usually do this as motivation to keep using the site. I mean there is a new user section, but I found it very hard to believe that all these business-minded men were on Seeking Arrangement in the middle of the day and just so happened to notice my profile (completely with blank about me section), and decided to offer me money.
If you're a man, you're gonna have to put in some effort to make your profile stand out. SeekingArrangement is a hub of wealthy folk boasting about their income, and unfortunately, the younger women on here are usually attracted to the man who shouts the loudest.
If you're looking for a genuine relationship, you won't find it on here – especially if you're a guy. You'll find dates and you'll find sex, but if it's a genuine relationship based on love that you want, you might need to look elsewhere.
Conclusion
When it comes down to it, this site is probably one of the leading places to find a sugar daddy or baby. With SeekingArrangement, you'll find dates, sex and certainly come back with a few stories to tell.
But the site isn't without its downsides. Personally, I have an account on here. And I don't hate it! But I don't use it a lot because there's just not a lot of activity for my profile.
I don't know if that's because I don't upload explicit photos or because I'm not willing to pay for an upgrade. There are also other sites to choose from like Established Men and LUXY.
Honestly, I've had more sugar daddy proposals on Twitter (and there you can promote your business!).
3.5/5 stars
Ready to try Seeking Arrangement?
FAQs
What is Seeking Arrangement?
Seeking Arrangement is a dating platform designed to help sugar babies find sugar daddies. It's one of the most popular sugar daddy dating sites currently available.
How does Seeking Arrangement work?
Seeking Arrangement works like a classic online dating site. Sugar daddies and sugar babies are free to sign up and then scroll through members at their leisure. When they find someone who takes their fancy, they're free to initiate contact.
Is Seeking Arrangement legit?
Yes, Seeking Arrangement is a legitimate, high-quality online dating platform. It boasts real members looking for relationships from all over the world. While you may come across fake profiles once in a while, they're very few and far between.
Is Seeking Arrangement safe?
Yes, Seeking Arrangement is a perfectly safe dating site. The majority of members are real and looking for sugar daddies, sugar babies and genuine relationships. While there are a few scammers and prostitutes on the website, they're only a small minority.
How do I delete my Seeking Arrangement account?
1. Login to your SeekingArrangement account
2. Click on the drop-down menu located on the top left-hand corner of the page.
3. Select "Settings" from the drop-down menu.
4. On the bottom of the page, click the "Deactivate Account" selection.
5. Select your reason for deactivating the account.
6. Confirm Deactivation by selecting "Deactivate Now" option.