When it comes to dating, I've found that it's difficult to meet anyone who isn't completely sub-par. Well, if on-par isn't good enough for you, you might want to get off your regular old dating apps. While you think that you might meet the love of your life on an app like Tinder, I'm sure that after using it for a few months you quickly realized you were very, very wrong. It seems that the worst of society somehow make their way onto dating apps… and I feel your pain.
If you're looking for something more exclusive, then LUXY may just be the perfect app for you. This site bills itself as an ultra-exclusive app and – like its name would hint – it claims that it's the key to luxury dating… whatever that means…
Well, if you're looking for that coveted luxury dating experience, then you may not have to look much further than the "#1 Millionaire's matchmaking and dating club". If you can get it, maybe this is the site for you. I somehow weaseled my way into the site to give you a fully comprehensive review. Here's my Luxy review.
First Impressions
Just looking at the Luxy homepage is an experience. It's like you're looking at the site of an expensive restaurant where you'd be lucky to get a reservation in a year or so. It definitely seems like the kind of app that you'd need some cash to get the full experience.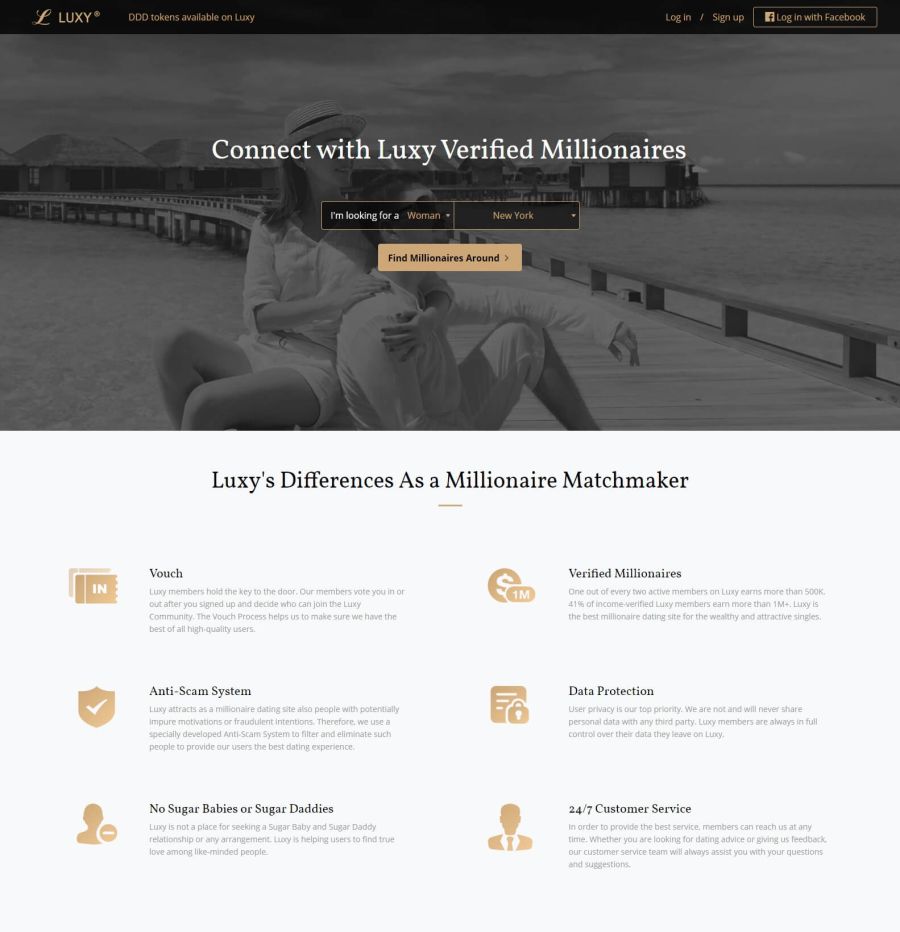 The app also promises that you won't find any Sugar Baby or Sugar Daddies on the site as everyone is income verified … I, however, find that to be difficult to believe. While this site doesn't bill itself as a sugar dating site – like Established Men – but let's be honest… People who are looking to live that sugar life aren't going to let a simple rule stop them. I'm sure that this site would work perfectly well for someone looking for that.
You do however have to have a current member vouch for you to get in… this is where a lot of members are going to find themselves stonewalled. I understand that everything is meant to be closed and exclusive, but this isn't the kind of exclusivity that can be bought… you're going to have to know somebody to get beyond the velvet ropes.
From what I can tell, the women you'd meet on Luxy are the kind who expect expensive dates. This is pretty obvious from their photos alone. Don't expect to find casual relationships of any kind on Luxy.
Luxy's Features
The app seeks to connect members with similar interests and similarly luxurious lifestyles. While it seems that you can't fly as a sugar baby on this site, I'm sure that with a clever enough lie you can figure it out.
Creating your profile is a fun experience. Profiles have plenty of options for personalization. There's the basics like body type and relationship status, then there's more site-specific ones like education, income, and aspirations. The profile page is neatly laid out, making it easy to swipe through profile photos without having to dig into each individual profile.
Every profile has to go undergo the profile review process. This helps to weed out those pesky fake people who try and sell you their bullshit products.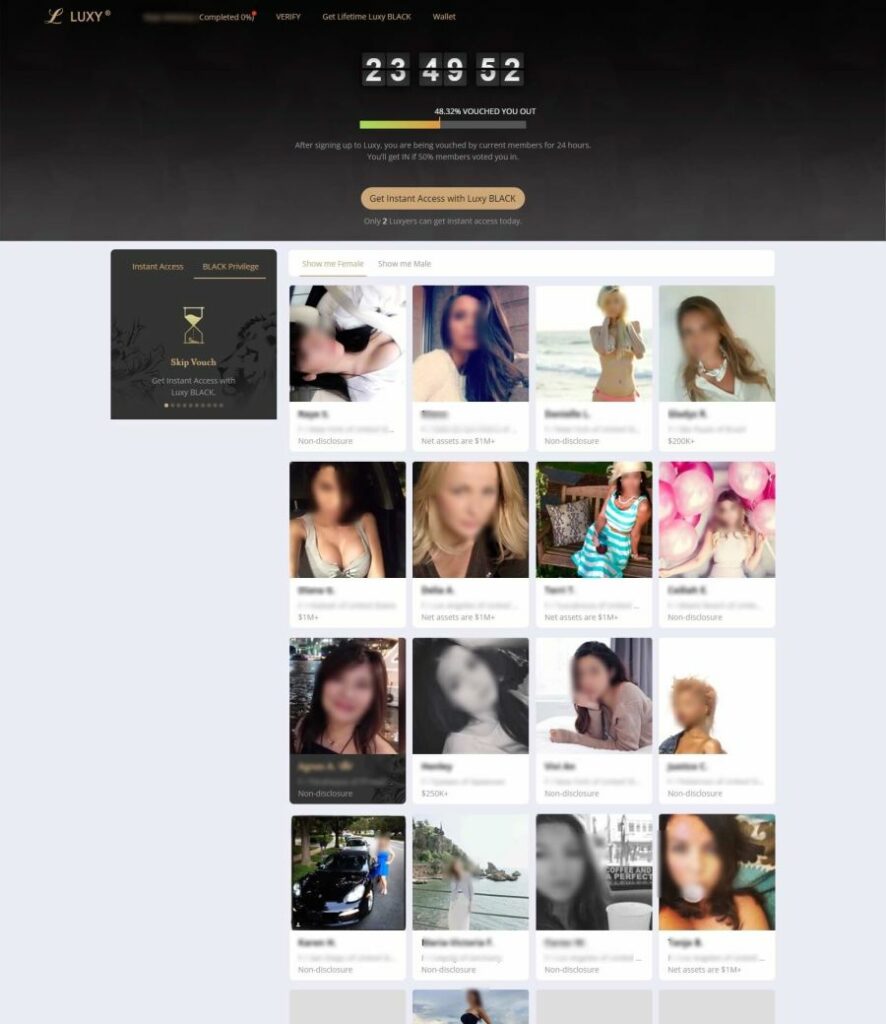 Free users (users who've been vouched) can enjoy limited access to the site without needing to upgrade. Free users can browse through profile pictures (but can't see full profiles), see their potential matches and scour through their available user pool. You can even post your personal "success story." However, the messaging feature is limited to one message per day.
But once you've upgrade, the Luxy dating process opens up a lot more options.
Your first step should be to verify your income. This will help boost your profile and get more eyes on you in the long term. You can do this a number of ways, but involves handing over some sensitive financial information, so be wary.
Luxy offers services to people who are looking to date women, seniors, or find an interracial relationship. It seems that this app really is in the business of giving the rich what they want… but then again so is Cupid dating network which isn't nearly as exclusive and isn't as expensive either. They do however operate a ton of different niche sites (think interracial, Asian, black, mature, etc) but don't charge nearly as much as this site.
There's a video chat option for those users who don't shy away from showing themselves. Additionally, you can incorporate filters into your video chat sessions if you're worried about anonymity.
Pricing and Membership Details
While it's free to use Luxy Basic, you're going to have to upgrade your membership if you want to skip the vouching process. This is great for those members who have the means to pay for this app but don't necessarily have a friend who uses the app.
Just the name, "Luxy Black" is a symbol of how gosh-darn concerned Luxy are with their luxurious and exclusive image. Obviously, you're going to have to either be vouched in or you're going to have to become a paid subscriber… however, updating seems to be the only way to be able to message more than person a day and swipe through as many photo albums as you'd like.
As expected, membership to Luxy is not cheap. Either it's going to cost you $100 a month for one month or $60 a month for six months (this comes to a one-time payment of $360). I don't know about you, but I will not be upgrading considering that is almost as much as my rent!
This is by the most expensive online dating platform available today. We're not the only review who thinks this price point is ludicrous.
Advantages to using Luxy
If you can be vouched for, signing up is easy. It just requires your basic info and an email address. Profile creation can also be quite fun.
Exclusive as all hell. If you're looking for users who are actually respectable members of society – or at least function well enough (and look good enough) – to pass in upper-class society, then this is going to be the app for you.
If your budget is big and your tastes expensive you should really get on here. There are plenty of women who are looking to date a well-to-do-man, so there is no shortage of women profiles on this site.
The income verification process ensures that every Luxy member is legit. You don't chancers pretending to be doctors, lawyers or athletes. The same goes for the profile verification process.
Every so often, the best performing profiles will be boosted on the main screen. If you're lucky enough to have this happen to you, your profile photo will be featured on the home page and you'll be bombared with messages from millionaire singles.
Free members get limited access to the site. Even if you don't upgrade, you can message one woman every 24 hours. That's not a bad deal considering the extortionate cost of upgrading.
You can search through users pretty well. There's a lot of filters to narrow matches down by, such as nearest location, highest income, and all manner of physical characteristics too.
The matches system works quite well too. All users are required to fill out a number of personality questions after signing up, which then helps match them with like-minded singles.
Good customer service availability, as to be expected from an online dating site which charges its members a fortune to use.
Very few fakes on the site. You'll know fakes from their obviously-stolen photos and their complete lack of coherent responses to your messages.
Disadvantages to using Luxy
Too exclusive: While the exclusivity of this app seems like the main selling point, you're either going to have to pay to get in or impress enough users to go through the vouching process. While this might be something you're interested in doing, it may be more difficult for some men and women.
Even if you have the money, you aren't necessarily going to find a date. There's no guarantee, there's no promise of finding love, and there's no refund for those who strike out.
Plus I don't see how it's a "matchmaking" service if it functions as every other dating app online apart from the steep paywall.
Luxy Black is expensive as all fuck. There are plenty of other millionaire dating apps that don't demand such ridiculous prices.
Only good for city dwellers: Okay, so let's say you're into this app… but you're the kind of rich guy who doesn't like the fast-paced life of a city dweller. Well, you're probably screwed since most rich people congregate around metropolitan areas. For instance, when I signed up for the site, I was in Northern California and the closest man on the site was in San Diego… while he's still in the same state that's hundreds of miles away.
Even if I was to drive or hop on my private jet (because I'm a millionaire remember), that's still quite a hassle to go through just to get coffee.
If you're posted in a penthouse in a city center, this app is probably a good choice. However, if you're anywhere but a big city, this may not work for you.
There are some fake profiles on the site, some of whom pretend to be celebrities for some strange reason. This is doubly worse because this is the kind of dating app which legit celebrity millionaires would be on.
The men far outnumber the women. Not wanting to sound sexist, but there are a lot more men millionaires out there. This makes finding a millionaire match a little troublesome.
If you meet a woman through the millionaire match feature, chances are she's going to expect some very exclusive dates. This site doesn't lend itself well to hookups or casual sex, so you can forget that idea right away. These ladies will want expensive dates in the most lavish establishments.
As a dating app, Luxy is smooth as hell. As a website, it's a bit cluttered and messy.
Should you try Luxy?
While I'm a big fan of exclusivity especially when it comes to dating apps, I'm not super sold on this one. I understand that a lot of members are willing to buy their way into a community and date long-distance… but I am not one of those people. I'm a fan of Seeking Arrangement, myself.
I do recommend this app to people who have the financial means to use the site and are willing to travel to meet their matches. But I don't think that this site is anything special. The Luxy team have done everything to make this the most super-exclusive online dating platform available, but it falls short in a lot of areas.
That wraps up our Luxy app review. I'm giving this dating app 3.5/5 Stars.
FAQs
What is Luxy dating?
Luxy is a millionaire dating app which brings elite, wealthy singles together. The Luxy app has thousands of users the world over.
Is Luxy any good?
Yes, Luxy is an exclusive dating app with many successful members on its platform. The site has a large dating pool of wealthy men and women available and helps makes hundreds of new connections daily.
Is Luxy a legit dating site?
Yes, Luxy is a legitimate, elite dating platform with millions of genuine singles on the site. The site employs a match-making system to bring singles together.
How do I delete my Luxy account?
1. From the Menu Bar, tap 'More.'
2. Tap Settings.
3. Tap About Luxy.
4. Tap 'Delete Account'
5. Tap "Deactivate Account" or "Delete Account."
6. If you are a Luxy Black member or have purchased other Luxy products, remember to cancel renewal before you leave.