I'll lay my cards on the table; I've used a lot of hookup sites.
I mean, what's not to like? They're so much better than standard dating sites. You just make a quick profile, add some pictures, have a few chats, and more often than not, you end up meeting horny girls who want to share your bed. There's none of the small talk rubbish that comes with regular dating. It's a win-win for guys and girls who just want quick sex.
One such hookup site is a place called Fuckbook. Never heard of it? Well, the name says it all. Fuckbook is one of those sex sites you'll see advertised on every adult website out there. It's a place for horny men and women to find a single-serving partner for the night. It's the Facebook of sex – or so it claims.
But how does Fuckbook hold up? Is it legit? Can it back up its claims of being the ultimate fuck site, and help you get laid? We've scoured this dating site from top to bottom to give you all the gritty details. Here's our Fuckbook review and our overall rating at the end.
Fuckbook: First Impressions
Right off the bat, the Fuckbook sign up process is nice and simple. No disgusting pop up ads or pesky redirects. Just enter in your email address (not your real one obviously), birthday, gender, username, and boom. All done.
Next, you get to say exactly what you're looking for. Choose from options like, "man looking for women," "looking to trade pictures," "looking to webchat," and so forth.
Straight away I noticed how customizable your experience could be which is a breath of fresh air compared to most dating sites. Most of them just have the barebones approach to profiles, like name, age, and a profile photo. Fuckbook puts the effort in thought to create a fully immersive user experience.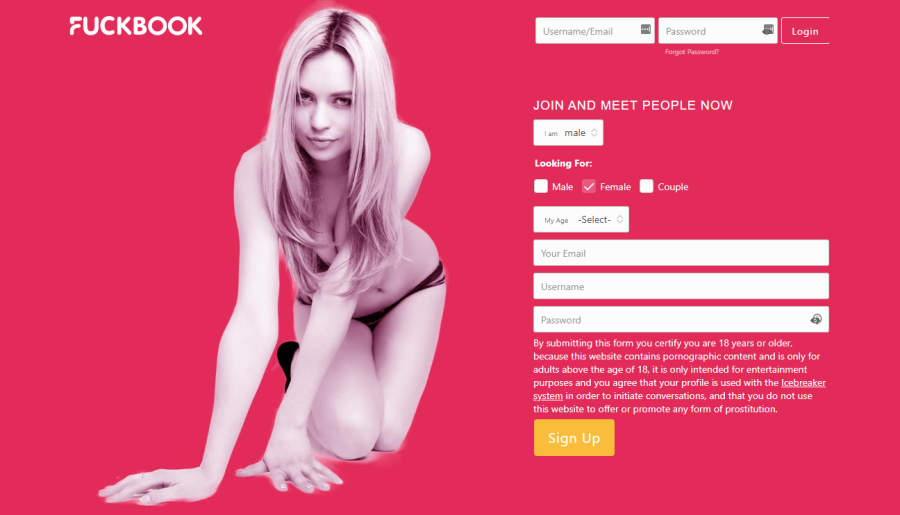 As I began scrolling through my feed, I could immediately tell that the site had a very Facebook kind of feel to it, and not just because of its name. You can post a status, a picture(s), and even write a blog post describing your latest sexual encounter (bonus points if you met your fuck partner on Fuckbook).
The site is just as much a social media site as it is a dating site. It takes the steps to provide a community rather than just a hub to meet your next one-night stand partner.
Along the top of the site, there were a few community sections which caught my attention. In addition to the popular cams and videos sections, there were forums, blog sections and chat rooms. Lots of opportunities to interact with other members outside of direct messaging.
While all of this is looking promising, it's not all about the feel of the site. What's really important here are the features, so let's dive into the real meat and potatoes of Fuckbook.
Features
With a free account, you can't do a whole lot. You can browse users and look at their profile pictures, but all of the personal information on their profiles are hidden until you get the paid membership. It's a pain, but it's a pretty standard dating site approach.
If you try to do anything before upgrading your account, you'll get taken to the payment page every time. Fuck Book is nothing if not persuasive, and once you see the paradise of local members on the right-hand side of the screen, you'll be very tempted to sign up.
Once you pull out your credit card and get the premium account, you'll be thrust into a world of horny adults looking for fun. That's not an exaggeration either.
As you'll see straight away once you've activated your subscription, all of the members on here aren't exactly shy about selling themselves. Most members have explicit (or at the very least, suggestive) pictures on their profile page for you to enjoy.
From the homescreen, you'll see a list of all the members local to you. Much like other social networking sites, once you've found some members who take your fancy, you can send them friend requests. However, you don't need to be friends with other members at all. This is just part of the community-building that Fuckbook has done so well.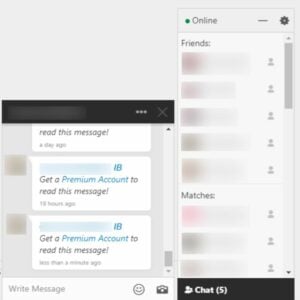 Fuckbook.com gives users the ability to log on and chat with friends they've added, as well as the option to send messages to non-friends. Like the Facebook messages system, Fuckbook will tell you which members are online via a little green dot next to their profile picture.
As far as features go, there's not a whole lot of gimmickry going on. This site keeps things as simple as simple comes. There's no Tinder-esque swiping system, just a long list of members who you can scroll through and chat with.
Unlike a lot of sex sites, Fuck Book profiles are quite detailed. In addition to the usual personal information (username, age, gender, profile pictures, etc) the site prompts users into writing as much about them as possible. Sure, you might not think people who just wanna fuck care about your pets, but there's another advantage to this approach – it helps weed out fake profiles.
As a general rule, fake profiles = very little info in their profiles. Real people = lots of info in their profiles.
The search function is quite versatile as far as dating websites go. In addition to scrolling through users, you can filter down by selected criteria. Age, location, body type, even religion if that's important to you. Fuckbook makes it super easy to find members who fit your criteria down to a tee.
Another of my favorite features of the site is how diverse the women (or men, if you're that way inclined) are. There are horny users from all across the gender and sexuality spectrum. Older women, younger girls, people of all shapes and sizes. With a selection this wide, it's hard not to find a woman you're interested in.
Pricing and Membership Details
So, one of the most annoying things about this site would have to be its promise of being "free to use" when, in reality, it's not. But this isn't unique to Fuckbook by any means.
Plenty of dating websites advertise free services to hook people in, then they hit them with the subscription requirements. It's annoying, but it's become a commonplace tactic – even if it is a little carny.
You actually need a full paid membership not only to read messages, but to send them too. While this is not ideal, I ponied up and bought a month just to test it out.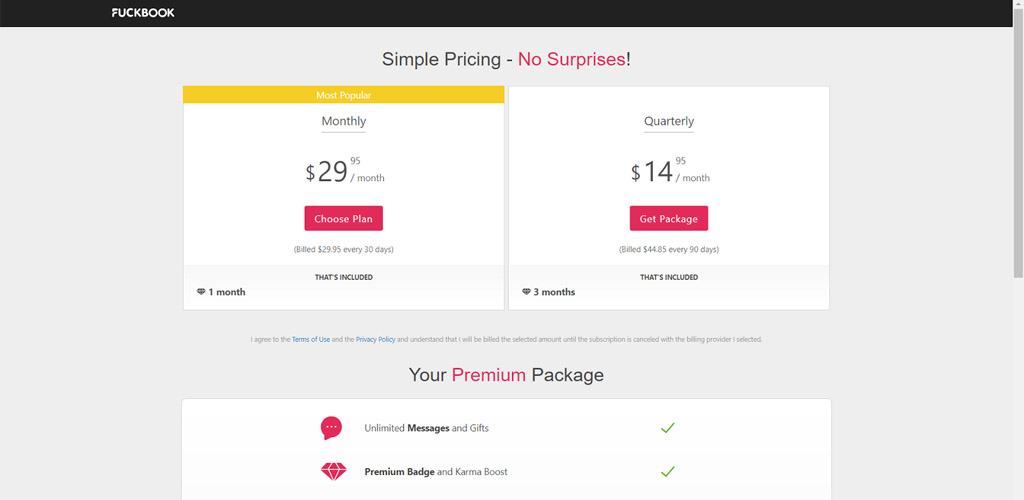 Like most dating sites, the longer you commit to, the less money it will cost per month. A one-month premium membership is going to cost you $29.95, but if you're committed to being a regular user of the site, then you'll want to go with the quarterly membership. The quarterly membership is only $14.95 a month, but you get charged every 90 days instead of every 30 days, like in the monthly membership.
With the premium account, you're blessed with the ability to send unlimited messages, gifts, and the ability to reply to messages (this should be included in the free version, in my opinion).
You also get a Premium Badge next to your username so you can let other members know that you mean business. Your feed will now also be purged from all advertisements (and unfortunately, there are a lot).
Price wise, how does Fuckbook.com compare to similar dating website? Truthfully, the pricing is quite good, all things considered. $30 a month is the industry standard, and given the far reaching nature of Fuckbook, it's not a bad deal by any means.
If this is too much for you, Fuckbook sometimes offers a three-day free trial but you'll have to wait around until the offer comes up.
Pros
Fuckbook.com has a lot going for it. There are pros a' plenty, so let's go through them one by one.
First and foremost, the site is easy to use, plain and simple. The account sign up process is easy and only takes a few minutes. The user-interface is reliable and familiar as long as you have an idea of how Facebook works. Even if you're a dating site or a social media newbie, you'll get to grips with the site in no time at all.
The membership features are plentiful and useful. There's one feature for premium members called "icebreaker" which sends messages to other users instantly. It's designed for those people who struggle to make the first move, and it really helps with finding a partner.
For members that have icebreaker enabled, Fuckbook will send messages on your behalf to members it thinks are a good match, and help you get the conversation moving.
The messages it sends are usually harmless and casual in nature; sometimes a cheeky pickup line designed to make women laugh. It's a great little addition to the site.
The number of profiles on the website will blow you away. Every dating website claims to have millions of users worldwide, but this one can actually make that claim with legitimacy. While it's actual numbers aren't publically available, it's likely somewhere around 2 million members and counting.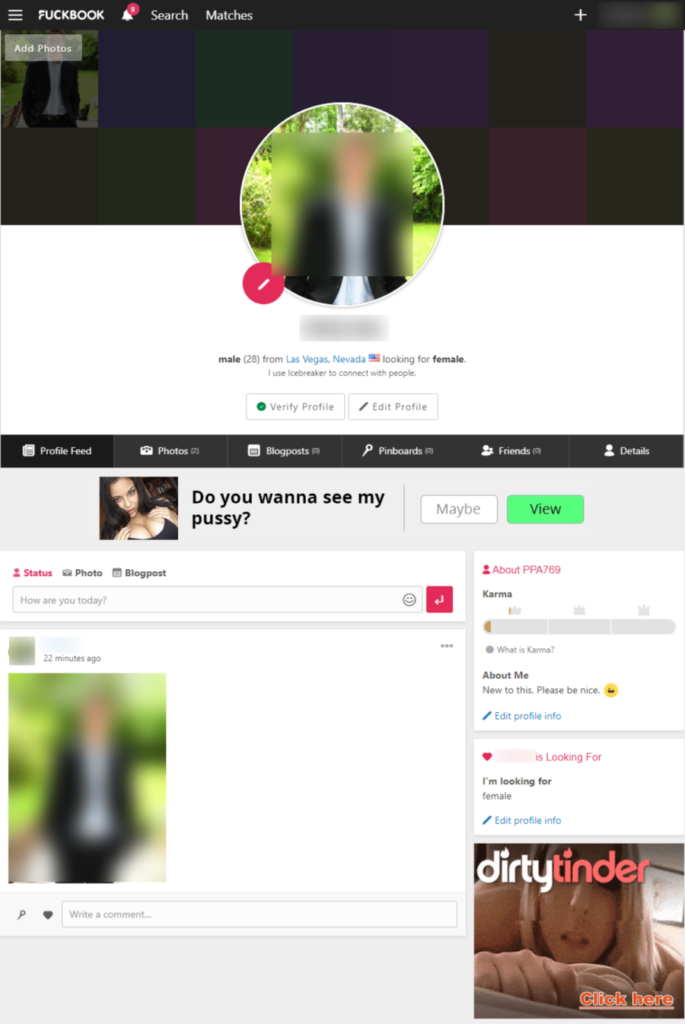 And on the subject of members, there aren't many scam users on here. This is quite a feat, especially considering its size.
While a few scam members slip through the cracks, it's actually quite easy to differentiate a scam profile from a genuine profile. The clues are always there; a woman with an exotic name (Krystal, Destiny) and some photos stolen off the internet. They usually have zero information about themselves in their profile too.
The membership pricing isn't outrageous. At $29.95 a month, Fuckbook isn't going to drain your bank account or disappoint you, which is more than I can say about every other hookup site. For a sex website, it's a real good deal.
There's actually a built-in cam site for your viewing pleasure that hooks you up with hot models from all over the world too. Remember how we said Fuckbook is as much a community as a hookup website? Well, the live cams and video pages are just two of the features that make it so.
Lastly is that there's both a mobile app and a website version. So you can use it both your phone and your browser. The only difference between the website and mobile app is that video chat isn't available on the website version.
Cons
Advertisements. There's a lot of advertisements. While you have the option to buy the premium package in order to remove these, you could also just download Adblock. The problem with that though is that you won't be able to do much besides browse your feed. This is something that every Fuckbook review seems to touch on. And another way to push users into signing up for the premium membership.
Without paying for a membership, you won't be able to do much besides look through your feed. Without the membership, you won't be able to read any of the 10+ messages you'll instantly get after signing up. If I had to describe the "free" portion of this site in one word I'd go with; frustrating.
The site is quite vulgar. I know, I know. It's a meet and fuck site so what did I expect? Well personally, I like my meet and fucks to lure me in with the promise of being a little naughty but then surprising me by getting filthier and filthier over time. Fuckbook does not do this.
Your feed will most likely be a couple of nudes with quite a few gaping vagina/penetration photos sprinkled throughout. Other Fuckbook reviews might see this as a positive, but I guess it depends on your capacity for explicit pictures.
Women will have no problem getting laid. If you're a man, things might be a bit more difficult. If you've spent time on any dating website, you'll know that guys far outnumber girls in terms of user members. It's the same on here.
Your chances of getting a reply are reasonable, but women are often inundated with messages, so you'll either need to be lucky or find a way to stand out from the crowd.
Safety is another concern, in more ways than one. There are lots of people using this site to find easy sex, and not all of them are single. You'll come across the occasional profile of married (or in-a-relationship) people.
If you're one of these people (naughty naughty) then be wary that there's no way to keep your profile hidden. You can remove your picture by all means, but don't expect many replies if you don't show your face.
Another safety issue is due to the overly casual nature. Sure, some reviews might think the free-for-all approach is an advantage, but be careful when sharing info about yourself.
Likewise, don't share explicit photos of yourself with strangers because you don't know where they might end up. Put safety first when possible (and especially when meeting Fuckbook users in person!)
Conclusion
The tone of this site is very wild, archaic, and naughty. Fuckbook takes it from 0-100 real quick by letting you sign up and browse girls' pages almost instantly, although that's about all you'll be able to do until you sign up for a premium membership.
Without the premium account membership, Fuck Book isn't really worth a lot of your time. However, once you have paid, the real fun can actually begin. Tons of these girls are horny and straight-up aggressive in their approach.
This can be a huge plus for some, but personally, I'd rather have to do a little flirting to get into the goods. But if you're just looking to get right down to business for some no strings attached fun, Fuckbook is ideal for you.
My experience was fun, intense, and quite filthy. For anyone looking for a standard meet and fuck site to try out before looking deeper into the genre, I'd suggest Fuckbook in an instant. It's packed with users, all of whom are willing to overlook the small talk nonsense that comes with every other dating website.
As long as you have a premium membership, Fuckbook is an untapped resource of horny girls in your area with minimal bullshit included. Account prices are good, the website is easy to use, and the chances of running into scam profiles are quite low.
Outside of the big bads like Tinder and Match, it's hard to find a site (especially a hookup site) with such heavy activity. That's one area where this site really excels. It doesn't matter what city or town you're in, you're guaranteed to find a ton of local people to chat with.
I'm giving Fuckbook a promising rating of 3.8/5. It's easy to use and fun to chat with countless strangers close to you. We hope you've enjoyed our Fuckbook review and we hope it's helped you make your decision whether or not to sign up to this site.
Ready to Try Fuckbook?
FAQs
Is Fuckbook Legit?
Yes! There are a ton of real active members looking to hook up on Fuckbook. It's a real hookup site and not a scam site filled with fake profiles, and it actually works for many people.
How does Fuckbook work?
Fuckbook is a social networking site that looks similar to Facebook. It shows you members that match your preferences near you, and lets you view their profiles, add them as friends, and start chatting. From there, you can make plans to hook up!
How do I cancel my Fuckbook account?
From your profile settings, you'll find the option to cancel or delete your account. You can also contact customer support and ask them to cancel it for you.