A new day, a new dating site. Today, we're looking at a brand new platform called Banglocals.
It's pretty clear what the site's intentions are by the name: to hook you up with locals you can bang.
But sites like this always seem too good to be true. How does Banglocals hold up? Read on for our Banglocals.com review.
---
Other Sites Like Banglocals
AdultFriendFinder is one of the older hookup sites, and unlike Banglocals, there are plenty of real and active members looking for sex. If you want to sign up for a dating site that will get you laid, we can highly recommend AFF.
Fuckbook is another popular hookup site, with a large userbase and plenty of legit members. This is another great site to try if you're looking to get laid fast. Fuckbook is also a community where you can share posts and learn more about sex, like a social network site, but it's all about sex and hooking up.
---
Banglocals: First Impressions
Right from the off, I hated this website for several reasons. The first was that the design screamed scam, from the poorly laid text to the cheap muted color scheme. It just looks totally amateur.
After signing up with the regular e-mail address, zip code, and gender, I got into the member's area, and it didn't get better from there.
Second is the obviously-fake profiles rotating on the main screen. Even worse is that Bang Locals uses a stock photo of August Ames to grab your attention. If you're not familiar, Google her name and see why this is distasteful.
First impressions were bad, but could things improve from here?
Features
Try clicking anywhere on Bang Locals and you'll be taken to a page asking for your credit card information. No samples, no teases. You can't view any of the other singles on the site or have a sneaky peak at members profiles.
After answering a few basic questions (man/woman, location, sexual preferences) etc, I was shown a list of people in my area. Or at least, that's what it told me.
However, my Spidey sense started tingling when I noticed every single "girl in my area" appeared to be a supermodel or a semi-famous porn star. After looking through a profile or two, it quickly became obvious these were all scammers. Some even had name tags saying "Hi, I'm Chantelle. Want to fuck me tonight?" Jeez.
Then, as expected, I received message after message from these horny ladies begging me to indulge their sexual desires. Even more alarming was the constant re-direction to other sites, all of which were porn sites.
Pricing & Membership
A subscription to BangLocals costs $39.99 per month, which is scandalous.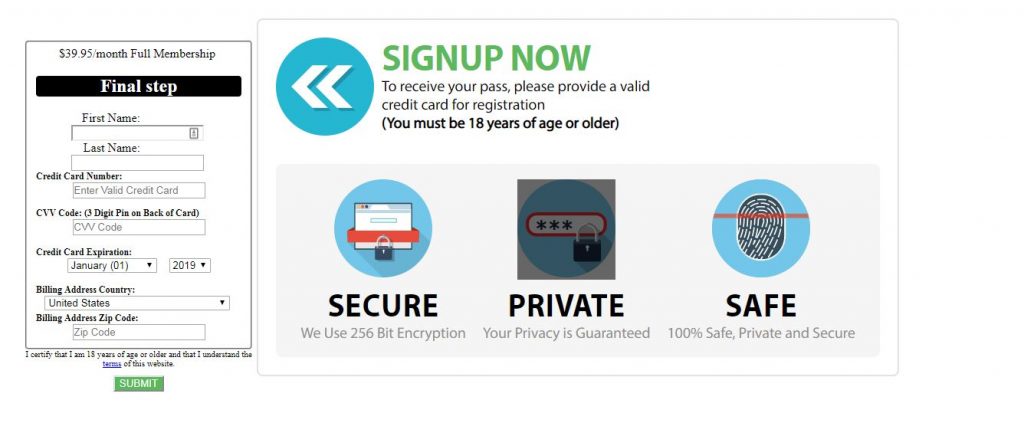 However, that's not the real problem. The real problem is after providing your credit card info, you'll also be billed for other porn sites you didn't want to sign up for. These are:
HMZHelp.com @ $39.95
BangAllDay.com @ $29.95
AllHolesBanged.com @ $49.95
In total, you'll be charged somewhere in the region of $150 every month. Not only that, but you'll get your email spammed with ads every few days. When it comes to pricing categories, this is completely outrageous.
Pros
I've written a lot of reviews in my time, and never before have I struggled to think of a single positive for a site.
Bang Locals has a browser version available, and you'll get to look at some hot people as you scroll through it. That's all I've got.
Cons
To say this site isn't one of my favorites is an understatement. Almost everything on here is a negative.
First of all is the obvious fraud attempts. When signing up with your credit card and email address, you'll be given a disclaimer saying that your details are being passed onto three other dating / porn sites. Major red flag.
The obvious scam profiles and messages are the next negative. Some hookup sites do this coyly, with messages and photos that are deceptively convincing. I understand dating sites need a few fake posts to get things going, but Bang Locals really takes the cake.
I would mention the lack of interactive features, but given that the site is a front for some kind of fraudulent activity, it's not worth bringing up.
The cost for a monthly subscription is borderline criminal. If Bang Locals thinks people are going to pay $40 a month for new site, they've got a shock coming their way.
Conclusion
This site might be the scam to end all scams.
It charges you a ton of money for nothing, it uses your credit card details to pay for sites you didn't want sign up for, the page is loaded with fake account after fake account.
Your chances of finding a hookup on Bang Locals is absolute zero. Other reviews have been equally as harsh on this site as we have, so don't think we have a vendetta against it or anything.
Avoid BangLocals like the plague. It's shady, unethical and does nothing but take your money. For that reason, Banglocals gets a 1/5 star rating.
Try Another Hookup Site
FAQs
What is Banglocals?
Banglocals.com is a new dating site that claims to connect users with local women in their city for casual sex.
Is Banglocals a scam?
Yes, Banglocals.com is a scam and should be avoided. There are many other, legitimate dating service platforms to find hookups out there, so avoid this website at all costs.
How do I cancel my Banglocals subscription?
There are two ways to cancel your Banglocals membership. You can either head into the "settings" option on the app, then "billing information" and then "change my membership." The cancel option is in here.
Alternatively, head into your online banking portal and remove the recurring payment from your debit / credit card standing orders.