Many men in the United States are looking for a lovely Latinalicous woman to share their life/bed with. Sadly, tons of sites similar to this one, have been proven to be filled with scams, hidden fees, and just about anything sketchy you can think of.
However, new dating platform LatinAmericanCupid.com seems to be a breath of fresh air in the wonderful world of online dating. It's a new site for Latin Americans to meet up for romance, dating and everything in between. It's the new online dating platform from Cupid Media, who have a solid reputation behind them.
Let's dig deep into this Latin American dating site for your enjoyment. Here's our in-depth LatinAmericanCupid review.
First Impressions
My review got off to a bad start. LatinAmericanCupid's website wouldn't load for me at all. After a few failed attempts, browser changes, and some good ol' fashion frustration, I finally got through to check out the sign-up process.
However, the LatinAmericanCupid.com website is actually strikingly good looking. It's got an appealing color scheme made up of black and soft pinks that tells you that this is a classic dating website, not a hookup site. That's fine by me.
The website quickly tells you everything you need to know: "LatinAmericanCupid focuses on singles from Latin American countries with Hispanic descent, which includes people from Mexico, Brazil, Colombia, Peru, the Dominican Republic, Venezuela, Ecuador, Chile, Argentina, Puerto Rico, and Cuba." LatinAmericanCupid also boasts 3 million Latin American users.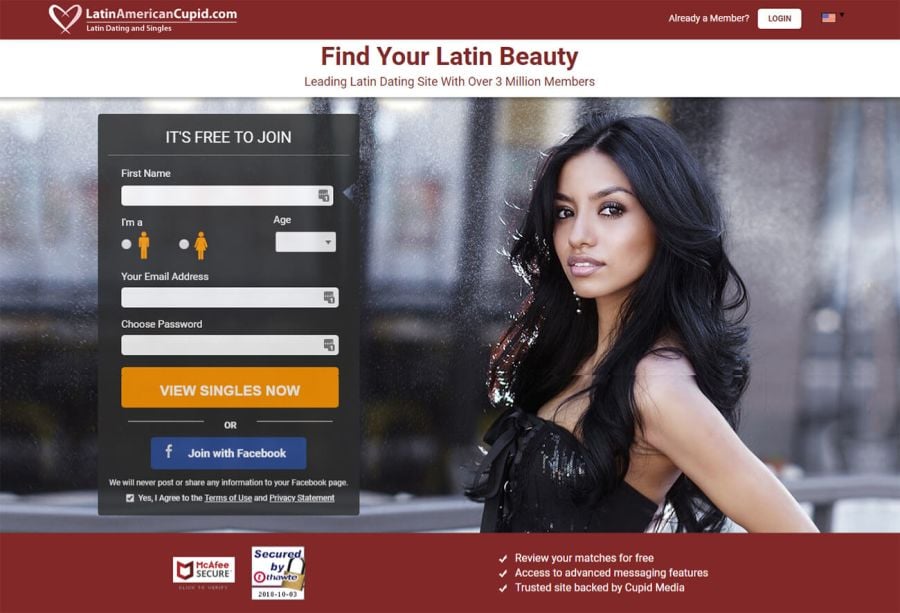 Most dating sites have a short sign-up process that usually takes no more than 5 minutes, but not LatinAmericanCupid. After putting in my name, email address and a photo, I spent a solid twenty minutes just trying to fill out some detailed questions to include on my profile. It was a bit of a downer. You can also register with your Facebook login, but you'll still have to go through the questions process.
Likes, dislikes, favorite books, hobbies, you name it. This website goes deeper than most other dating sites I've signed up for, and I like that. The more detailed you can make your profile, the better.
It looks like there's no actual match making system on this site. You'll just be shown profiles of women who are closest to you geographically. You'll also need a paid membership if you want to interact with anyone on the site. While I could see the occasional profile photo, I couldn't interact with anyone as a free user.
After browsing all the women on this site for a little while, I found that most of them were looking for men in their home country. Latin dating sites have a reputation for being places where white men can indulge their Latina fetish, but that isn't accurate here.
Features
Unfortunately, LatinAmericanCupid doesn't really have a lot of features. Everything they've got seems pretty standard, but when you take a closer look, you can see that they made some improvements. 
If you're a paid member of the site, you can record and set your very own personal greeting for your profile. I've always found this feature to be kind of cheesy – like an OkCupid profile from 2003. For the purposes of this review, I got the Gold Membership.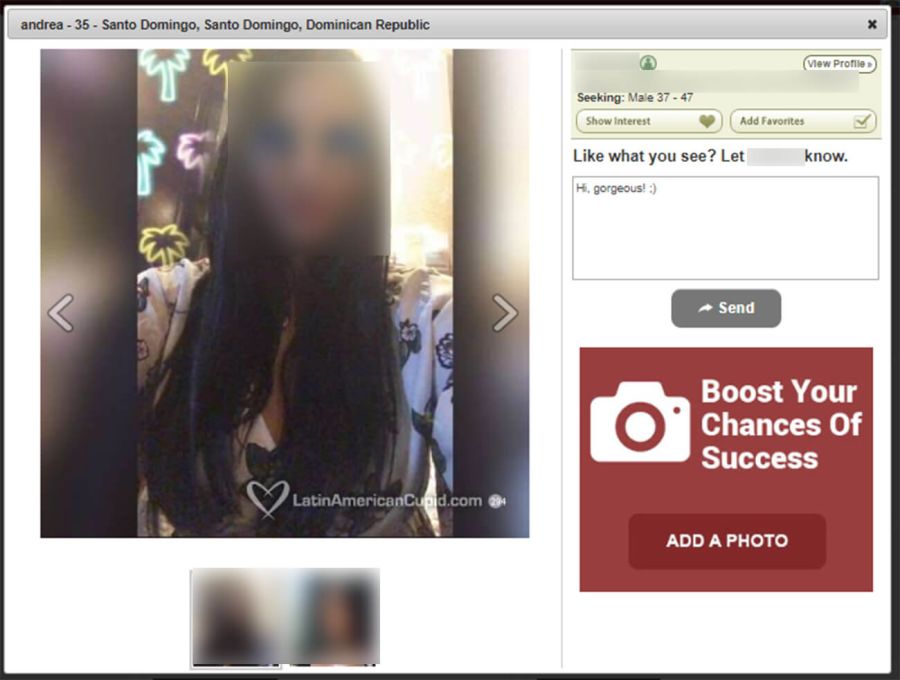 There's an IM feature that lets you send messages back and forth to other Latin American singles. A lot like Tinder, these IM's can easily lead to something much more exciting. All you've got to do is play your cards right.
In order to help you find your best matches possible, this site has a "CupidTags" feature. This lets you add certain activities/traits/ideas to your profile to help pair you up with a girl that'll drive you crazy in the best ways possible.
There's a "message filter" option, which lets you weed out messages from the kind of people you don't want. This is pretty good actually. You can set your parameters to only see messages from the kind of people you want to. You can specify by eye color, hair color, body type, age and location.
A wide range of Latin countries are represented. If it's a country in that part of the world, you'll find women from it.
Membership and Pricing Details
There are three grades of membership on LatinAmericanCupid.com: Standard, Gold, and Platinum. For this review, I got the Gold package.
First of all, here's what Free Members can get:
Create a profile
Upload 5 photos
See other members' activity
Browse through profiles
Read through members' bios
Favourite certain users
Reply to messages you've received from paid members
Using the free membership can be amusing for a time, but after about 30 minutes, it's obvious that if you don't have a paid membership, the site is pretty much useless.
If you want full access to all of the dankest features this site has to offer you're going to have to cough up some cash.
Here's what Gold Membership provides:
Freely send messages to all users
Utilize the chat services
Remove ads
Use the search feature
It doesn't look like matching, but being able to chat and search are the two most vital components when it comes to any dating site, Latin American or not. So, you're gonna at least need a Gold profile to connect with that hot Latino you've got your eye on. Cost wise it breaks down like this:
1 month at $29.98 per month
3 months for $20.00 per month (billed in one payment of $59.99)
12 months for $10.00 per month (billed in one payment of $119.98)
With a Platinum Membership, on the other hand, you'll receive these benefits:
Option to keep your profile anonymous
Rank above other members in search results
Options to increase profile quality
VIP border around your profile photo
Exclusive search filters
More accurate matches
Option to translate messages if you're not Latino
Access to customer service team
Platinum Membership prices are as follows:
1 month for $34.99
3 months for $23.33 per month (billed in one payment of $69.98)
12 months for $12.50 per month (billed in one payment of $149.99)
Pros
Plain and simple; it works. It's not some shady dating site where you have to pay for 'tokens' or 'credits.' You just pay the membership fees, and you can match, chat, and meet up with any of these Latin beauties. After seeing so many sketchy dating sites whose main goal is to fuck over their male clients, it's nice to see one actually provide instead of just taking away.
Something else that's great about using LatinAmericanCupid is the fact that the member base is not only huge, but active. There's never a dull moment when there are over 2,500 active members on at any given time. Whenever there are a lot of active members on a dating site, it means there's also an amazing community there. Extra points for this.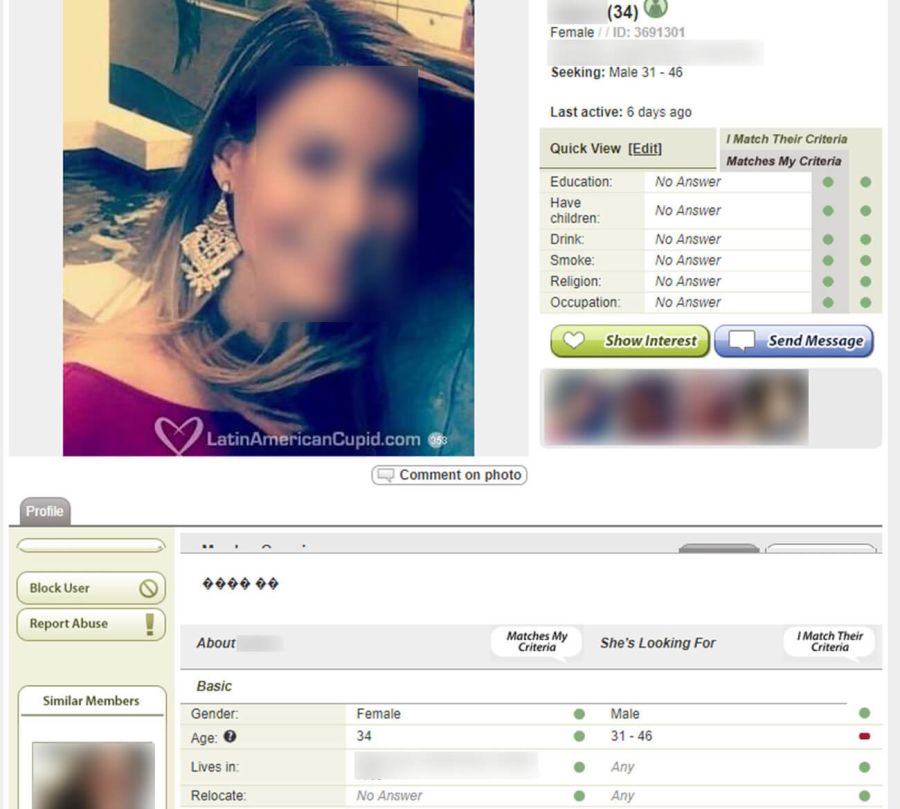 The "CupidTags' feature makes finding your perfect match as easy as pie. I know a lot of sites have this feature, but it's still nice to a site where it actually works. I matched with a girl that had almost the exact same interests as me, and we actually chatted for a good bit of time before she found out I was dirt poor.
There's also a great privacy system for users who don't want their profiles being shared all over the internet. Nothing makes internet dating shittier than realizing everyone on your Facebook knows all your strengths, weaknesses, fears, dreams, etc. Yikes.
There's both a web version and app available for LatinAmericanCupid. So, you can chat to that hot Latina chick whether you're at home or on the move.
While I couldn't find any official figures, the ratio of men to women on here seems pretty balanced. It's not a sausage fest by any means. This will definitely bump up the final rating.
The search function is pretty good, even the Gold one. The Platinum search feature allows you to narrow down profiles much more specifically, but it's not a big deal as long as you don't mind scrolling through profiles and reading through a few bios.
Cons
The registration process is a little off-putting to say the least. Usually, registration takes a couple of minutes, but this one felt more like an endurance test than a registration process. Other reviews have been equally harsh on this too. I didn't want this to affect the final rating, but first impressions count.
When I said 'community' earlier, I didn't mean like a forum-based community. I meant, everyone is nice and polite. There aren't any weirdos daying pervy stuff to the women on the site. I guess I'm just kind of bummed there aren't any forum systems for people to chat and meet each other.
The whole thing is a little too private. Most niche dating websites have things like message boards or chat rooms to meet other users, but there's nothing like that on here.
One of my biggest problems with the site, however, is how much you pay for the site vs. what you get in return. I expect at least one key feature that is creative and unique to the site. Otherwise, I might just as well use Tinder to find a Latin girlfriend
The site is just kind of… bland. If I'm committing myself to a full year of membership fees, it only makes sense that I should get some cool new ways to meet Latin hotties in return. You know?
Other reviews might disagree on this one, but I think it's kind of a bad thing that there are users who aren't Latin American on here. It's true that a lot of men have a thing for Latin American women, I know. But if a Latin American woman is on a Latin dating site, chances are she isn't looking for a white dude.
Conclusion
LatinAmericanCupid may seem like the kind of place where you go to meet your ideal Latin hunny to treat right and grow old with. Well, if you thought that – you'd be right. This site, although expensive, does exactly what it was made for. It's a fantastic dating experience from top to bottom.
With minimal effort, you can meet tons of cute Latina women from any country in the world who want to meet you right back. Even though it's a bit pricey and doesn't offer any cool features, the matching system is top of the line, and there are no sketchy fees involved.
Get on here and you'll find your perfect Latin American partner in no time at all. That's why I'm rating LatinAmericanCupid 3/5 stars.
We hope you've found our LatinAmericanCupid review helpful. Please check out our other adult dating site reviews.
Ready to try LatinAmericanCupid?
FAQs
Is LatinAmericanCupid legit?
Yes, LatinAmericanCupid is a legit online dating site, boasting users from a wide range of Latin countries. The majority of the users are Latin American, but the site also features users from Puerto Rico, Dominican Republic, Brazil, Argentina, Colombia, Cuba and more.
Is LatinAmericanCupid free?
No, LatinAmericanCupid is not a free dating site. Free users have limited access to the site and can't send or reply to messages from other Latin singles.
How much does LatinAmericanCupid charge for a gold membership?
LatinAmericanCupid's Gold Membership costs $29.98 for 1 month, $59.99 for 3 months or $119.98 for 12 months.
How do I delete my LatinAmericanCupid account?
1. Login to your LatinAmericanCupid.com account on any browser of your choice.
2. Click on Settings icon (the gear wheel) in the upper right corner of your screen.
3. Click on "Profile Settings" in the menu.
4. Scroll down and click on "To switch your profile off on LatinAmericanCupid.com please click here."
5. Select an issue and reason from the list for deleting your account and then click "Submit."
6. Enter your password click on "Switch off the membership."
7. A message will stating "Your account has successfully been closed and you can leave the website now" will appear.