If you're like me, you are a man who has tried everything in his power to find that perfect Latina woman to take home to your parents. However, you haven't had much luck and your time is running short, you might want to try this site… maybe. When it comes to this dating site, there are plenty of mixed reviews… so what's the truth?
AmoLatina.com seems to have a solution to your troubles, but is it legit? Facing some pushback and poor reviews, this site seems to be struggling quite a bit. Let's take a look and see how we feel about this latina dating site. Here's our AmoLatina review.
---
Recommended Dating Sites
Before jumping in, here are a couple of other Latin American dating site reviews to check out.
LatinAmericanCupid
Read Full LatinAmericanCupid review
LatinAmericanCupid is one of the largest Latin American dating sites. It's a great place to help you find beautiful women from Latin America, whether you're Latino or not.
AdultFriendFinder
Read Full AdultFriendFinder Review
While it isn't a Latina dating platform, AdultFriendFinder is a great dating site jam packed with members of all ages, races and nationalities. You'll definitely find that perfect Latina match or that gorgeous mail order bride.
---
First Impressions
Yikes. This is going to be a rough one guys. I hate to say it so soon, but this site looks like a trap. You know you should be a little suspicious when every single girl on the site's homepage looks like they could win Ms. Universe even if they were burn-victims. You only get those kinds of members if they're fake, but let's investigate further.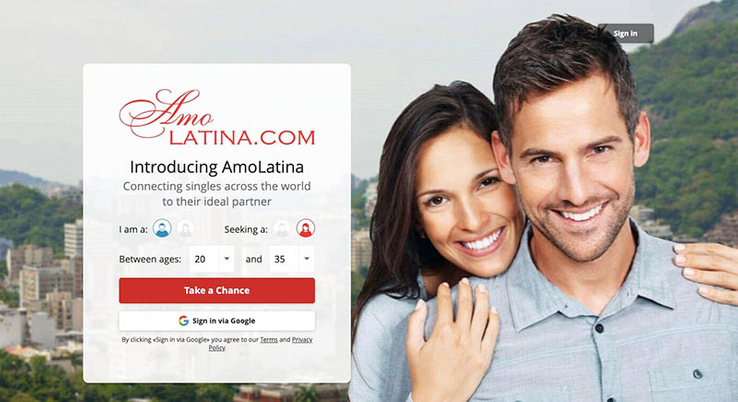 Onto the registration procedure. It didn't take long, in fairness. Just a name, email address and you're good to go. Then you're free to fill out your AmoLatina profile. Profiles are pretty barebones. Just a bio and a few images are all it asks for. No interests or body type or shit like that. This can be a good or bad thing depending on your preference.
Then it's onto the match making screen. I soon realized that you can't actually interact with people on the site without entering your credit card number and paying $2.99. Another suspicious part about this site is the number of women that tried to send me a private message even though I didn't even have a profile picture at the time.
Even though I'm getting some sketch vibe from this site, I'll be heading further into the cave for the purposes of this review. If I don't come back, send help. 
Features
The features included with a full 'membership' on AmoLatina.com are underwhelming as hell. The entire AmoLatina dating site runs on a 'token' system that requires you to spend these tokens every time you want to send a message or view profiles. Kind of fucked up if you ask me. This isn't Clash of Clans; it's my romantic life. C'mon.
There is a 'Call Me' option that lets you hear the voice of the people you're talking to. There's even a translator in case you don't speak the language they speak.
Their mailing feature is honestly a breeze to use which surprised me because a lot of their other features can be… troubling at times. For the most part, using their 'Cam Share' feature is pretty fun too. Cam Share lets members video chat with each other no matter where they are in the world.
This could lead to some pretty fun video calls if you know what I mean. Use your imagination. But not too much, since it costs a pretty penny to use.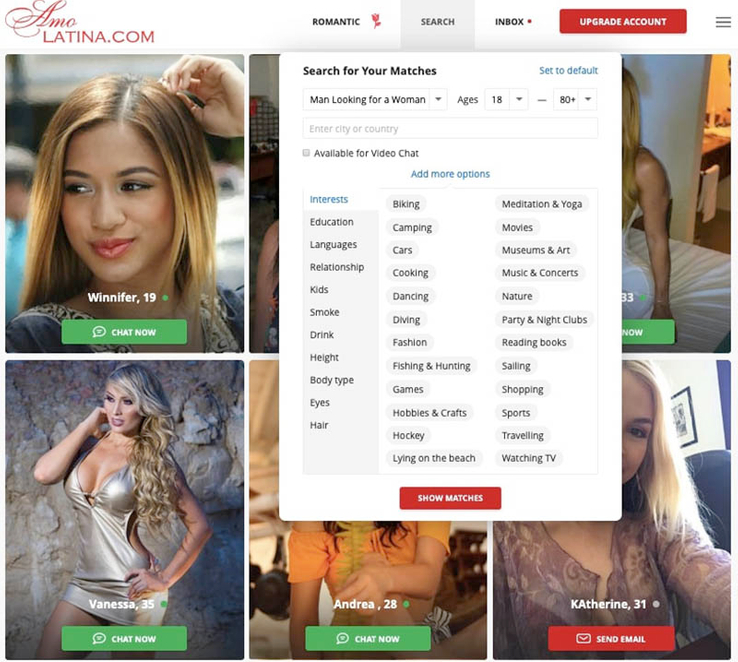 There's also another feature called "Date A Lady." Weird name I know. This one's actually pretty interesting because when you use this feature, the site will help you set up a meeting with the girls you've been chatting with. I've never seen something like this on a dating site before, but it's a pretty genius idea considering some of the girls on this site don't actually speak any English at all so you'd have quite a lot of trouble setting a date up here unless you're a credit-owning member.
Also, the "Virtual Gifts" feature lets you send little gifts to the girls you might be talking to using credits you can earn (or purchase) on the site.
When it comes to member base, AmoLatina seems a little… sparse. Honestly, for a while all I came across was fake profile after fake profile, then a few mail order brides. Activity definitely seemed a little low.
Pricing and Membership Details
So instead of using the same old 'month-to-month membership' that almost every other online dating site uses, AmoLatina.com is purely based on a credit system – kind of like tokens in a video game. To access all the features on the site the user has to purchase credits, so if you're light on cash, this website might not be for you.
For instance, if you wanted to send a message to some latinolicious girl that's caught your eye – you'll have to cough up 10 credits. I found this to be a bit annoying since 20 credits are going to cost you a whopping $15.99. Yeah, that's right. You'd have to be making a small fortune to access all the services on this site.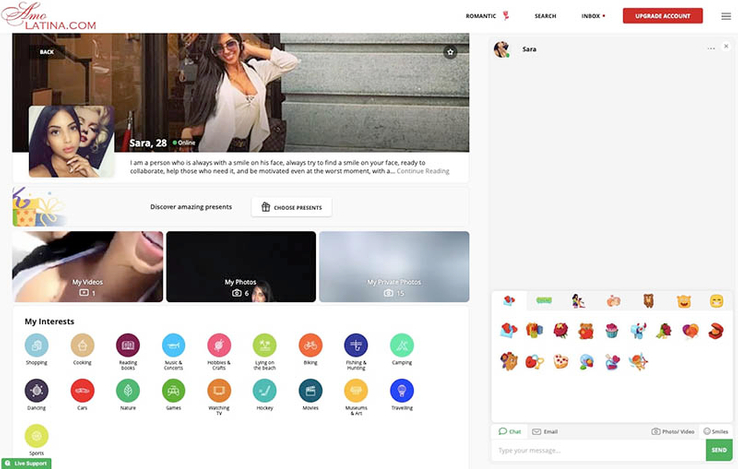 Do you want to open a video message? 10 credits. Do you want to view a profile? 10 more. Ugh. I feel like I'm getting punk'd.
Anyway, these credits obviously aren't cheap. 40 credits are going to cost you $30. 80 credits? $56.
If you're a big spender you can get 500 credits for $249 or even 1000 credits for $399. Honestly, this is just insane considering a short conversation is going to pull at least $249 out of your bank account. If I had enough money to feel comfortable paying for this site I doubt I'd need dating sites at all. You know?
It's not just us who think this way either. Almost every other AmoLatina dating site review have had terrible feedback when it comes to the pricing features. It's really awful.
Pros
Obviously, there aren't a lot of wonderful things this site has to offer, but there are some.
The "Date A Lady" feature is a nice little touch that is desperately needed when your site is full of people who live worlds away and don't even speak the same language. On the other side though, it's kind of weird that someone else has to set up your own tour to a foreign country. Especially since they have your credit card number…
The translating function is a must when using this site, so I'm glad someone thought of that. Trying to use google translate on every message can get annoying fast.
Video chat is one of the more appealing services the website has to offer. But really, given how much it costs, it's really not worth using it.
Minimalist profiles, if you like that sort of thing. I know plenty of people hate having to go through personality quizzes before they make their profile, so if that sounds like you, this is a useful little feature.
There's a mobile application version of the site, although I'm not sure if this is a good or bad thing given how awful the website is as a whole.
Cons
Oh jeez. OK, so AmoLatina has – to be blunt – an overwhelming amount of cons. Beyond being kind of sketchy in the first place, the site doesn't really cater to their users much at all.
First of all, this site is pretty much overflowing with scams and mail order brides. Now I'm not saying the website itself is a scam, but there are a ton of scammers present on the website that lures in lonely guys with promises of a sexy latin tour around Spain or something. All those users have to do is hand over their card numbers so they can book a tour and… it's gone. It's gone. All the money is gone.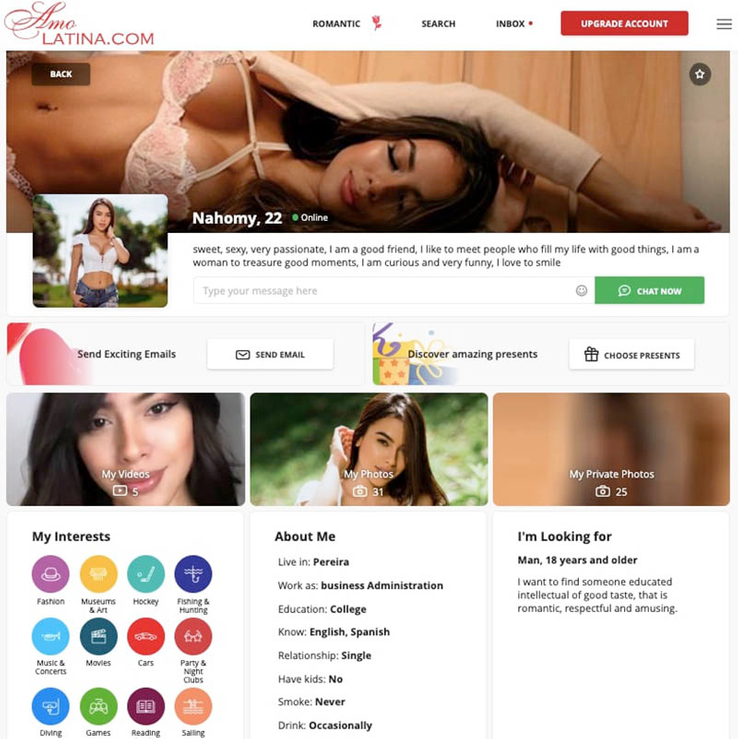 It's obvious these people are fake because their profiles are always completely blank except for an unrealistically-gorgeous woman as their profile photo. They don't list their interests or anything about themselves. Just a hot woman with a name like Latina-Goddess.
I'm sure some of the profiles on the website are real. It's impossible for any dating sites to be completely devoid of human life, however, chances are they're going to either be a mail order bride or a sex worker. If you're looking for a tour guide around Mexico, you might find it. If you're looking for relationships,not a chance.
Another thing is; the moderators of the site (if there even are any) aren't doing jack shit about it. Part of the thinks these guys are in bed with the makers of the site and cut a percentage off to them. Who knows though.
My next problem with AmoLatina is the insane amount of funds you have to spend in order to have even the shortest conversation with one of these women. You're going to have to write lengthy paragraphs like it's 1948 if you want to have any kind of connection without spending over $400.
Customer service is nowhere to be found. The site have an email address you can contact for any customer support queries, but their services are terrible. This is something every AmoLatina review has been quick to point out.
Finally, I'd like to point out that the women displayed on the site are, for the most part, fake as all hell. Every single one of them looks like they might model or act. I mean, these girls are drop-dead gorgeous and I can't imagine why they'd have to resort to using this site. Doesn't add up.
Outside of scam profiles, the rest of the members are mail order brides. For those unfamiliar with them, they're women who are willing to marry anyone providing they're given an easy life. They'll repay you with services such as sex, housework and cooked meals.
Conclusion
To put it mildly; fuck this site. User experience is terrible. Profiles are fake as hell. No support team or support services in place With so many negative reviews floating around the internet, it's hard to even ponder the idea of finding your true Latin soulmate on here.
You won't find a partner on here. You won't find relationships of any kind on here. Most AmoLatina reviews have been hugely negative, and this review is no different. As far as online dating platforms go, AmoLatina.com is as bad as it gets.
I'm giving Amolatina.com a well deserved 0.5/5 stars.
While you might be entertained by the good looking "members" dotted around the website, this site isn't much fun beyond that unless you've got $400+ burning a hole in your pocket. You'll probably find yourself knee-deep in debt like many of the people who have written reviews for this sham of a dating site. I recommend looking to other established and less scammy dating sites like Latin American Cupid.
It's gonna be a no from me, dog.
We hope you've enjoyed our AmoLatina review (because we certainly didn't). Check out our other reviews here.
FAQs
What is AmoLatina?
AmoLatina.com is an online dating website which claims to bring Latin American singles together. However, the website is heavily populated by scam users and bots.
Is AmoLatina a legit dating site?
No, AmoLatina.com is not a legitimate dating service. The majority of members are scam users designed to give the illusion of activity. The website is also loaded with potentially harmful links. Customer support service is non-existent and there are reports of personal information being stolen.
How do I delete my AmoLatina account?
1. Login to your AmoLatina account.
2. Click in the top right of the page to open your profile.
3. Click "Settings," then "Manage Account."
4. One of the options listed will be "Delete My Account."
5. Choose this and then input your password.