One of the most popular affair dating websites is Victoria Milan for their privacy. You can set limits as to what you want out of the app and willing to explore with the members on it.
Many users of the app have found relief from their mundane, loveless marriages and relationships that need a spark from having affairs with people they encounter on Victoria Milan.
If you're considering affair dating and wondering what Victoria Milan has to offer versus other apps, this review will tell you everything you want to know.
First Impressions
Creating your account on VictoriaMilan.com is super fast and easy, which is always a good thing because no one likes to spend too much time trying to get into the app they've downloaded; you'd rather get straight into the app, especially when it's Victoria Milan.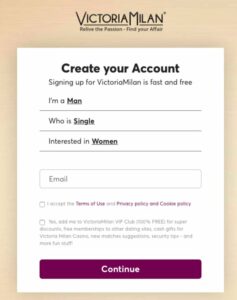 When signing up, you just need to provide your email address and password. There are only three things you need to provide to complete your profile; that is, your gender, relationship status, and who you're interested in. You're not required to share any personal information like your real name. It takes about 30 seconds to enter that information, along with creating a username and password.
One thing that this dating site lacks that its competitor Ashley Madison has, app design-wise, is discretion. Unlike Victoria Milan, Ashley Madison's app icon hides what it actually is with a plain black logo and the initials AM as the app name, while Victoria Milan proudly sports its full name and initials on the logo.
One look at your phone, and without even opening the app, anyone would know you're using a cheating app. It's best to use this site in private, where you'll at least have time to switch away if anyone is looking.
Once you're all done registering, it's time to answer a few more questions about why you're on the site. You'll be asked what it is you're looking for, be it something long-term, or an online affair if you're not ready to meet in real life. You also choose what turns you on, your appearance, and your location.
After that, just verify your e-mail by clicking on the link sent to your inbox and you're in.
Features
The first thing you need to do when creating any dating profile is to set a profile picture. On Victoria Milan, however, you have the option of using what they call their Anonymizer tool to blur or put a mask on your profile photo after it's uploaded, or you can just pick a photo without your face.
There are three tabs to navigate through the app with that can be found on the bottom portion of your screen. The first one, and your home screen, is the 'new' tab where they show all new member profiles. The second tab is the 'online' tab where you can view who's currently online, and the last tab is your 'favorites,' which holds all the profiles you've favorited on the app.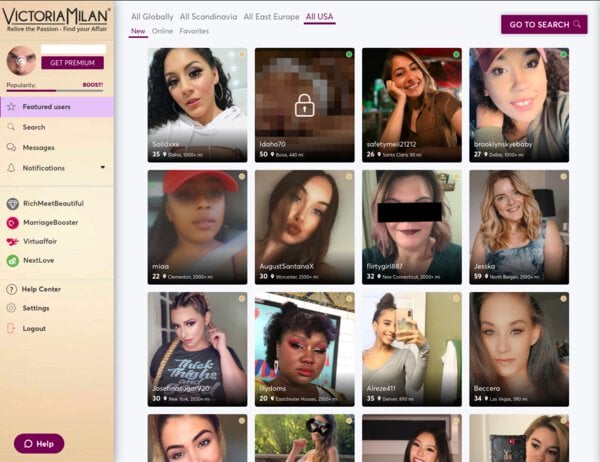 The profiles you see on both 'new' and 'online' are not from your area but are featured. The way to view those who are near you is to tap on the three lines that indicate a sidebar on the top left-hand corner that reveals more features. By selecting 'People Nearby,' you can see profiles of women in your area, adjust search criteria, and can widen or minimize distance by tapping on the magnifying glass you see in the upper right-hand corner.
Another one of the features you can access through this sidebar is sending winks. When you send someone a wink, it's like flirting with them, and they get notified that you've done so. You can keep track of who you've winked at, and who's winked at you in this feature.
The same goes for gift sending and receiving under the 'Gifts' section of this sidebar.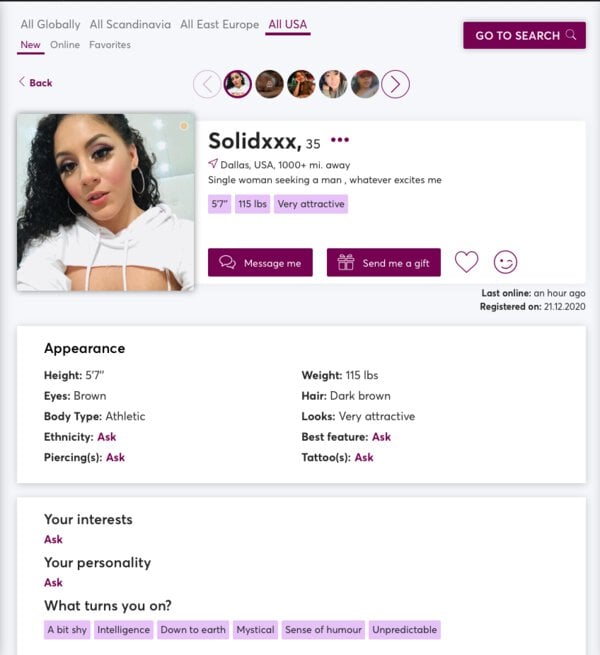 You can also access your favorite, photos, chats, and private keys, which are access granting keys you send to members to view your private photos, through this sidebar.
The site has a panic button feature, which is a quick way to leave the dating site if your wife or husband suddenly walks into the room. It instantly switches the page to something safe like YouTube or Facebook.
Pricing & Membership Benefits
A lot of the features I mentioned are restricted to Premium members. With the Victoria Milan free trial, you're still able to browse profiles, and send gifts and winks. A premium membership is pricey compared to other dating apps I've used, but infidelity discretion comes at a price, I guess.
You can get Premium access for 3 months at $49.99 per month, or a total of $149.97, 6 months at $39.99 per month, or $239.94, or a full year membership for $29.99 per month for a total of $359.88 These are pretty steep prices for a dating website, so of course, you want to be sure that it works.
For some reason, there were fewer women in my area, a non-metropolis one, on Victoria Milan than on Ashley Madison. One of the essential features you need for this app to work is the messaging feature, and you can't use it unless you're a Premium member. The only thing you can do to interact with a member is wink at them and favorite them.
Pros
The signup process is quick and easy. You aren't required to provide any information you're uncomfortable with, and after answering a few questions, you're presented with other members that match your preference.
The Anonymizer tool for your pictures is great for keeping your identity safe. If you live in a bigger town or city than I do, a population of about 92,000, then I'm sure there are lots of women to engage with.
While other affair dating sites may run on coins, like Ashley Madison, I like the fact that the app has a set rate for monthly memberships, because those costs from purchasing coins to re-up can add up.
There is an active customer service team that encourages users to report fake profiles and any suspicious activity. This gives confidence that there are actually real people on the site, and someone's working to keep it safe.
The private keys feature lets you keep your photos private, only allowing members to see them if you've allowed them. Other members can request access if they're interested, and only with your approval can they see the photos.
The panic button feature makes it easy to quickly close the site, keeping you safe from prying eyes. With one click, you'll be taken to something innocent, so you won't have to worry about your spouse walking into the room.
Cons
The app design is not as discreet as it could be, and the featured and online users are not even from your area. There's also no free trial or short period of time for a subscription to their Premium membership. You can't send messages other members without paying, so you'll be dishing out close to $150 just to see if Victoria Milan dating is really worth it, and give it a fair chance.
Conclusion
Victoria Milan shares pretty much all of the same features Ashley Madison does, just doesn't execute them as well. People tend to prefer Ashley Madison over Victoria Milan, and I have to agree.
Although you should try it out if you have the cash for it because Victoria Milan has a set price. It's a fixed montly feed, of having to purchase credits. Credits on other sites could probably total more in a year than a 12-month subscription costs for this dating service.
Victoria Milan gets a rating of 3.5/5 stars.
Ready to try Victoria Milan?
FAQs
What is Victoria Milan?
Victoria Milan is a dating site dedicated to married men and women who are looking for an affair, short-term or long-term. It offers many features to keep its members fully anonymous and safe.
Is Victoria Milan Safe?
Victoria Milan offers many safety features to its users, such as the anonymizer tool for blurring your face in photos, as well as a "panic button" to quickly switch from the site if anyone's looking. Members should have confidence that they can use this site safely.
Does Victoria Milan have an app?
There is a mobile app version of Victoria Milan available on both the iOS App Store and the Android Play Store.
What payment methods are accepted?
Members can pay for their Victoria Milan subscription with all major credit cards or PayPal.
How can I delete my Victoria Milan account?
Through the "Settings" menu, you'll find a button that says "deactivate profile." You can cancel your membership here and completely remove your profile from the site.
How old do you need to be to join?
You must be at least 18 years old to sign up for Victoria Milan.
How much does Victoria Milan cost?
There are various membership packages. The best deal is the yearly package, coming out to $29.99 per month, or $359.88 in total.