Senior Sizzle: Find Great Hookups Over 40?
Most casual hookup apps and online dating sites cater to the millennial crowd and younger people, but there's always one population lacking in representation on these kinds of apps, and that's the 50+ crowd. In this article, we'll give you our full review of Senior Sizzle, an internet dating website that's focused on helping older generations.
There are a lot of misconceptions about seniors and sex. For one, people think that they no longer have those desires, when in reality, they could be stronger than ever. Nonetheless, mature people still aim to maintain a healthy sex life for their mental and physical health, and this particular service aims to help.
Senior Sizzle is here to help "experienced lovers" hookup! Maybe you're a girl who wants to date with older guy or looking for a sugar daddy, or a senior yourself, this great dating app is just for you. Read on for our ultimate Senior Sizzle review.
Senior Sizzle: First Impressions
If there was ever any doubt in your mind of what exactly this site is about, I can guarantee that all confusion will be lost once you visit this incredible website.
A nice, big banner featuring a white male in his grey-hair years ramming it in from behind on a hot blonde welcomes you to the web page. Right away, this lets you know that you won't be finding love and long term relationships on Senior Sizzle.
Aside from this off-putting image, I went ahead and created my free account. The registration process was easy. The generic fill in the blank sign-up process where you state "I am a ___ seeking a ___" passes by relatively quickly. The only other basic information they need from you is your birthdate, zip code to find you women near you, and your valid email address.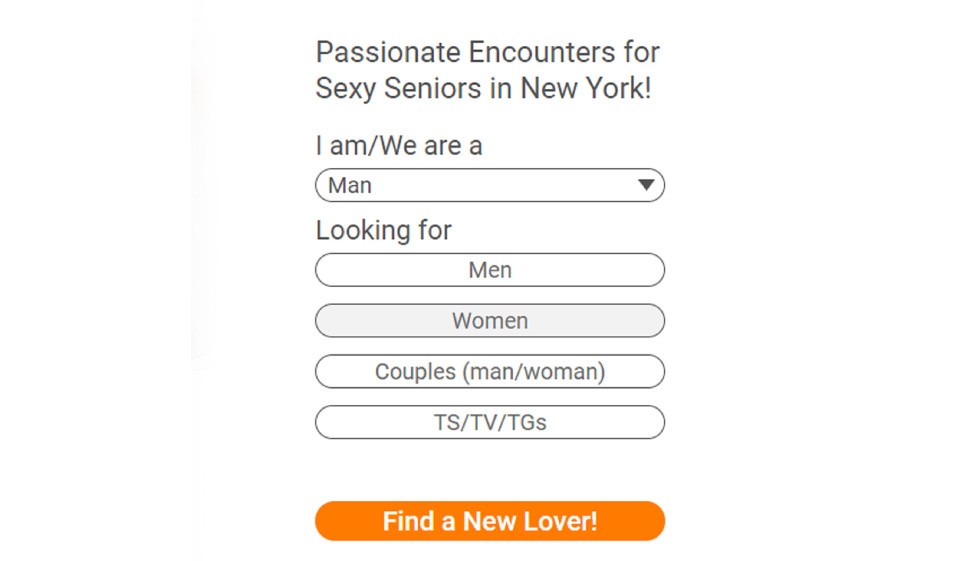 I like that they don't ask for credit card payment right away to access the site. Usually, these type of internet sites want to empty your wallet to use their site, but Senior Sizzle saves it for once you log in.
You can choose not to upgrade just yet, though, and can browse through the plethora of Senior Sizzle members instead.
What stood out to me about their homepage is the banners displaying the live number of people broadcasting on their webcams. There are two options to watch; live member webcams or live model chat. The difference between them is that one is of members on the site broadcasting their own sex cam show and is free, and the other is by camgirls and will cost you to watch. You'll find more mature women on the member cams and usually younger girls on the nude model cams.
There's a lot going on Senior Sizzle, that much is clear. But it appeared to be a hub of activity. Senior men and women, ranging in age from forties to sixties, but the best way I can describe what it looks like is like an NSFW Fuckbook for mature individuals. Now let's dive into the site and get into the rest of the review.
Features
Unlike a lot of dating sites, Senior Sizzle offers a lot of features with a basic free membership. However, to unlock its full potential, you'll need to upgrade your Senior Sizzle account to the premium subscription.
Therefore, we've broken our features section down into two areas to keep things more succinct.
Free Features
Besides the live webcams, Senior Sizzle actually has some great special features for standard members.
Apparently, the community aspect is a big part of the Senior Sizzle experience. The site has its own photos and videos contests where members can win prizes, erotic storyboards, groups, blogs, and even something called a 'Sex Academy.' These are "informative, in-depth courses that take you step-by-step to sexual success." The only dating sites we've seen something like this on before is Adult Friend Finder, and that's a pretty good comparison.
These courses teach you how to perform various sexual acts and discuss different sexual topics, and you can take them for the low cost of $4.95 each, and once you complete it, you'll get a course badge on your profile to show off your sexual credentials. You'll also get your personalized recommendation of other members to chat with based on your results on each course.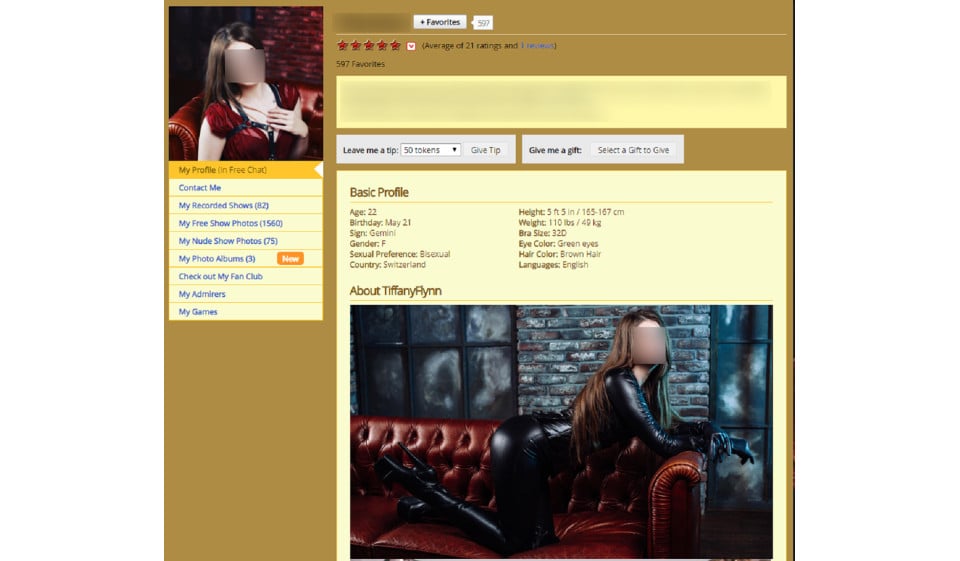 Personally, I think this little feature is awesome. It doesn't cost much, and it's just a bit of fun to help build a nice community.
Standard members can fill out their profile page in full, add their photos and browse through other Senior Sizzle member profiles. They can also join the 'fan clubs' of some of the cam girls on there (for a small cost). However, to reply to other people, you'll need to be a full member.
Membership Features
When you upgrade to the Premium membership, SeniorSizzle really opens up in terms of functionality and quality features. This unlocks features like unlimited messaging that the site feels incomplete without, something common on many online dating services.
Messaging
First and most importantly is the ability to send messages to other Senior Sizzle users. Everyone knows that men have to send to the first message, and despite most Senior Sizzle members being over 40 years old, that old adage still stands.
Senior Sizzle doesn't use the matchmaking system used in most modern dating sites. It uses the classic Adult Friend Finder approach. Scroll through potential fuck partners and message any who grab your eye.
Senior Sizzle doesn't use the matchmaking system used in most modern dating sites. It uses the classic Adult Friend Finder approach. Scroll through potential fuck partners and message any who grab your eye.
Swipe Game
However, there is an option to play the swipe game as an additional feature, but it's not mandatory to use. It's just a little bit of fun, but one of the problems with this is that it matches you with users from all over the country. Unlike Tinder or Bumble, it doesn't narrow it down to users in your local area.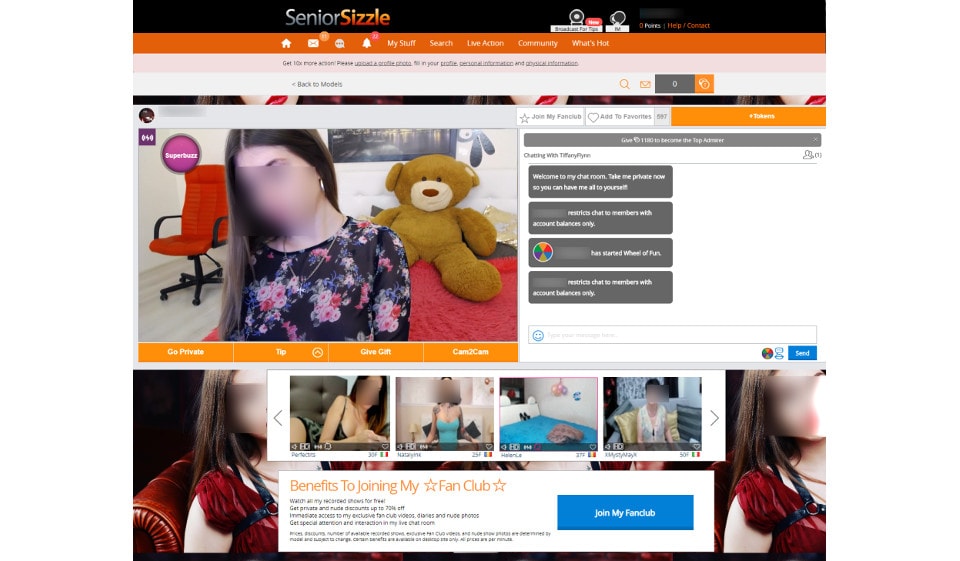 Chat Rooms
One of the best membership features is the Senior Sizzle chat rooms. This is a great platform to meet members who you might not usually chat to since they're outside of your age or location range. Like we mentioned, Senior Sizzle is big on community building, and this is a good way to build your friends list up.
But at its heart, Senior Sizzle is still a hookup site. That's why there are plenty of chatrooms on the site dedicated to dating online, sex, and all manner of explicit activity.
Another great feature is the live adult video chats feature. Sure, video chats aren't something you might associate with the older crowd, but Senior Sizzle includes it for those technologically-capable oldies.
Advanced Search Tool
One of the more useful features for senior people looking for sex is the search option. Through this amazing tool, you can narrow down members by your selected critiera, including zip code, location, body type, popular age and more. This site's search engine makes it easy to find the type of person you're looking for.
Profiles
While SeniorSizzle profile options are quite extensive, allowing a decent amount of information in there, I found that not many members complete their profile in full. This was a small downer, but given the age range of SeniorSizzle members, this wasn't all too surprising. Those boomers aren't known for their profile thoroughness (for reference, see any Facebook profile of anyone over 50).
People can get their profile verified by submitting a real ID photo. After being on the site for about an hour, I already received messages from a few people, two of which were couples with verified profiles introducing themselves and letting me know what they're open to and if I was interested.
While not everyone has a verified profile, you can definitely tell which profiles are genuine or not, and a surprising amount of the profiles on Senior Sizzle are real, mature singles (or couples) looking for some fun. A couple of fake members sent me messages too, but they were easy to spot. Like on most online dating sites, the fakes have overly-sexual names and pics clearly stolen off the internet.
Pricing & Membership
While there are many things you can do on the site as a free member, one of the most crucial features needed for hook up success on Senior Sizzle is restricted to Gold members, and that's messaging.
Gold users have upgraded memberships and can view and reply to all messages, whereas free SeniorSizzle members can only reply. If you're a woman, this is probably alright, but if you're a dude then you'll need to upgrade your account to the Gold plan for sure.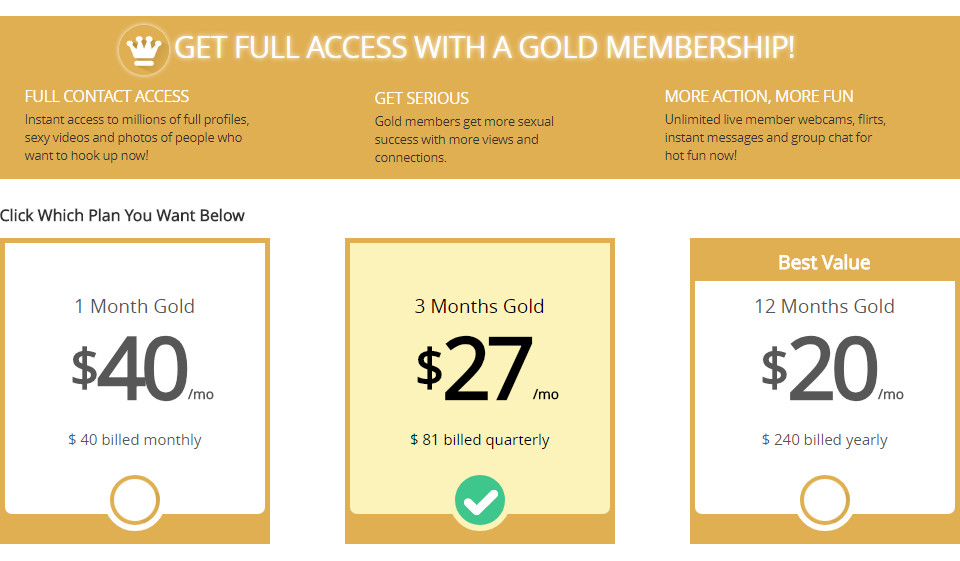 There are three options available for subscription to the SeniorSizzle Gold membership: a one-month plan for $40 per month, a three-month plan for $27 per month (billed $81 quarterly), and a 12-month plan for $20 per month (billed $240 annually).
Your most cost effective per-month plan would be to get the full year, but if you don't see yourself staying for that long (though you might change your mind once you use the site), you can simply choose a shorter time period.
When you upgrade your membership, you'll also get full access to profiles, unlimited live member webcam views, flirts, instant messages, and group chats.
Pros
Now for the Senior Sizzle pros and cons. Pros first. There's a lot to love about this site. First of all, it was a lot more 'innocent' than every other dating site I've used. Maybe it's the demographic the site is targeted at, but I found it less obnoxious and crude than other sites. It reminds me of Adult Friend Finder in terms of maturity and quality.
Easy Signup
Sign up wasn't difficult in the slightest. Name, email address and you're good to go. None of that linking to Facebook or other social media accounts that we see so often on modern dating sites.
Lots of Features
The number of features on offer, whether for the free or Gold membership, is really impressive. Hookup sites aren't known for their interactivity, but Senior Sizzle puts in the effort to make its site more appealing, as you'll find reading any other review.
Balanced Gender Ratio
The gender proportion of Senior Sizzle users is equally split down the middle. It's somewhere around 52% men, 48% women, which is as good as it gets for all free and paid dating sites. This gives every user an equal chance of finding hookup partners.
Active Users
Reply rate on Senior Sizzle is very good. Of the members I messaged, around 70% of them returned the favor. That's a good ratio for any dating internet site. Likewise, incoming messages were numerous despite me being brand new to the site. In addition to normal messaging, you can also send winks to other members as a way to say hello.
Few Fake Profiles
Fake profiles are hard to come by on Senior Sizzle.. There are some loitering in the murky hallways of the site, but you can tell straight away from their profile quality that they're not genuine. Real users on Senior Sizzle tend to be fairly complete when filling out their profiles. You can report any fake users you find to customer support.
Horny People
Genuine interaction happens on Senior Sizzle, and you can find some pretty horny people on here. While it's marketed for seniors, you could still find a good amount of people in their 20s on this site, perhaps using it as a sugar daddy site. The search feature makes it easy to find whatever you're looking for. This site is part of the Friend Finder Network, meaning it incorporates profiles from other sites on the network.
Easy To Use
The site looks good and is easy to use. While there's not a separate mobile version, the site works great on any device, including desktops, phones, or tablets.
Cons
For our Senior Sizzle review to be complete, we'll need to cover some of the cons of this online dating service.
Matchmaking Isn't Great
The geographical algorithm on Senior Sizzle is not good for delivering quality matches. For whatever reason, it doesn't link you with matches based on location, despite there being an option to filter members by location. None of the potential hookup partners that messaged me or my matches lived in my immediate area. The closest person to me was about 50 miles away.
If you live in a more populous area than I do, this could change, but for towns, you might find yourself having to travel a bit to meet someone.
Higher Than Average Cost
The general cost per month is quite high, especially the cost of the one month plan. $40 per month is crazy for any dating site, no matter how good it is. Even the big bads like Adult Friend Finder and Match don't cost that much per month. It becomes more reasonable with the longer-term plan, but it's still quite a lot.
Profiles Don't Have Much Information
Profiles are a little on the bare side, but that might be more to do with Senior Sizzle users than Senior Sizzle itself. There's not much the site can do about this other than incentivize people to broaden their profiles a little (which, in fairness, they do).
Conclusion
I absolutely loved Senior Sizzle, and if I was a little older I'd definitely consider adding it to my rotation of dating sites. Senior Sizzle is an online community for people 40+ who are still very much in tune with their sexual desires. Sizzle is an understatement for exactly how steamy this dating website is.
It's not without its cons, of course, but no modern dating app is. Senior Sizzle, however, puts a ton of effort into being the best it can be, and there's a lot to be said for that. This site is great if you're not looking for something long term, and just want some casual sex.
You might be a sizzle senior yourself, or you might be one of those girls date with older men. No matter your age range, your sexual orientation, you'll love this dating site. Senior Sizzle gets 4/5 Stars from me.
Thank you for reading our Senior Sizzle review. We hope it's helped you make a decision about whether this great dating site is right for you or not. We have plenty of other dating site reviews, so please check them out.
Ready to try Senior Sizzle?
FAQs
What is Senior Sizzle?
Senior Sizzle is a dating website targeted at people who are 50 years old or more. While most dating apps are made for younger generations, this one is made to help seniors find sex and love.
How much does Senior Sizzle cost?
Senior Sizzle has a premium membership, which costs $40/month. You can also pay for a year, or for three months upfront at a discounted rate.
Is Senior Sizzle free?
You can sign up for Senior Sizzle and use it for free, but the functionality is limited unless you upgrade your account. You can respond to messages as a free user, but you need to upgrade to start new conversations.