Meeting Arab and Muslim women can be hard in most places in the US, but thanks to LoveHabibi.com, it's a little easier.
Sure, there's a lot of niche dating sites, out there. There are even quite a few Muslim and arab dating sites – like Muslima and Helahel – but since 2009 LoveHabibi has been connecting people around the world and helping them find love in a major way.
So now let's check out the site and see if it's actually worth your time and maybe even your hard-earned cash. Here's our full Love Habibi review.
First Impressions
When you sign up for Love Habibi you have the option to use your Facebook, or you can just use the manual sign-up if you want to personalize your account a little more. There's even a spot for you to list your family origin under your ethnicity.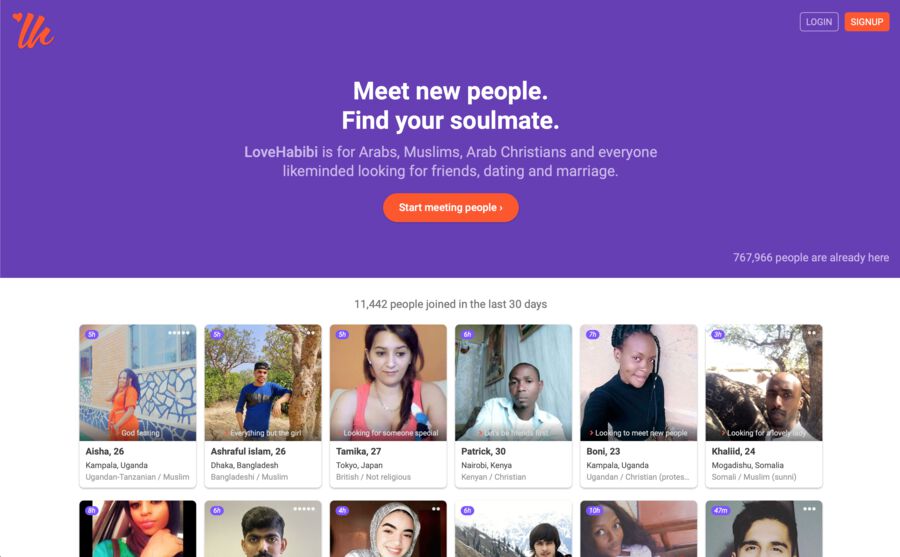 If you're a Muslim man looking for other Muslim men, you're going to have a bad time. Sadly there's no option for homosexual relationships on this site, so if that's your poison, I'd recommend looking somewhere else in your online dating journey.
I have to say; this dating site is gorgeous and easy to use. Purple theme with orange notes throughout this simple and easy to use site really piqued my interests. There's a pretty fun vibe to the site which I think is really important when it comes to getting in the mood to mingle if you know what I mean.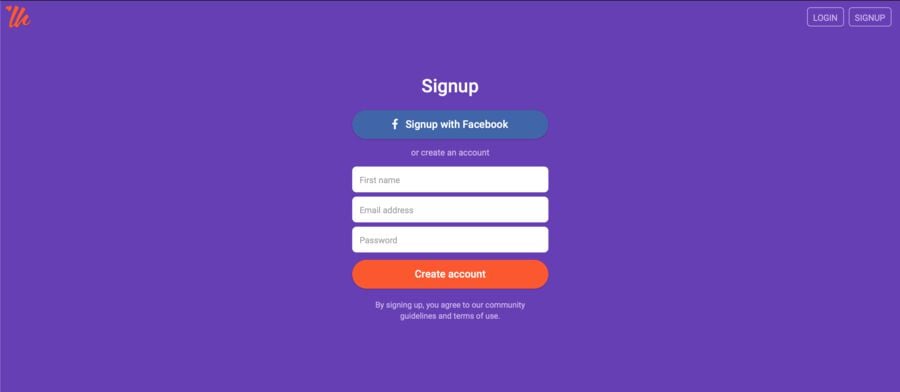 It seems like Love Habibi took a few notes from Tinder on the picture selection screen as well as the "picture scrolling" technique used on many other dating apps. After checking for women in my area, it's obvious that there are fewer active users than I originally thought. Only about ten people in my town are signed up, but there seems to be a lot of women in a bigger, nearby city.
All in all, a promising start for LoveHabibi. Let's start looking into the features this dating site has to offer so we can really see if it's worth all the effort.
LoveHabibi's Features
If you pay for a membership on LoveHabibi, you'll get a few pretty useful features in return. Although, with a free membership you have access to something called a "wink." This allows you to put yourself out there on anyone's profile to see if you should spend your money on a membership to talk to them. If you get a few "winks" back, you might want to think about coughing up a little cash. It might be worth it.
Since the prices are about average for a dating site in 2021, the features list, sadly, is lacking. With a premium membership, you'll have access to all the bare-bone features you'd expect with a dating site.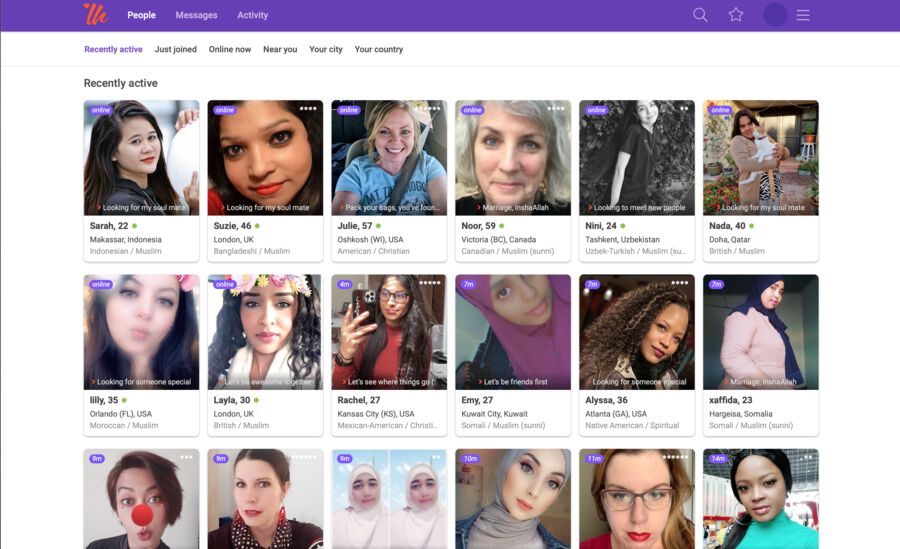 With the "Message" feature you'll be able to send messages to your matches as much as you'd like. It's always free to send messages so you won't have to worry about paying for any dumb "credits," "tokens" or whatever the hell those microtransaction dating sites are trying to push on people now.
If you're looking to save money, signing up for a premium membership within the first seven days gives you a whopping 25% discount on your membership fees. You'll get unlimited likes along with only one other thing.
It's a feature that boosts your account, basically giving your profile a higher chance of being shown to members of the opposite sex. This will greatly boost your account's popularity and (hopefully) give you a heck of a lot more matches down the line.
Pricing and Membership Details
LoveHabibi likes to keep it simple. Only a couple of pricing options are available for members.
Their premium standard membership is affordable at $29 per month. The price is about what other online dating sites charge. If you think about it, you could find the love of your life and start a nice Muslim family for the amount of money it costs for a good bottle of wine. Now that's something I can get behind.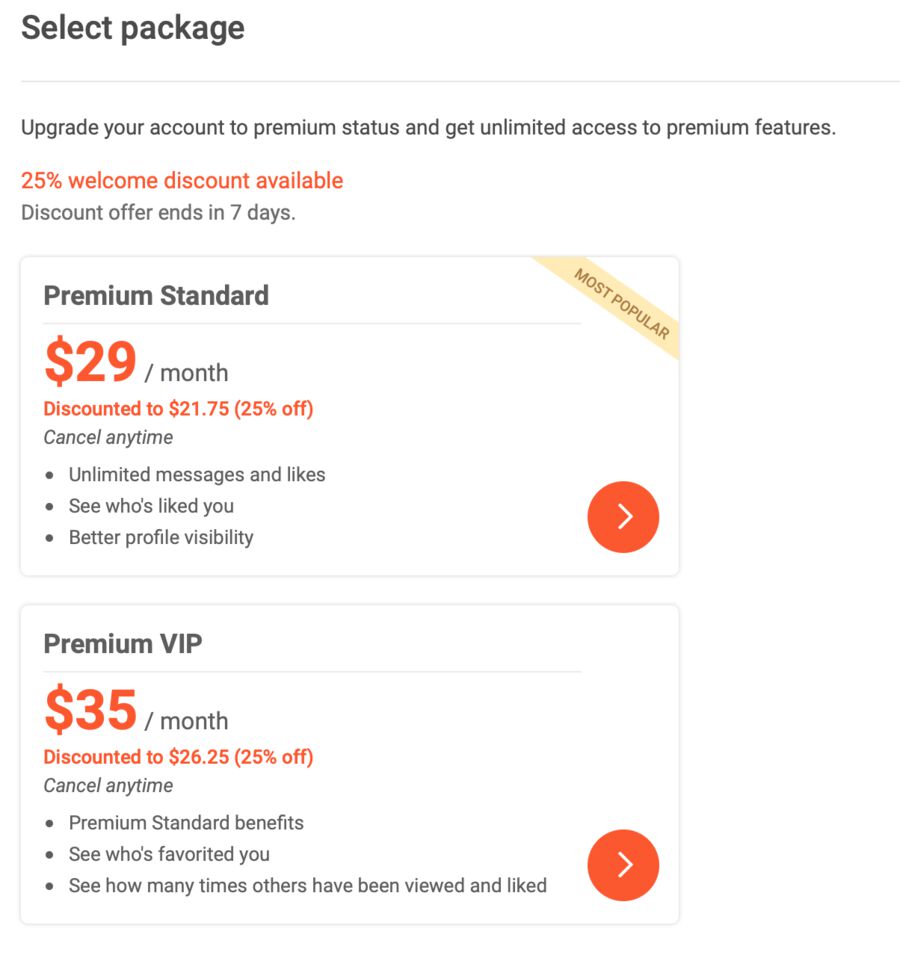 Like I mentioned earlier though, there's a discount for people who sign up for a premium membership within the first week of use. That discount is going to save you a bit of money since the premium standard would only cost you $21.75 a month. Not bad for your first week.
A premium VIP membership is a little meatier than the standard. It gives you the power to see who favorited your profile and see the number of times you've been visited or liked. This membership is $35 a month, or $26.25 with the "week-one" discount. As far as pricing goes, I'd say this isn't half bad, but sadly, there are very few creative features to show for it.
Pros
Beautiful women: The site is surprisingly beautiful, and so are the women. Of the 15 matches I got, I'd say about 3/4 of them were drop-dead gorgeous. They're chatty too. Most conversations flowed like wine at a wedding, and that's important because nothing is worse than talking to a brick wall.
Like minded people: Something else I love about this dating website is its comfort factor. If you're an Arabic man or woman, it's easy to connect with people on the site when you share so many common experiences. You really feel like you're in a safe space made just for you, and you can find your perfect match.
Easy to use website: Browsing the site is a breeze, and it's easy to get lost in it for hours. Have you ever had an hour to kill in the morning, so you start checking out Instagram? Then you realize you've been staring at your phone for two hours and you're late for work? LoveHabibi has the same effect – so set two alarms.
Cons
Small user base: There aren't a lot of members on LoveHabibi. The website says it has over 70,000 active users, all Muslim singles from around the world, but… that seems a little embellished. Some of the members just look like fake profiles, which the site uses to keep people engaged.
There were only a small handful of women in my area, but I'm sure there's a lot more in places with a heavier population. After I changed my setting, I found there to be quite a bit more girls near San Francisco. That's good for SF, but it's bad for all us small-towners trying to meet Arabic women.
New members are signing up for Love Habibi all the time, enough to for me to come back and check again at least.
Low activity: A lot of the members on this site don't seem all that 'active' either. Sure, the profiles are fun, but what's it matter when the accounts in my area haven't been online for a number of years?
When it's all about connecting and meeting people, the site should make a point to deactivate inactive accounts so nobody ends up wasting their time.
No mobile app: While this isn't a huge deal, there is no mobile app in either the iOS App Store or Android Play Store. The LoveHabibi website works great on phones, almost as well as an app, and you can just bookmark it for easy access. The lack of an app still however may be a concern to some people.
Should you use LoveHabibi?
Nearing the end of my run with LoveHabibi.com, I can confidently say – not bad. Not great, but not bad. It's an average dating site, targeted helping Arab and Muslim people around the word find love and meet new people.

It's fun to hop around and check out different profiles, but when there are so many inactive members, it's hard to find a real connection while trying to find a needle in a haystack. While there are real people using the site, and I have no doubt real people match up here, there are also fake profiles.

I'm giving LoveHabibi 3/5 stars rating. It's fun to check out, but the membership is a little pricey for the bare-bones features you get with it. I think after some redesign and clean-up, this site could be a great place for Arab and Muslim singles to meet. Someday soon hopefully.
Ready to Try LoveHabibi?