Fetlife: Find Fetish Partners & Kinky People Nearby
Hello, my kinky companions. Today, we're talking about the world's most popular fetish app: Fetlife.
If you're any sort of kinkster or fetishist, you've probably heard of Fetlife before. This site is essentially the online hub for most Kink communities in the world. Fet Life is a place for people talk about events, meet their future lovers and partners, as well as support other BDSM-minded people in their business endeavors.
While an entire community of kinky users might seem intimidating, I can tell you from first-hand experience that it's definitely not!
Fetlife is definitely one of the more unique online dating services out there. Its members are a little more mature in their approach to dating and hooking up than some of the other sites out there.
I delved deep into Fet Life to explore how worth it the site really is. Does the Facebook for kinky people really stand up to its name? Is it worth the sign-up? Are users mean and intimidating? Am I going to get chewed up and spit out by hardcore BDSM groups?
Find out below. Read on for our in-depth Fetlife review, and see if this incredible website is for you.
FetLife: First Impressions
One of the best things about Fet Life is how private the whole website is. Unlike other social network sites, you can't view someone's profile without having one yourself. And while you have no assumption of privacy on either of those sites and it's not too difficult to make a bullshit account to creep on someone else, this little countermeasure still makes you feel secure.
This particular service is clearly a members-only area; it's a closed community. It's only for those who belong there in the first place. And it makes you feel like you're protected from those on the outside who may be judgemental!
But I went ahead, made an account and became a member of this kinky community. I didn't just make an account, but I spent some time creeping around and interacting with other users on the site.
The first thing which becomes clear is that this isn't a dating site. Or a porn site. It's a social network for the BDSM / fetish community. It's a place for like-minded kinksters to find each other, whether that be for hooking up, chatting or fetish discussions. It's a BDSM community first, a social networking site second, and if that happens to translate to hooking up then so be it.
Signing up on the site is straightforward. You just fill out your preferences, stick in your email address and the world of Fetlife is your oyster. The interface is clean and easy to use, and unlike most modern internet dating websites, there are no ads in sight.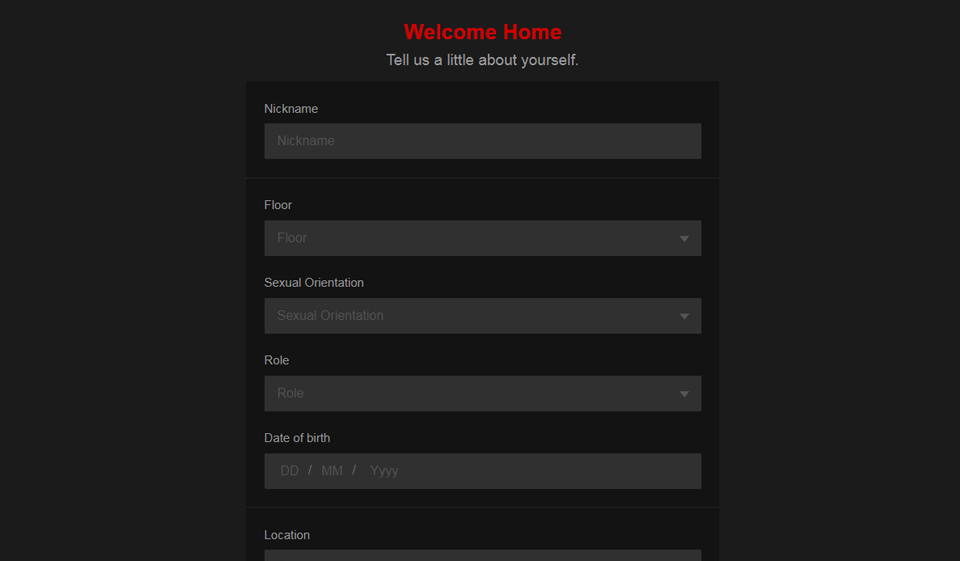 I'd say that this website definitely feels like Facebook for kinky people, just with a darker and more provocative color scheme. I loved all of the little additions the website had, like blog posts, members personal photos, and even reviews of other dating hubs. It really caters to the site active audience in its design.
I think this site does a really great job of putting forward that community vibe, and best of all was that I felt welcome right from the off. There were some small issues, such as some hard-to-red text and a LOT of BDSM related imagery, but they were online minor gripes.
Features
The main dashboard feels very much like Facebook or Twitter. It shows all of your friend's activities. Though some of the information displayed might seem redundant, like the site displaying who your friends have added as friends, it's not! While you might not care who your mom is adding on her Facebook, you should pay attention to who your friends are adding, because they might be (a) single, (b) really hot, (c) down to have sex with you or any combination of the three.
Yeah, it's totally annoying when you add someone as a friend who's a friend collector because it starts to get out of hand when your entire Fetlife dashboard is just a list of their new friends… but with Fetlife's new "Follow" feature you can avoid that bullshit!
The follow feature is mainly made for users who are what you might think of as "Fetlife Famous." These members get tons of friend requests because they're good at what they do, they're porn stars, or are just really active on the site. Instead of adding a metric fuck-ton of friends, they can opt to turn on their follow feature and allow people to see what they're up to without being added as a friend.
Speaking of friends, friending another users be somewhat of a big deal on Fetlife! It's not like you're following someone's photography Instagram, by adding someone as a friend you're showing that you want to see what they're up to in their sex life. And for a lot of members – while they have a kinky social media account – their sex life is still something they consider private. Sure, the closed website might be enough for some… but a lot of users upload things that are marked as "friends only" (like pictures or videos), so don't expect everyone just to want to add you as a friend!
In addition to adding other Fetlife members, you can join groups (believe me when I say there are groups for any preferences or fantasies you can imagine), get information on local events, and browse the most popular uploads on the website.
Something else which became clear is that this internet site takes data safety very seriously, and data safety is a big deal for any fetish site. At every turn, there were mentions that Fetlife doesn't store personal data or sell any data to third party groups. Fetlife attracts the type of people who probably don't want their fantasies and kinks broadcast to the world, so this is a great plus point for the website.
Profiles
At the top of the page your username, age, gender, sexual orientation and location are displayed alongside your profile picture. You can also add a personal email address if desired, along with your fetish interests.
Underneath that, you'll find your sexual orientation followed by any relationships you're in and what you're looking for! This section is vital for figuring out if someone is single or if they're in an open relationship (I mean come on, that information is important when you're on a social media site that's centered around sex!).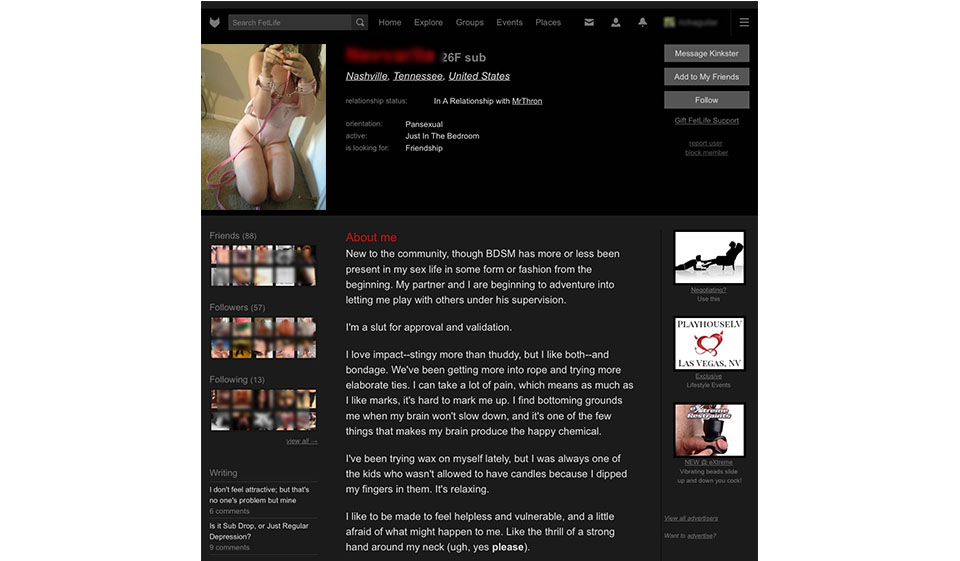 Every Fetlife profile page is highly detailed. Fetlife doesn't attract the type of members who do things by halves. Without generalizing, fetish folk have a tendency to be quite full on, and the user base on Fetlife definitely reflects that. Every member lists their sexual desires, their personal fantasies, and some even include a few photos / videos of themselves indulging their chosen kinks.
Underneath that profile information section, you'll find the "About Me" section followed by latest activity, fetishes, and their wall (which is where members can post comments, yes I know, it feels very Myspace to me).
This isn't like Myspace where you can change the entire layout of your page, but you can make use of HTML when you're writing your "About Me" section. This is helpful if you want to link out to a fetish article or a website, or put something unique in your profile to make you stand out. There's also a nice mobile preview feature to hep you see how your profile looks on mobile phones.
You can also see what groups you're a member of, who your friends are, and what events you're going to in the future! Dating online has never been better if you're looking for kinky sex.
While this site bills itself as Facebook for kinky people, it feels a little bit more like Myspace with features like the "Wall" and the "Writing section," which you can treat as a diary or a place to post your Twilight fan fiction.
One relatively new feature that I'm very excited about is the messenger. Instead of sending longwinded messages back and forth, you can now instant message with other members providing they're online. It looks just an your standard email program.
The developers of this site also have a sense of humor. You can find funny little sayings in little nooks-and-crannies around the site. It keeps everything light-hearted on a site that could have been entirely dark and kept with the sex-dungeon vibe. But instead, you can find little jokes and funny loading messages.
Pricing & membership details
One of the best things about this alternative dating site is that membership is totally free. And when say that access is free, we mean that access is free. You don't have to spend a cent to enjoy everything Fetlife has to offer. There's no free membership features with the rest locked down, and you can use the full site.
There are very few things on this internet site that you can't access if you're not paying a membership fee. A nice little psychological trick is that it's not even billed as being a membership fee. It's called "Supporting Fetlife." Basically, you're not paying to get unlimited matches or messages or any of that bullshit, you're paying to upkeep the development of the website.
In return for paying for the development of Fetlife, you can view all of the most loved pictures and scroll back through everything you've ever "loved" (their version of a like). You can scroll back further through your friend feed and get early access to new features. Plus you can watch user-uploaded content!
And honestly, you might just want to decide to support only for the videos. Who doesn't love amateur porn? Fetlife .com is full of it! There are plenty of members who upload videos of their last session with their play-partner or the previous time they masturbated. Honestly, supporting is worth that alone. Even better is that this content links back to the member profile in question, so you can then email them if you share their same kink.
Plus, there's no tiered membership! You're not going to get anything extra for paying twenty bucks a month versus five. For five dollars a month you get all the profile perks and a little badge that says you're a Fetlife supporter!
The only thing that gives you an extra perk is paying two-hundred-forty bucks to be a lifetime supporter. I personally don't have almost two-hundred-fifty bucks to spend on porn, but maybe you do!
Pros
Here are a few of my favorite things about this website.
Fetish List
One of my favorite features on your profile is how you can list your fetish interests. It gives you a great way to get to know someone which is helpful when you're browsing around looking for a play partner, trying to get to know members you're going to a munch (a non-sexual kinky gathering, usually at a coffee shop) with, or if you're just creeping.
It also gives you the option to list any kinks you're curious about too. This is helpful too because it can be a great way to find someone who might be interested in trying something you're already an expert at! Either way, you can get a great idea of what someone is into sexually because of this list! There's also a lot of goofy fetishes members have created too. So, you can even get a pretty great idea of what someone's sense of humor is like.
Hard and Soft Limits
There are two kinds of limits: hard and soft. Hard limits are never to be crossed whereas soft limits can be pushed under certain circumstances or if consent is given. This is another really great way to get to know members . It also might show you if you're incompatible with someone… because if one of your favorite fetishes – like threesomes and anonymous hookups – is on their hard limits list, you probably shouldn't bang all the time.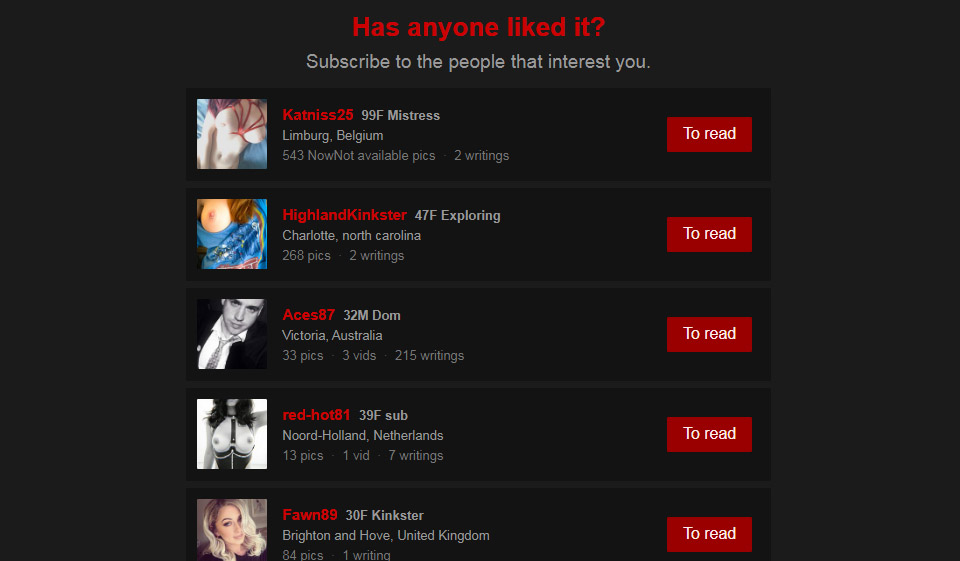 Sexy Member Material
There are a lot of sex workers on Fetlife (professional dom/mes and submissives, porn stars, etc.) and artists who deal with kinky material (photographers, painters, models, riggers, etc.). By giving them a way to link they're able to link out to their online store, their OnlyFans account, their Patreon, etc. Some people They are able to give their fans a direct way to support them! And kinky users are definitely in the business of supporting other kinky users. Some people use it a sugar daddy site, but that's not really what it's about.
More Women Than Men
Based on data collected by Fetlife.com, the number of women on the app actually outnumber the guys. Not every dating app can say this, so that's another plus point for Fetlife.
Discussion Forums
The discussion groups on Fetlife are second to none. Believe me when I say this community will discuss their preferences and fantasies in the most explicit of details. You won't find a dating website with these kinds of discussions going on anywhere else.
No Pressure
There's no pressure on Fetlife. When you sign up to a dating app, you sometimes feel compelled to use it to its maximum. But on Fetlife, things are a little more laid back. You can utilize its social networking features, enjoy the photos and videos on offer, or use it to find sex. And since access is free, you don't feel like you're wasting any money.
Mobile Version
Fetlife has an app version, available for on all app stores. The Fetlife app boasts all the same features as the site version. However, the site is sleeker and easier to use. The customer support team is also great. You can shoot them an email with any issues 24/7.
Cons
I know I've bawled about this fetish website so far, but it's not without its cons. Like all adult dating sites, it has its downsides.
Searching for users: I hate the Fetlife search bar. Honestly, searching for users should be much easier. I think that Fetlife needs to take a note from other social networking / online dating sites, and make a refined search filter specifically for looking for people.
Remember Fetlife isn't just Facebook for kinky people, it also functions as a dating and a hookup site! So, I think that there needs to be a way to search for people with more than one search term.
You should be able to enter a location, gender of a person, kink, etc., and be able to pull up all the people that fit those search criteria. I found it impossible to find people in my area who were anywhere near my own age. I had to comb through all the people who were in the same city to find someone to talk to… and let's be honest, a lot of them are much older.
Please, Fetlife, I beg of you, give us a better search feature! Since a lot of users are concerned about data privacy, a lot of them don't use their real name or email, so finding people you know on Fetlife can be a struggle.
People suck: This has very little to do with the website itself and more about the users on it. During my research, I made sure to put a few significant things at the top of my About Me. One of which had to do with the age range of people I wanted to talk to, and that was blatantly ignored.
I don't know if it's just an older male thing, but even though I specifically said I didn't want to chat with anyone ten years older than me, I still got plenty of messages from members who were ten or twenty years my senior. So guys, please read people's "About Me" sections!
The desktop version of Fetlife could use a little improvement. The notifications tab isn't noticable, the dark-on-dark text can sometimes be hard to read, and general page navigation could use some stramlining. You can adjust some preferences in the privacy settings page, though.
In conclusion…
A far as I'm concerned, Fetlife is by far the best site out there for kinky dating. It definitely goes beyond a dating site and a social media site by artfully combining the two. If Fuckbook isn't quite what you're after, then Fetlife is a similar site that's worth a try.
Sure, there could be some improvements made, but Fetlife clearly as low budget and has kept those aesthetics right through, despite being the biggest fetish dating community on the internet. This is great for its users, because that means there's not a lot of things behind a paywall.
In all, I'd definitely recommend Fetlife to anyone who is looking for a little kink to spice up their life! Guy, girl, couple, you'll fit right in on Fetlife. 4/5 Stars. Overall, it's a really great site.
Ready to try Fetlife?