Now more than ever, people are becoming interested in BDSM and kinks of the like. Why? Well, a lot of people are attributing it to the fact we're all becoming more comfortable exploring and talking about topics like sex. Other people, on the other hand, fully attribute it to the popularity of Fifty Shades of Grey.
I – for one – think that the cultural shift and the rise of the popularity of 50 Shades are both responsible for this rise in kink! A lot of more musical artists and films are incorporating kink into their material. It's becoming more commonplace the world over.
Plus you have the whole "daddy" phenomenon that is running wild on the internet which is a huge fetish too. In all, fetish and kink are becoming more mainstream every day.
Couples are becoming less hesitant to try different things in bed. People are encouraged to take things like choking and spanking – which could be classified as light kink – to the next level. So if your partner has asked you to be rough, just know that request could totally be a gateway into a proverbial red room.
So, how do you get started if you're looking to get freaky? Well, you could show up to a sex club and go the trial by fire route… or you could start slow by easing yourself in digitally.
There are plenty of sites out there that promise that they'll connect you with freaky people… but what if a hookup just isn't sexy enough? And what if they're not into all the dark stuff you're into? What if you and your partner want to get freaky? What if you have a group of people that wants to find other people to fuck? Well, that's why there are sites like Alt.com. This site promises to connect you with other freaky people regardless of what you're into. You can find people who are into everything from gangbangs, to bondage, to lonely wives looking to hookup.
But is Alt.com worth the sign-up? Here's our in-depth Alt.com review.
First Impressions
My first impressions are that the Alt.com website kind of looks like it could have been designed in the early '00s… and while bulky dad sneakers and tiny sunglasses are back in fashion, this dated interface is most certainly not.
I will, however, applaud the developers for having the login and sign up process be so easy. They offer many gender, sexual orientation and group options as well as options for what kind of people you're seeking. I can applaud that at the very least. Once you're logged in, you have to approve your email which is nice because you can expect there to be less spam on this site just because of that security measure alone.
The rest of the website is similarly dated looking and cluttered. The messaging section should not nearly be as complicated as it is. An inbox should be very easy to use in my opinion. However, almost everything on this dating website takes a while to load, and the messaging section is a little bit of a disaster.
On top of that, you have your likes and IMs in a completely different window. Things on Alt.com just seem a bit disorganized for my taste. I – however – am a millennial so I'm used to slightly better website design. This may feel comfortable for people of an older generation.
Features
Alt.com tries its best to create a community of like-minded fetish lovers. But since Alt.com is ultimately a dating site, you've got all your basic dating features too.
With a free account, you can't do much on Alt.com other than window shop a few profile pictures. Access is highly limited, but more on that in the next section.
When you set up your profile, you're asked to provide the basic details like your age, location and your chosen fetishes. There are no profile quizzes or anything like, and to be honest for a site with an alternative theme, I found the profile setup to be a little bare.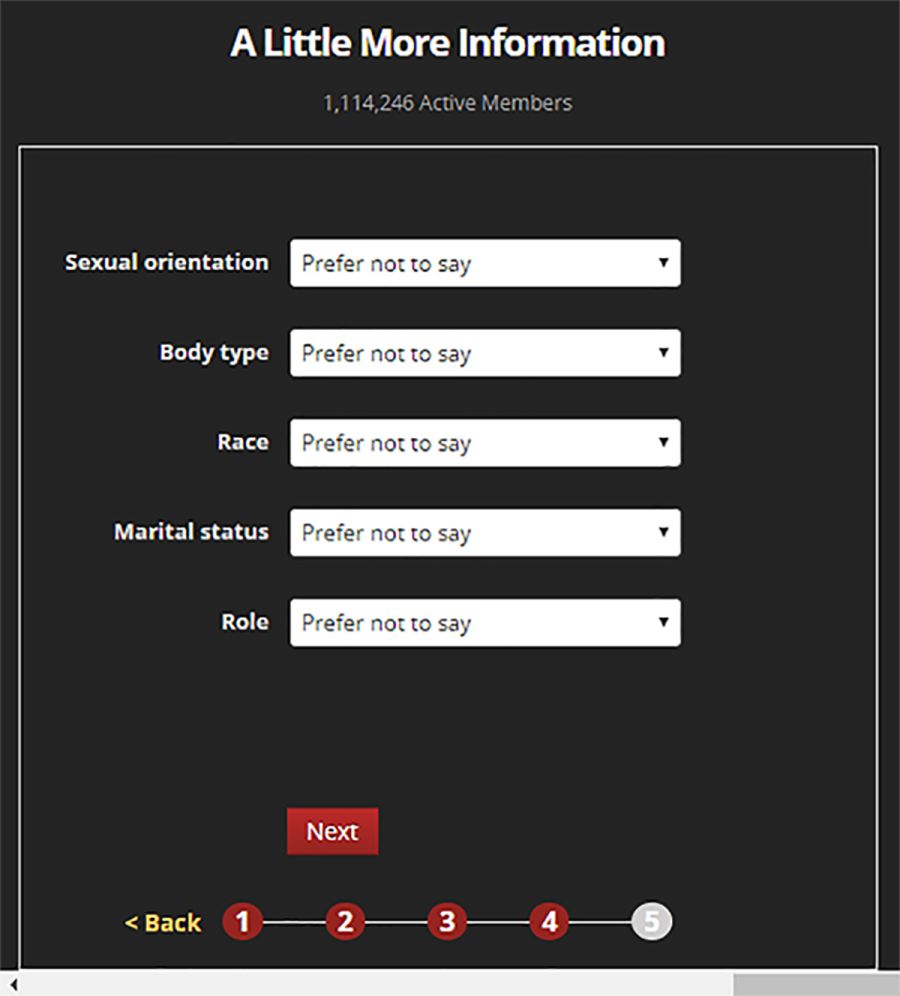 In classic dating site style, you're free to browse through profiles at your leisure. There's no matching system on Alt.com, although you're shown members in order of geographic location to you.
If you want to find more people, there's an advanced search feature which is one thing that this app has over other successful fetish sites like Fetlife who's search feature sucks.
More interestingly, and more usefully, there's something called a "Kink Search." A Kink Search allows you to find members who share the same fetishes and sexual preferences as you. I don't mean straight or gay, either. I mean things like dom, sub, BDSM, whipping, spanking, humiliation, etc. If it's even moderately related to sex, you'll find someone who likes it on Alt.com
On the same subject, it's important to mention that Alt.com members aren't shy about their kinky desires. Most people mention in their profiles the specific fetishes they're into, and it's not always BDSM-related. Alt.com covers the whole spectrum of kinky interest groups, from swinging to pet play to body worship.
You also have chatrooms – another feature that FL doesn't have – as well as blogs, magazine features, and live cams.
Pricing and Membership Details
Hit the membership order page on Alt.com and you'll see there are three membership packages available on Alt.com, Free, Silver and Gold.
With the Free Membership, access is severely limited. You can't send messages or read any messages you've received. All you can really do is view profiles and perv on other members. Here's what Free Membership includes:
Registration
Profile creation
Upload photos
Join chat rooms
Flirt with paid members
Send flowers
Add members to Hotlist
Add members as friend
Hot or Not feature
Search members
Kink search
Live member webcams
As you can see, there's not a lot on offer. You can basically window shop with a free account, and your viewing experience is limited to five member profiles per day.
Here's what Silver Membership will get you:
View 5 members photos
View 1 members videos
Super-search for members using "priority" form
Search by distance and save search settings
Premium Smilies in Chat
Have your username on the Members Online list
Faster profile and photo reviews
Database search for members by username
Database search using "standard" form
Email of new matching members (the "Cupid" service)
Maximum members in Hotlist
Customer service by email
View profiles of other members
Send emails to members from the website
Upload your voice greeting and send voice messages to other members
That's a lot of features, and more than enough to give you full access to all the necessary components of the site to find success. But how much does Silver Membership cost?
3 months – $14.09 per month
12 months – $9.79 per month.
Now for the last and most extensive package, the Gold Membership. Here's what Gold members can enjoy:
All Silver Membership perks
View all member photos
View all member videos
Top list of member searches
Access to blogs
Phone support
Gold Membership costs:
3 months – $17.62 per month
12 months – $9.79 per month
It sucks that there's no one month or trial membership options, but really, these prices are pretty damn low in comparison to a lot of adult dating sites out there.
You'll definitely need at least a Silver Membership to enjoy the website to its fullest, and that's probably the most cost-efficient option. Unless you're super concerned about being at the top of members searches (which isn't a big deal), the Gold account is probably overkill.
Pros
Every dating site has its pros and cons. Alt.com is no different.
The registration process takes no time at all. You can set your account and profile up within a matter of minutes. Other than listing your fetishes, you don't have to endure a bunch of profile quizzes either.
Gender, group options: When it comes to adult dating sites, they really should have more options than just the binary. Alt.com follows through on this by including more than just female and male as gender options. Also, you'll be able to sign up as a couple or a group! This is great for people looking to experiment as a couple, a polyamorous group, or another kind of group!
Member videos and live webcams: One of the best dating tips I can give you is to not neglect the live cam and video upload feature!
I like how you can upload member videos and live stream via cam. This fully makes the site interactive and more porny than some sites. Why would you want to go back and forth from a hookup app to a porn site if you don't have to? Plus amateur stuff is hot, right?
Bio writing tools: If you're like me – or anyone else joining a dating site – you probably freeze when you have to fill out your bio. It's difficult to talk about yourself. However, Alt.com offers a little outline to help you introduce yourself.
Some of the tips include describing your personality with the words dominant/submissive, describing how you feel about partying, and how you feel about sex and relationships! This is a feature I wish more dating apps had.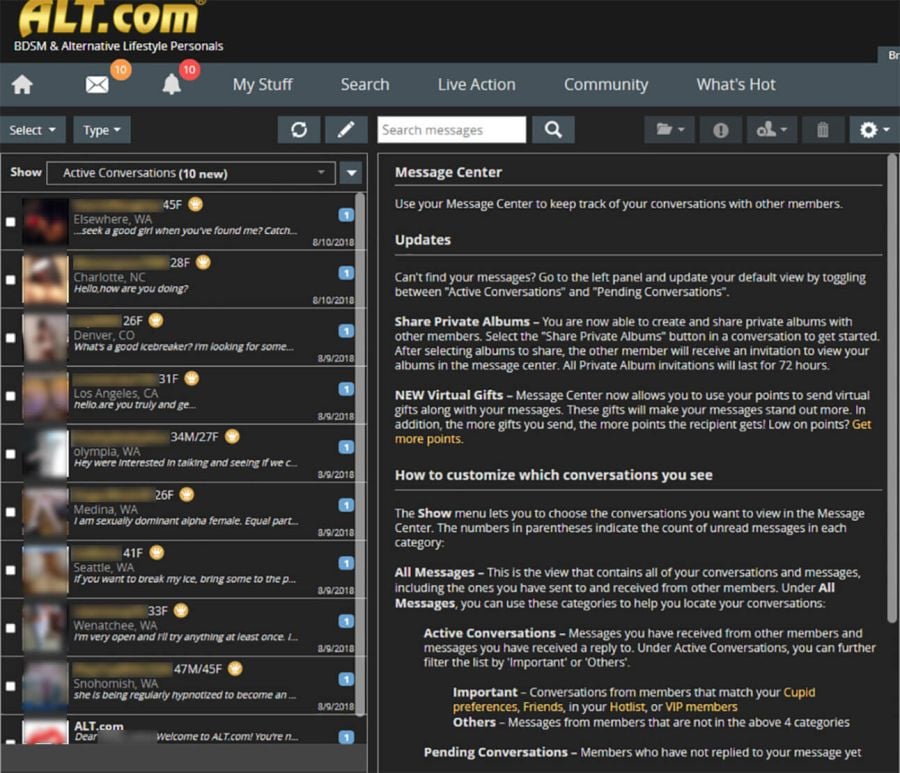 Gold and silver membership packages are reasonably priced. You can enjoy all of the Alt.com features for less than $10 per month. Even a free account is good for browsing and getting a feel of the website too.
The search feature on Alt.com is excellent – much better than it's main competitor, Fetlife. Filtering members down through the search results helps you find that perfect match, and it actually works really well too.
By the same token, the Kink Search feature is awesome. Providing the other member has filled out their kink preferences in their profile, you'll be able to find the guys and girls who share your perverted desires.
Cons
SLOW: The Alt website and app are both slow and glitchy which is super annoying when you're impatiently awaiting a message from that super-hot chick you've been going back and forth with.
In general, the Alt.com website isn't very nice to navigate. The interface is a little confusing. The messages screen is all over the place and there are ads coming at you from every angle. Not to mention the website looks like it was designed in 2004.
Alt.com isn't the hub of the kink community: When it comes down to it, you're not going to find your local scene through this site. You might find relationships, parties, and whatever else. And you might see some hot girls on cam… but you're not going to find invites to your favorite dungeon parties or munches on Alt.com. Fetlife has Alt beat on this one.
There's more than a few fake profiles on Alt.com. This is pretty normal for BDSM sites, but Alt has quite a significant number. This isn't to take anything away from the real life members on here, but it's definitely a hassle having to weed out the scammers.
The fact that there's no 1 month option for the more hesistant men and women out there to sample Alt is a bit of a downer. Usually, 1 month subscriptions are the most popular, so it seems that Alt .com is doing its self a disservice by omitting it. Pretty much all other Alt.com reviews have mentioned this too.
When it comes to Alt.com users, it's a bit of a mixed bag. The man-to-woman ratio on here is pretty of, with the user base being quite male-heavy. This is quite a strange, since it's estimated that there are more women than men into the BDSM scene.
The BDSM scene known for being a little more reserved regarding meetups and hookups. So, if it's no strings attached sex you want, you probably won't find it on Alt.
Alt.com users are more about creating a relationship with someone and then acting out their fantasies together. Impulsivity isn't really a part of the Alt experience.
Conclusion
Alt.com is a pretty standard dating service. It isn't mind blowingly good, but you'll likely find someone on here who matches what you're looking for. You might have to send quite a few messages since the reply rate is pretty low, but you'll get there eventually.
While I'm obviously much more loyal to Fetlife, this site isn't bad for people who want to dip their toe into fetish dating and what people lovingly refer to as 'the lifestyle'.
3.5/5 Stars
We hope you've found our Alt.com review useful. You can check out or other adult dating site reviews here.
Ready to try ALT.com?
FAQs
How does Alt.com work?
Alt.com is a BDSM dating site that brings together fetish and kink lovers into one big adult community. Alt.com members are free to scroll through men and women on the site and message anyone they like without restrictions.
Is Alt.com a scam?
No, Alt.com isn't a scam site. It's an established online dating platform with millions of active members the world over. While the site has a handful of fake profiles, these are only present to help increase activity levels on the site.
Is Alt.com better than Fetlife?
Both Alt.com and Fetlife are dating platforms which cater to the BDSM crowd, but Fetlife has more active users and a better reputation than Alt.com.
How do I cancel my Alt.com membership?
1. Log into Alt.com using your username and password.
2. From the Alt.com homepage, click on the "My Account" link from the top menu.
3. Click the "Billing History & Credit Card Info" link in the Account section.
4. At the top of the page, you will see product status.
5. To turn off your auto renew, click "OFF" under product status.
6. Your Alt.com membership will be canceled after the current billing cycle.