Hookup culture has essentially replaced dating culture, especially for millennials. Even if you're signed up for a dating app, you're probably not going to find many people who are actually interested in dating – except for those crazy people who are trying to get married at 18 and invest in property, and who really wants that?
Instead, hookups are the hottest new thing. However, when it comes to hookup culture, people are still somehow ashamed of having sex. Well, meet the dating app that doesn't want you to feel any shame whatsoever about getting it on with any number of strangers: Pure Dating.
Pure Dating is an app with the goal of helping you find a hook up within the hour. Yeah, within the hour. So if you're trying to get laid fast, this might just be the answer to all your prayers. It utilizes an interesting time limit gimmick which forces users to message each other on the quick.
The Pure app is available on the iOS and Google Play store, but before you download it, you need to know whether it's worth it or not. That's where we come in.
We've put our review hats on and took a deep-dive into this revolutionary new hookup app. Here's our in-depth Pure app review.
Pure: First Impressions
The layout of the Pure app is crisp, clear and inviting. It flaunts a sexy, elegant black and white color scheme that's easy on the eyes and lets you scroll in comfort. The idea behind the app is clear right from the get go since it boasts the tagline 'shameless hookup dating' right at the top.
Some dating services are quick to show off pictures of scantily-clad women to entice you in, but on Pure Dating, there wasn't an explicit photo in sight. However, it was still abundantly clear that Pure was a hookup app to find no strings attached sex.
But once I got going, I quickly got a little lost. I immediately found that the app was a little bit confusing, although that might have just been user error on my part. If you read through their little blurb in the App Store, you shouldn't have as much trouble as I did figuring this app out.
But I actually think most of my confusion came from the Pure app being so simple! With other online dating apps, there are more than one or two screens you have to worry about. But there are three screens on the Pure app. These screens are: other users (you can filter them out to those who've liked you), members you've matched with, and the post/cancel request screen.
Scrolling through the other users on the Pure app, I couldn't view their profiles with the basic free membership. At least not as a man, anyway. Women, on the other hand, get free access to the whole app without having to spend a dime. Whenever I tried to view a profile, I was taken to the signup screen.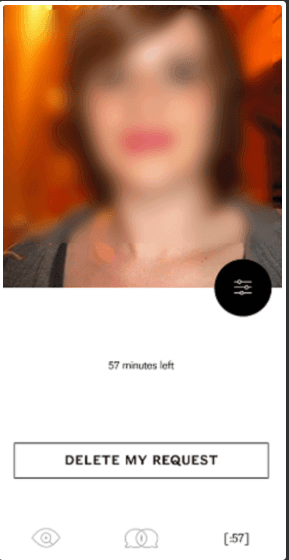 Basically how the Pure app works is that you post a "request" that will expire in one hour. That "request" consists of your photo and who you're looking for (either men/woman, not both… what a shame!) During the hour you have, you must match with members, chat, and arrange a place to meet up or exchange numbers or Snapchats, because after the one hour is over the messages are erased, and as is match history. Pretty different, right?
Personally, I think this gimmick has a lot of potential. It prompts users into a sense of urgency to kickstart the relationship off. Whether it works or not remains to be seen (more on that later).
Features
The signup process was as simple as any dating app I've used before. In addition to the usual profile information like age, location, sexual orientation, photo and email address, Pure Dating asks for further contact details so it can recover your account if anything goes wrong. These details can be provided in the form of a phone number or social media profile.
For the purposes of this Pure app review, I kept my Pure profile down to the bare minimum of details. Age, location, photo. And that's lucky because profile information isn't an area where Pure shines.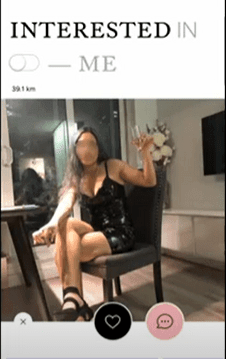 As you can expect from a dating app of this caliber, your profile doesn't ask for much. When setting your profile up, you just need to fill in a small bio and add a profile photo. The details are sorely lacking, which I thought was a bit of downer. I know people are only here to hook up with each other, but you sometimes want to know a little bit about your potential fuck partner before messaging them.
I was surprised to find a distinct lack of scammers and fake profiles on the site, although one or two did make their presence known. This is totally normal for an app like this though. Whether they were purposely placed there by Pure itself or whether they're the work of shady users looking to run scams, I couldn't tell.
In addition to being available as an app, there's also a desktop version of Pure. The user interface and user experience are both identical really. The only slight difference is the instant chat window. When you begin a chat session with another user via the desktop version, a small chat window pops up at the bottom like it does in Facebook messenger.
Another interesting Pure feature is called King of the Hill, and unfortunately, has nothing to do with the famous animated series. With this little feature, you can pay $1.99 to have your profile featured ahead of all the users on the home screen. This means you'll get noticed a lot more and could potentially result in more hookup opportunities.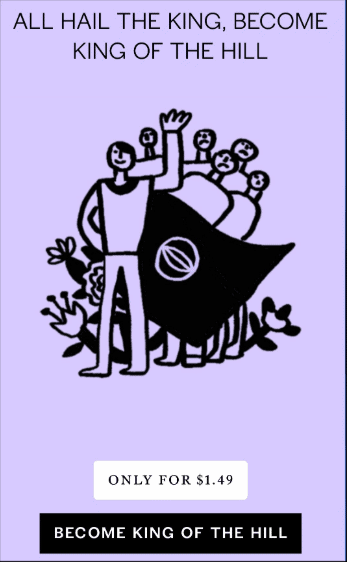 Aside from the these little nuggets, there aren't very many additional features I can go over. Features are overlooked in favor of simplicity, which is fine by me. There's nothing I hate more than convoluted hookup apps.
Pure is really straightforward, it has minimal distractions so that your conversations with other users are able to move off the app onto other platforms. And I think that's the beauty of it. You're not going to get stuck in a sort of limbo of texting the same users all the time but never actually meeting.
The only other feature that I haven't touched on is the location services. The pure app shows you not only how far away someone is but approximately where they are on a Google Map. You'll even see their profile picture wandering along the map. Creepy? Efficient? You decide.
Pricing and membership details
So if you're a female, you're in luck. You can access the entirety of Pure for free! And when we say free, we mean totally free. No hidden costs, no subscription plan necessary.
However, if you're a guy, you're going to have to pull out that credit card of yours if you want full membership. Here are the options you have available:
Pure Membership costs $29.99 a month, which provides full access to all of the features on the Pure app. This includes unlimited matches, unlimited messaging, and unlimited photo messaging (within the one hour window). The King of the Hill feature is a separate charge regardless of membership level (or whether you're male or female).
If you're not ready to commit straight away, there's always the free trial option. You can sample the free trial for two days, or you can pay a small fee for a 7-day trial to give you a more thorough chance to review the Pure app for yourself.
Please note that even if you do want the free trial, you'll have to hand over your credit card details to do so. This is a bit of shady approach, and it's done so that Pure can charge you for a full membership once your trial expires.
And if you decide to delete the Pure app off your phone, it won't automatically cancel your Pure subscription (another scam approach). You're going to have to go into your settings to manage your subscriptions.
So what gives with the whole gender inequality approach? Well, like a lot of dating sites, Pure attracts more men than women. There's something about hookup culture that draws in less women. Maybe women are more concerned with long-term dating platforms like Match? Whatever it is, free accounts for women is a way to attract more of the fairer sex to Pure.
In other words, they're trying to prevent a total sausage party. With apps like Grindr, the admins don't have to worry about that because men seeking men are always going to be in great numbers, but when it comes to casual sex, there's going to be a lot of men trying to bang women without wanting to invest.
Pros
Super easy sign up. Name, email address, and basic information. Pure offers an extra layer of security in the form of a phone number or linking to social media accounts too.
The sense of urgency which comes from the time limit feature is nothing short of genius. If you think about dating apps, the one thing that slows down the momentum other than social niceties is the slow conversation. With the Pure app, men and women don't have the luxury of thinking about their next witty reply. You have to think and think fast, especially if you want to hookup with women.
This app isn't meant for browsing while you're at work. This app is meant for when you're horny, and you want to get it on right now. This sense of urgency actually promotes users meeting one another. I think that this is a smart move from a company that wants to take the "dating" out of dating apps in order to make hooking up much easier!
Culture of anonymity. When your time limit does run out… that's it! Your conversations are lost to time, and your matches are gone too! This is great if you want to keep your private life private. And if you're trying to be sneaky, there isn't going to be much evidence that you did anything on your phone once you cancel or your time runs out on that request.
I think that this also makes this app great for when you're feeling spontaneous. People like to go on about how they're so spontaneous on dating apps, but they never follow through! This app is for pure risk-takers! All you have to go off when you're chatting with someone is their picture, location, and whatever they say in their messages.
The fact you don't have to pay any money if you're a woman is quite neat. Not every dating site would be so quick to rule out money from half of their target audience, but Pure doesn't seem to mind.
Very few fake profiles in sight. While the user base on Pure isn't exactly massive, the women I did come across at least seemed to be genuine. Scammers were non-existent, and when I did come across the odd suspicious profile, it was just an advertisement profile, not a scam profile.
Cool zine, bro. I know that this isn't going to matter to the masses, but their art direction is really cool. Sure, the Pure app is really sleek and easy to use (with a simple plain black and white color scheme). But their site is cool as hell too. They even have an erotic art magazine called "Sex is Pure" that is run by their staff.
In addition, their Instagram account is amazing. The posts to their profile are testimonials from actual Pure users that are set to erotic art done by a number of artists. Honestly, even if you're not down for the random hookups Pure offers, their Instagram is actually really beautiful.
In addition to being available on the App Store, there's a browser version of Pure available too. This is useful if you're stuck at work and don't want to keep checking your phone every few minutes. You can reply to that hot girl from your keyboard without your boss noticing a thing.
Cons
Gender options are limited. This actually can be a huge bummer for people who want to use this app. Because members who don't fit inside gendered boxes want to have sex too! But that's the thing, you're either a man or a woman, and you're either seeking men or women. And that can be a real downer if you're non-binary, trans, or fall somewhere in the middle of the Kinsey Scale.
So, I'm sorry Bi and Pan folks, you're going to have to decide which gender you want to have sex with before you submit your request. Also, it sucks if you do fall in a gray area when it comes to your gender identity because people may not know that from a photo. This could put you into a really uncomfortable (or potentially dangerous) situation if you do decide to meet up with someone.
Pure has something of a small user base. What I noticed when I poked around on the Pure app is that there aren't a lot of members using this app anywhere near me. And that can pose a huge problem if I'm looking to get laid, ya know, tonight? The closest user to me was around 50 miles away from me in a major city. Granted I live close to a few major cities, but no one in either of those cities was online.
I guess I can't really tell how big the user base is considering I'm not online at all times of the day and neither is anyone else… but from my experience, it seems pretty small.
Location services are a little bit creepy! What I like about Tinder and Bumble and all those dating apps is that they tell you how far away someone is. That's super helpful if you're looking to date, especially because meeting someone who lives three-thousand miles away seems unlikely. However, what I don't like about Pure is that you can see where people are on a map. This means they can see where you are too.
While I think that everything else about this app screams discretion, I feel like this aspect is a little creepy. And it's not like you can opt-in or out of having your location is shown – which is accurate to a few block radius. I feel like this could put a lot of people in danger – especially women, less imposing users, and members of the trans community.
Photo messaging can be fun for guys, but probably less so for women. You ever been a woman on a dating site? You're guaranteed an explicit photo in your inbox within minutes of signing up.
The King of the Hill feature is a waste of time, really. It's a good idea in principle, but there are other dating sites that pull off similar features much more seamlessly. Users should be rewarded for activity, not through payment.
The push notifications on the Pure app are a little lax. I'd get notifications for minor things, like when new women nearby had signed up, or when someone viewed my profile, but not when someone liked me. I tried to change this in the accounts settings but there wasn't much optimization available.
Conclusion
When it comes down to it, I don't hate the Pure app at all. I think that it's a great dating app for people living in highly populated areas to find someone to hook up with and FAST. If you're looking to get laid as discreetly as possible and as soon as possible (say within the hour?) then I definitely recommend downloading the Pure app.
Pure is an online dating app that gets results. It's got a few issues, but the positives far outweight the negatives. Therefore, I'm giving Pure a solid 3.5/5 stars.
We hope our Pure app review has helped you decide whether this is the right dating platform for you. The Pure app is available through the iOS or Google Play store.
We have plenty of other dating site reviews, so please check them out to help you find the best dating app for you.
Ready to try Pure?