When you think of OG dating sites, you might think of Match and the cheesy television commercials from that time. OKCupid is one of those notable sites that have been around since what feels like the birth of the internet.
While Match might feel irrelevant, what about OKCupid? You may have noticed that they've made a slight comeback with their marketing strategy. I for one have seen artistically done murals and billboards advertising OKCupid that seem more current than dated.
So, is OKCupid making a comeback? Or are they geezers compared to the Tinders and the Bumbles of the dating world?
I did a deep dive in to see what it's all about. Read on for my extensive OKCupid review.
First Impressions
I'm happy to say that my OKCupid review got off to an excellent start.
One of the first things I notice when logging on to OKCupid – especially for the first time – is their new media campaign. I've noticed the beautifully color-blocked photos on billboards and plastered across the sides of buildings recently; these are the same images that scroll across their homepage.
It seems that they're looking to bring a whole new meaning to DTF – down to fuck, for the uninitiated, or for those who've been living under a rock for the past ten years. In these images of couples (and in some cases groups of three or four) in somewhat intimate looking positions, DTF is written across the image. However, instead of leaving DTF as is they give a new meaning to the "F" in the phrase.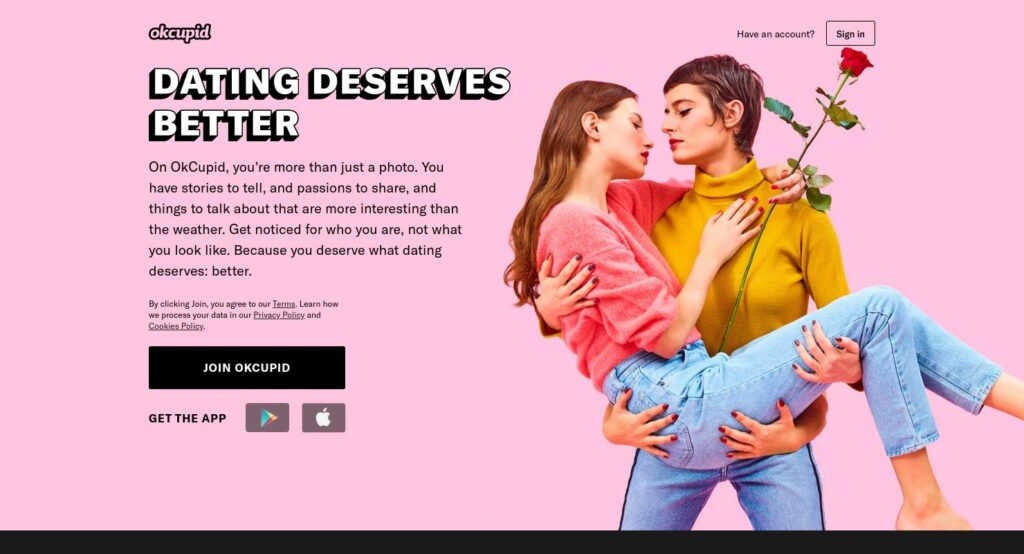 Here's an example: on a photo of a couple smearing pink clay all over their face next to some vases it says DTFire up the kiln. It seems like they're trying to insinuate that the site isn't just for finding people who are down to fuck, but who are down to go on adventures or creative dates. It's showing this old site in a whole new light, a whole new modern and interesting light.
Before logging into this site and seeing their new marketing, I was under the impression that OKCupid was a thing of the past. I would have grouped OKCupid in with an app that my mom's newly divorced friend would have joined. But after seeing the new direction they're taking their site in, I honestly would consider using this app for real not just for research purposes.
OKCupid was founded in 2004, which was ten years before I graduated high school. I feel like this OG company did a really good job of not only lasting through the years but recently rebranding themselves to target a demographic that they wouldn't have otherwise recently reached.
My first impressions of OKCupid were excellent. I was really looking forward to getting to know this dating site better.
Features
What I like about OKCupid is that it's a little different than most online dating apps. A lot of dating apps have you sign up, maybe verify your identity in some way, fill out your bio, and let you lose on their user base. OKCupid finds a balance between really intense dating sites – like the kind you'd use to find a spouse or a second husband – and casual dating apps like Tinder or Coffee Meets Bagel.
When you sign up, they have you fill out some basic info about yourself (name, gender, who you're interested in, the basics!) and then they have you answer fifteen profile questions so they can start matching you with people. These questions are things like how often you drink or smoke, if religion is important to you, or if you're an intense person or not.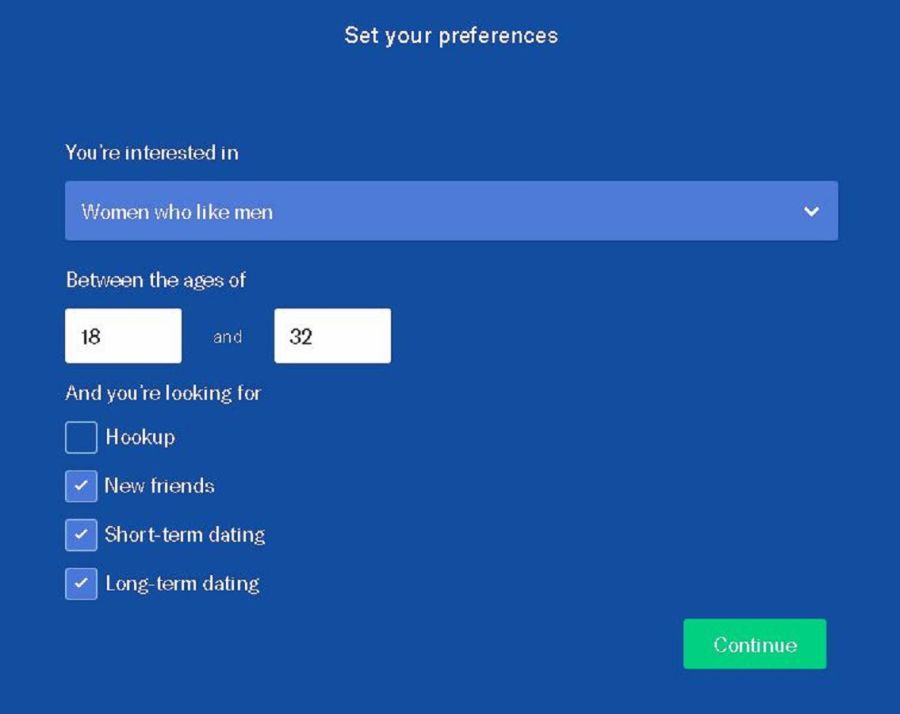 You can also add what kind of relationship you're looking for to your profile. This is great because it removes that awkwardness of finding out what someone's intentions are. You can list if you're looking for hookups, long-term or short-term dating, and lifelong relationships. There's also an option you can mark if you're into monogamy or not which is great for those who are poly or are looking to have an open relationship.
To make things a little quicker, you can sign up to OKCupid with your Facebook account. This will import all of your vital data; age, location, email address, photos, etc. If you do choose this option, you're free to adjust as your profile as necessary.
After setting up your profile, you'll be shown a list of your match suggestions. By matches, we don't mean the kind of potential matches you make on Tinder (although there's an option for that kind of approach too). You're basically shown a bunch of profiles of people you might be compatible with based on your questions and answers.
From here, you can scroll through, find the people you like and strike up a conversation. Or, you can hit the "Double Take" option. Double Take works like the Tinder match making system in that you can swipe through members based on looks. However, you're not able to view their profile in Double Take.
The age range of members on here is vast, from 18 year olds to people in their sixties. OKCupid has no particular demographic, with the average member age being 34.
As far as interactivity goes, that's mostly your lot on OKCupid. You can swipe through people, scroll through people and match with people.
Pricing and Membership Details
You don't get many free dating sites these days, but OKCupid is here to change that.
Everyone is free use the site without the need for a paid subscription. Guy, girl, couple – it doesn't matter. Anyone can sign up and start sending messages to people right away.
However, every dating site has to make money, which is why OKCupid offers not one but two premium packages for the more dedicated members.
Their premium packages are called A-List and A-List Premium, both of which have a very VIP feel to them.
Here's what A-List includes:
No ads anywhere on the site
You can change your profile username once per month
More search options (such as body type and attractiveness)
See a full list of every member who has liked you
You can visit profiles invisibly and see your visitor's list at the same time
You get a bigger mailbox, with storage for 5,000 messages
Read receipts for messages
More message filter options
Costs for A-List:
1 month – $19.95
3 months – $14.95 per month
6 months – $9.95 per month
The A-list is pretty reasonably priced when it comes to dating app upgrades. Their most popular option is three months. This is a fairly low commitment and fairly low cost. However, if you're looking for the lowest commitment (I'm sure there's a dating joke in there somewhere…) the six month subscription is your best bet.
Here's what you get the A-List Premium account:
One free profile boost per day (placing you at the top of the matches page and in quick-match) at a time OKCupid deems busy
See other people's answers to questions before you answer
Your messages go to the top of every members mailbox
You can see and be seen by more attractive matches
Costs for A-List Premium:
1 month – $34.90
3 months – $29.90 per month
6 months – $24.90 per month
Cost wise, these aren't bad at all. Less than $10 a month for all the A-List features is a pretty good deal. However, the features don't seem to be that impresive. They might make your browsing experience a bit more smoother, but they'll do little to enhance your profile and increase your number of matches.
The A-List Premium package, on the other hand, does exactly that. The profile boost and the fact your messages are prioritized will definitely increase your matches and your profiles hits.
Pros
Honestly, almost everything on OKCupid is a breeze. There are plenty of positives to being a member on here.
Profile setup is pretty fast considering all the questions you go through. OKCupid doesn't wait around and gets you right into the thick of things from the word go. Having the option to import all of your vital data in from Facebook is a nice touch too.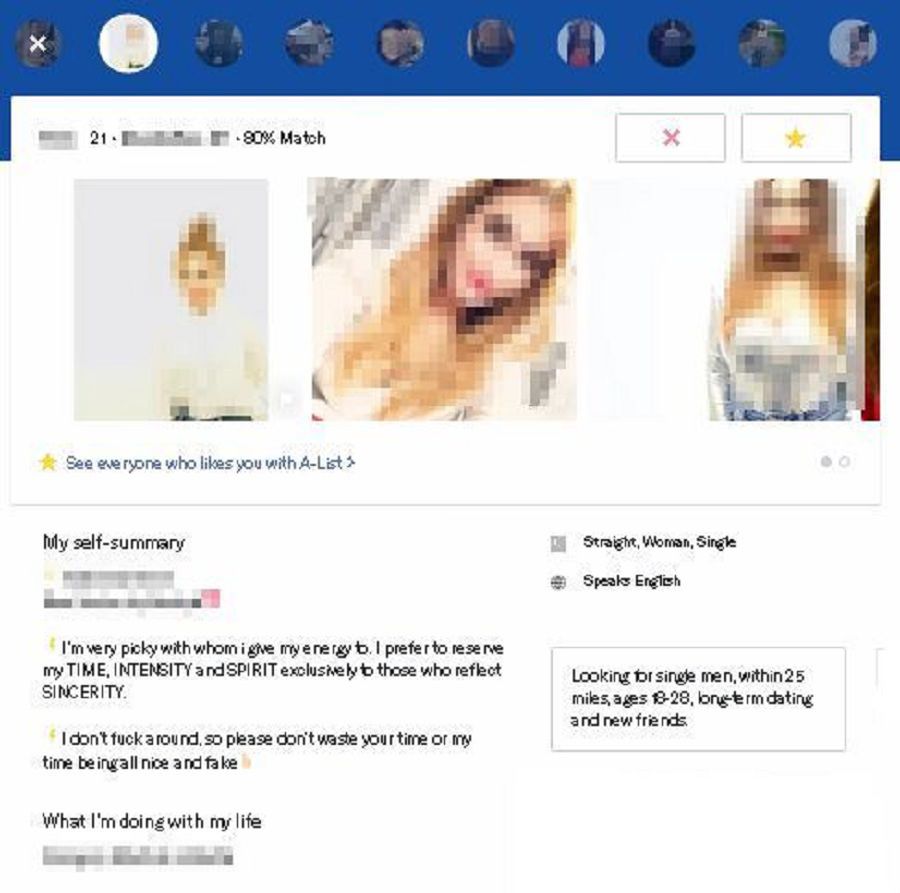 The majority of member profiles you'll come across are somewhat fleshed out. Unlike the guys and girls on Plenty of Fish or Tinder, you'll rarely find a profile that doesn't have at least the basic information. If a profile is completely bare, that member is either hot enough to get by solely on their looks or more likely, it's a fake profile.
Questions and matches. The question and matches feature is being used by more and more sites, so it's definitely a popular feature. More often than not all people have to go off of is a photo and a bullshit bio. But this site gives you the opportunity to reveal more about yourself than you otherwise would in a bio through the questions. This allows for the site to show you percentage-wise how you match with someone. This way your decisions can be made with both heads… if you catch my drift.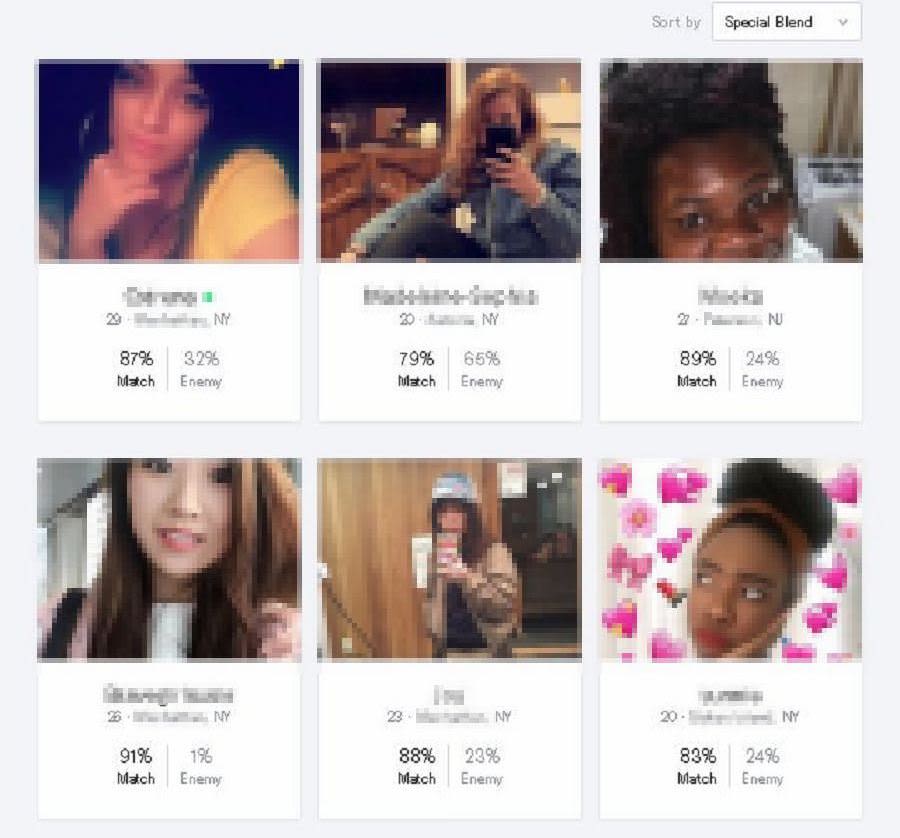 The way members are given their potential matches is clean and easy to use. I like that this site integrates the two most popular dating app layouts: swiping and grid. If you're in the mood for looking for something specific, you can use the filters to narrow down your grid. If you're looking to swipe through people with minimal effort, the DoubleTake feature is great for that! It's the best of both worlds.
The fact that OKCupid is completely free to use is a massive plus. Most dating sites charge a little something these days to use their platforms. Even Tinder now gives members limited matches per day and charges them to make more. It's rare to find a dating service that functions entirely without having to pull out the credit card. Off the top of my head, there's only OKCupid and POF left.
An equal number of members looking for long-term love as there are looking for hookups. On OKCupid, you have just as much chance of finding your life partner as you do tonight's partner. OKCupid is like the buffet service of the online dating world. It's nice to have an all-round dating experience, and that's exactly what OKCupid offers.
Some reviews have seen this as a negative, but in my opinion, it's a way to attract to a vast array of members to the site and give them more choice. While someone people might not think they're on the hunt for long-term love, they might match with someone who really connect with.
Customer service levels are on point. OKCupid constantly bigs up their customer service levels in various testimonials dotted around the site. They're available by email 24/7, and they even have a phone number you can call (if you're in the US) if you have any super important problems or questions.
Cons
I know I've raved about OKCupid so far, but it isn't all sunshine and rainbows. It has a couple of flaws too.
Some pay-walling: The only cons I can think of are that there is some pay-walling. Most – if not all – dating apps utilize some amount of paywalling so I guess I'm just complaining that this site isn't 100% free.
A lack of interactive features is a bit of a downer. For a dating site of OKCupid's magnitude, I honestly expected a few more ways to communicate with members. Maybe some chat rooms or forums or something. Most big-time dating services have something along these lines, so it's weird that OKCupid hasn't followed the trend given their extensive rebranding.
A lack of options for different gender identities. When you set up your profile, you can either be a man, woman or couple. This could dissuade some of the more gender-fluid members who don't identify either way.
It's a small issue, but notifications are a little slack on OKCupid. You get a tiny little red number next to your messages inbox tab, and the red on pink background doesn't stand out very well. This makes notifications pretty easy to miss, especially when you're inundated with them.
While the match making system is pretty good on OKCupid, I found a small issue with it. When you use the Double Take feature, you're basically given a list of the same profiles as you see in the scroll grid. So, most of the profiles you're swiping through and judging based on appearances, you've probably already seen as you were scrolling. I get that it's probably difficult to give members two different sets of match options, but it was still a small problem.
Conclusion
As a dating site, OKCupid is excellent. As a hookup site, it's even better.
I think this is one of the best apps out there right now. It seems like you can use this app for anything from hooking up to finding a serious relationship, and as your interests shift your profile can too! With apps like Tinder or Happn, the expectation is usually pretty clear, but there still is guesswork involved. But with this app, your expectations along with other people's are laid out in the open.
And if you decide to go from casual dating to looking for something more serious, then all you have to do is make a few quick adjustments to your profile! OKCupid isn't just a hookup app, and it's not just a matchmaking service, it's something in the middle.
I'd say they succeeded in giving a whole new meaning (or a few possible ones) to DTF.
4.5/5 Stars.
We hope you've found our OK Cupid review useful. We've got plenty more online dating site reviews for you to check out.
Ready to try OKCupid?
FAQs
How does OKCupid work?
OKCupid is an online dating site designed to bring like-minded together for relationships and casual sex. After members sign up, they can browse through local user profiles and send messages freely.
Is OKCupid safe?
Yes, OKCupid is a perfectly safe online dating platform. It has 50 million genuine members from all over the world. While the site may have some fake profiles on there, they're not affiliated with OKCupid in any way.
Is OKCupid a scam?
No, OKCupid isn't a scam site. It's a genuine platform made up of real users from all over the world. It's one of the most reputable and longest-serving sites around.
Can I use OKCupid for free?
Yes, you can use OKCupid without paying a penny. Their free membership allows access to all of the site's features, including their messaging system and matching system. A paid subscription is available for those who want additional perks.
Is OKCupid better than Plenty of Fish?
While POF caters to people looking for long-term romance and relationships, OKCupid provides a mix of those looking for long-term and short-term commitment. If you're unsure of the type of relationship you're seeking, OKCupid might be your best bet.
How do I cancel my OKCupid account?
Go to the "Subscription Settings" page to see your subscription details. On the settings page you'll see a list of your subscriptions and will see a "Turn off automatic billing" link. Click this link to prevent your account from being billed again in the future.