If you're having a hard time satisfying your hunger for MILFs then you're probably looking into signing up for an account on Milfaholic.com.
Before you spend your hard-earned money on this MILF dating site, you'll want to hear what I have to say. Can you really use this site to get laid with older women? In this Milfaholic review we'll take a look and find out.
I spent the past 3 weeks using the site so I could review it for the world, so let's go into it. Is it a scam, or can you really meet someone? Check out our full Milfaholic review below, find out the pros and cons, and if it's really worth it.
First Impressions
OK, so MILFs are hot. We know that, but these MILFs are above and beyond smoking – one would say they're milftastic. If you feel the need to do your civic duty and call the fire department, don't worry. That's normal.
Signing up requires an email address, and the typical questions like what kind of relationship you're looking for and your other preferences. The registration process involves all of the normal questions you'd expect when setting up a dating profile.
When you log into this MILF dating site, you're greeted with babes from all over the globe who come complete with 'fun mom energy' like you wouldn't believe. I know that some of these women's profiles have to be fake but, cmon. The first time I entered the site, I didn't know what to do with myself, so after I picked myself up off the floor, I sent a few messages here and there.
Usually sending messages on hookup sites will get you nowhere fast. It's always "check me out on cam tonight!" or "this user is not online.", But on Milfoholic I was pleased to discover that these older women are actually interested in having conversations. I guess I've been spending too much time on lesser adult dating sites when I should have been focusing my efforts here. Immediately, this seems like a site where you can actually get laid.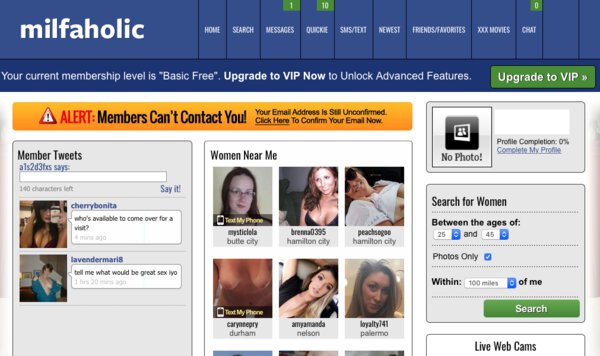 Milfaholic has a nice, simple vibe to it that isn't uncommon but isn't very impressive either. But what does it matter? There are naked chicks on the homepage, so obviously, something feels right about it.
In order to do a full review of this cougar dating site, I had to cough up $29.95 to experience everything it has to offer. It's time to find out if it was all worth it so I can give a full Milfaholic review.
Milfaholic's Features
Search – The search function isn't a new thing, but the search function used on Milfaholic.com has some tricks up its sleeve. You can search for female members by age, location, username, and even by the newest users. This allows you to send messages to a local stepmom who's recently signed up and needs a strapping young man to show her how it all works.
Quickie 10 – This is a unique feature that makes finding matches easy. It uses the site's own scientific matchmaking connections to pair you up with the perfect older woman. With all of the profile information the site asks you to fill out, this works quite well. The riper the berry, the sweeter the juice, right?
Friends Network – A lot like Facebook, Milfaholic lets you add friends on the site and browse them from your 'friend network' so you can eventually grow the balls to send one of them a message that'll make you more appetizing than her morning multi-vitamin.
Favorites – The favorites list will be your go-to list of moms that you like to message. I found it easier to quickly select from my setlist of favorites instead of using the search function or scrolling through my entire friend list. Sending messages is also even easier with the favorites because of the 'quick message' button.
The premium membership also gives you access to live sex cams. If you're not in the mood to chat, then these cams, as well as other features like member videos uploads will keep your entertained until you meet up with someone in real life.
It's hard to bash this dating site, but looking at it from a different angle it's easy to see that its features aren't very unique or uncommon. Most social media apps have these same features plus more. I know it's just a MILF dating site, but I still feel like I should be getting a little more functionality from a site that charges me almost $30 per month.
Milfaholic Pricing Details
The membership fees are in line for what'd you expect with a site like Milfaholic.com. If you're not sure if you want to invest your hard-earned money into a website as sketchy as this one, you can pay $8.90 for a 3-day trial. Testing the waters on a dating site is never a bad idea, but taking the full plunge is way more fun.
A one-month membership is going to cost you $29.95 and it renews every month until you cancel it. You have to be careful here because it's easy to forget you're signed up for 5 different adult dating sites and end up draining your checking account.
If you're committed to finding the perfect MILF for you, there are some other payment options. You can save a little money with the two-month subscription and only pay $49.95. There's also an option to pay $69.90 for a three-month subscription. I found it odd that there was no option for a one-year subscription, but it must be because the creators of Milfaholic are just that confident that you'll meet someone.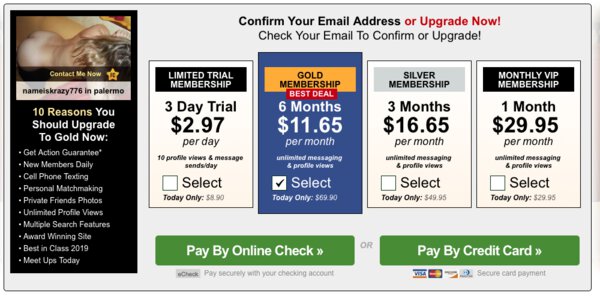 Finding someone who likes making love at midnight isn't too difficult if you've got the paid membership. You still have to chat up older ladies in just the right way, but it's simple to connect with matches and get that conversation rolling. You don't get the full functionality as a free member.
I found that the best way to get these women to chat you up is by asking them about themselves. Everyone loves talking about themselves so you really can't go wrong there. Let them know you're interested in whatever they're interested in. If she doesn't reply, just keep your chin up and start thinking about what you want to send your next match. With the number of women on this site, the reply rate is quite high, and you'll get laid if you keep at it.
Pros of Milfaholic
If you think every girl on Milfaholic is legit, you'd be wrong. There are some fake profiles. However, most of the women are actually real. I know this because I've had multiple conversations with gorgeous older women, even one with my old math professor. She's a smoke show for sure, and she knows it. It's pretty easy to tell when a profile is real.
I have to give Milfaholic.com points for somehow attracting so many cuties to their site. I guess hot moms are just as eager to meet horny young men as horny young men are to meet them. Impotent husbands probably. Maybe menopause. The women on this site are mostly at least 35 years old, and the most popular age seems to be around 40-45.
The news feed system is great. It's a breeze to scroll through your friends' posts with the site's simple timeline design. There were more than a few times where I caught myself getting lost in the rabbit hole that is Milfaholic. This along with the other features like cams make it all too easy.
Milfaholic also seems to be very lively. An active user base is important to any social media platform, but Milfaholic seems to be taking it above and beyond regarding web traffic. Not only are tons of moms checking out the site, but they seem to be actually using it too, and they have fairly complete profiles. Every Milfaholic review gives praise to how active the site's users are.
It's too often that I sign up for a cougar dating app/site like this one, only to discover that almost nobody is using it. This time I was pleasantly surprised by how many people were posting, commenting, and writing long-winded posts about their most recent sexual experience. It was really a thrill to look around at all the activity. I'm confident that anyone can get laid if they spend enough time on this site.
Cons of Milfaholic
We can't fully review Milfaholic without discussing the cons. Although the design of the website isn't bad, the load times are. You shouldn't have too many tabs open when you're using it because you don't want your browser to crash. Occasionally (maybe three times) my browser crashed, but it wasn't as annoying as the bots.
Like I said before, there are some fake profiles, and they have to lure people in somehow. Sadly about once a day my inbox would get flooded by spam from some fake mom I matched with, and it got a little frustrating sometimes – especially when you've been chatting with a senior smoke show for 2 hours before she starts sending you random links to her cam site or whatever.
I wouldn't call Milfaholic a scam, but you have to be careful with trusting all of the women on this site. You may find another Milfaholic review that glosses over this point, and even the Milfaholic terms of use disclose this information, calling them "Fantasy Cuties."
Even though you're spending an arm and a leg for their paid membership, Milfaholic somehow gets away with showing ads on their site constantly. These aren't little sidebar ads either. They're those ones that are moving GIFs that draw your eye in and give you motion sickness. This is a point that I've seen in every other Milfaholic review, and while flashy ads are common on this sort of this, it's still annoying.
Milfaholic doesn't have a mobile application available on either iOS or Android. While the website is perfectly usable on mobile devices, some people may prefer to use a dedicated app, which this site lacks.
There is no free trial for the premium membership, so if you want to start messaging people on the site and find out if it's right for you, you'll have to at least pay $8.90 for a three day trial. You can't do much on Milfaholic without paying.
Final Thoughts
On my quest to find the hottest moms on the face of this earth, I found Milfaholic.com and it might have been the luckiest break I've had in a while. Matching with hotties that have professional careers is a pretty big turn on. Sending dirty messages to these single ladies is addicting as hell. While I signed up for the purposes of writing the Milfaholic review, I'm going to have to continue to use the site for while and keep chatting with these women.
Trading phone number with your old math teacher is enough to sign me up alone but combined with the user activity on the site; it's a done deal. Even though it's pricey and kind of broken, I found myself having a good time. On this dating service, there are plenty of older women to chat with on meet up with.
I'd give Milfaholic a decent 3/5 stars. It can hold its own against some of the bigger MILF dating sites, but it's not really anything special. Not yet at least. It's a real site with real people, and not a scam, but keep your expectations in check and be patient when using this site. Just keep in mind the site does use "Fantasy Cuties" to help keep people engaged. We hope our Milfaholic review is helpful in choosing if this dating site is right for you.
Ready to try Milfaholic?
FAQs
How do I delete my Milfaholic account?
From the home screen, you can click "settings." From there, you'll find the option to delete your account and all of your information permanently. You can also contact customer support to help with this. Please note you won't be refunded for your membership, so it may be best to just cancel your subscription and use the app until it expires.
How do I block someone on Milfaholic?
If someone is bothering you, you can find a "block user" button on their profile. Depending on the nature of their behavior, you can also contact support, if you believe them to be threatening, harassing, or abusing the site.
How do I cancel my Milfaholic subscription?
Once you've signed up for Milfaholic, your subscription is recurring. If you don't wish to be billed again, you can find the option to cancel on your profile page. You can also contact the support team to ensure your membership is canceled.
How do I message someone on Milfaholioc?
On the top bar, click on the "messages" button in order to message your matches. You can either send instant messages on the site, or if the other member has activated the SMS feature on their phone, you can send them a text.
How much does Milfaholic cost?
The premium membership on Milfaholic starts at $29.95 for a month membership. The price per month goes down if you'd like to pay for three months upfront at $69.90, or just $23.30 per month.
Is Milfaholic legit or a scam?
Milfaholic has plenty of real members on it, so we wouldn't call it a scam at all. Milfaholic is legit. There seem to be cam girls on the site abusing the messaging feature to advertise their chat rooms and other fake profiles, but there are genuine members too. Be careful when talking to other users, and don't give anyone your credit card information.