There are dating sites for everything these days. Every niche is catered to, from Star Wars fans to Disney lovers, and as you'll find out today, there's even a page solely for Jewish singles.
You've probably heard of sites like JDate.com that help Jewish people connect with each other online. Well, JPeopleMeet.com is a little different.
If you're a Jewish individual looking to meet other Jewish people and perhaps find your future bride, then this site is right up your alley. JPeopleMeet is easy to use and DIRT cheap compared to other popular Jewish dating services.
However, that doesn't mean JPeopleMeet is better, so let's take a deep dive into the site to see if it's really worth your hard-earned cash. Read on for our extensive JPeopleMeet review.
JPeopleMeet: First Impressions
Your first visual on JPeopleMeet will be hundreds of profile photos, presumably of site members. All of the members looked like legit users; they weren't overly-gorgeous or anything like that. A good sign.
Although using JPeopleMeet.com itself is fairly easy, the registration process can be a little time consuming if you really get into it. First I put in the basic stuff; user name, password, zip code, then I had to fill out a few questions, give a ton of personal data and what I'm looking for. Then my account was created.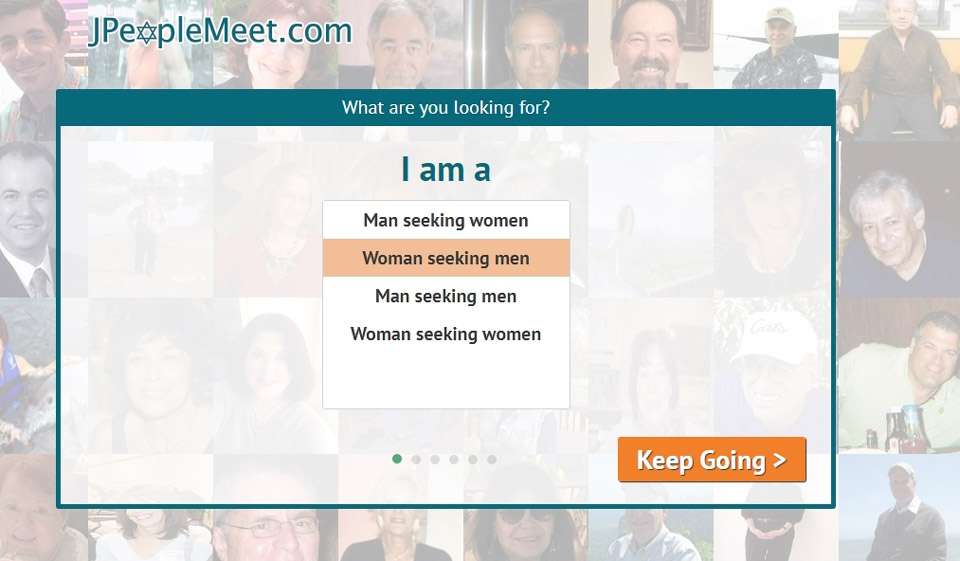 Navigating through the menus, photos and account pages is a breeze. But while browsing through a bunch of profiles, I noticed a lot of the profiles don't contain many photos at all. In fact, most of them barely had one.
This could mean a number of things. It could be because a lot of people make profiles but never follow up with a membership. Or maybe (even worse) they're just fake profiles made up by the people who run the website. Either way, it was definitely an issue.
There wasn't much information about the site on the front page. It told me there were plenty of members in my location, but it didn't give me any further information like actual number of users on the site.
At first glance, things aren't looking up for JPeopleMeet, but it's not too late for this site to make a comeback.
Features
Any site can create a profile and search function, but a dating website doesn't stand out for me unless it's got some A1 features.
Unfortunately, features isn't an area where JPeopleMeet excels. Despite a handful of profile questions to kick things off, there are no interactive features, no chat rooms. Not much character to be honst. It's pretty barebones.
Members don't have much options when it comes to profile information. You have a short bio to stick your data in and that's it.
Members on JPeopleMeet are given the ability to use something the developers cooked up called "ECHO." This feature lets you know when members you've shown interest in has replied to one of your messages. It's always nice to see your profile visitors. I mean, what else are you going to say? "I like-like you. Do you like-like me?" No thanks.
Interestingly enough, there's a list of articles for users to look at that give tips for better success on the site. They show you what it takes to create an appealing profile and the do's and dont's of Jewish dating. Personally, I've never seen something like this on a dating website before, so I'd say it's pretty interesting.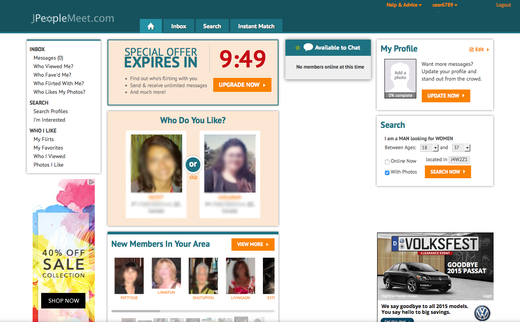 Something even more exciting than receiving an ECHO, is a feature called "Instant Match" and it's addicting as all hell. Basically, it's a Jewish Tinder. You scroll through profile pictures and decide if you'd want to wake up to that person. One twist though; you can't view their profiles. Just the photos. It's made some interesting matches for me and it's always fun swiping on hundreds of people.
There is currently no mobile app version of JPeopleMeet, making it hard for singles who are constantly on the move. Users have to login to their JPeopleMeet account on their mobile browser, which can open up some safety concerns.
On that same subject, JPeopleMeet.com has a section on dating safety tips. This advises users on proper conduct whilst chatting online (only give out your phone number or e-mail to members you trust) and safety in person (get consent before making the move).
One function it does have is a nice video chat feature. Perfect for those users who prefer doing things over video than text.
Pricing and Membership Details
Having a free account on a dating site is like torture for me, so for the purposes of this JPeopleMeet review, I signed up.
However, the free version can be entertaining. It lets you browse through all the Jewish ladies you want, but you can't send any messages. You can use the "flirt" function though, which is like a little notification that gets sent to whoever you want so that they know you're interested.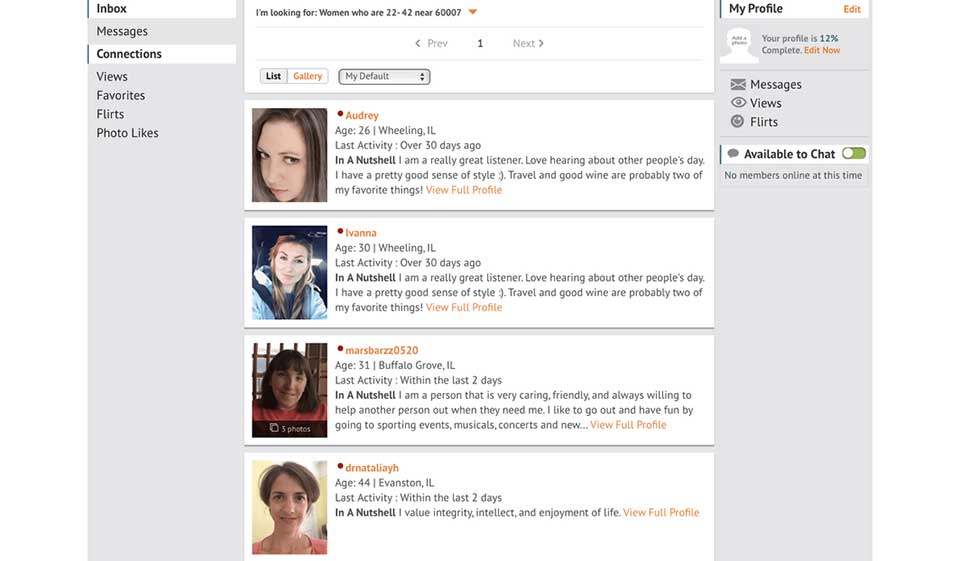 Getting your hands on a subscription isn't as costly as you'd think. With a one-month membership costing only $13.99, it's kind of unbelievable that the creators of the website make any money at all since the prices only go down from there.
Most sites recommend getting a three-month subscription because that's about how long it takes to find your perfect person. If that's true, then $26.97 is the cheapest way to find a soul mate in three months I've ever heard of. With the three-month option, you only have to pay a measly 8.99 a month. Not bad, and cheaper than a mail order bride.
For those of you who are determined to find that special someone, there's a six-month option too. $38.94 is all it's going to cost you (that's $6.49 a month). With these prices, it's surprising that there are so many bone-dry profiles scattered throughout the site.
Looks like we are going to have to do a little more investigating.
Pros
Every dating site has its cons & pros, and JPeopleMeet.com has an equal amount of both.
Registration is as easy as an email address, password, zip code basic information.While the personality questions can get a little much, don't have to link your JPeopleMeet account to your Facebook or anything like that.
Some of the most satisfying parts about visit site are the parts that make you feel like you're really connecting with people – and there's a lot of them.
First of all, the website itself is incredibly easy to use. All of the menus stand out perfectly with the color of the site, and they're responsive as hell. You can tell someone really worked their heart out making this site and I'm glad they did because I can't even recall the number of times I've visited a broken dating site. It's heartbreaking.
Another thing I love about this JPeopleMeet is the price. You could literally be a fucking homeless guy, and you'd still have enough money to donate at Temple after signing up for a subscription to this site. When the most expensive option is only $13.99 a month, signing up should be a no-brainer.
The people I've matched within the past week have been so lovely to me. I don't know if it's because we are both Jewish, but I felt an instant connection with almost every person I've talked to. It's just really easy to talk to someone who shares so many similar life experiences with you.
JPeopleMeet has decent gender inclusivity. Your profile page includes plenty of gender options to choose from, including queer, trans and couples.
The chat function works well. It's a little like Facebook Messenger in that all chats pop up in a little box.
Cons
Ok, so the most troubling thing I noticed about the site has to be all of the ghost profiles that show up for me. A ghost profile is basically a profile that was created just for looking around the site, and then it was never touched again. Obviously, this is super disappointing, especially when you use the "Instant Match" feature and you just end up scrolling through a bunch of dud profiles.
Another thing that bothers me is the fact that the search features are dogshit. Sure, you can search for specific people and all, but that's as far as the search options go. It's a way better idea for the developers to add an "Advanced Search" function that would allow people to search for other members by body type and more specific search filters.
If you've ever felt the need to check out and maybe flirt with some sexy Jewish women on the bus or while you're out and about, then you're going to have a real hard time scratching that itch, because there's no mobile app. That's right. You're going to have to open up your laptop and start online dating like how people used to back in the day. Not a deal-breaker, but I mean c'mon. It's 2021.
You can visit site JPeopleMeet on the browser on your phone, but this brings with it anothe set of problems. The page isn't optimized for mobile so you'll constantly be enlarging and minimizing, everything from the table of contents to members photos.
Ads. Everywhere you go, whether it's your messages screen or a profile page, you'll get pop ups and annoying fake notifications. After a while, I got sick of hitting the close button.
No profile verification necessary, hence the number of fake users. Most dating sites require account verification of some sort; phone number, e-mail, sometimes photos verification. Nothing like that on JPeopleMeet.com.
The site visit rate seems incredibly low, and the reply rate from users is equally bad. I had to send a ton of emails to women in order to get any kind of a response.
The man-to-woman ratio on JPeopleMeet seems pretty bad. Upon registration, you're told that the site is overflowing with ladies in your location, but that doesn't seem to be the case at all. Very few ladies, lots of men. You could say it's a kishka-fest.
Conclusion
JPeopleMeet.com is an interesting dating experience to say the least. Let's just put it this way; If JPeopleMeet was an ice-cream, it would be pistachio flavored. Most people aren't very interested in it, but it caters to a very specific audience that can't seem to get enough.
If you want to grab some kosher food and cookies or up your synagogue attendance, JPeopleMeet offers that opportunity. You might get nothing but dud members, but you might also meet your future bride.
I'm giving this site 2/5 stars.
It wasn't exactly my cup of tea, but that doesn't mean it won't be yours. It does have a few things going for it, but at the end of the day, there's just a lot of stuff that needs to be fixed/improved before I can accept this site as a real challenge against some of its competitors like JDate.
We hope you've enjoyed our JPeopleMeet review. JPeopleMeet is just one of the many dating sites we've reviewed. Please check out our other reviews for comparison.
Ready to Try JPeopleMeet?
FAQs
What is JPeopleMeet?
JPeopleMeet is a dating platform to connect Jewish men and women together. JPeopleMeet offers Jewish singles the chance to mingle with others who share their religious beliefs.
Is JPeopleMeet Safe?
Yes, JPeopleMeet is a safe, legitimate dating site that goes to great lengths to protects its users' data and personal information. There is a JPeopleMeet customer service support team available during working hours.
Is JPeopleMeet a Scam?
No, JPeopleMeet is not a scam site. It's a legitimate platform with membrs from all over the world. JPeopleMeet has members in North America, Canada and Europe.