When I think Badoo, the first thing that comes to mind are the countless viners who used to incorporate the app into their five-second videos somehow. While impressive, because of this advertising I was convinced that the app wasn't really worthwhile. I mean, how could internet-famous high school students know what dating app was best for me? A more important question would be, are they even allowed to be on dating apps at their age?
When the opportunity to write this review came across my desk, I was curious: was this app worth it? Did this app even exist anymore? Where does it stand when compared to the competition? Well, I fired up the Badoo app and got down to business. Want to find out if I found my bae or if Badoo is a total bust? Read my detailed Badoo review right here.
First Impressions
My first impressions of this site are not anything special. The sign up was really easy and took about fifteen seconds to mark my gender, sexual orientation, upload a profile picture, enter my birthday and name. Honestly, I think this sign up process took "quick and easy" to a negative extreme.
While it might sound unbelievable, Badoo boasts a staggering 318 million users across a whopping 190 countries. Going off numbers alone, Badoo is actually the most populated online dating site in the world. Bigger than Tinder, bigger than Adult Friend Finder.
I've noticed that the longer it takes for you to sign up to a site, the more specific your matches are going to be. For instance, with a site like Meet Mindful, it could take a solid hour to flesh out a profile upon sign-up. On that site, you're probably going to be able to find someone who not only shares your mutual interest in hot yoga, but you'll find someone who is also a vegan spiritualist just like you!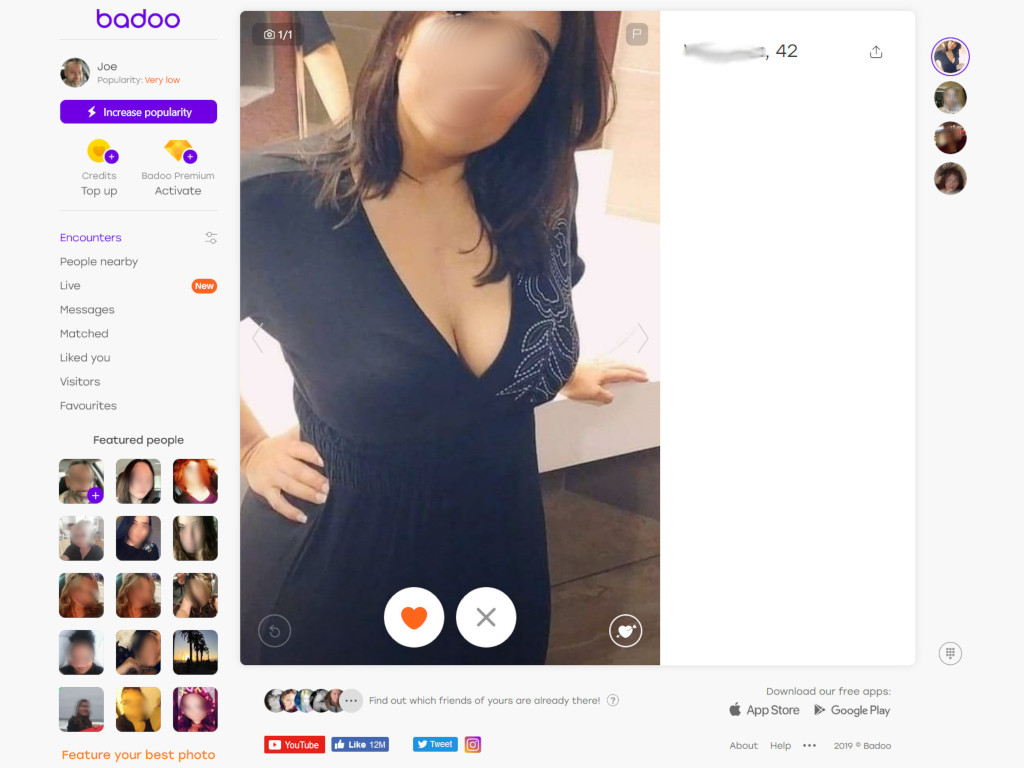 Profile creation was almost non-existent, however, I did have to go through a quick profile verification process. Personally I don't mind having to endure profile checking as it helps keep away the fake profiles.
Aside from this however, there was no personal verification system in place. You have to provide an email address and phone number before signing up, but they don't ask you to verify either.
The reason for this lack of personal information? Well, the Badoo app has this "hip and trendy" thing going on. The majority of its members are on the younger side, and Badoo clearly thinks the young folk don't have the desire or effort to input much profile detail.
Since I wasn't even required to fill out a bio on Badoo, it's unlikely my matches are going to be well suited for me. Honestly, I think that Meet Mindful's sign up process is overkill, but something in the middle of the two extremes would have been nice.
Even if I were just looking for a hookup, I didn't want to meet with any of the people who decided to message me after I signed up. 
Features
Badoo seems like it's a basic swiping and grid dating site. They fuse the two popular formats together to create two kinds of experiences on the one app.
The site and mobile app are fully usable as a free member, but for the purposes of my Badoo review I upgraded so I could test the site in full.
On top of this, they have a few other features that I've yet to see with any sort of dating app: an integrated cam site and a look-alike feature.
Just looking at those features, Badoo definitely sets itself apart from a lot of the other dating apps out there. These are pretty unique to just their site, which definitely puts them a rung above where I initially thought they were going to land.
You probably already know that Badoo brands itself as a kind of social media / dating site hybrid. The platform has a very casual approach to it, luring in members to get involved with the community rather than just swiping through new people. This is probably why it's attracted so many singles to it.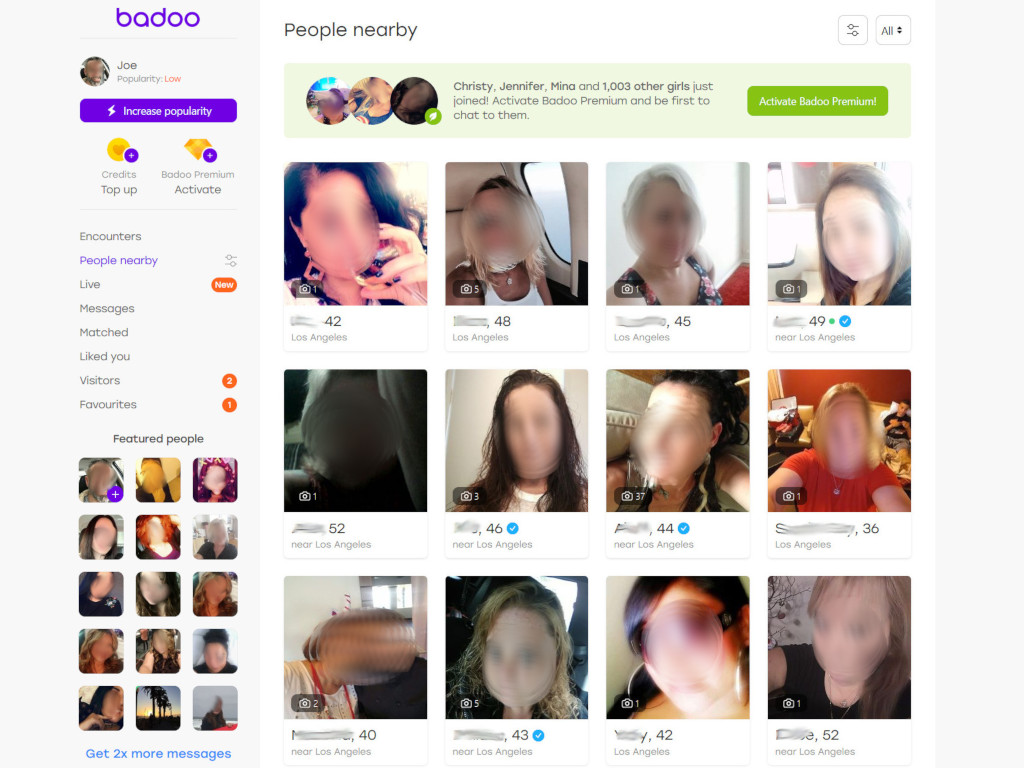 The "People Nearby" feature is exactly what it sounds like. Head over to this section and you'll be able to meet people who are within 5kms of you. Most dating sites utilize this feature now, but Badoo was one of the first to bring it to the mainstream.
The "Encounters" feature works like a Tinder matchmaking system. Upload a photo, then people will be able swipe left or right on your pic in their Encounters page. If you match with someone else, you can start exchanging messages.
Speaking of messages, Badoo has an efficient messaging system. There are no restrictions in place and you can start swapping messages with any matches you make or any profiles you find in the grid or People Nearby screen.
Badoo has a very interesting, if a little creepy, feature called Lookalikes. If there's a particular user you like the look of, you can hit the Lookalikes button and see a bunch of other users who resemble them. Revolutionary? Weird? You be the jude.
As mentioned, Badoo has a lot of users, somewhere to the tune of 300 million. The majority of them are between 18 and 24. So, if you're on the younger side, you'll fit right in on Badoo. If you're looking for a more mature site then you might be better off elsewhere.
Pricing and Membership Details
As a free Badoo member, you have limited access to the app's features. But Badoo has a premium membership program that is so aptly called Badoo Premium. Here's what they offer
Free members can:
Create a profile
Browse member profiles
Message premium members
Basic messaging and quick flirts
Participate in Encounters matching game
See which members visited your profile
Use the Lookalikes special search function
Verify your profile
As you can see, you can get the full user experience as a free member. However, paid members have access to a few more super powers. These include:
See which members liked you
Highlight your sent messages to members
See which members Favorited you
Undo your vote on Encounters
Browse anonymously
Chat with new users first
Become a featured member
Send Crush alerts
Increase your popularity
Give gifts
Activate stickers
Cost wise, upgraded members can expect to pay:
1 month – $12.99
3 months – $10.66 per month ($31.99 total)
6 months – $8.00 per month ($47.99 total)
Alternatively, if paying monthly for Badoo Premium doesn't float your boat, you can also use "credits" to enjoy some of the paid features without committing to a regular payment. The cost of Badoo credits are as follows:
100 Credits – $0.03 per Credit ($2.99 total)
550 Credits – $0.02 per Credit ($9.99 total)
1,250 Credits – $0.02 per Credit ($19.99 total)
2,750 Credits – $0.01 per Credit ($39.99 total)
Price wise, Badoo credits are on the expensive side. Really, it's much more beneficial to just pay monthly for an upgraded profile if you want to go the credit card route.
Pros
Registration is easy. Maybe a little too easy. Name, email address, and a few basic details and you're off. The profile verification system is always useful, but I'm pretty sure Badoo's profile verifications are automated since they're done within minutes.
Lots of members from all over the world. One thing Badoo members can't be accused of is inactivity. There are millions of active users every second of the day, not to mention new user profiles joining the site hourly.
Cam Site integrated into the app: I think that it's interesting that the developers chose to integrate a cam site into the app. I think that this is a really interesting way for people to earn credits as well as promote a very naughty environment on the app.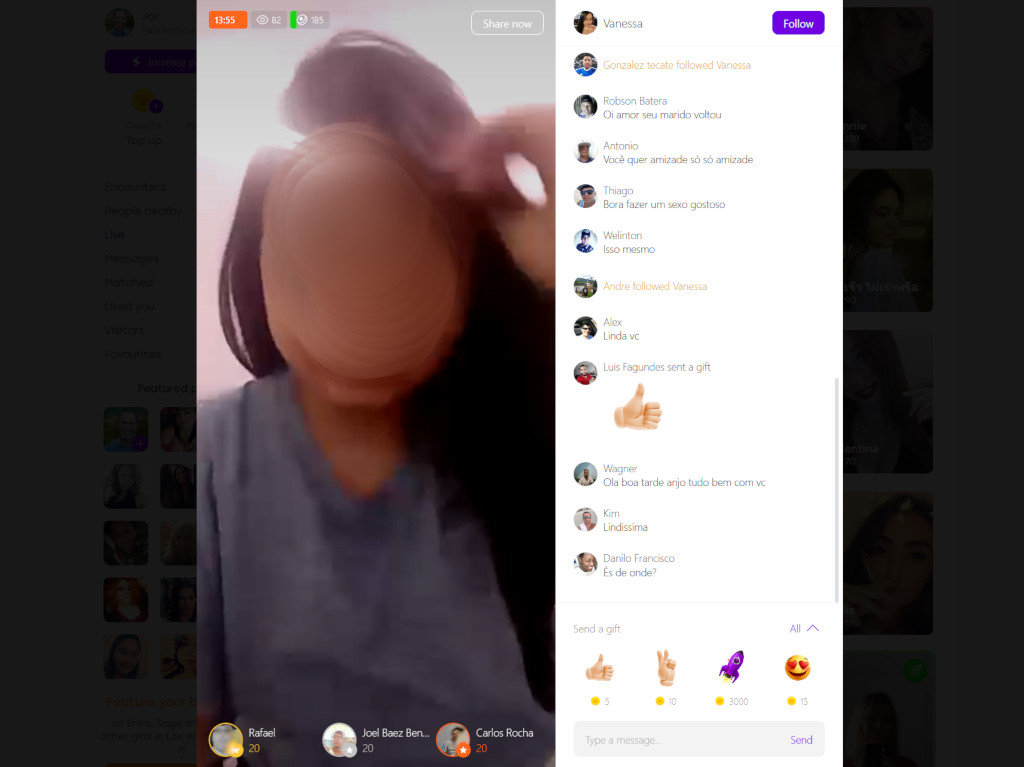 The addition of this cam site makes users believe that this app is truly for hookups, nude sharing, and sexting. I think it's great for those people who are looking to have a porn app and a dating site all in one.
Look-alikes: One feature that I've never seen before on this site is the Look a Like feature. It basically will show you users who not only look like you but celebrities. So, if you're really into Kim Kardashian, they'll show you other users that look pretty similar to her.
While I think it's creepy that my photo is being compared against their entire user base, I think that this could be really helpful if you have a very specific physical type that you're attracted to.
With this feature naturally comes a few fake accounts, so be on the lookout for people who look a little too suspiciously similar to Kendall Jenner. We hate to break it to you, but celebrities and porn stars don't use dating sites.
How they use, connect with FB: Most dating sites will allow you to log in with Facebook (no not Fuckbook). After all, that's where most of your photos – and your life – is probably documented. However, they use Facebook in a way that I think a lot of dating apps miscounted as being invaluable.
When you connect with Facebook, you'll be able to see which of your friends have accounts, but you'll also be able to see their friends. Most people meet their significant other's through a friend, so it would make sense that you might want to date someone with whom you have a mutual friend.
Free members can enjoy the site to its fullest. You don't need to pull out a credit card to make the most of it, unlike most dating platforms these days. Hell, even Tinder charges you to make more matches now.
The People Nearby is a nifty little addition. Most people are more willing to chat with someone who they can guarantee is within a reasonable distance to them. If you're using the mobile app you can use your phone's location services to make this easier.
Cons
Popularity levels: One thing that I can't stand about this site is that they have your popularity level displayed next to your photo on your dashboard. This sucks because not only is it a total trap to try to get you to pay for an upgrade, but it makes you feel shitty about your popularity on the app.
No one wants to be categorized as having a low popularity level… or worse… an average level.
"Play" Encounters: I really don't like that the site encourages you to "play" when you use their swiping feature. It gamifies the whole experience which to me cheapens it.
I think that if you're going to charge people for a hookup app that you should make it sexy and if you're going to charge people for a dating site you should make it romantic, you shouldn't make it a game. Or if you are, at least make it a sexy one.
Every Badoo profile has the bare minimum of information about them. It's hard to meet new people when all you know is their location and what they look like. This also makes it pretty hard to start a conversation with these people.
Fake profiles. All online dating sites have them, so this one isn't exclusive to Badoo. But still, it's a hassle to have to double check whether the other person is real before initiating a chat.
Not everyone is looking for the same thing on Badoo. That's the problem when your platform doesn't have a particular brand or intention, not to mention some people join up just for the social media aspect. Some singles are looking for casual encounters, while some singles might be looking for long-term love.
This is further problematic given that there's no option to put your relationship status in your profile. On Tinder, you know that that guy who's messaging you wants casual sex. On Badoo, it's a different story.
Conclusion
In all, I can't wait to deactivate my Badoo account. Badoo isn't a bad online dating platform, especially in comparison to some of the other duds out there, but it's very plain and run-of-the-mill.
There are a million other places that do what Badoo does and does it better. I like that it tries to be both a social network and a dating app, but plenty of other places that have pulled this off with more finesse and efficiency.
Regardless, customer satisfaction seems to be pretty high over on Badoo. Almost every review follows along the same lines as ours, but with millions of members, Badoo must be doing something right.
Personally, I'm more of a serious person when it comes to dating. However, if you're into casual flings, then Badoo will probably get you laid if you put the effort in.
3/5 Stars
We hope you've found our Badoo review helpful. Badoo can be downloaded for free from the iOS or Google Play app store.
Ready to try Badoo?
FAQs
What is Badoo?
Badoo is a dating site and social media hybrid platform founded in 2006. Its aim is to bring people together for casual dating, romance and more.
Is Badoo a legit dating app?
Yes, Badoo is a legitimate dating site with millions of genuine users all over the world. It's incredibly popular in South America and Europe moreso than North America.
How does Badoo work?
On Badoo, users can search their search parameters (gender, location, age range) and be shown users who fit their criteria. Badoo has a swiping and matching system in addition to the classic grid style approach.
How do I delete my Badoo account?
1. Login to your Badoo account.
2. Head to the "Settings" page.
3. Click "Delete Account"at the bottom of the page.
4. Select "Delete Your Account."
5. Select a reason and click "Continue."
6. Type your password then confirm your decision.