Another day, another dating site review. Today, we're looking at one of the newer online dating sites: One Night Friend.
The name makes it pretty clear what this site is about. Find a friend for the night, providing it's a friend you want to bang.
But how does One Night Friend compare to its competitors? Is it a revolutionary new dating site, or is it a scam like so many others? We've dug deep into One Night Friend to give you all the juicy details.
So grab a coffee and check out our in-depth OneNightFriend review here.
---
Recommended Dating Sites
While we don't recommend OneNightFriend, we can recommend these other hookup and dating sites. These ones have lots of real members who are all looking casual sex. If you want to sign up for a good hookup app, then these are our top picks.
Adult Friend Finder
Read Full Adult Friend Finder Review
Adult Friend Finder has been around since 1996, and is still one of the biggest adult dating sites in the game. We had great luck with this one, and it's definitely one of our favorites. The site also has a great community, live cams, member photos, and more.
UberHorny
While UberHorny is a newer hookup site, it's grown to be one of the better ones. It puts its users on the map and lets them chat and send sex requests to people nearby. The signup process is easy, and right away you can see all of the sexy singles who want to meet up for sex.
---
First Impressions
I did a little research before writing this review and all I can say is – ouch. Other reviews certainly haven't been kind to One Night Friend. Everywhere I looked it was called a scam and a bot-fest, which didn't exactly fill me with confidence.
But I persevered regardless and quite amazingly, One Night Friend made a good first impression on me. It has that modern black-and-yellow color scheme that many dating sites seem to employ, and the website is laid out professionally and it's easy on the eye.
The main page of One Night Friend doesn't have any major red flags as far as I'm concerned. While it has a number of good-looking "users" spouting off glowing review after glowing review, everything looked reasonably legitimate.
Initially, I noticed that all of the member testimonials were from people in the United Kingdom. I thought this was maybe just catered to me since that's where I live, but after reading around, I realized that this dating site is for UK residents only. So, if you're a US or Canada resident, you're wasting your time reading this. One Night Friend isn't for you (yet).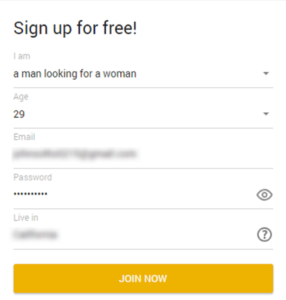 The registration process is right there on the right hand sidebar. You just have to put in your basic information; man, woman, age, email address and password and that's you done. You'll get a confirmation email verification link to your inbox and then your account will become active. After that you're free to jump right in.
While One Night Friend has a mobile app version available, I used the desktop version for the majority of this review.
Features
I began with a basic membership to get a feel for the site before taking the plunge. As with most dating sites, free users can't do a whole lot unless they upgrade to a paid membership.
Profile setup was fast but in fairness, profile information was quite limited. There weren't many options for personalization really. Members can only fill out a few boxes with their basic info; age, location, hair color, eye color and body type. Then there's the bio section where you can write a few words about yourself.
One Night Friend shows you all of the local site members within 100kms of you. As a free member, I could see member profile photos, but I couldn't dig into the profiles to get a better idea of the person behind the picture. I could send any messages either, so it was time to upgrade to the paid membership (more on that in the next section).
I could see profiles in full with a full membership, but really, they were all equally bare as mine. Very few users seem to stand out in terms of personality, and while they looked like genuine members, I had my suspicions.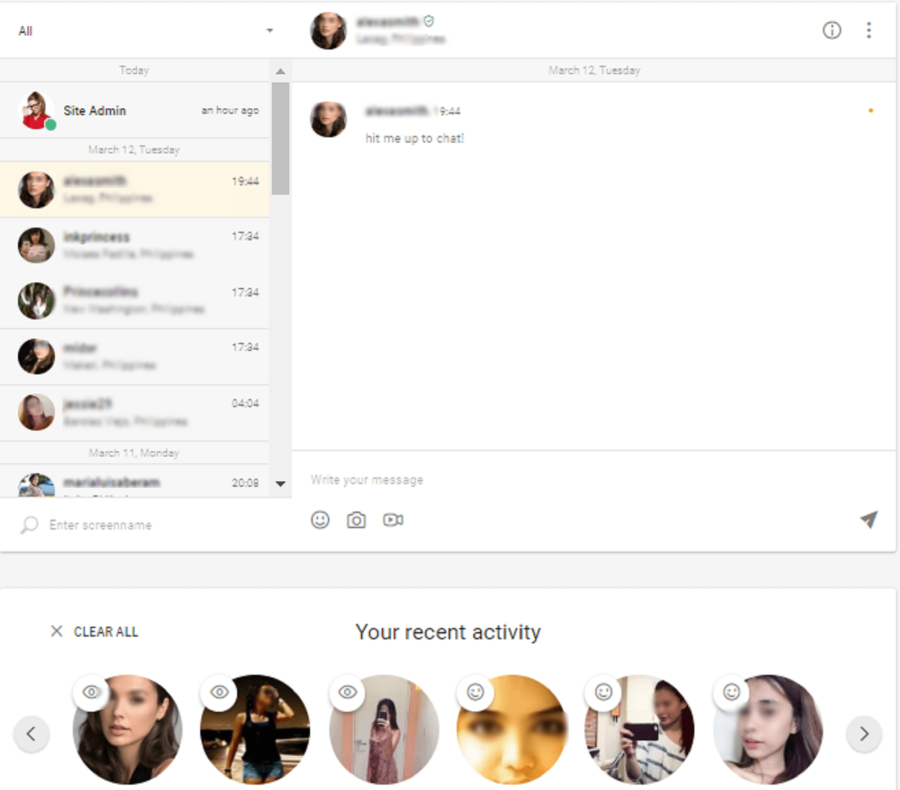 Worse than this was the influx of messages I received immediately after signing up. This is always a major red flag, especially when you're bombared with message after message from decent-looking women who were, in their words, "gagging for it." Yeah, this seemed a little strange. I know this is a place for hookups, but even hookups don't come this easy.
I ran some numbers on the user base and found a few interesting things. While One Night Friend claims to have "millions of users in every UK city," the real figure is much lower. There are around 32,000 registered profiles across this hookup site, much lower than the number they claim.
The key word here being "profiles." How many of these are genuine members? If I had to put money on it, I'd say very few. The site seemed incredibly lifeless, like a town made up of dolls instead of real people.
When you send messages, you can utilize "template messages," which are pre-written chat up lines designed to break the ice. If you're not very good at thinking up witty opening dialogue, this feature is pretty useful.
There's a gallery feature available where you can go through members and like whichever ones take your fancy. I'm not sure of the point of this since this isn't exactly Facebook. What's the point of liking photos when you can just send that person a message?
As far as features go on OneNightFriend.com, that's equally barebones. Outside of sending and receiving messages, there are no other interactive features to help users get to know each other. It's as stripped down as it comes, and this can be a good or bad thing depending on your preference.
One last feature I should point out is the "safe mode" and "full mode" option. When "safe mode" is active on your profile, members can only be contacted by users who have been verified. When full mode is on, any paid members can contact you.
As far as features go, that's really the lot. There's a little section with dating tips, and there are some links to external webcam sites (why?) dotted around the edges of the page.
Pricing & Membership Details
OneNightFriend.com has two membership, Free Membership and Full Membership.
As mentioned with the Free Membership, you can't access the site's most important features, i.e. viewing full profiles and messaging people. Here's what you can do with a Free Membership:
Sign up
Create your profile
Upload photos and videos
Limited number of likes in the Like Gallery
Basic search functionalities
But with the Full Membership, you can do all of these and more. Here's what a paid subscription will get you:
Message other paid members
Access to the member search tool
View full member profiles
View full HD photos of members
Access to the gallery feature
Sharing of photos and videos in chat
Access to customer support
Here's what a Full Membership costs. Note that prices are in pound sterling since this dating site is only available in the UK:
1 Month – £32.10 per month
3 Months £23.40 per month
6 Months £14.40 per month
All payments are taken in one lump sum. You can't pay on a monthly basis.
Considering that OneNightFriend.com doesn't have an awful lot going for it, these prices are quite steep. While the 6 month option isn't too crazy, it's a bit rich to ask for this much money in one go when the service is so lacklustre.
While there is sometimes a trial option available, it's only available during certain months. At the time of writing (January 2021) there's no such trial on offer.
Pros
Well, what can I say? When it's a struggle to think of a single positive, you kow this isn't the dating site for you.
The site looks pretty good. It's a breeze to navigate and you'll get to see some good looking women as you browse around. But really, it's not like there aren't already a million sites dedicated to good looking women. Besides, we're not here to look at women, we're here to hook up with them.
OneNightFriend.com is actually part of the Together Network of dating sites, which strangely, are usually quite good. The Together Network are known for their successful dating websites and their good levels of customer service. So I'm not sure what went wrong with this one.
The template message feature is a nice little tool which will help out the more shy users. But seriously, if the person on the other side of the screen isn't even real, what's the point?
Yes, I realize that I've soured every single one of these positives with a negative that follows it. Really, it's that bad.
Cons
The limited information in profiles means that very little effort has been put into account creation. Really, most dating sites offer something a little different to attract users, but One Night Friend doesn't offer anything new or unique. There's nothing that separates this from the million other dating platforms currently out there.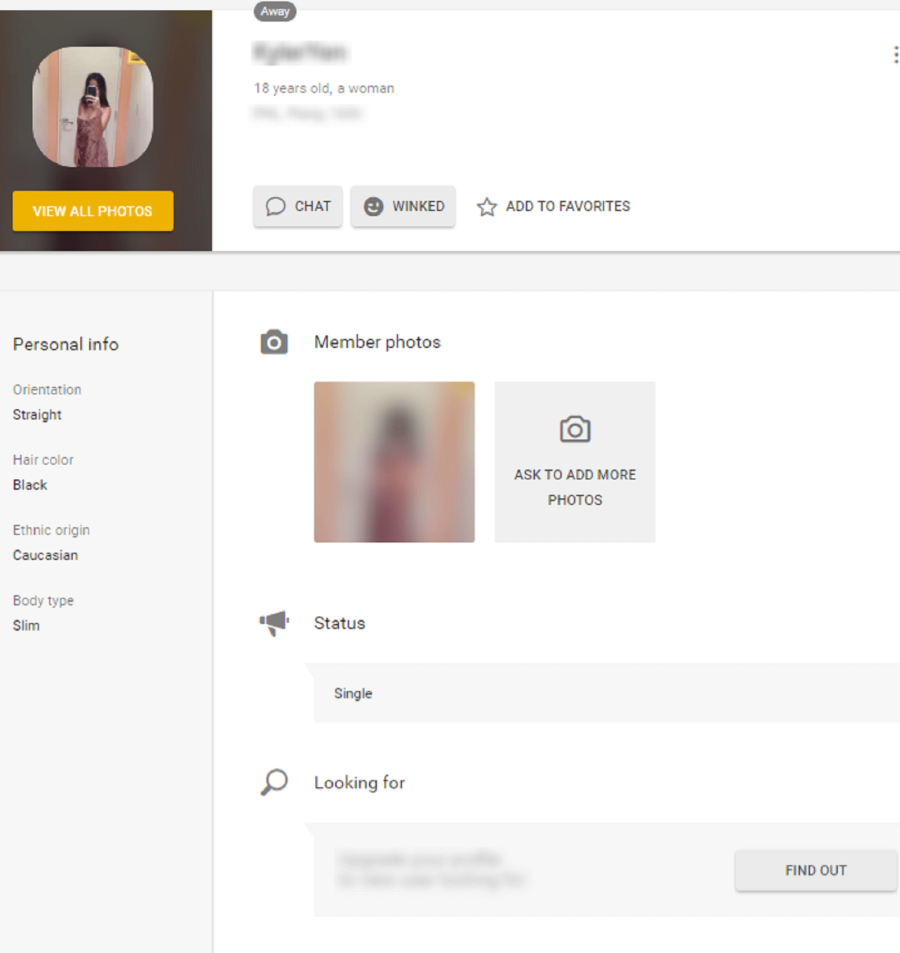 A complete lack of real people on here. According to the site's marketing team, the average age of a user on One Night Friend is 24. I find that hard to believe, since no 24 year old is going to hang around here for long. They might convince the odd technophobic boomer that it's a legit platform, but any tech-savvy young gun will immediately smell a scam site.
On the same subject, the main page also boasts "millions of users in every city." The UK only has about 66 million people in it, so that would mean a large percentage of the entire UK population has this app. I don't know about you, but I've never met anyone who's even heard of One Night Friend.
The lack of interactive features makes it pretty boring to use, especially when almost every other dating site has at least chat rooms or forums to interact on. This is just one of many red flags around the site.
Let's imagine for a second that OneNightFriend.com was a legitimate place to find dates. I'm quite confused as to whether it's a platform to find long-term relationships or hookups.
The name implies hookups, but there are constant references to people finding relationships through the site. So I'm a little confused. The branding isn't very distinct, so this seems like a missed opportunity to hook some more (real) users in.
The search function is very limited. I understand that age and location are important search preference for members, but the only other options are eye and hair color. Is anyone really that shallow that they're worried about the color of their hookup partner's eyes?
The lack of a day trial option is very revealing. Pretty much every dating site nowadays offers a short trial period, even if it costs a couple of dollars. This suggests that One Night Friend know that if users sample the site before committing, they won't come back. They're hoping people swallow the 6 month option because it works out the cheapest per month, and at which point, they've extorted the most cash you from you possible.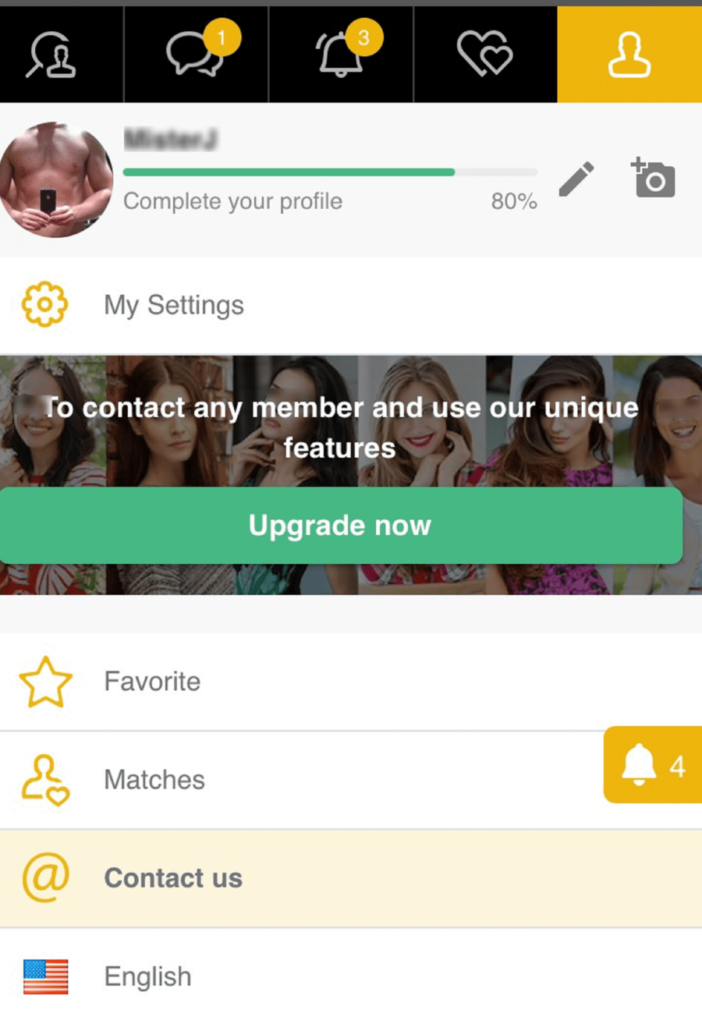 Fake profiles. Dead profiles. There wasn't much activity going on around the site. The list of online users rarely refreshed. It was the same faces time and time again. OneNightFriend is mostly a ghost town.
The affiliate links to cam sites. Nothing irks me more than when dating sites link to porn sites. It's kind of insulting when you think about it. It's like saying "you probably won't get laid on here, but here's some porn you can jerk off to instead." It's the consolation prize, not to mention it suggests that the site has nothing to offer you in way of hookup authenticity.
One Night Friend is only available in the UK. This isn't exactly obvious when you enter the site, so they run the risk of overseas customers signing up without realizing the error of their ways. This could piss quite a few people off, resulting in (even worse than this) reviews.
Conclusion
OneNightFriend.com is not a good dating site. In fact, it might be one of the worst hookup sites I've ever used. If you're a potental dater looking to get laid or find a relationship, go elsewhere.
It's a waste of money. Your hookup rate is absolute zero, users aren't real, and there are no features to enjoy.
There are a million better hookup sites than this one. I advise you to find another one. You'd have more luck getting laid through social media than you would on here, and that's saying something.
Overall, I'm giving OneNightFriend a measly 0.5/5 stars.
We hope you've found our OneNightFriend review useful. For more adult dating site reviews, please see here.
FAQs
Can I use OneNightFriend for free?
No. With a free membership, you can create a profile and browse other members' profiles on One Night Friend. To send and receive messages with other users, you'll need a paid subscription.
Is OneNightFriend legitimate?
No, One Night Friend is not a legitimate online dating platform. It's a scam site designed to take people's money. The service is loaded with bots, scammers and fake profiles. There are very few genuine members on One Night Friend.
Is OneNightFriend safe?
No, One Night Friend is not a safe dating site. The platform has a large number of fake and scam users, and could therefore expose you to potential threats.
How do I delete my OneNightFriend account?
1. Login to your One Night Friend account
2. Click on your profile picture in the top right corner. Click on "My Settings."
3. Scroll Down and click "Remove Account."
4. Enter your email address and password again and click "Continue" to delete your account.
5. Uninstall the app to permanently delete your account.
How do I cancel my OneNightFriend subscription?
1. Login to your One Night Friend account
2. Click on your profile picture in the top right corner. Click on "My Settings."
3. Scroll down and click "Auto-Renewal." This should switch Auto-Renewal to "off."
4. When your billing cycle ends, your subscription won't renew.