If you've spent any time on the dating scene, you'll have heard of Plenty of Fish, or POF as it's often known.
POF is one of the biggest names in the online dating world. Established in 2003, it's one of the longest-lasting and most reputable dating sites there is, boasting a massive user base of singles all over the globe.
But has Plenty of Fish evolved with the times? Plenty of dating sites which began around the same time have folded, so what keeps POF such a hotspot of dating activity?
We've scoured good old Plenty of Fish from top to bottom so you can decide whether or not this is the site for you. Read on for our in-depth Plenty of Fish review.
POF: First Impressions
About a decade ago, Plenty of Fish was one of the pioneers of the hookup scene. The site was mostly used by horny youngsters who just wanted casual sex, and POF was able to provide it.
But in 2021, POF has shed this reputation and become more of an all-encompassing online dating app. While we have no doubt that plenty of users find hookups on here, even more users are on POF looking to meet someone to grow old with.
First logging in to POF, there's no mention of hookups or casual sex anywhere. Even the imagery doesn't lend itself to that kind of scene anymore. Instead, POF proudly declares that it's a place for "dating for grown ups."
"Every day, our members are meeting their forever blanket thief, Ikea sherpa, personal spider hunter… you get the point. We couldn't be prouder of all the brave souls out there finding their other half."
Quite the turnaround. And I do have to say that POF's color scheme and imagery are definitely more catered towards the relationships crowd. I personally used POF back in the day (around 2010) and this modern iteration is a much different beast. The muted blue-and-pink color pallette is quite smooth and elegant and gives off a mature vibe.
After a little research, I found that Plenty of Fish has 90 million registered users worldwide. That's a lot of guys and girls looking to find someone. However, "only" about 70 million of these users have active member profiles.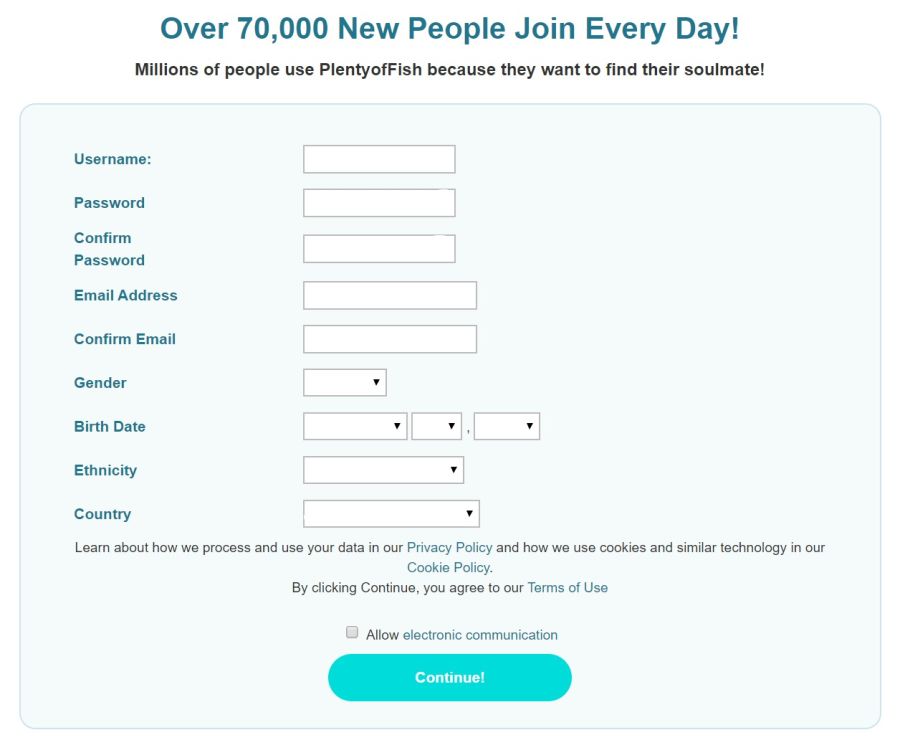 I couldn't view of the users on POF until I'd created an account, so I dived right into the registration process. Signing up was quite the intimidating process, unlike other dating sites which gradually ease you in. POF begins with a handful of questions and prompts you to input a user name, email address and location. I also had to provide a phone number for two-factor verification. Then I was prompted to create my POF account and profile.
One thing that caught my attention were the sheer number of advertisements loitering around the site. They were everywhere, on every screen, hanging constantly in the sidebars and in pop-ups. I understand that POF has to make money somewhere but the ads were more than a little distracting.
Overall, first impressions of POF were great. The site (both the desktop version and mobile app) was sleek and user friendly. The page was inviting and pleasing on the eye. I wish there was an option to check out some of the singles before signing up, but that was my only gripe.
Features
As you set up your profile, you'll be taken through a number of multiple choice questions. To be honest, this was very in-your-face, as POF throws a million questions at you at once. Some sites tend to drip-feed these compatability questions to you, but not POF. They go for broke right away. Check out any POF review and they'll have the same complaint.
Honestly, the questions felt like they never ended, but they were mandatory in order to create my profile. The first "Personality Test" covered my personal information, such as what type of person I was; my goals, ambitions, dreams, my self-confidence levels, introvert or extrovert, etc.
And the questions didn't stop there. Next came the "Chemistry Test." These questions were all geared towards the type of relationship and partner I was looking for; my ideal person, my preferred body type, my preferred personality type, etc.
Finally, the questions ended, and I was free to search the app as intended. On the right hand side of the screen, I was shown all of the new users to the dating site. They seemed to change every time I refreshed the page, so there's no doubting the number of users on here are legit.
Below that was a tally showing exactly how many conversations were ongoing on POF at that very moment. Exactly what constitutes a "conversation" I'm not sure, but this figure hovered between 2 and 3 million conversations every time I checked it. It seems that POF is desperate to know that its users are all real and all interactions are genuine.
It came as a nice surprise to know that POF Dating is still totally free to use. You can browse profiles, check out profile photos and send messages without having to spend a dime. Most dating apps seem to cost a little something these days, so it's nice to know that POF has stuck to its guns and never charged its members a thing.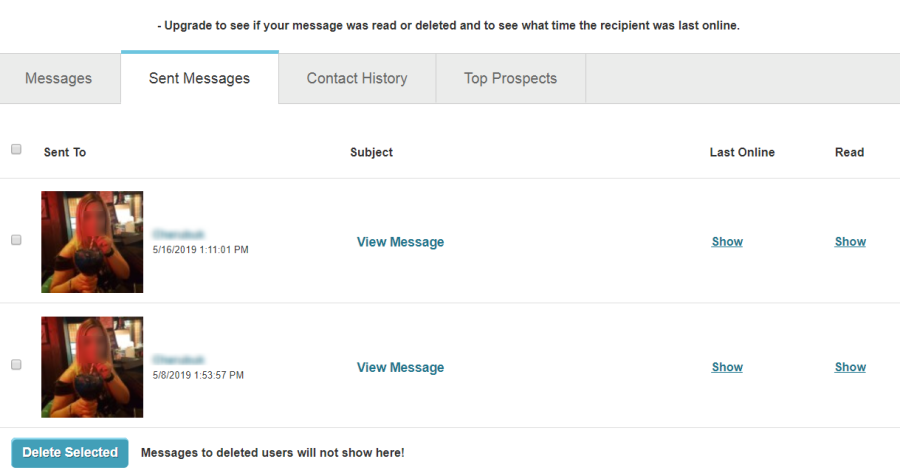 Messaging people was easy. After you've opened up someone's profile, hit the "send a message" tab and it will open up a new screen for you to woo your potential new lover. If you're struggling for conversation starters, there's an option to paste in a number of pre-written messages. But I'm guessing women get these a lot, so maybe don't use the pre-written messages if you want to stand out.
In addition to scrolling through members at your leisure, Plenty of Fish also offers a matches system like Tinder or Bumble. Thanks to your previously-taken Chemistry Test, the site matches you with members that should fit your criteria like a glove. Whether they do or not is down to personal opinion, so you'll have to check out your matches for yourself to decide.
With matches, you're only able to see the person's profile pictures before swiping left or right. You're not able to view their profile. The matches system is based solely on physical appearances, as per usual. With every match, the "Relationship Chemistry Predictor" will give you a rating of how compatible you are with your current match, from 1 star to 5 stars.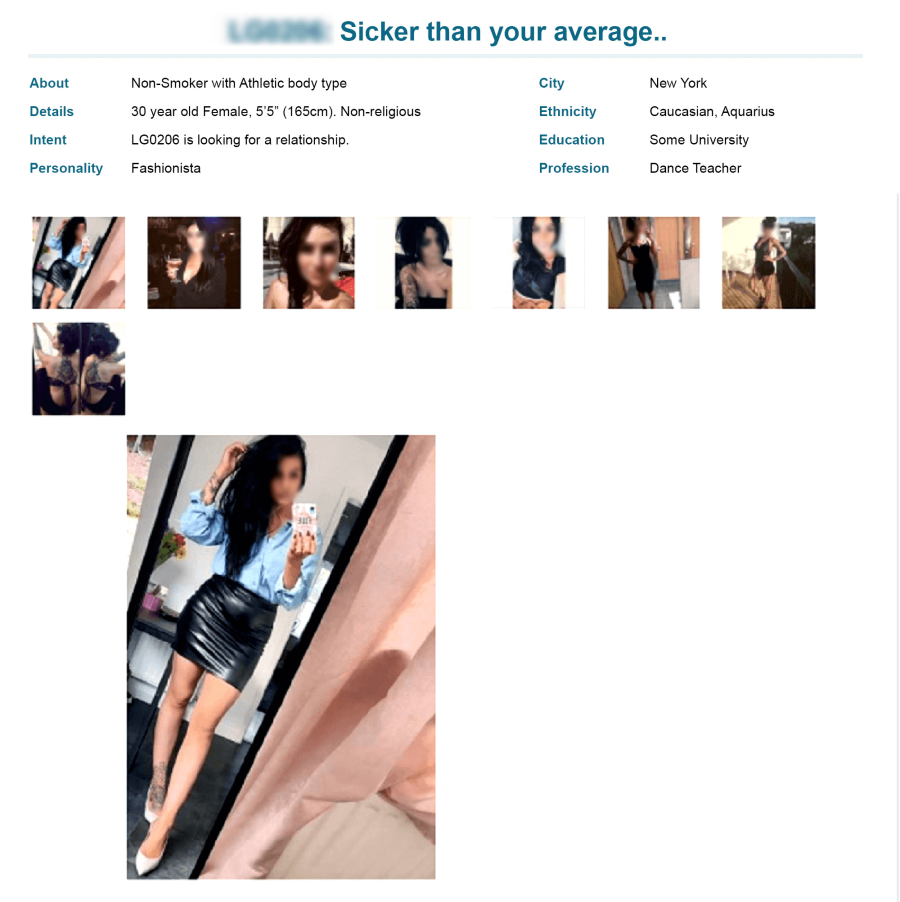 Once a week, you're given an "Ultra Match," which is a match guaranteed to tick the majority of your boxes, from sexual compability to your desired personality traits. Once again, you'll have to get messaging to find out if it's true or not.
There's no denying that the user base on POF is extensive. Scrolling through members, I didn't come across the same user twice. The number of fake profiles are kept to an absolute minimum too.
When it comes to search options, Plenty of Fish does good again. The search feature is as advanced as any dating app search function I've used anywhere. You're able to search people by age, location, body type, ethnicity, education level, income level and more.
POF is also none one of the few dating sites that lets you perform a username search to find someone specific. Search results can then be narrowed down by more search filters should you desire.
Outside of direct messaging, there's really not a whole lot of ways to interact with people on the site. You'd assume that a dating site of this magnitude would have chat rooms and forums but there's nothing of the sort.
Pricing & Membership
POF is a completely free online dating site. You can view profiles, exchange messages, create your own profile and much more without having to spend a penny.
However, that doesn't mean the site doesn't get you to spend money when it can. There is indeed a membership package available on POF, but if the site is totally free, what does paying get you?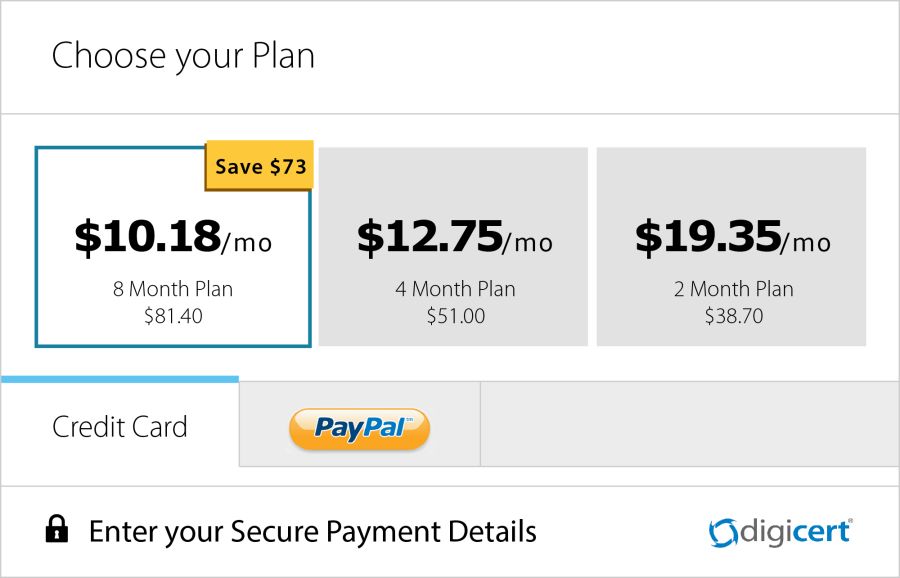 Premium membership costs break down like this:
1 month – $19.99
3 months – $38.70 ($12.90 per month)
4 months – $51.00 ($12.75 per month)
8 months – $79.92 ($9.99 per month)
12 months – $83.88 ($6.99 per month)
As a premium member, you're given a few perks which free members don't get it. Your profile will be highlighted on the "featured profiles" section, regardless of how complete it is. You'll unlock the "priority message" feature, and you'll be to see which people have viewed your profile.
You'll also get a read reciept option for sent messages and all ads will be removed from the site. And in fairness, there are a lot of ads sprinkled around the page.
Compared to some other dating apps, these prices aren't so bad. They're definitely on the lower side, so for some members a premium membership could definitely be worth it.
Other reviews have been pretty harsh on the pricing and incentives, but honestly, we feel everything offered is pretty fair.
Pros
Plenty of Fish has a lot going for it. There are a ton of positives to get through, so let's hit them one by one.
POF is the quintessential free dating app. Personally, I think free dating sites and I think POF. The two are interlinked. You can enjoy the site to its full potential without having to hand over your credit card details. In the modern age, this is a rarity, so POF should definitely be commended for providing a completely free service.
Even though Plenty of Fish markets itself an app to meet the perfect man or woman in your life, there are just as many men and women on here looking for short term fun. So, you'll have plenty of choice regardless of your relationship preferences.
On the same note, the vast user base means that you'll have plenty of options available no matter what you're looking for. A revolving door of new site users are displayed on the site or app home screen, and if the little note is anything to go by, new women are more likely to respond to your messages. You'll never be short of people to message on Plenty of Fish.
The average user age is 24, which is quite young in comparison to platforms like Match and Zoosk who have an older user base. For whatever reason, POF appeals to the younger crowd, possibly due to its previous incarnation as a hookup site. So, if you still have youth on your side and you want a serious relationship, Plenty of Fish is a top choice.
The search function is as good as search functions come. You can search by pretty much any criteria you want and it will bring back a mass of relevant search results. You can also search by username if you're looking for someone in particular and you know their ID.
The man-to-woman ratio on Plenty of Fish is not exactly equal, but not super heavy one way or the other. Most dating sites are a sausage fest, but on POF the men only outnumber the women by a few percent. It's definitely not noticable in any way, especially given there are 70 million people hanging around here.
The video chat function is a nice addition. Usually, video chat is only available for premium members but POF gives it away to everyone. This is a great way to build a rapport with someone if you're sick of sending written messages.
POF uses two-factor authentication to sign up through the use of your phone number, which helps keep away fake profiles and scammers. Indeed, for a site of POF's size, you'd expect to find a mass of fakes as you scroll through women. However, there are surprisingly few. This is a testament to the usefulness of two-factor authentication.
Even though it's completely not needed, the premium membership is relatively cheap compared to similar dating apps. The incentives to get the premium package are sorely lacking through, which is both a positive and a negative depending on your point of view.
Cons
Every dating app has its downsides, and POF is no exception.
The sign up process could be a little less daunting. Having endless questions thrown in your face as soon as you click sign up is definitely off-putting. I dread to think how many people this has dissuaded from joining the site at all.
The messages system is just… fine. For a site of this caliber, I honestly expected much more community spirit. The other big name apps like Adult Friend Finder and Match all have extensive community-building features like chat rooms and blogs, and some of the more raunchy places have member-submitted adult content too.
Direct messages are the only way to communicate with the women on here, and I think that's missing out on a golden opportunity. Some of the best relationships on dating sites are forged as a result of unexpected bonding, like in a chat room or a forum.
Check any other POF review and you'll probablyhear people complain about the lack of customer service availability. While the site does have customer support on hand to help out with account or profile queries, it apparently takes a long time for them to fix your issue. This suggests that a lot of members have problems, or that the site is under-staffed.
While video chatting is an option for upgraded members, POF doesn't allow profile videos. This is a bit of downer because profile videos give an air of legitimacy to a profile, especially if the person behind the profile is amazingly hot. Your immediate thought is always "scammer," but a video would help convince you otherwise.
If you're a woman, you're going to be bombarded with messages from the word go. The average age of a POF member is 24, which means a lot of them are still in that unsolicited-dick-pic sending phase. If you're a guy, you'll probably be fine.
For those who don't sign up for upgraded membership, there can be a lot of ads dotted around the app. They're found in the sidebars, in pop-ups and even in the your messages. it can get a little much.
The premium membership doesn't offer much, so there's very little incentive for anyone to purchase it. Aside from the highlighted profile feature, all the other perks are quite minor. Even the ads are bearable, so people won't exactly be desperate to get rid of them. It's not just who thinks this either; every Plenty of Fish review says the same thing.
Conclusion
Aside from a few minor niggles, POF is a dating site without equal. For people seeking someone to build a future with, you won't find a more perfect dating app than Plenty of Fish.
While other sites like Match and eHarmony do the same job as POF, the fact that POF is a free dating service shoots it right to the top of the pile.
Sure, there are some downsides, but every online dating app has their shortcomings. However, POF does its best to minimize them and learns from its mistakes.
Overall, I'm giving POF a hearty 4.5 out of 5.0.
We hope you've enjoyed our Plenty of Fish review. For more dating app reviews along the same lines as POF, please check out our adult dating section.
Ready to Try Plenty of Fish
FAQs
What is Plenty of Fish?
Plenty of Fish is a reputable, free online dating site which has been used by people the world over since 2003. As of January 2021, the site boasts an impressive 90 million members, with around 70 million active profiles.
Plenty of Fish caters to singles who want to meet their future partner and begin a long-term relationship, although there are some members seeking short-term engagements.
Is Plenty of Fish a scam?
No, Plenty of Fish is not a scam site. It's a genuine dating platform made up of real members. Males, females and couples use the site to fulfil their dating and relationship needs.
While you may on occasion run into scammers on the site, these members are not affiliated with Plenty of Fish in any way.
Is Plenty of Fish free?
Yes, Plenty of Fish is a completely free site to use. You can message, browse and search members without having to pay a thing.
While there is a premium membership option available, it isn't required in order to enjoy the site to its fullest extent.
How do I cancel my POF membership?
For those using the desktop site, login to your account and go to "Settings," then "Account." From here, turn off the Auto-Renewal feature. Once your membership reaches its expiry date, your account and profile will be deactivated. It will also unlink from any social media profiles you might have connected to it.
For those using the mobile app version, you can head into the settings pages in either your iOS or Google Play stores and deactivate your account from there.
Is POF better than Tinder?
POF is better for people who are looking for long-term committment, while Tinder is better for people who want casual sex and short-term flings. Both online dating apps offer free membership.
Is Plenty of Fish better than Tinder?
While it depends on your personal preferences, Plenty of Fish does have a much more extensive member base than Tinder. However, POF caters to those seeking a long-term relationship, while Tinder is more designed for hook ups and short-term affairs.
Is Plenty of Fish good for hook ups?
Yes, Plenty of Fish can be used to find casual sex in your area, however, the site is more catered towards those looking for love and long-term relationships. But there are a number of POF members seeking casual arrangements too.