Being a Christian and trying to date is hard. You want someone who shares your values and beliefs, but also understands that God comes first and that church activities could preoccupy your time.
Oh, also finding someone that wants to go to church with you.
If you've tried regular dating apps, then you know that religion is either hit or miss. Most people wouldn't think of going to church as a 'date,' and some people say they have a religion but aren't really that religious, and never go to church.
But there's no reason to give up hope just yet — not when there's ChristianMingle!
You're bound to have heard of Christian Mingle at this point in your life, as a single Christian, and also if you've ever owned a TV in your life. Remember those commercials?
If you haven't tried Christian Mingle yet, you're seriously missing out on probably the best dating website for Christians of all traditions out there. Everyone on the app takes their religion as seriously as you do, and sharing the same beliefs and values is a given without even having to talk to them first. It makes dating as a Christian so much easier.
If you're tired of just checking off a box in your dating profile to mention your religion, and instead want to make it the center of your relationship, then Christian Mingle is your best bet.
To give you an idea of what you'd be getting into by downloading yet another dating app to your phone, and how it's different, here is our in-depth ChristianMingle review.
First Impressions
My Christian Mingle review got off to a good start, because the Christian Mingle website looks great. It's professional and modern with just the right amount of cheese, by which I mean stock photos of smiling couples. Below that are a fet testimonials details the various success stories members have had on the site.
According to the tagline, Christian Mingle is an online dating platform for faith-driven men and women to meet other Christian singles. It's a place to find love and deep connections – not hookups, since the whole casual sex scene doesn't really gel with good Christian values.
After downloading and first opening up the app, you have the option of signing in with your Facebook account or manually input your info by using your email address. All the best dating sites offer this service, so another plus.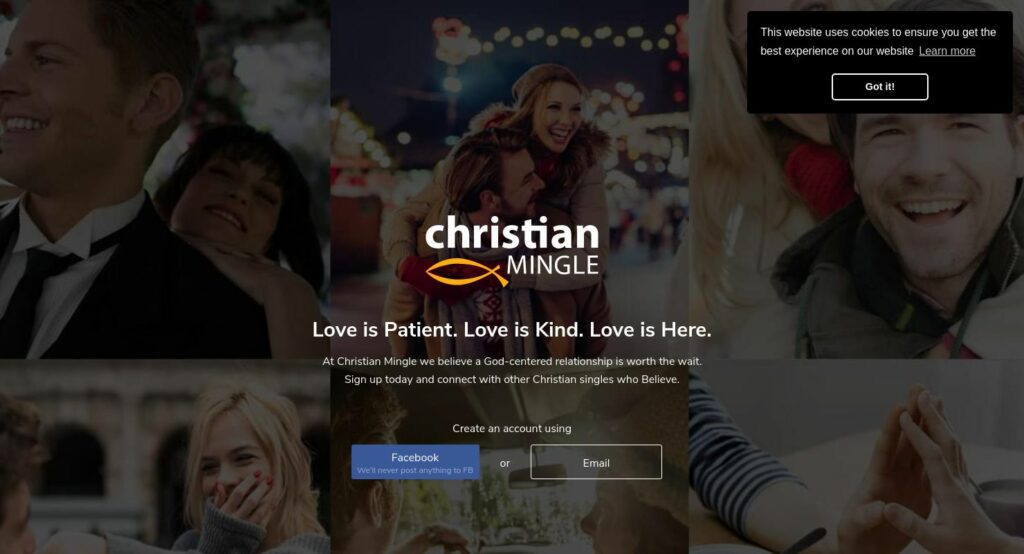 The process is pretty standard for any other dating sites you use; set a password, enter general information like name, age, gender, etc., upload your profile photos, and select details about yourself. This is where you can select your religion, which includes all denominations of Christianity such as Assembly of God, Catholic, Baptists, and even non-denominational. This is great for religions like Christianity and Judaism which have different denominations! 
You can also detail how often you go to church, which is great if you're looking for members who go the same amount as you, or maybe even more or less. For my ChristianMingle profile, I selected that I attend church every week. You can also say if you have or want kids, your occupation, and your level of education in this step.
After you write your profile description, you can choose a few of your interests that other people can see. Music, activities, travel, and sports are a few of the categories you can choose options from. 
Now, it's time to detail the type of singles you're looking for. If you're not going to take the time to make your profile awesome and tell all about yourself (which you should), then you definitely want to make sure you select all the correct filters for your potential match. These are gender, age range, distance from you, religion, and most importantly, the relationship type you're seeking.
Once you've completed all these steps, your profile is done. However, all profiles have to go through the profile review team before they're allowed on the site. You can speed this process up by becoming a paid member right away.
A screen will come up recommending you to upgrade and mentions all the cool features that members receive, but we'll get more into that in just a sec. You don't have to upgrade at this time and can skip it for now.
Features
ChristianMingle has five tabs to navigate through the app. Your home screen when finally logged in and in the app is the 'Browse' page, where you can see all new profiles, or tab over to 'Online,' those within distance, your match percentage, and 'LookBook.' The Lookbook is where you get to do all the fun swiping!
Just kidding, I know we're all pretty tired of swiping left and right, but it's an easy way of trying to match with other users. If you'd rather scroll through profiles and see more than one at a time, then all you need to do is view profiles in any of the other tabs mentioned on the 'Browse' tab. 
You can always refine your preferences for members in this area, as well.
The next tab is where you can find all your message activity, as well as smiles. While messaging is reserved for paying members, anyone can send smiles to people to hint that you're interested in talking to them. If you haven't purchased a membership yet, but you smile at someone who has, they can reply to you. Or if you happen to catch the attention of someone who is a Premium member by smiling or otherwise, you can message them if they message you first.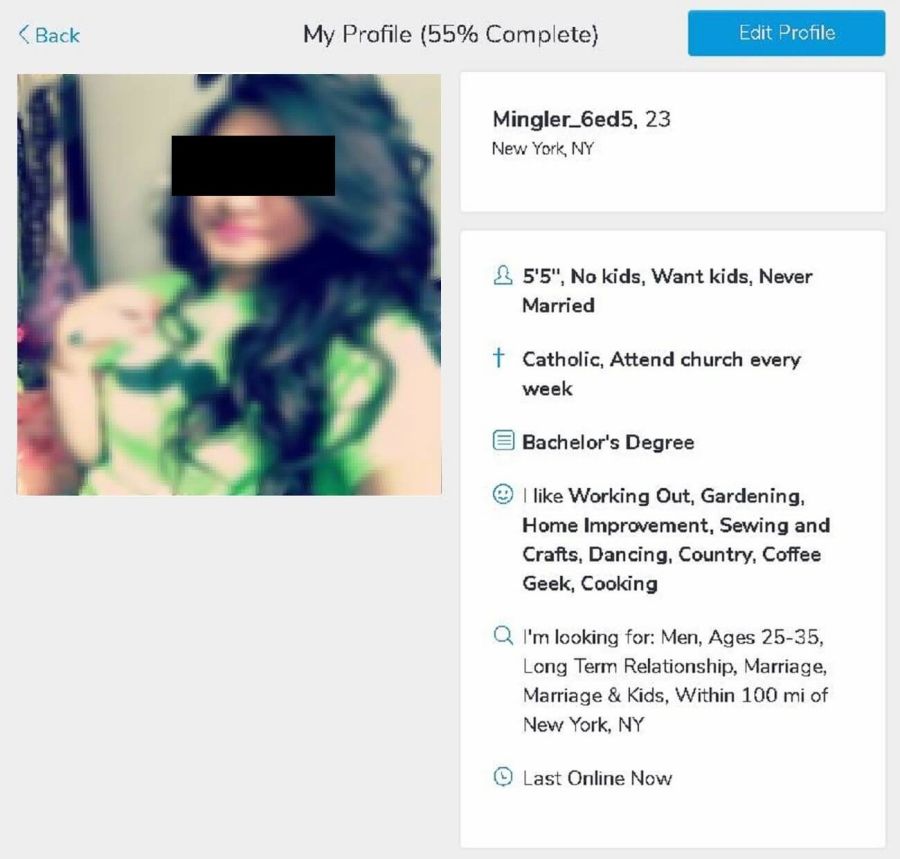 You don't have to worry about read receipts, however, because those are available for free members too.
The 'heart' tab, next to the messages tab, is where you can view your match summary and see all of the singles you've matched with.
The next tab is where you can view all of your activity, from users who've viewed you, mutual likes, users you've viewed, and who you've liked. It's a good tool to keep track of the users you're into so you never lose anyone while browsing.
Finally, we have your profile tab where you can edit your preferences and settings, as well as upgrade your Christian Mingle account. If you ever want to make any changes to your profile or how you use Christian Mingle, this is where you can do that.
There's not really much else to ChristianMingle — there are no fancy features to keep you glued to the app, which can be a good or bad thing depending on your preference.
As far as dating sites functionality goes, Christian Mingle hits all the sweet spots. It's not overly complicated by unnecessary features but it's not so barebones that it becomes boring.
Pricing & Membership Benefits
There are three different plans potential subscribers can choose from on ChristianMingle. Members can choose between a six-month, three-month, or one-month subscription.
The six-month plan is $24.99 per month, the three-month option is $34.99 per month, and a one-month subscription to ChristianMingle is $49.99.
For the purposes of this Christian Mingle review, I opted for the one-month option. In hindsight, I wish I'd gone for the six month one since the site is a joy to use.
All of these plans run on an auto renewal schedule. That means they'll keep renewing every expiry date until canceled, and you're always billed as a one-time payment. That is, you'd pay $149.94 for a six-month membership, which equals to the $24.99 per month.
The only thing a Premium membership unlocks is the messaging feature, but when you think about it, that's pretty necessary in order to date off an app. You need to be able to talk to singles and set up potential dates. 
So unless you want to wait around for a Premium member to message you first (which is rare, unless you're a girl), you're better off getting a subscription of your own.
Overall, I personally think these prices are on the high side. While most dating sites hover around the $30 mark for a month, it's rare to find one over $40. But Christian Mingle really goes full throttle with $49.99 per month. I don't think you'll find many potential users who'd opt for the one month package.
Pros
Christian Mingle makes things easy right from the off. It looks and runs like a dream. It's bright, professional and does its best to create a community of like-minded Christian men and women.
Everything about Christian Mingle is uniquely wholesome. I've never used a Christian site before, and honestly I thought it might be full of what most people would term Jesus freaks. There's nothing like that on Christian Mingle. The community is positive, uplifting and very willing to engage with other members.
Registration is quick and easy. It's just your name, email address and password. Having to wait for profiles to be approved sucks, but it helps weed out scammers.
Christian Mingle is a niche online dating site, meaning a particular type of people are on this dating site that you want to meet – those people in this case are Christians looking to connect. You have the potential to find someone off a dating site that is religious and holds God at a high value.
There are a lot of users on ChristianMingle. Depending on how wide your distance range is, you can find tons of singles, and even if it's not so big, I can guarantee there are singles on ChristianMingle in your area no matter where you live.
The best thing about ChristianMingle is that everyone wants to have a serious relationship. There's no guessing or hoping that who you're talking to wants something more than a casual hookup like you would on most other mainstream dating apps. These are all singles looking to settle down with you. 
Christian Mingle is big on safety, security and customer service. The security on this site is second to none. All of your personal information is kept private and won't be sold to third parties
Hardly a fake profile in sight. Of all the members I sent messages to, none of them came across as phony or scammy to me. This is a testament to the profile review process and Christian Mingle's commitment to providing a pleasant user experience.
The search function is pretty great. You can search members by keyword, or you can fill out a series of pre-selected boxes to narrow down your criteria further. This includes body type, age, location, education, income and church visit regularity. Search results are organized by closest to you.
There's both a website version and app version of Christian Mingle. The website is also optimized for mobile browsing too. So whichever route you choose, you can be chatting to that hot Christian girl while you're on the move. The app is free to download too.
Cons
The biggest negative to ChristianMingle is their messages service. If you don't pay for a membership, and you really want to talk to someone, but they don't have one either, you'll never get the chance to exchage any messahes. So basically, if you aren't willing to pay for a subscription to Christian Mingle, there's no point in using it.
Every profile has to go through the Christian Mingle profile review team. This means that profiles can often take around 48 hours to be approved, meaning the initial momentum of signing up will have disappeared.
Even though every online dating site has it now, I hate the auto renewal feature. I think it's a cheap way to con users into parting with their money without them knowing.
The Premium Membership will put your credit card under a little strain, especially the 1-month package. While the 6-months deal is a little less steep, it's still a lot of money to part with for an online dating site. You won't find many subscribers willing to pay $49.99 for a single month.
While it's great that most of the users on Christian Mingle are looking for long term love, there can be a lot of 'get to know you' talk before a date is locked in. These women don't just throw themselves out there for any old member. It can take a bit of rapport-building before you can progress to the next step.
I'm not saying there's anything wrong with this approach (safety first and everything), it just might be a downside for those users who like to jump in and meet up right away.
When you send messages, you're sent one back when the woman on the receiving end reads it. I know read reciepts are loved by some people, but all this does is induce anxiety. Users should send messages and then forget about it, but a read reciept makes you dwell on it. "Why hasn't she responded to my messages yet? Does she hate me?"
Conclusion
ChristianMingle has had so many success stories for a reason — they're a truly great app for Christian singles looking to date. I had a lot of fun doing this Christian Mingle review – something which I definitely didn't expect.
If you're someone who takes your religion seriously and want to meet someone who does too, but you don't have the time or patience to wait for them to come to you in real life, why not try out the dating sites?
Why not let that app be ChristianMingle? Christian singles are waiting for you, so for the love of God, go out and meet some.
I give ChristianMingle 4.5/5 Stars!
We hope you've enjoyed our ChristianMingle review. For more reviews of dating sites, please see here.
Ready to try ChristianMingle?
FAQs
How does ChristianMingle work?
Christian Mingle is a Christian dating site designed to bring together men and women who hold deep religious beliefs. Users are free to browsw through members and message anyone freely.
Is ChristianMingle a scam?
No, Christian Mingle isn't a scam site. It's a legitimate Christian dating service with millions of legitimate users the world over. It's one of the biggest Christian dating websites on the internet.
How do I cancel my ChristianMingle subscription?
1. Log in to your Christian Mingle account
2. Click/tap the photo thumbnail, or ☰ if using the app, and then select Account Settings
3. Click/tap on "Manage Subscription"
4. Click/tap "Stop Subscription", which will stop any future billing
5. Select the reason for ending your subscription, select "Continue", then click/tap on "Stop Subscription."
How can I delete my ChristianMingle account?
1. Log in to your Christian Mingle account
2. Click the thumbnail of your Profile Photo in the upper right corner of your Profile Page.
3. Select "Account Settings".
4. Click on "Profile Display Settings".
5. Click on the "Permanently Delete Profile" button.
How much does ChristianMingle cost?
A Premium Membership on Christian Mingle costs $49.99 per month. While you can register, create your profile and browse member profiles for free, you can't send or reply to messages without upgrading.
Can I use ChristianMingle for free?
You can register, create a profile and browse member profiles for free on Christian Mingle, but access to other areas of the site is limited. If you want to message other users, you'll need to upgrade to the paid membership at $49.99 per month.