BBWCupid: Curvy Women Dating & Chat Site
Looking for the perfect dating app for meeting BBWs?
You just might've found it. If you're looking to meet BBW singles for long term relationships or for a casual hookup, you can find it on BBWCupid.
If you haven't heard of it, BBWCupid is one of the leading online dating sites for people who love big beautiful women and big handsome men. To know more about this BBW dating site, read on for an in-depth review.
First Impressions
BBW Cupid is a relatively simple site that's easy to use. Their web page has a clean and well-designed layout, and if you have an Android, the BBWCupid app is even more simple to navigate. BBWCupid is part of the Cupid Media network that operates over 30 niche dating sites, creating a platform to help people find exactly what they're interested in.
You can find the sign-up box easily since it's the first thing you notice when on the site. If you scroll down you can read some more about BBWCupid and see real testimonials of men and women who've found love using this dating internet site. Further down, there's a short description of the 3-step process it takes to get started talking to real big beautiful women on the site.
This starts with creating your profile, where you can add photos and describe yourself as well as your ideal partner. You just need to enter your e-mail address, name, age, gender, and location. Once you've entered all this information, you can browse your recommended matches which will pop up right away when logged in, or finish setting up your profile.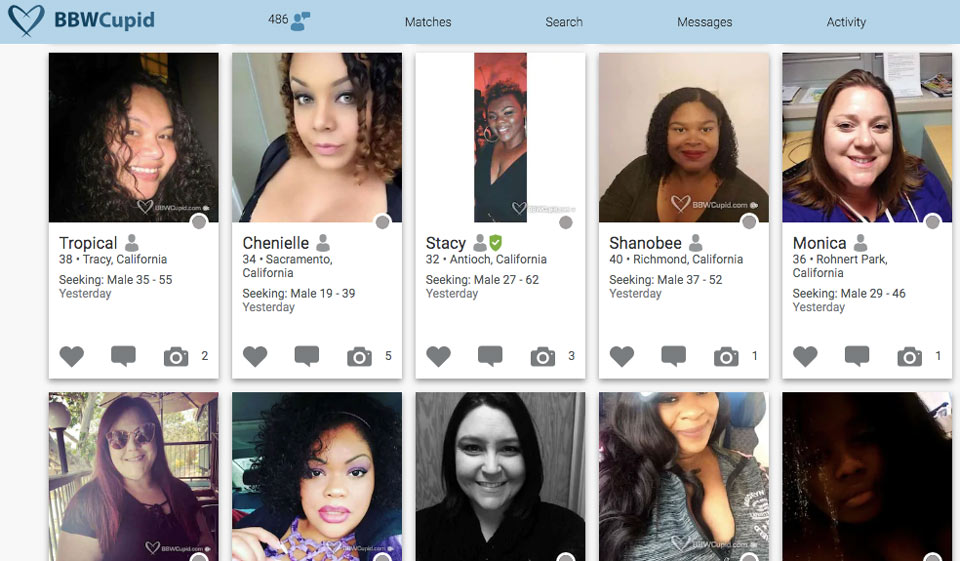 There are many ways to customize your profile and add information about yourself on BBWCupid to make yourself stand out, and this is one of the reasons why this site is different from others.
For one, you can edit your profile by filling out your appearance, such as what your hair color and length is, your eye color and body type, and if you have any body art, among other questions.
You can also fill out some lifestyle questions which deal with things like whether you smoke or not, your marital status, number of children, occupation, and the type of relationship you're looking for.
You can also edit your background, cultural views, as well as adding a description of yourself and your potential partner in your own words.
If you want to keep adding things to your profile to make yourself stand out to other users, you can edit your match criteria to fit what you're looking for perfectly. This is one of the best and most specific match criteria I've seen in the dating website world. You can select their height, weight, if they drink or not, their nationality, level of education, and age range, among other things.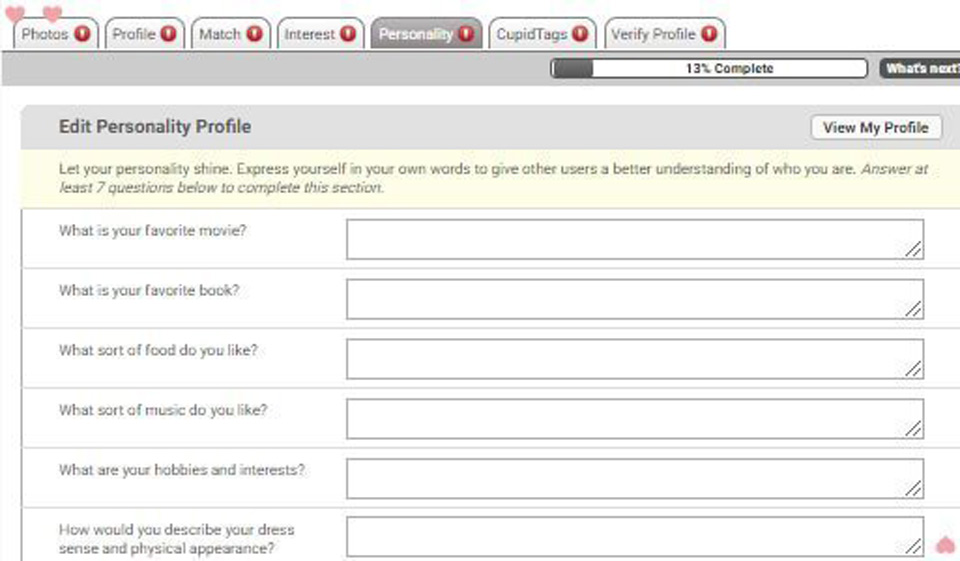 Also, there are some personality questions you can answer to tell other users more about yourself. For instance, you can detail what your favorite book is, describe your sense of humor, where you've traveled, and even how adaptive you are to having a partner from a different culture. The questions are associated with a personality test that helps the site to find you the best matches.

Overall, the registration process on BBWCupid is easy and does a good job of building you a complete profile. BBWCupid is a great site to use if you like to get more personal in your internet dating apps, and I like that you can tell so much about somebody just from their profile.
Features
There's a lot of great tools you can use to make your online dating experience with BBWCupid.com the best. For starters, whenever you log in, you'll always see a list of big beautiful women. If you like what you see, but want to get even better matches, you can use their "Improve Matches" tool, which takes you to the edit match criteria feature I mentioned previously.
Another feature you could use to find more matches is their Advanced Search engine. With this free search tool, you can crack down a match to the time they were last active, their gender, age, location, and if they have a profile picture or not. It seems most women on this site are from the ages of 25 to 34.
You can also see a list of BBW singles who are currently online, which stays at an average of 400+ people at any given time, and see who's active.
Not only can you send a message to other members of BBWCupid, but you can use the "Send Interest" button to show them you like them.
BBWCupid also has an Activity tab where you can see who's interested in you, who's added you as a favorite, and who's viewed your profile. You can view all of yours, as well.
Each member has an inbox where you can view messages from other users. To prevent any unwanted messages from users who don't match your criteria, BBW Cupid also has a message filter feature to help with that. Here you can select criteria for the people you're only interested in receiving messages from.
There is a chat room feature, where you can join like minded people in a group. This established chatting platform is great if you just want to chat online before you begin searching for a real life match.
Pricing & Membership Benefits
Of course, like with many other online dating services, you can unlock more features when you upgrade your free BBWCupid membership to their premium service.
You can be either a Platinum member or a Gold member on BBWCupid. Platinum membership costs $10 per month for one year, $20 per month for 3 months, or $29.98 for 1 month.
Similarly, you can get a Gold membership for $8.33 per month for 12 months, $16.66 per month for 3 months, or $24.98 for 1 month.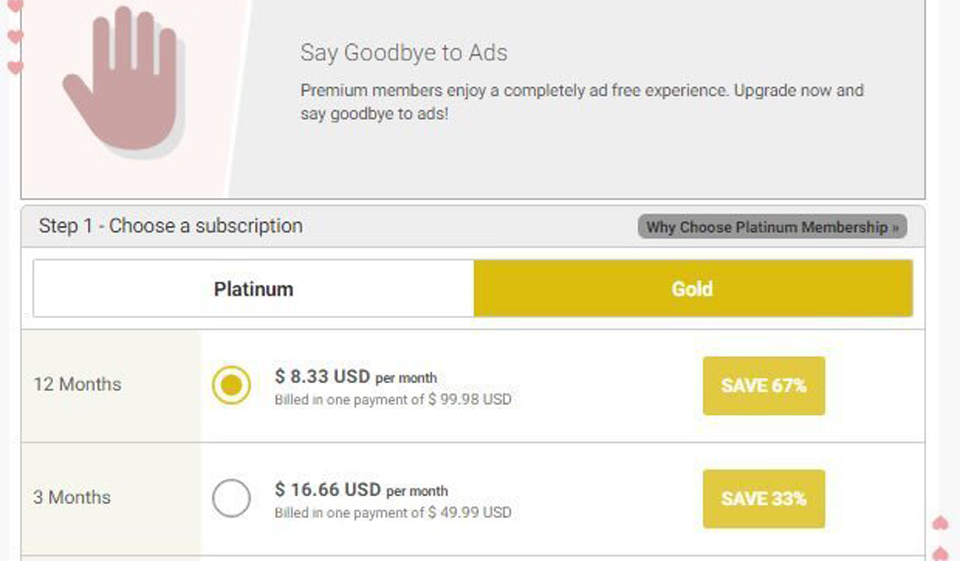 If you choose to get a one-year membership for either plan, you'll be saving a significant amount of money than just renewing a 1-month deal every month. The Platinum membership runs at $120 for one year, and the Gold is $99.96.
Now, what is the difference between both memberships, and what do you get with each on this incredible website?
You get a lot of the same features with either a Platinum or Gold membership, but there are 6 distinctly different features only Platinum members receive.
Platinum members can have their profiles rank above other members, double their profile space, get VIP profile highlighting, exclusive search features, advanced matching algorithms, and can translate messages into your language from people in other countries.
Besides that, Platinum and Gold BBWCupid members can enjoy features such as communication with all members, live chat with instant messenger, send and receive messages, no ads, and can hide your profile and browse anonymously.
Now let's get into the pros and cons.
Pros
First off, the design of BBW Cupid is fantastic, and you'll love the simplicity of it. BBWCupid also has so many active users a day that you can always find at least one person to get in touch with every day that you log on, and you'll always have matches. They're a trusted site, and millions of people all over the world use BBW Cupid.
All of the features that they have to narrow down your search for the perfect match for long term relationships – or for the perfect hookup – plus the ones to make yourself stand out, make BBWCupid.com a more personal site that lets more than your profile picture show. You can find a person based on personality, and others can find you that way, as well. The matchmaking generally is excellent.
The customer support team works to keep any fake accounts from appearing on the site, and the site includes a photo verification process. There is a "report abuse" function, and they make sure to quickly respond to any reports and review new profiles. When you browse through your matches and talk to other members, you can be confident they're real people.
Cons
If you're not a Platinum or Gold member, there's only so much you can do on BBWCupid as a free member. This is true on almost any online dating service.
You can always view profiles and receive messages, but you can't always send messages to everyone and can mostly only communicate with paying members.
Also, you can't access the BBW photo gallery that members of the site add to. You'll need a premium subscription to get the most from the site.
Conclusion & Rating
BBWCupid seems like a good site to try out for dating online, sexting, meeting BBWs, but free users won't have access to everything they have to offer. You'll need a paid membership to unlock all of the features and make the most of this site, as with most dating sites.
All the profiles are real, though, and women on the site are genuinely looking for companionship and relationships and serious dating, so if that's something you don't want, then you should probably stay off the site. With many scamming paid dating sites, it's great to find a real dating site with many success stories.
This isn't a hookup site or a sugar daddy site. While some people are looking for no strings attached experiences and sexual connections, this specific service focuses on long term relationships looking to persue a romantic life.
BBWCupid gets 4/5 Stars! This is a great website for meeting single plus-size women and men around the world, whether you're looking for a real life relationship, just a hookup, a friendship, or even pen-pals. If that sounds like something you're interested in, we'd highly recommend a BBW dating site like this.
Ready to try BBWCupid?
FAQs
What is BBWCupid?
BBW Cupid is a dating site made just for big beautiful women and people looking to meet them. The site has tons of active plus size singles from all around. If you're looking for a relationship, a one night stand, or anything in between, you can find it here.
What can I do as a free member on BBWCupid?
As a free member, you still can get some good use from the site. You're able to send instant messages to premium members, and view any instant message from both premium and free members. You can also send interest to anyone.
If you pay for a year membership on BBWCupid, the price for Platinum is as low as $10 per month for 12 months. Paying for a single month at a time, the fee is $29.98.
There's also a Gold premium membership, starting at $8.33 per month for 12 months. The Gold package costs $24.98 for a single month.
Is BBWCupid safe?
Yes, there is a fraud prevention team that constantly monitors for suspicious activity on their internet site, insuring safety, mental and physical health of its users. They make sure the profiles are for real people, and check any reported users.