Today we're looking at one of the more polarizing dating sites on the scene: SPDate.
Weird name for a dating site, right? Well, that was my first impression anyway. But odd name aside, is SPDate good for finding potential hookup partners? Will the site get you laid? Those are the real questions.
We dug deep into this dating platform to give you the lowdown. Here's our in-depth SPDate review for your enjoyment.
---
Recommended Hookup Sites
Looking for a good casual sex orientated dating site? We've reviewed all of the most popular ones, and found these to be the best. While we found SPDate to be rather disappointing, these sites deliver in terms of real users and potential results.
Adult Friend Finder
Read Full Adult Friend Finder Review
Adult Friend Finder has been around for longer than almost any other adult dating site, and it's still one of the best. It has plenty of real, horny users, as well as features like live cams and member uploads. Even if you spend some time on the site before getting laid, you'll have a great time here.
Uberhorny
UberHorny is much newer than AFF, but it's also a great site if you're looking to get laid. Upon signing up for this site, we found lots of people to chat with in our area right away. Like many similar sites, it has member video uploads and cams, and the ones of this site are great.
---
SPDate: First Impressions
There's minimalism and then there's SPDate. The lack of information on the SPDate website is both worrying and intriguing at the same time. It's just a black background, a logo and a banner declaring:
"Smart Dating. Come on, it's easy and fun."
It doesn't really say much about what the site, who it's catered to, what demographic it's aiming for. The registration box is on the right hand side of the page and asks for your personal info; name, email address, gender and age. Fill everything in and you're nearly there. A quick email verification later and you'll enter SPDate's home tab.
You'll then be prompted to create your own profile. You'll need your basic information, a profile photo and you'll need to fill out a few boxes about your likes, interests and sexual preferences. You can also import data from various social media profiles to save time if you wish.
All profiles have to go through a profile verification team before they're allowed on the site. This can take anywhere between 1-48 hours. During this time, you won't be able to use SPDate at all.
Once your profile is created, things get a little bit better at this point. You'll see something akin to a table of contents along the left hand side of the screen and the rest of the page will be filled with profile pictures. This is where things got interesting.
Features
To my surprise, SPDate was completely free. All users, doesn't matter if they're male or female, can use the entire thing free of charge. Not many hookup sites can claim that these days.
While there is a Premium Membership package on offer, it's not really needed (but more on that in the next section).
SPDate is a grid-style dating site. No Tinder-like swiping or matching with girls. You're free to scroll through profiles at your leisure and send as many messages as you like.
It quickly became clear SPDate exists for the purposes of casual sex. Given the bombardment of explicit imagery dotted around the page, it didn't strike me as a place to meet future husbands and wives. SPDate has that seedy casual sex vibe, which is a good or bad thing depending on who you ask.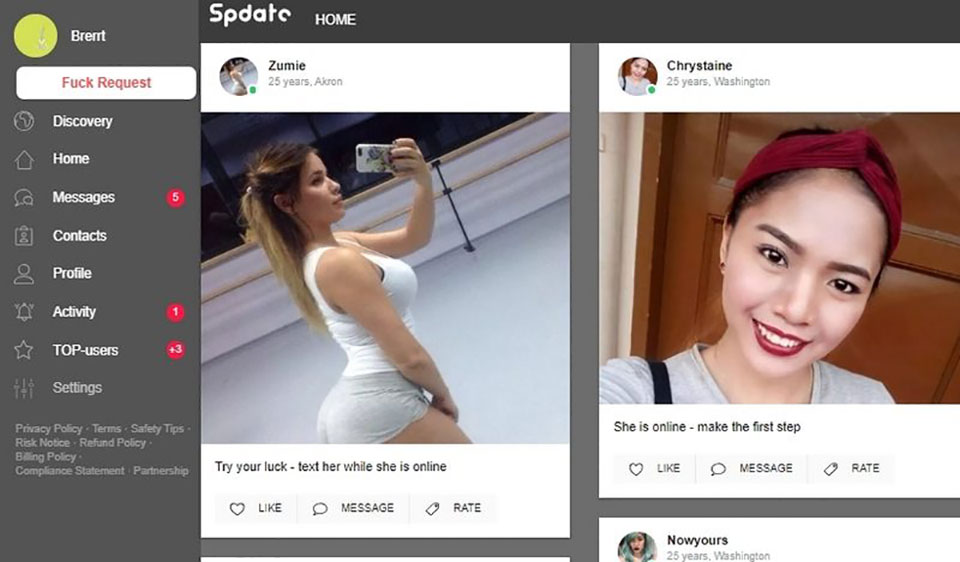 Something else that became clear was that SPDate was a hive of fake profiles and bots. This was very disappointing, especially as the site "verifies" every single profile page that comes through.
However, what I will say is that, for whatever reason, SPDate flags these fake profiles with a little green sticker saying "UP," which apparently means "unreal personality." Whether these users are placed there by SPDate on purpose, it's impossible to say. But the number of fake users was quite staggering.
That isn't to say there weren't some real life users on here. Every so often I'd come across a few girls who actually replied to my messages with something relevant. But I must say it was a rare occurence.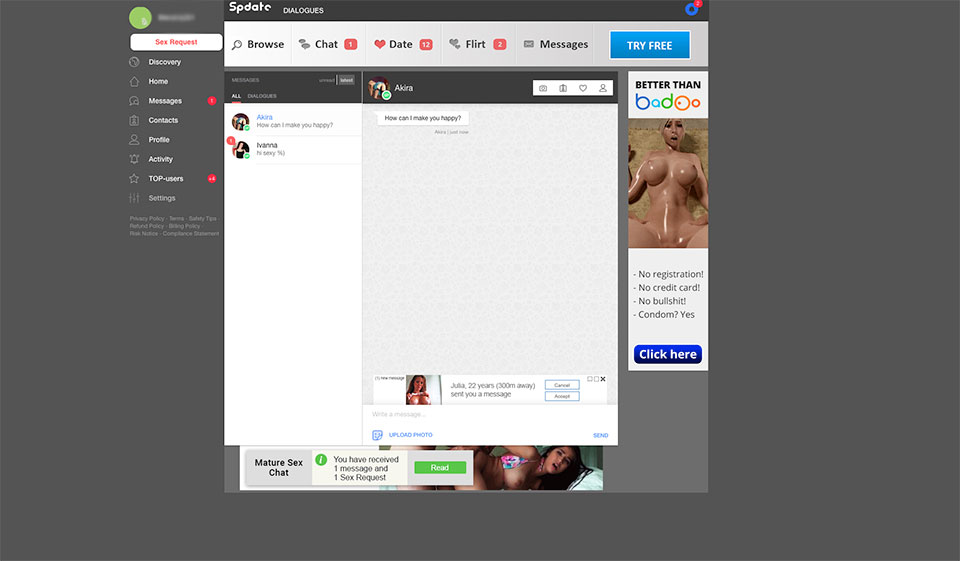 The chat feature is the main method of communication on SPDate. While most dating sites have a new screen for sending messages, SPDate opens up a little chat box on the screen when you're messaging with someone. Like when you're talking to a customer support rep about your broadband speed.
One of the features which caught my eye was the attention-grabbing "Sex Request." I clicked into it, and I got a small pop-up telling me to follow the link to guarantee I get laid with another dating site user. I followed the link and low and behold, I was taken from one scam dating website to another. After 4 or 5 dating websites had passed, I gave up. What a disappointment.
Another one of the more attractive features was titled "Discovery." Apparently, this feature works like Tinder in that you can swipe through users and match with them based on looks. I tried it, and while it was genuine, most of the profile photos I swiped across were users who I'd already seen in my grid feed.
As far as features go, that's pretty much it. There are no chat rooms or anything like that. It's quite stripped down.
There is currently no mobile app available for SPDate. If you want to use a mobile version of the site, you'll have to use it in your phone browser.
Pricing & Membership Details
You can enjoy all of the necessary features to get the most out of SPDate completely for free. However, there a few add ons for those who want to give themselves an advantage.
First of all, here's what free users get:
Create an account
Browse photo albums
View profiles
Send messages
Pretty much everything you need to enjoy the platform to its fullest. But if you get the Premium Membership, you can also enjoy:
Access to the most active users list
Placement in Top Users list
Unlimited access to photos
So, basically you'll be able to see which users login most frequently and you'll get your profile featured near the top of other people's search results.
These additional features will cost you a whopping $39.99 per month.
Pros
I know this SPDate review has been on the negative side, but there a few positives to the site.
The registration process is quick, and a profile review verification always puts minds at ease (but more on that in the cons section).
The fact that the site is free is a great little addition. It's hard to find a hookup site that's totally free in the modern age, so this will definitely get a few eyes on the platform.
After doing a little reading, I found that the age range of users is from 20-38, with the majority of them being on the younger side.
Communication is easy. When you message girls, you'll get a small popup box at the bottom of the screen. It's easy to keep track of conversations. When you click off this box, you can get it back by going into the messages tab and clicking on the relevant user.
Cons
I won't lie, SPDate has a lot of problems.
The first and most obvious problem is that not many of the girls on here are real. The fake profiles far outnumber those of real people, to the point that it's quite concerning. At first glance, SPDate looks like a total scam. It's only because I dug in deep that I found a handful of real users.
The lack of features makes the site not very enjoyable to use. The only thing you can do is scroll through members and send messages. I get that that's the whole point of hookup sites but it still feels incredibly limited.
And while we're on the subject of features, the Sex Request feature is the most frustrating thing I've ever used. It seems like a great idea – find other people who want sex right there and then. But it's just an endless loop of scam sites. It's like when you click a porn video you want to watch but it just takes you round in circles. Incredibly annoying and a total waste of time.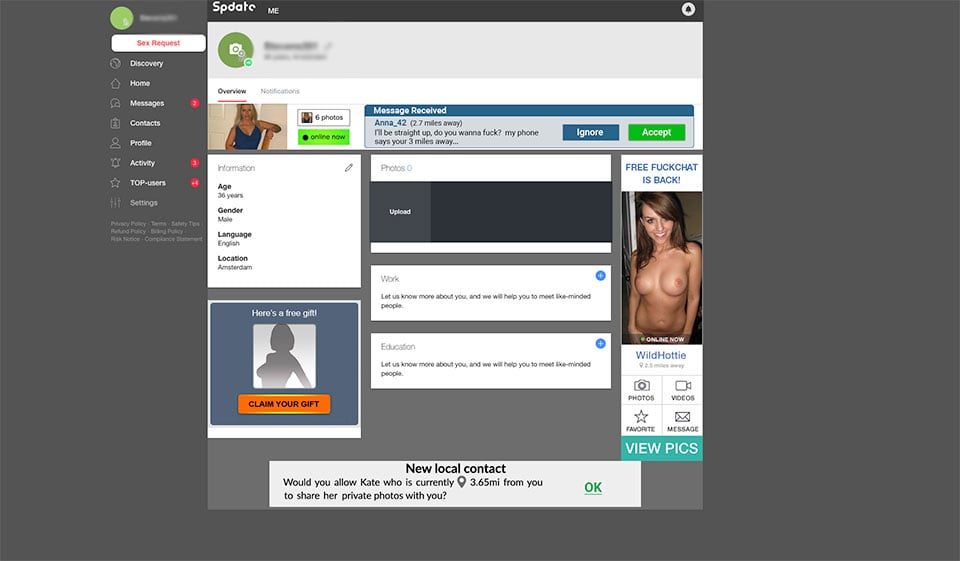 The search options on SPDate are pretty limited, but again that might have something to do with the sheer number of fakes on here. You can only filter by basic criteria like gender and location. No body type option, no education or income option. It's almost like the site doesn't want you to search for other people.
Ads. There's a lot of them. Right from the sign up process and throughout your whole time here, you'll be constantly battling against ads. They come in the form of popups and they're embedded into the site's sidebars. Be prepared to spend a large portion of your time clicking little X buttons.
There's no mobile version of the site. If you want to use SPDate, you're gonna need a computer, laptop of the browser on your phone. This is a big issue and one of the reasons why the site has to rely on so many fake users. Most people, especially SPDate's target demographic, rely on the convenience of their phones. There's nothing convenient about loading up your browser and having to constantly zoom in and out to find the tab you need.
The amount of external links hiding around the site is very concerning. It's not just direct messages from fakes that try and get you to click their shit, either. There are potentially-malicious links hiding all around the site's copy content, which take you to porn sites and other dating sites.
The Premium Membership doesn't offer much for the price. $39.99 per month is a hell of a lot to pay, especially for such a lacklustre dating site. The only positive is that you'll get your profile boosted slightly, but there's no point boosting a profile if the only people who see it are scam users. In fact, it would be counter-intuitive, because you'd just get spammed with more crap.
Conclusion
All hookup sites have their pros and cons, but SPDate Dating has a lot more in the cons column.
For that reason, and for the fact that getting laid through here is harder than a diamond erection, I can't recommend SPDate to anyone.
There are a million other hookup sites out there that deliver much better results than SPDate, so we advise you to try one of those instead.
Overall, I'm giving SPDate a paltry 1/5 stars.
We hope you've enjoyed our SPDate review. We have plenty other dating site reviews available so please check them out.
FAQs
What is SPDate?
SPDate is a casual dating platform which caters to people looking for no strings attached sex. It's run by the tech company Digital International Inc.
Is SPDate real?
While SPDate is a genuine online dating site, it suffers from an abundance of fake and scam users. While you may have some success on SPDate, you will likely have more luck on some of the more reputable dating apps.
Is SPDate safe?
No, SPDate is not a safe hookup platform. The site boasts a significant number of fake and scam users which will lure you into clicking affiliate links which could be harmful to your phone, computer or your personal data.
How do I send photos on SPDate?
1. Go to the Messages tab and find the user you want to send photos to
2. Find the picture(s) you want to send on your computer
3. Click and hold the picture(s) you want to send and drag it to the Messages section
4. As you see dotted frame around the chat box, release the mouse and drop your picture(s) in.
How do I verify my age on SPDate?
You can voluntarily verify your age on SPDate by scanning your ID and emailing it to the site admins, or you can make a credit card payment to the site of $0.99 which will be refunded to you within 7 days.
How do I unsubscribe from SPDate?
1. Login to your SPDate account
2. Click on the "Settings" tab on the left hand side
3. Navigate to the "Subscription" link and click it
4. Check "Turn off auto-renewal"
5. When your subscription period expires, it won't be renewed and you'll be reverted back to the free account.
How do I delete my SPDate account?
1. Login to your SPDate account
2. Click on the "Settings" tab on the left hand side
3. Navigate to the "Delete Profile" link and click it.
4. Click on the "Remove" button.
5. Check all the boxes you see on that page, then click "Continue."