You've probably heard of the Friend Finder series of dating sites before. The most popular site in their franchise is the super popular Adult Friend Finder, which is one of the most reputable and busiest online dating platforms available today.
But today we're looking at one of the sister sites of Adult Friend Finder – FriendFinder-X.
While Adult Friend Finder caters more to those looking for love, FriendFinder-X is all about the casual dating and the hookups.
But with so many hookup sites on the scene, how does FriendFinder-X fit in? Is there a place for it amongst the Tinders and the OKCupids?
We've dug deep into this hookup site to give you the lowdown. Here's our detailed FriendFinder-X review.
First Impressions
FriendFinder-X looks awful. I hate to be so blunt, but the website looks like something designed by a 12-year-old. The logo is blurry, the color scheme is the classic orange and blue; the same scheme used by so many annoying popup ads to get your attention. Basically, it looks like shit.
Below that, things don't get much better. You're shown a handful of site "members" who are obviously not real members, since they're all famous cute girls off the internet. Then there's a banner declaring: "The World's Largest Casual Personals Site."
The site description at the bottom reads:
"Explore sex dating, meet swingers, find local sex near you on the best online adult dating site on the web. Whether you are looking to hookups, casual dating, married dating with an Asian, White, Black, Latino, Interracial singles or couples for sex, FriendFinder-X is the sex dating site for you."
Okay, so at least they're clear with their intentions. This is a place to find a sexual partner, not a relationship, and that's fine. I can only hope the site lives up to its promises.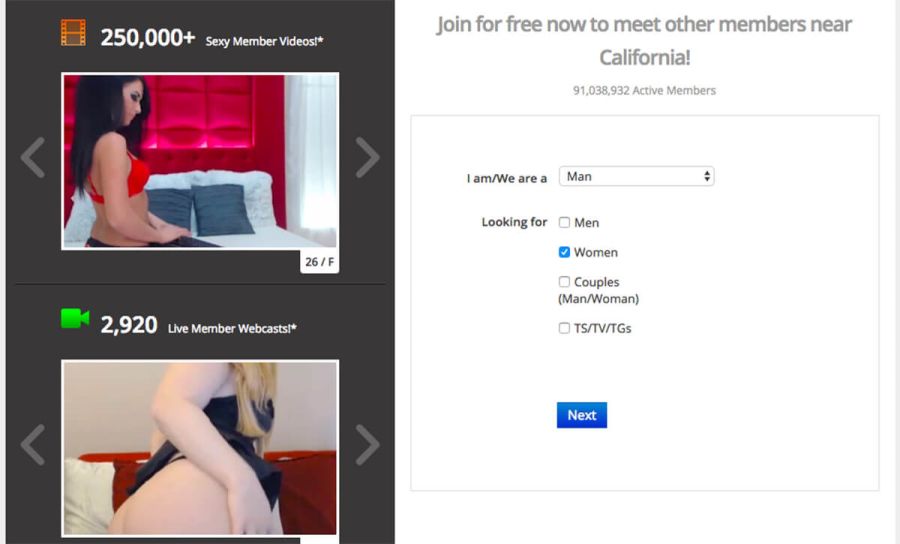 The signup process is at the top of the screen. It prompts you to put in your basic details; man, woman or couple and whether you're looking for another man, woman or couple. Then you're taken into the main FriendFinder-X page.
This is where things get interesting. Along the left hand side, you're shown a sample of the "250,000 member videos" the site has to offer. These videos are incredibly sexual in nature, featuring half-naked women flaunting their stuff. I wasn't complaining, but I had my doubts that these gorgeous babes needed a dating site to get laid.
From here you can continue the registration process. You'll need to put in your location, email address, username and password to create your account. At this point, you'll be a free member and you'll be shown your "new matches" down the side of the screen. While these women are termed "matches," they're actually just people who are close to you.
Okay, so that's the basic setup. From this point, it's a matter of creating your profile and interacting with some of the members. More on that in the next section.
Yeah, FriendFinder-X didn't make a good first impression with me. From the terrible design to the obviously-stolen adult videos, it seemed like another porn-site-disguised-as-hookup-site to lure in unsuspecting users and steal their cash. Not fantastic. But do things improve from here?
Free Features
Profile creation is relatively straight forward. Every profile needs at least two photos (and videos, if you want) before they're able to be viewed by other people. In your profile, you're asked to fill in the basic info like age, location, sexual orientation, marital status and body type, and then you can write a little about yourself in the bio section. There's also a section to fill in your desired kinks and fetishes.
As a free member, I had limited functionality on the site, but I tried to stretch it as far as I could. Here's what I found you could do as a free member:
The first and most important thing to me is whether I can view profiles. It's good to get a sample of the user base before committing to a membership. And fortunately, you're free to browse any profile in full as a free member. You can see their bios, photos, videos and whatever else they might have on their profile. This is a massive, potentially game-changing bonus for free members.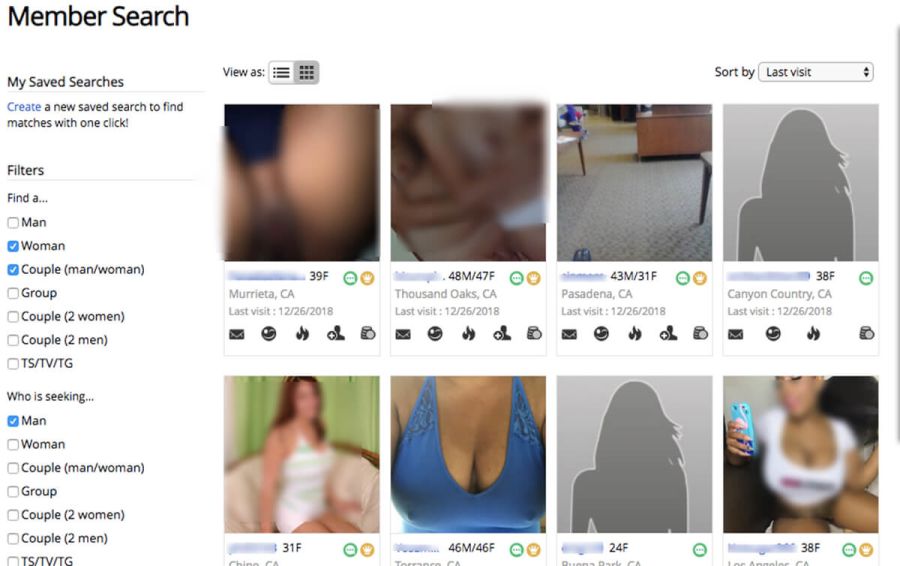 When you're browsing through these profiles, you're free to "like" your favorite photos and videos. The other person will get a notification that you've liked their stuff, making it a gateway to a potential chat. You can like add your favorite members to your Hotlist so you can view their profile whenever you like.
FriendFinder-X seems to be big on community spirit. They have a number of chat rooms available, all of which deal in x-rated themes and topics. For example, there are chat rooms for BDSM, polyamory relationships, swinging and a bunch of other kinks. Free members can browse and chat in these rooms as much as they want.
There's such a thing as VIP members, but don't get these confused with standard paid members. VIP members have paid extra for the ability to be contacted by free members. So, as a free member, you can message these people. The only downside is that most VIP members are dudes.
The last of the free features ends with member webcams. Occasionally, the more outgoing members of the site will broadcast themselves for everyone to watch. Some ladies charge for this while others don't. Free members can watch one live model per day, providing the model isn't charging for entry into her room.
Paid Features
To see the rest of the features you'll need to upgrade to the paid membership, or the Gold Membership as it's known. That's what I did. Immediately, a bunch of other, much more useful features popped up.
The first was the ability to send messages. FriendFinder-X's chat feature is no different to any other online dating site. When you land on a person you like, hit the "send a message" button and you'll be on your way.
When it comes to user base, there seems to be a good amount of activity on here. Some reviews have slated FriendFinder-X for being quite slow in terms of footfall, but I found to be reasonably busy. New users refreshed on the homepage every hour and I rarely ran into the same user twice.
According to the site's figures, there are 90 million registered users on the site, with only a third of them being inactive. Most users are in the United States, but FriendFinder-X also has a strong presence in Canada, the UK, Germany and other parts of western Europe.
There's no matching system on FriendFinder-X, which is a bit of a downer. Users aren't matched based on personality or attractiveness. In fact, they're not matched at all. The only thing you'll have in common with the people you match with is that you live near each other.
It's lucky, then, that FriendFinder-X has a great advanced search function. If you want to meet your perfect person, you can do that by specifying your search options and then gradually narrowing down your search results. Search filters include gender, sexual orientation, location, profile completeness, and even breast size.
If standard messages don't do it for you, there's a video chat option for the more outgoing users. Video chatting is a great to way to bond with someone and add that personal touch to your interactions. It's also a pretty good way to verify that the person on the other side of the screen is real and that you're not talking to a machine.
In continuing with the community-building services, there's a section for users to post erotic stories. Some of these are based on real experiences of the members, so they're pretty hot. If literature gets you going, you'll be in heaven here.
Paid members can view as many live model webcams as they like. Some live models charge an additional fee for room entry, and model chats are only available by purchasing tokens at an additional cost too. These costs depend on the performer in question.
"Sex Academy" is one of the more unique features, and one which is employed by all Friend Finder sites. The Sex Academy is basically a series of courses you can take which teach you the art of sex. Whether it's about sexual techniques or certain kinks, you can get a certification in your chosen sexual field. When you pass a course, you get a little badge on your profile saying so.
Hot Or Not. Every week, FriendFinder-X has photo contests where you can vote on the hottest people on the site. As you scroll through profiles on the Hot Or Not page, you can give a thumbs up or a thumbs down. Those with the most thumbs up get featured on the main page. All votes submitted are totally anonymous.
Pricing & Membership Details
FriendFinder-X has a handful of membership options. There's the standard Free Membership, then there's the Gold Membership, then there's something called the Standard Contacts Add On.
First of all, here's what you get with the Free Membership:
Register
Create your profile
Join blogs & groups
Join chat rooms
View, like, and comment on contest photos
Send likes to photos and videos
Watch live member webcams
As a free member you can get a taste for the site and see if it's the kind of platform you might enjoy. While you can't really communicate with other people, it's still possible to get a feel of the potential hookup partners you could meet on here.
Here are the features you can enjoy with a Gold Membership:
Send flirts
Send friend requests
Read and send messages
Comment on photos & videos
Watch full-length videos
View full-size photos
View courses in Sex Academy
Access to adult movies & live models
Group chat capabilities
Priority customer support
Gold Membership costs:
1 month – $20 per month
3 months – $20 per month ($60 total)
12 months – $15 per month ($180 total)
As a gold member, you can enjoy almost all of the services on offer without restriction. The only things which will require further payment are the live action webcams. Payment for these come in the forms of tokens, and each individual webcam session will cost a different number of tokens depending on the performer.
Lastly, there's the Standard Contacts Add-On. This allows free members to view your profile and message you without the need for them to upgrade to a paid membership. Your profile will be featured in the VIP section on their main screen.
Pros
Despite a rocky start, I found that FriendFinder-X had a lot of positives going for it.
Registration is as easy as inputting your name, age and email address. Profile verification is a nice little touch too. It's always good to see the site developers put measures in to weed out the fakes.
Lots of users, lots of activity. I didn't expect such a busy user base, but it seems that FriendFinder-X weren't lying when they said they have around 100,000 active users at any one time. While the "90 million registered members" seems a bit of a stretch, there's no doubt FriendFinder-X is a busy intersection of the internet.
Sending and receiving messages is as fluid as any dating site I've used. There are no bugs, no repeat messages (hello Plenty of Fish) and you don't get bombarded with messages from spam users trying to sell you crap.
One little feature that pleases me is that when you view profiles, it tells you when that person was last online. So, if it says they were last online 3 years ago, you know there's no point messaging them.
Search options are excellent. You can narrow down by all the necessary criteria including age, location, body type, gender and sexual preferences.
And while we're talking about search options, there's a section to search by kinks and fetishes too. This makes it real easy to find that perfect BDSM partner or that chick who'll be happy to indulge your PVC fetish.
The live action webcams can be a lot of fun, especially as the majority of them are actual members of FriendFinder-X too. That chick whose profile you've been spying on? Linger around and you might see her baring herself on webcam. To make things easier, you can even join webcam sessions as an anonymous user.
Video chats are a whole lot of fun. Not only are they great for weeding out the fake profiles, but they're good for building rapport super quick. She's probably sick of receiving endless written messages, so you can offer her something different with a video chat.
The average user age on FriendFinder-X is 25. It's equally as popular with the young crowd as it is with the thirty-somethings. Chances are you're somewhere within this demographic yourself, so you'll have no problem finding age-appropriate users for yourself.
The cost of a Gold Membership is damn good, especially considering that most dating platforms stick around the $40 mark for one month. FriendFinder-X is considerably lower so it won't put your credit card under much strain.
The Standard Contacts add on is pretty useful and gives you a leg up on the competition. When free members are hesistant to commit to a paid subscription, chances are they'll hit up some of the VIP users for a taste of the site, you can be the one they contact. This puts you at a great advantage. Some reviews hate this little feature because it feels unfair, but I say all is fair in sex and war.
The chat rooms are a lot of fun, and they're a great way to meet people outside of direct messaging. Sometimes, the best relationships are built when you're not expecting it. Given that chat rooms are catered to sexual interests, it's real easy to find someone you click with on a sexual level.
Most reviews think the Sex Academy is stupid (and I can see where they're coming from) but I really like it. It's a funny little way of building a community and it creates an interesting talking point when messaging new people (people who've graduated a Sex Academy course get a little badge on their profile saying so).
Cons
The lack of any kind of matching system kinda sucks. There are no personality quizzes available or anything like that, so there's really no criteria to find matches. You're basically just given a huge list of people who live in your area.
Despite every profile needing a profile photo to be accepted onto the site, I found quite a few anonymous profiles. These were the people that used pictures which didn't include faces in them. I don't know why they're using a hookup site if they're not willing to show the world what they look like.
Although the site is optimized for mobile browser usage, there's no mobile app for FriendFinder-X. This isn't ideal, and it's a little strange given that the Friend Finder Network is absolutely huge. All of their other services have dedicated apps, but FriendFinder-X seems to have been left in the dark.
Personally, the amount of adult video content on the site was a bit much. I don't see the point of luring in members with the promises of pornography. It's not like there aren't already a million porn sites available at the click of a button.
Conclusion
I actually grew to really enjoy FriendFinder-X the more I used it. While I initially hated it, I actually found it to be a very pleasant experience beneath the rough surface.
Is it the best online dating site around today? No. Not by a long shot, but that doesn't mean it's completely useless. It's got some great features, a great community, and will get you laid if you put the hours in.
Overall, I'm giving FriendFinder-X a solid 3/5 stars.
We hope you've enjoyed our FriendFinder-X review. If this site doesn't tick the boxes, you can find our other reviews here.
Ready to try FriendFinder-X?
FAQs
Is FriendFinder-X legit?
Yes, FriendFinder-X is a legitimate dating site with around 90 million registered users worldwide. The site has around 100,000 active users every single day. It's also one of the oldest online dating sites on the internet, having been around for almost 20 years.
Does FriendFinder-X have an app?
No, there is no FriendFinder-X mobile app. However, the website is optimized for use on mobile browser.
How much does FriendFinder-X cost?
For a FriendFinder-X paid membership, it will cost between $15 and $25 per month depending on your level of commitment. While there's a free membership option available, site features are limited.
Is FriendFinder-X different from AdultFriendFinder?
Yes, FriendFinder-X and AdultFriendFinder are two different dating sites which cater to different audiences. FriendFinder-X is a place to find casual sex and short term relationships, while AdultFriendFinder appeals to those looking for more long-term commitment.
How do I delete my FriendFinder-X account?
1. Log into FriendFinder-X with your username and password.
2. Click on the "My Account Settings" link at the top of the page.
3. Click on the "Delete Account" link in the My Account section.
4. Click on the "Permanently Delete My Entire Account" link.
5. Enter your password and click the "Yes, delete my account" button.
How do I cancel my FriendFinder-X subscription?
1. Log into FriendFinder-X with your username and password.
2. Click on the "My Account Settings" link at the top of the page.
3. Click on the "Change My Subscription" link.
4. Click the "Automatic Auto-Renewal" button so that it turns to "Off."
5. When your subscription expires, it won't be renewed and you'll revert back to a free membership.